The 2010s: A Call to Arms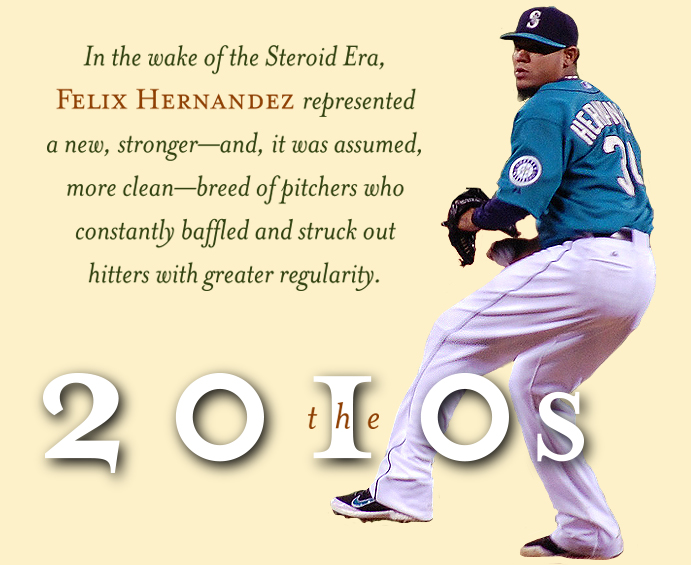 For nearly a generation, major league pitchers found themselves out of luck as they dealt with synthetically enhanced sluggers, shrinking ballparks and chicks who dig the long ball.
The 2010s would be their time for vengeance.
The balance was restored and, as the decade progressed, tipped in favor of the pitchers as baseball's crackdown on steroids and amphetamines made mortals of once-fearsome sluggers. The new kings of the hill weren't just limited to the aces, though they're was plenty of representation to be found with the baffling Clayton Kershaw, the majestic Felix Hernandez and the electric Max Scherzer, to name just a few. Even when opposing teams managed to break these guys down, they'd still have to scratch and claw their way through a seemingly endless line of relievers dialing up a mix of high-90s heat and slick off-speed deliveries that often made even the best of All-Stars look clueless.
In response, hitters didn't try to outsmart the new pitching paradigm; instead, they tried to outmuscle it. It was unapologetically boom or bust for most major league batters who, for better or worse, increasingly found their plate appearances resulting in one of the "three outcomes"—a strikeout, walk or home run. As sure as the sun setting in the west, the bar for overall strikeout totals would be reset every year during the decade, while home run numbers would follow suit and, by 2019, reach record-shattering proportions.
As old-style baseball fundamentals diminished, so did Major League Baseball's reluctance to take the rulebook off read-only mode. The most assertive alteration came with the arrival of comprehensive video review, which essentially left every close call on the field (sans balls and strikes) subject to replay. Halting the action to get it right only exacerbated baseball's other growing problem of the decade, that of longer games. As the average time per contest breezed past the three-hour mark, the game's brain trust wrestled with what other changes were needed to quicken the pace.
The rules of chasing revenue off the field also changed. As most teams were content with the maximization of profits within their modern ballparks, new edges were sought. They were first found in massive regional television pacts, guaranteeing copious annual payouts topped by the $300 million snagged yearly by the Los Angeles Dodgers; later, teams delved into the realm of real estate, acquiring tracts of land to create mixed-use developments as inviting adjuncts to their ballparks. On a league-wide basis, baseball's main cash cow was provided through its self-created MLB Advanced Media, which centrally controlled all 30 team web sites, provided coverage of all games through its popular mlb.tv streaming service and, by decade's end, was said to be worth well into the billions. 
Between the lines, disparate paths were trekked by teams operating within their means to reach championship glory. The success of the San Francisco Giants and St. Louis Cardinals—who combined to win four of the decade's first five World Series—underscored the ethos of mind over batter, eschewing star egos in favor of carefully-crafted roster chemistry and stingy pitching from starter to closer. Later in the decade, the more fashionable trend was to burn it all down and restart from scratch, relying on a cache of top prospects to mature into stardom at manageable cost; this "tanking" approach yielded World Series parades for the Kansas City Royals (2015), Houston Astros (2017) and Chicago Cubs—who in 2016 ended over a century of frustration with a long overdue Fall Classic triumph.

Forward to the 2020s: The Turbulent Twenties Intended changes and unexpected disruption mark a time when Baseball attempts to appeal to a bigger audience, risking the loyalty of its most ardent followers. But an impressive influx of talented young players hopes to rescue the era and keep everyone happy.

Back to the 2000s: Driven Deep to Disgrace The new century gives Major League Baseball a decidedly more international flavor with a healthy rise in foreign-born talent—but a disturbing pall is cast over the sport as one megastar after another is exposed for using steroids.