2018: Wrenching with Tradition
The advent of the opener threatens to accelerate the devolution of the starting pitcher as Baseball ponders rule changes in response.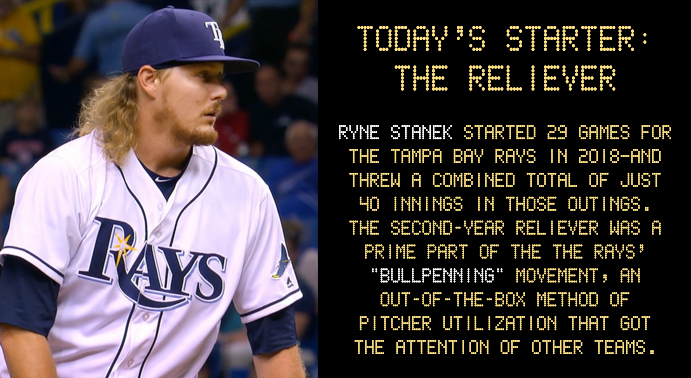 (Wikimedia—DominantShredder)
Once upon a time, every baseball team put a pitcher out on the mound with the idea that he would go as long as possible. If he couldn't go the full nine innings—or even longer if extra innings mandated it—shame would be cast upon him. Then around the 1960s, give or take a decade, managers gradually began to embrace the idea of a tough-as-nails reliever to get the job done in the ninth inning or sooner should the starting pitcher begin to falter. This gave birth to the "closer," whose sole design was to exhibit physical and mental grit to finish what the starter could not. 
But by the beginning of the 21st Century, it wasn't enough to just leave it up to the closer. The set-up guy became vogue. And the set-up guy before him. These were pitchers with filthy stuff, packing everything from sizzling fastball velocities to wicked breaking movement. It got to the point that the relievers actually began to show better stuff than the starters, a complete 180 from what had been assumed a few generations earlier. It led some managers, poked from behind by analytics-driven front office types, to begin thinking: Why even bother with a "starting" pitcher? 
On May 19, the Tampa Bay Rays came to Anaheim and started Sergio Romo against the Angels. Eyebrows were raised; the 35-year-old Romo had made 588 previous appearances in the majors—all of them as a reliever. His very first start would not last long, by design; he struck out the side in the first inning, and then departed for rookie Ryan Yarbrough, who pitched the next 6.1 innings. The next day, Romo got the call again—a rare instance of a pitcher making starts on consecutive days—and pitched 1.1 more scoreless innings before purposely ceding to three other relievers. "I'm sure it will be talked about," opined Tampa Bay manager Kevin Cash. 
It sure was. The baseball universe, at this day and age a mix of rabid fans, eager sportswriters and social media junkies, ran circles around one another trying to figure out what to make out of the Rays' newfound "bullpenning" strategy and use of Romo (and eventually other relievers) as the "opener." "The opener is not the end point," said the MLB Network's Brian Kenny on his Twitter account. "It is the beginning. Once there's no 'starter,' all things are possible. The construct collapses." Others saw a more nefarious motive to the Rays' potentially revolutionary strategy. Angels infielder Zack Cozart theorized that Tampa Bay was trying to make more important use out of less-paid pitchers, surmising that "less starting pitchers means you won't have to pay guys as much." 
The Rays could certainly not be faulted for taking such a tact. Playing before sparse crowds at an unpopular venue (St. Petersburg's Tropicana Field), the team had all but stripped its payroll to the bone; anyone pulling in more than the average MLB salary of $4 million was anathema to the Rays, and they were not at all shy in dealing away players who exceeded that amount. Business was business, and in an environment where competition was played at cutthroat level, any edge that would yield the Rays more wins at less cost contained sure-fire appeal. 
As bullpenning took hold and became more of the norm in Tampa Bay, traditional starting pitchers became increasingly expendable. Sure enough, by midsummer, the Rays had cast away popular ace Chris Archer and fireballer Nathan Eovaldi to other teams; they kept young Blake Snell not so much because he was outstanding—he would win the American League's Cy Young Award with a 21-5 record and 1.89 earned run average—but because he was cheap, earning an MLB minimum-wage $558,000. 
Beginning with Romo's inaugural start at Anaheim, the Rays would start a reliever 78 times over the remaining 119 games of the season. Because the 'opener' often pitched no more than two innings, the bullpen was constantly active; it ultimately accounted for 56.2% of all innings pitched, the highest percentage ever recorded by a team. Though Romo would get acclaim for his role as the first opener, the ace in the Tampa Bay bullpen would become Ryne Stanek, who started 29 games and didn't allow more than three runs in any of them—enough to create strange statistical bedfellows with traditional New York Mets ace Jacob deGrom, who also didn't allow three runs in any of his last 29 starts. Never mind that deGrom threw three times as many innings as Stanek; they both ended the season sharing a major league record for most consecutive starts yielding three or fewer runs in each. 
No matter what the Rays were called—cheap, desperate and inventive were three oft-used adjectives—the bullpenning routine couldn't have been described as anything else but a success. After starting the year at 21-22, the Rays were 69-50 from the day they first told Romo to throw the opening pitch. Imitation became the sincerest form of flattery; before the end of the season, numerous other MLB clubs gave bullpenning a shot, with three of them (Texas, Oakland and Minnesota) trying it more than a few times. The A's, an equally low-budget outfit whose Opening Day rotation had been shattered by major injuries, managed to ride a hot bullpen to a stunning 97-65 record—and decided to go all relievers in the winner-take-all AL Wild Card playoff at New York against the Yankees. (The A's lost, 7-2.) 
The invention of bullpenning looked to solidify the traditional starting pitcher's status as endangered species. For these guys, everything from innings pitched to complete games to wins seemed to be trending downward; the only thing headed upward was fragility and the proverbial use of bubble wrap. Managers, obsessed with pitch counts, gave starters little if any benefit of a doubt and removed them at the slightest sign of danger; in 2018, 10 pitchers with no-hitters intact after five or more innings were nevertheless taken out. Even the relievers were spared from potential overuse; more than ever, teams turned to position players as emergency pitchers a record 66 times to give the staff the rest of the night off in one-sided games. 
Overall, the state of pitching was quite healthy—too healthy, some felt. For the first time in 2018, there were more strikeouts than hits—and the majors' total batting average was at its lowest point since 1972, the year before the introduction of the designated hitter. Add in the rampant increase in defensive shifts—stacking fielders on one side of the field to better defend against hitters inclined to hit it their way—the reduced amount of balls put into play (and, therefore, a reduction in offense) generated paranoia among fans who feared that commissioner Rob Manfred would rashly respond with desperate measures to limit shifts, place a minimum on batters faced by relievers—even mercy rules. All while sparing professional ballplayers from doing what they had done over the previous 150 years when challenged: Adjust and become a better player for it.
The Devolution of the Starting Pitcher
Back in the heart of the Deadball Era (1901-19), the goal of the starting pitcher was crystal clear: Finish what you started. Most of the time, they did. But as the below graphs plainly show, the average start by innings and percentage of games completed have gradually diminished—and thus, so has the value of the starting pitcher itself.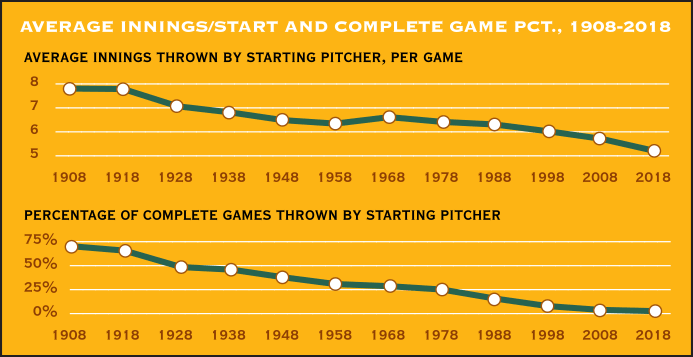 The Rays' bullpenning tactics were not enough to lift the team to the postseason, saddled instead in an AL East dominated by the performance of its two rivalrous titans. 
As usual, the division was expected to be ruled by the Boston Red Sox and New York Yankees. As usual, the prognosticators were right. Both teams stacked up on talent, hired on rookie managers and, for the first time ever, both won 100 games in the same season. But it was fairly evident from the start of the year who the better team between the two would be. 
The Red Sox had been playing hit-and-miss for much of the decade to date; in their six previous seasons entering 2018, they finished first in the AL East three times—and last in the other three. Helping to right the ship was Dave Dombrowski, whose extensive general manager instincts had helped build a winner in Montreal (1994), build champions in Miami (1997 and 2003) and turn a laughingstock in Detroit into another winner (2006). Under his watch in Boston, he steered the Red Sox out of the rough patches of controversy and underachievement with two straight AL East titles from 2016-17—but all he got out of it was one postseason victory, leading to the dismissal of manager John Farrell. 
Dombrowski found Farrell's replacement seated in the dugout of the team knocking the Red Sox out of the 2017 playoffs: 42-year-old Alex Cora, finishing up his first year as bench coach for the Houston Astros. Cora had just two years of previous managerial experience, leading the Criollos de Caguas in the Puerto Rican Winter League—but he matched Dombrowski's desire for a pilot who could tolerate front office analytics nerds, give emotional encouragement to his players and speak bilingually. No problem, Cora said, but he did have one demand: To have the Red Sox send a plane full of relief supplies to his native Puerto Rico, recently devastated by Hurricane Maria. The Red Sox happily obliged. 
While many other teams throughout baseball were purposely tanking by shedding salary and rebuilding from within, the Red Sox were going full steam ahead, looking to win now with the majors' largest payroll ($230 million) at the expense of a weakened farm system that boasted not one prospect in the top 100. Dombrowski piled onto an already electric lineup with the offseason addition of slugger J.D. Martinez, who produced such gargantuan numbers (.330 average, 43 home runs, 130 RBIs), he made it easy for the Red Sox to not shed a bead of sweat in releasing odd-man-out veteran Hanley Ramirez in May—despite a decent statistical start and the fact that Boston still owed him $15 million. 
As prodigious as Martinez was, Mookie Betts was better. Shaking off a relatively disappointing but still effective 2017 campaign, the 25-year-old right fielder excelled in practically every aspect of his game—hitting for average (a major league-leading .346 figure), power (32 home runs and 47 doubles), speed (30 steals and 129 runs) and defense (winning his third consecutive Gold Glove award). He twice hit three homers in a game and once hit for the cycle in 2018. 
On Opening Day, the Red Sox blew a late lead at Tampa Bay and lost, but won their next nine games. After a loss ended that streak, they won another eight straight. Every day seemed to set a new record for the best start in franchise history, and by the All-Star Game they had already snapped up 68 victories—the most in major league history before the break. Betts and Martinez led a potent offense that led the majors in batting average (.268) and runs (876); 20 times during the year, the Sox scored 10 or more runs, and they crushed 10 grand slams—all after hitting none the year before. 
It wasn't just the hitting that made Alex Cora's first-year effort easy. A solid rotation was led by lanky, hard-throwing lefty Chris Sale, who skewed fragility all season long—but was astounding when healthy enough to take the mound, posting a 2.11 ERA and striking out 237 batters to place third in the AL—an impressive standing considering he didn't log enough innings (158) to qualify for an ERA title. On defense, the Red Sox didn't make an error until the 11th game of the season and boasted three Gold Glovers—Betts, center fielder Jackie Bradley Jr. and second baseman Ian Kinsler, a late-season pick-up from the Angels.
Boston's Mookie Betts was all smiles throughout an MVP campaign that helped energize the Red Sox toward a fourth world title in 15 years. (Flickr-Keith Allison)
As almighty as the Red Sox were throughout the year, they had a hard time shaking off the Yankees. Managed for the first time by Aaron Boone—the former ESPN analyst and one-time Yankee glorified for his pennant-winning homer against the Red Sox in 2003—the Yankees certainly had the firepower to overcome Boston, especially after a blockbuster winter trade netted über-slugger Giancarlo Stanton from Miami. But while the anticipated revival of Murderer's Row didn't quite take hold—sophomore slugger Aaron Judge was sidelined for 50 games, catcher Gary Sanchez hit a measly .186 and first baseman Greg Bird still wasn't taking flight—they were backed up by yet another wave of young Yankees that included rookies Miguel Andujar (.297 average, 27 homers, 92 RBIs), Gleyber Torres (.271, 24, 77), and Luke Voit (.333, 14 homers over just 39 games). The sum total of Yankee muscle added up to a record-breaking 267 homers on the year, with a dozen players contributing at least 10—another record.
BTW: The Yankees would smash the team home run mark a year later with 306—and still finish second in the league, to Minnesota's 307.
Even as Boston rocketed out to an unprecedented start, the Yankees were still able to keep up; as late as June 26, they actually led the East. But they couldn't maintain the pace. The Yankees didn't collapse, but a two-loss streak here and a three-loss streak there hurt any chances of keeping up their pursuit of a Red Sox team that refused to take its foot off the gas pedal. Despite the Yankees' powerful lineup and a lights-out, All-Star bullpen—which included proven closers in Aroldis Chapman, Zach Britton and David Robertson—100 wins would not be enough to catch the Red Sox, who ended the year with a franchise-record 108.
But all was not lost for the Yankees, who still had one last shot at the Red Sox in October. New York's wild card victory over Oakland set itself up for a best-of-five ALDS showdown with Boston; after a two-game split to start the series at Fenway Park, Yankee prospects looked promising. But a 16-1 Red Sox slaughter in Game Three at Yankee Stadium—the worst postseason loss ever suffered by the Yankees—punctured the momentum, as Boston's Brock Holt starred with the majors' first-ever postseason cycle. A wild 4-3 loss the next night sealed New York's fate, and moved Boston onto the AL Championship Series—where the Red Sox, after a Game One home loss, won four straight over the defending champion Astros to take the AL crown.
While the Red Sox reigned supreme over a boom-or-bust AL—with nine of its 15 teams either winning or losing 95-plus games—the Los Angeles Dodgers repeated as champions in a far more competitively balanced National League.
For the second straight year, the Dodgers had to climb out of an early hole created from significant injury, as third baseman Justin Turner missed the first seven weeks with a broken hand, shortstop Corey Seager was lost early with season-ending Tommy John surgery, and ace Clayton Kershaw bowed once again to back issues, missing nearly two months. Second-year manager Dave Roberts did anything but stand pat with his resources, aggressively maneuvering players around the field like chess pieces to achieve the maximum result. Of all his everyday starters, only Turner and right fielder Yasiel Puig played the same position; Kike Hernandez, on the other hand, played every spot on the field (including a stint as emergency pitcher) except for catcher at some point during the year.
The result was socialism by necessity, with practically everyone on the Los Angeles roster contributing while few statistically stuck out. Seven Dodgers hit at least 20 homers, setting a NL record; seven others started at least 15 games on the mound, with only one winning at least 10 (Rich Hill, with 11). While Cody Bellinger and Chris Taylor suffered relative sophomore slumps for the Dodgers, the team picked up unexpected value from Max Muncy—whose 35 homers in just 395 at-bats were a revelation for a guy who previously couldn't catch on with talent-starved Oakland—and pitcher Walker Buehler, whose highlights amid a stellar rookie effort included 100-MPH fastballs and throwing the first six innings of a combined no-hitter (backed by three relievers) in his third career start on May 4 against San Diego in Monterrey, Mexico.
Along with all of the above, the midsummer acquisition of star shortstop Manny Machado (.273 average, 13 homers and 42 RBIs in 66 games) further ignited the Dodgers for the stretch run. In third place and trailing the first-place Arizona Diamondbacks on August 23, the Dodgers revved up and won 25 of their remaining 35 games—the last being a tie-breaking playoff win over Colorado (after the Diamondbacks collapsed) to capture their sixth straight divisional title.
After taking care of the surprising, NL East-winning Atlanta Braves in the NLDS, the Dodgers came up against the upstart Milwaukee Brewers—whose own path to the NLCS also included a late hot streak and a victorious 163rd game (over the Chicago Cubs) to clinch the NL Central. With a league-best 96-67 record, the Brewers had MVP presence from former Marlin Christian Yelich (NL-best .326 average, 36 home runs, 110 RBIs) and a bullpen full of blazing heat (anchored by All-Star Josh Hader and Corey Knebel). Taking a cue from the Tampa Bay Rays, Milwaukee manager Craig Counsell all but made his rotation irrelevant as Brewers starters lasted an average of 3.1 innings per postseason contest. Counsell even outdid the Rays in Game Five against the Dodgers, removing starting pitcher Wade Miley after just one batter—switching to lefty Brandon Woodruff to force Dave Roberts' lineup-altering hand early.
A tight seven-game series was never more tense than in Game Four at Los Angeles. A 13-inning, five-hour marathon involved 26 position players, 16 pitchers, 32 strikeouts and just three runs, two of those scored by the Dodgers—the last on Cody Bellinger's walk-off single. It kept the Dodgers from dropping into a 3-1 series hole and created enough momentum for them to go the distance toward another NL flag.
So Manny Issues
With free agency looming, All-Star shortstop Manny Machado drew much attention to himself during the postseason—not always for the right reasons. A late-season rental for the Dodgers, Machado seemed to intentionally trip up the legs of Milwaukee's Jesus Aguilar in the NLCS while crossing the first-base bag—"A dirty play by a dirty player," fumed Brewers star Christian Yelich—and angered Milwaukee players with his aggressive (but apparently legal) sliding into second to break up double plays. 
Machado wasn't making many fans on his own side; after failing to run out a ground ball against the Brewers, he told reporters that he wasn't "the type of player that's going to be Johnny Hustle." He also cost himself and the Dodgers an extra base or two when he over-admired a deep fly against Boston he thought he'd hit out—only to watch it hit off the top of the wall; he ended up with a long single. The combination of bad-boy and lazy-boy antics was thought to scare away teams looking to reward Machado with a potentially massive contract in the offseason to follow.
For the first time in 102 years, the Red Sox and Dodgers, two storied ballclubs, found themselves facing off against one another at the World Series. And after the first two games at Boston—both Red Sox victories—it appeared that the Dodgers would suffer the same painful fate as the Yankees, Astros and the rest of the American League before them. Another marathon—which made NLCS Game Four look like quick work—gave Los Angeles temporary hope in Game Three. In an exhausting 18-inning battle that took seven hours and 20 minutes—both records for the World Series, and a mere 42 minutes short of being the longest major league game, ever—the Dodgers scored a 2-1 win at Los Angeles on a Max Muncy home run. 
Some assumed that the Red Sox' taxing Game Three loss would drain them both mentally and physically, and serve as a crucial turning point in the series. That assumption appeared to be on its way to being proved correct in Game Four when the Dodgers took a 4-0 lead after six innings. Los Angeles starter Rich Hill, dominant to that point, walked the leadoff batter to start the seventh, struck out the next—and was then removed by Roberts, who felt his bullpen could easily take it from there. It couldn't. The Red Sox awoke for three runs in the seventh, tied the game in the eighth on a solo homer from Steve Pierce—ending a 0-for-45 drought from Boston's top four spots in the order—and then erupted for five runs to put away an eventual 9-6 victory. 
The restoration of Boston's series momentum was confirmed in the first inning of Game Five when Pierce—a 35-year-old veteran of all five AL East teams—blasted a two-run shot off of Clayton Kershaw, and then capped the scoring with a solo homer in the eighth to help give the Red Sox a 5-1 victory and series triumph in five games. The conquest continued the catching up of championship trophies for Boston, capturing its fourth over 15 seasons after suffering through its historic 86-year drought. 
The Red Sox' triumph came the old-fashioned way—with starting pitchers amassing more innings than relievers, in stark contrast to all other postseason teams. But with a 1.40 World Series ERA from their bullpen as opposed to 3.62 from starters, even the Red Sox had to smell that something was in the air with what the Tampa Bay Rays had started. Would the bullpenning revolution spread, or would it soon become a here-today, gone-tomorrow fad? 
The curiosity would be too great to ignore.

Forward to 2019: The Pill of Might Home run records fall like dominoes as skeptical fans, angry pitchers and an oblivious MLB grapple over if a juiced ball is to blame.

Back to 2017: Astronomical! (The Scandalous Cut) The Houston Astros defeat the favored Dodgers in an exhilarating and exhausting seven-game World Series—but the trophy will soon be tarnished.

2018 Leaders & Honors Our list of baseball's top 10 hitters and pitchers in both the American League and National League for the 2018 baseball season, as well as the awards and honors given to the game's top achievers of the year.

The 2010s: A Call to Arms Stronger and faster than ever, major league pitchers restore the balance and then some—yet despite the decline in offense and rise in strikeouts, baseball continues to bring home the bacon through its lucrative online and regional network engagements.