The Houston Astros ride the long flights of record-breaking home run totals to defeat the favored Dodgers in an exhilarating and exhausting seven-game World Series.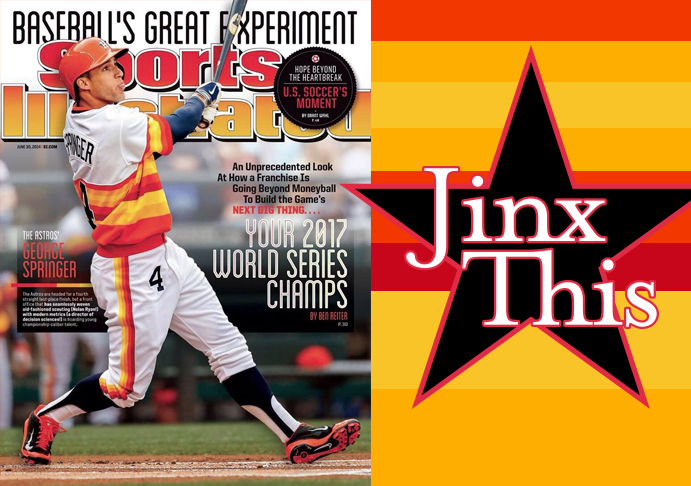 As the Houston Astros struggled to regain major league relevancy in 2014, Sports Illustrated boldly envisioned a world title within three short years. The prediction would be spot on.
In June of 2014, the Houston Astros encountered what some suggested would be the biggest obstacle to their ongoing, inescapably extensive and unorthodox rebuild: An appearance on the cover of Sports Illustrated. 
The Astros had reason to be nervous. For years, an unusually high percentage of those highlighted on SI's cover would, in the weeks and months to follow, suddenly lose the greatness that got them on the front page in the first place. Conspiracy theorists called this the Sports Illustrated Cover Jinx. The Cleveland Indians could certainly vouch for its legitimacy; in 1986, SI plastered some of their star players on the cover of their baseball preview issue and proclaimed that they would win the World Series. Instead, the Indians went on to lose 101 games. 
So here were the Astros and then-rookie outfielder George Springer being heralded on the front of the magazine as baseball's world champions—three years out, in the year 2017. 
And for once, Sports Illustrated got it right. 
Fast rewind to the start of the 2011 season and an Astros franchise that was completely lost. After an exciting and largely productive first decade at Minute Maid Park that yielded three postseason appearances and their first-ever pennant, the Astros looked tired and burned out with no solutions in sight thanks to a badly weakened farm system and an exodus of star players. Owner Drayton McLane didn't seem to care anymore, an assumption that gained traction once he sold the team to local businessman Jim Crane. 
The new owner knew that he had inherited a situation that wasn't going to be remedied overnight. Like many other teams of the time going through cyclical patterns of success and failure, the Astros were not going to Band-Aid through a patch-and-pray approach for a quick but limited fix. They had a better idea: Burn it all down, rebuild from the ashes, and develop a potential dynasty. 
Burn it down they would. The Astros were, by the record, miserable during the first three years under Crane's watch, averaging 108 losses a season—including a franchise-worst 111 in 2013. Minute Maid Park became a silent morgue, while nobody outside the ballpark tuned in to watch. Literally; one local telecast of a late-season Astros game drew a 0.0 rating. 
To find the light at the end of this dark tunnel, Crane built up a front office that took the recent trend of statistical analytics and gave it extra dimension by addressing factors such as a player's health history and work ethic. Leading the effort was former St. Louis exec Jeff Luhnow, who oversaw a proprietary database so curious to others within baseball, an employee back in St. Louis decided to hack into it—costing him a 46-month prison sentence, and the Cardinals $2 million and two draft picks. 
Gradually the Astros turned the corner thanks not so much to Lunhow's early moves but to two young draftees from the McLane Era. Venezuelan native Jose Altuve, all 5'6", 165 pounds of him, developed into a perennial batting champ, stolen base leader and Gold Glove recipient at second base, while southpaw Dallas Keuchel—not highly thought of when the topic of top Astros prospects came up—went from borderline Triple-A pitcher to A-list ace once he developed a slider that tripped up opponents. But some of the Crane Era's early cadets were also starting to make an impact; outfielder George Springer made an immediate impression and became part of a trend of leadoff hitters doubling as free-swinging sluggers, while Puerto Rican shortstop Carlos Correa—the #1 pick in the 2012 amateur draft—debuted in 2015 at age 20 and, with all-around offensive potential and rapid upside, looked to become the star of stars at Houston. 
Just a pair of years removed from their atrocious 51-111 showing in 2013, the Astros looked as if they might beat Sports Illustrated's World Series prediction to the punch by two full seasons. Under first-year manager A.J. Hinch, they qualified for the 2015 postseason as a wild card entrant and came within one late-game collapse of knocking out eventual world champion Kansas City in the American League Division Series. This led many prognosticators to rate the Astros highly for 2016, but a disastrous start greatly handicapped the team's chances as it ultimately finished third in the AL West. 
The 2016 experience tempered Houston's expectations for 2017. Even the baseball experts at Sports Illustrated were largely not ready to reaffirm the magazine's boast from 2014 of the Astros winning it all, with only one of eight writers picking Houston while four of the seven others didn't even think the team was capable of winning its division. 
Performing an about-face on their season-opening stumble of the year before, the Astros punched it out of the gate in 2017 and built up an 11-game lead over feeble AL West opposition before May was even over; by the All-Star Break, Houston's record stood at 60-29—easily the best first-half performance in team history. It wasn't just that the Astros were winning, it was how they were winning—binging on runs as rarely a week went by where they didn't put up 10 on the board at least once. Sometimes, they'd do it two or three or even four times. In a year where home run totals accelerated into record territory across the majors, the Astros all but led the way, blasting 238 out of the park to finish a close second to the New York Yankees' 241; eleven different Houston players wound up with at least 10 to tie a major league record. Clearly, this was not your father's Astros team of lore when Jose Cruz led the team with nine homers. 
Taking charge offensively for the Astros was Jose Altuve, who brought home the AL Most Valuable Player award with his third batting title (at .346), his fourth straight campaign of at least 200 hits and team leads in runs (112) and steals (32). More than assisting was George Springer, who paced the team with 34 homers and matched Altuve with 112 runs, and Carlos Correa, hitting high gear with a .315 average, 24 homers and 84 runs batted in—figures all the more impressive considering he missed nearly a third of the season to injury. 
That the Astros scored so often was routinely necessary given a pitching staff that was less than top-notch. After suffering through an off-year in 2016, Dallas Keuchel returned to All-Star form and gave the Astros at least one source of strong stability in the rotation—until he suffered a neck injury that kept him out for two months. In his absence, the Astros somehow managed to maintain a winning pulse despite a staff ERA of near 5.00. 
After hitting a period of stagnation in mid-summer, two totally disparate events in the final week of August recharged the Astros back to contender status. 
One was Hurricane Harvey, a biblical-level cataclysm that swamped Houston and southeast Texas with over 50 inches of rain, displaced over a million people and caused a whopping $200 billion in damage—making it the most expensive disaster in U.S. history to date. Like the Yankees after 9/11 and the Red Sox after the 2013 Boston Marathon bombings, the Astros came together, united more closely as a unit and gave their all, on the field and off it, to the badly stricken region—even if they had to do it initially from afar, as one home series was moved to St. Petersburg, Florida while floodwaters surrounded (but did not reach) Minute Maid Park. 
The other pivotal moment came when Justin Verlander arrived in Houston. The tall, veteran right-hander had been a virtual icon in Detroit for 13 years, but the Tigers were looking at a rebuild of their own and began a clearance sale of their pricey star talent, with the $28 million-a-year Verlander as the headlining bait. Vested with the power to approve or decline, Verlander hemmed and hawed over a deal to the Astros and finally said yes—with literally two seconds to spare before the midnight deadline on August 31. The nail-biting acquisition would be worth it for the Astros, as Verlander won all five of his starts while posting a fantastic 1.06 ERA in a Houston uniform to end the regular season.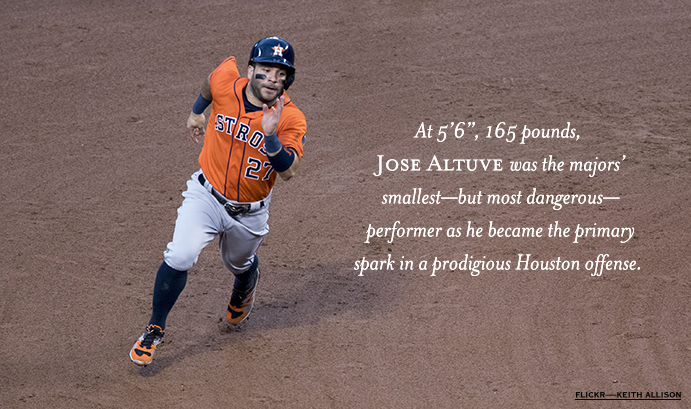 Verlander would earn co-star billing with Jose Altuve as the Astros survived the AL East's top two teams in the playoffs. 
In the first round against a Red Sox team neutered by the absence of a big-time power threat as the post-David Ortiz era commenced, the pint-sized Altuve homered three times in Game One, with Verlander winning the first of two games in the series. His second came in a tense, long relief appearance during a 5-4 Game Four clincher at Boston. 
Expecting to next knock heads against the top-seeded Cleveland Indians—who had grabbed the attention of the sports world with an AL-record 22-game winning streak late in the year—the Astros instead found themselves facing off against the rejuvenated Yankees, über-powered by rookie sensation Aaron Judge (52 home runs, 114 RBIs, 128 runs, 127 walks). Although Judge had struck out far more than he connected (one hit and 16 Ks in 20 at-bats) against the Indians, the Yankees turned to stout pitching to topple Cleveland with three straight wins after losing the first two games of the series. 
The Astros began the ALCS by taking two home games by identical 2-1 scores, the second of which stood out for Verlander's complete-game performance (with 13 strikeouts) and a daredevil sprint by Altuve on a Carlos Correa single in the bottom of the ninth, scoring the winning run all the way from first base. Stealing from their ALDS script, the Yankees won the next three games— browning out the Astros' high-powered offense with just five total runs allowed at Yankee Stadium—but they needed a fourth win in this best-of-seven to totally finish off the Astros. They couldn't do it. 
In Game Six back at Houston, Verlander threw seven shutout frames and Altuve homered and knocked in three runs for a 7-1 victory. Altuve went deep again in the winner-take-all a night later, a 4-0 triumph as Charlie Morton (five innings, two hits allowed), and rookie Lance McCullers Jr. (four innings, one hit allowed), shut down Judge and Company to give the Astros their second-ever pennant—thus making them the first team to win one in each league, having taken the National League flag back in 2005. 
For all of their offensive muscle and energetic, never-say-die work ethic, the Astros still came into the World Series as underdogs. That was easily understood given the opponent: The Los Angeles Dodgers. 
The Dodgers entered 2017 having won the NL West for each of the previous four seasons, but continually found frustration in October with failure to reach the World Series. Interestingly, the team instituted a stand-pat attitude during the offseason, re-signing incumbent free agents (third baseman Justin Turner, starting pitcher Rich Hill and closer Kenley Jansen) while making only one modest acquisition by bringing second baseman Logan Forsythe onboard from Tampa Bay. Already strained with a projected Opening Day payroll of $240 million—or nearly $10 million per player—the Dodgers exhaled confidence with their current roster and a robust farm system. But confidence turned into worries of miscalculation and mild panic as the Dodgers limped out to a 9-11 start. That's when two players came completely out of nowhere to re-ignite the pilot light. 
Over the previous three years, Chris Taylor looked to be nothing more than a utility spare part, just happy to have a clubhouse stall at the major league level.
That all changed when coaches corrected a flaw in his swing, turning the 26-year old from benchwarmer to borderline All-Star. Ultimately settling into the leadoff spot, Taylor thrived in a breakout campaign for which he hit .288 with 21 homers, 72 RBIs and 17 steals. 
Taylor's breakout partner would be Cody Bellinger, a promising farmhand who began the season at Triple-A—resigned to the likelihood that his time with the Dodgers would come later than sooner amid a crowded cast of prospects. But later became now when a plethora of injuries at the top necessitated an earlier-than-expected promotion. With a gorgeous and majestic upper-cut swing, the left-handed bashing Bellinger exceeded even his own expectations with a record-setting debut. He hit nine home runs in May and another 13 in June—including 10 over a 10-game stretch—as he became the latest in a string of young boppers (Trevor Story, Gary Sanchez, Aaron Judge, et al) to set marks for this many home runs over that many games to start a career. Opposing teams scrambled to get the book on Bellinger—but once they did, it still wasn't enough to stop him as he bulked his home run total up to 39, breaking Frank Robinson's 61-year-old mark for a NL rookie. 
With the born-again Taylor and blockbusting Bellinger firmly in tow, the Dodgers became virtually unstoppable. From their 9-11 nadir, they won 26 of their next 40 games—then really applied the pedal to the metal, capturing victories in 52 of the next 61 games after that. With this mind-blowing run of success running Los Angeles' record to 87-34, the goal of winning 100 for the year—something the Dodgers hadn't achieved in 43 seasons—seemed to be a shoo-in; reaching 110 for the first time in franchise history looked to easily be an approachable target, given they only needed to go 23-18 for the balance of the season. But reporters and fans alike thought bigger, and deduced that the Dodgers had a shot at breaking the all-time season record for wins. Sports Illustrated, perhaps feeling perky as the Astros were on target to fulfill the mag's 2014 forecast for 2017, put the Dodgers on its cover in late August with the headline, "Best. Team. Ever?" Cue the jinx: The Dodgers immediately tumbled into an inexplicable slide, losing 16 of 17 games; their only win came when they eked out a 1-0 decision at lowly San Diego thanks to a commanding effort from ace Clayton Kershaw. Fortunately for the Dodgers, they snapped out of it and won 12 of their final 18 games, securing the majors' best record (at 104-58) and reclaiming the upbeat vibe headed into the postseason. 
Second-year Dodgers manager Dave Roberts forged great success from his team thanks to his liberal—and improper, some say—use of baseball's reduced 10-day disabled list, as he preserved an effective (if fragile) rotation and stifling bullpen by shuffling pitchers on and off the shelf not so much because they were hurting but, instead, they were in need of rest. Critics within and outside of baseball frowned on Roberts' shrewd use of the DL, but Major League Baseball officials, warily watching on, gave the green light to all of his maneuvers. That meant strong—but hardly workhorse—results from Kershaw (18-4, 2.31 ERA in 175 innings), Alex Wood (16-3, 2.72, 152.1 innings) and Rich Hill (12-8, 3.32, 135.2 innings). 
Having conquered the regular season, the Dodgers looked to shed the postseason monkey off their backs by nabbing their first pennant in 29 years, the longest such drought in franchise history. The quest would prove to be pleasantly easy, considering the competition. They brushed away the potent (and surprising) Arizona Diamondbacks in a three-game NLDS sweep, then effortlessly took apart the Chicago Cubs in five games at the NLCS, as the defending champions came off looking badly hungover from their historic triumph of a year earlier. 
In the first Fall Classic in nearly a half-century to pit two teams with over 100 wins, Chris Taylor showed off his new and improved self to the Astros by homering on Dallas Keuchel's first pitch of Game One at Los Angeles, setting the tone for a 3-1 victory helmed on the mound by Kershaw. The Dodgers had another 3-1 advantage late in Game Two but couldn't hold it, as closer Kenley Jansen showed rare mortality by allowing a run-scoring hit in the eighth and a game-tying homer to Marwin Gonzalez in the ninth. The latter poke ignited a home run derby, with five more blasts to follow in the next two innings as the Astros ultimately survived with a 7-6, 11-inning win. 
Game Two's late-night fireworks would have nothing on what was to come in Game Five back at Houston. 
With the series tied at two games apiece, it was crucial for the Astros to win Game Five; losing would force them to win the final two games on the road at Los Angeles. The Astros' prospects didn't look good when the Dodgers bolted out to an early 4-0 lead for Kershaw, who seldom blew four-run leads. But Kershaw had also seldom faced an explosive lineup like the 2017 Astros; over the next two innings, the Dodgers' ace collapsed by conceding six runs—and the track meet was on. Both teams battled back and forth, with a slew of home runs (seven in all) flying out of the yard and reducing relievers from both sides to shreds. On this night, it was the Dodgers' turn to send the game into overtime with three in the ninth, but the Astros still prevailed on a run-scoring single in the 10th punched up the middle by young third baseman Alex Bregman to win the wild affair, 13-12.
The Late Show, Starring the Houston Astros
With two thrilling extra-inning contests in the World Series, the Astros continued their postseason tradition of taking games past the ninth inning. As shown below, only the Mets had a higher percentage of postseason games (through 2017) that went overtime—and barely.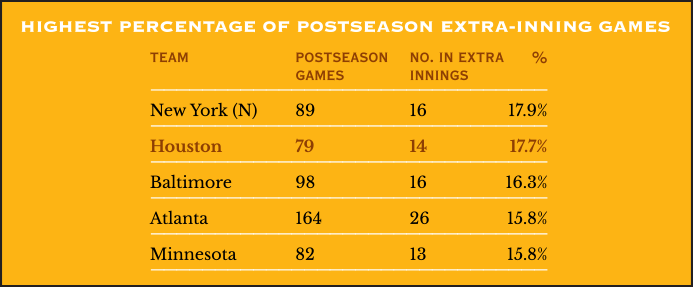 The Astros failed to clinch in Game Six with a 3-1 loss; they didn't fail in Game Seven. Houston piled up five early runs as they jumped all over Dodgers starter Yu Darvish—a mid-season acquisition having a miserable World Series after being counted on to provide rotation strength. The early 5-0 lead in this offensively live series didn't seem safe to some, but the Astros held down the fort without having to score again, as five Houston pitchers (capped by Charlie Morton's four innings of relief) combined to allow a mere run on six hits for the night to take the game, series and championship, the Astros' first after 56 years of trying. 
Despite hitting a measly .230, the Astros bashed 15 homers—the most in World Series history—with five coming off the bat of series MVP George Springer, the cover boy from the Sports Illustrated issue back in 2014. Readers back then might have been laughing. They weren't now. 
Sports Illustrated wasn't done with the Astros. At the end of the year, they gave its coveted Sportsperson of the Year award to Jose Altuve, sharing the honor with J.J. Watt of football's Houston Texans—both of whom had lifted the city of Houston in different ways in the aftermath of Hurricane Harvey. To promote the honors, SI put both on the cover. 
Here's hoping it wouldn't lead to a jinx.

Forward to 2018: Wrenching With Tradition The advent of the 'opener' threatens to accelerate the devolution of the starting pitcher as Baseball ponders rule changes in response.

Back to 2016: Cubs Win! Cubs Win! With stout pitching, a confident batch of young hitters and a magnetic manager, it finally all comes together for the Cubs, who shred baseball's longest-ever championship drought.

The 2010s: A Call to Arms Stronger and faster than ever, major league pitchers restore the balance and then some—yet despite the decline in offense and rise in strikeouts, baseball continues to bring home the bacon through its lucrative online and regional network engagements.