2016: Cubs Win! Cubs Win!
With stout pitching, a confident batch of young hitters and a magnetic manager, it finally all comes together for the Cubs, who shared baseball's longest-ever championship drought.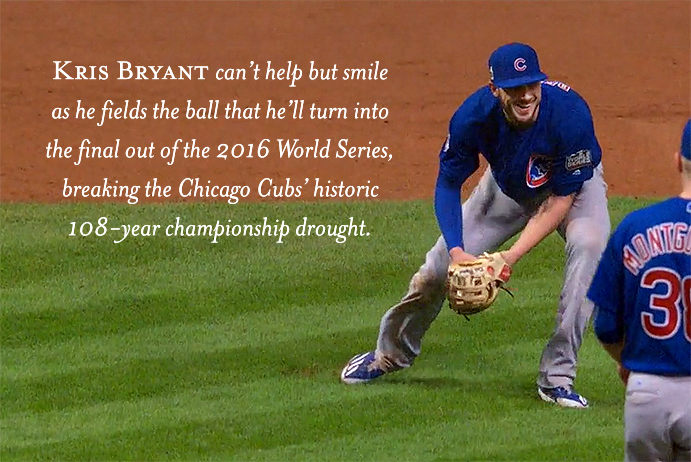 The ground ball, meekly hit, came rolling into Kris Bryant's range. Normally a fielder in his shoes would exert the look of a serious competitor, focused and intense as if his life depended on every play he made. But there was something different this time. Even before Bryant gloved the grounder, even as he knew that he had a fast runner flying down the first base line to throw out, a smile came upon his face. The grin only widened as he threw toward first. Bryant knew, as his throw took flight, that one of baseball's most exciting Game Sevens, a roller coaster of a World Series and 108 years of excruciating yet celebrated frustration were about to come to an end. The billy goat, the black cat and Steve Bartman were not going to stop it this time. 
And when the throw was complete, the Chicago Cubs were, at long, long last, back on top. 
The Cubs' coming out party, over a century in the making, was not going to be missed by anyone. When the championship was celebrated days later in a parade that wound up at Grant Park, a massive gathering of five million—said to be the seventh largest for a single event in human history—showed up. Cubs manager Joe Maddon lovingly referred to as "Cubstock 2016." 
All of this would have seemed so inconceivable just a few years earlier, with the franchise performing a convincing impression of a sinking ship after a fleeting run of success in the late 2000s (two division titles, zero playoff wins). Everything seemed to be headed in reverse, from burned out veterans to empty pitching to repeated mental lapses by shortstop Starlin Castro; even nostalgic ol' Wrigley Field was starting to lose the rustic love, as venerable sportswriter Peter Gammons led a growing movement of dissent by referring to it as a "dump." 
After the 2011 season, owner Tom Ricketts brought in Theo Epstein, the young general manager who helped break the Boston Red Sox' seemingly eternal championship drought in 2004, and whose grandfather and grand-uncle had penned the script for Casablanca. Play it again, Theo, Ricketts requested. 
A studious and considerate man who embraced teamwork and the melding of old-school scouting with modern-day analytics, Epstein went to work. Early in 2012, he got input from nearly 200 team officials and coaches during spring training to develop a massive manual entitled "The Cubs' Way," which he described as a "living, breathing thing" that would set a positive future for the franchise. It was nothing different than what other teams, most notably the Orioles and Cardinals, had done in the past. But the Cubs' Way went beyond a synchronicity of practice regimens at all organizational levels, as it also set out to valuably redefine the Cubs' attitude as more personable and less combative—elements that Epstein could not achieve either in the clubhouse or front office during a chaotic, fractured final year as Boston's GM. 
On the field, Epstein and the Cubs reset the roster like a homeowner performing spring cleaning on a cluttered garage full of old, useless items. The Cubs bottomed out in 2012 with 101 losses and, with nowhere to go but up, gradually improved over the next two seasons. An army of highly lauded prospects lay in wait across the minors, while some current Cubbies were already starting to show signs of a strong future; first baseman Anthony Rizzo, dealt from San Diego for strong-armed pitcher Andrew Cashner, gave the team youthful power and on-base efficiency, while pitcher Jake Arrieta, mistaught in Baltimore, was rescued by the Cubs and quickly reborn as an ace-caliber thrower. 
The baby steps toward glory became a giant leap in 2015 as every move Epstein and Ricketts made seemingly turned to gold. As the Cubs finally embarked on a massive makeover of Wrigley, they signed Jon Lester to form a double-barreled tandem with Arrieta at the top of the rotation, saw the homegrown debuts of third base wunderkind Kris Bryant, adroit infielder Addison Russell and, least expected of all, catcher-outfielder Kyle Schwarber, who seemed to possess a little Hack Wilson within him in terms of build and strength. 
But the Cubs' biggest move may have been the snatching from Tampa Bay of Joe Maddon, the charismatic manager who brought his eccentric energy to the clubhouse by inviting magicians, zoo animals and mimes while encouraging players to dress up for air travel in superhero costumes, pajamas, or whatever the theme of the day was. A less successful manager may have been laughed at for such efforts, but Maddon was able to get away with it because he had the personality and the wins to back him up. He did it in Tampa Bay with the low-budget Rays, and he did it in 2015 with the Cubs—catapulting the team to 97 wins and the NLCS before bowing to a more experienced New York Mets side. 
The Cubs were almost everyone's favorite to win it all in 2016, and for good reason. Beyond the expected maturation of their young stars, the Cubs scored huge on the free agent market, stealing outfielder Jason Heyward and veteran pitcher John Lackey from the rival St. Louis Cardinals while bringing in versatile Ben Zobrist, fresh off collecting a World Series ring in Kansas City. Maddon knew the burden of expectations might be overbearing on his players, so he gave them a simple, not-so-daunting piece of advice: "Try not to suck." The phrase became an instant hit on the T-shirt circuit. 
The Cubs shot out of the gate like few teams in baseball memory, even after losing Kyle Schwarber for the regular season after tearing up his knee in a collision with fellow outfielder Dexter Fowler during the season's first week. Arrieta threw what would turn out to be the majors' only no-hitter of the year on April 21 at Cincinnati, and after 30 games—24 of which the Cubs had won—Chicago had already racked up a run differential of +100; only three other teams would reach that figure for the entire season. Epstein's 2012 manual laid the groundwork for a juggernaut; a day didn't seem to go by where the Cubs or Arrieta (riding numerous types of winning streaks) were establishing some sort of mark or achievement, some last accomplished over a century earlier—usually by the Cubs' own last dynasty of the late 1900s. Maddon nurtured the team's positive vibe with his bag of tricks, and it seemed every Cub was getting his day in the sun; even back-up catcher David Ross, a likeable clubhouse presence playing his final campaign at age 39, somehow achieved cult celebrity status. Cubs fans, well represented at visiting ballparks even in less heady times, came out in droves and made the team feel at home no matter where they played.
BTW: The Cubs averaged 35,000 fans on the road, easily the majors' best; only three times did they play before a crowd of less than 20,000.
Mortality set in at the start of summer when the Cubs struggled through a run of 15 losses over 20 games, but they never lost their firm grip on the NL Central lead as expected contenders St. Louis and Pittsburgh simply lacked the horses (to say nothing of bravado) to match them. A divisional title was nice and all, but this Cubs team knew, with all its talent and momentum, that anything less than a world title would be a major disappointment. To that end, the team's two remaining weaknesses were shored up at midseason. One vanished at the catcher spot with the arrival of #1 team prospect Willson Contreras, who quickly became imbued with the Cubs' winning spirit by drilling the very first pitch he saw over the outfield wall; the other came at the closer spot, where an okay Hector Rendon was demoted in favor of supersonic All-Star reliever Aroldis Chapman, dealt from the New York Yankees with crossed fingers after he spent the season's first month suspended for an offseason domestic violence incident. 
With everyone now in tow, the Cubs regained their dominant footing. They won 11 straight games to begin August and sailed to the finish line, winning 103 contests—again blowing dust off the team record book with monthly and yearly totals not seen in generations. Everybody clicked. Kris Bryant and Anthony Rizzo ran neck-and-neck in the NL MVP race with the same batting average (.292), on-base percentage (.385) and a slight variance in slugging percentage (Bryant's .554 to Rizzo's .544). On the mound, Arrieta dropped in 18 wins (against eight losses), Jon Lester tipped him with a 19-5 record and 2.44 earned run average, and right-hander Kyle Hendricks beat them both in the ERA race (a major league-leading 2.13 figure) with a confounding change of speeds that brought comparisons to Greg Maddux. There to finish it all was Chapman and his 100+ MPH heater, saving 16 games in 18 attempts with a sparkling 1.01 ERA. 
A year after their 2015 postseason baptism, the Cubs felt more experienced and ready to run deep through October. But it wouldn't be easy. The NLDS saw competition from the San Francisco Giants, out to nab their fourth straight even-year world title, but also crippled by an unstable bullpen. Sure enough, the Giants had the Cubs on the ropes, three runs up and three outs away from a winner-take-all Game Five back in Chicago when the Cubs rallied for four runs off five clueless San Francisco relievers to ensure a 3-1 series victory. In the NLCS to follow against the NL West-winning Los Angeles Dodgers, the Cubs started with an exciting 8-4 Game One victory (earned on Miguel Montero's pinch-hit grand slam in the eighth) before getting shut out over the next two games. That slumber would be short-lived; the offense burst out of its REM with rapid bat movement, blasting its way to 10-2 and 8-4 romps in, respectively, Games Four and Five. Not even Los Angeles ace Clayton Kershaw, back to full strength and the top of his game following a midseason back injury, could stop the Cubs in Game Six, as he was rocked for five runs in five innings. Kyle Hendricks countered with 7.1 effortless shutout innings to give the Cubs a 5-0 win, the NLCS victory and their first National League pennant in 71 years. 
But the bigger number, 108, still faced the Cubs. To keep it from growing to 109, they had to face off in the World Series against the team with the second longest championship drought: The Cleveland Indians. 
Besides not winning it all for a long time, the Indians had something else in common with the Cubs; seeing the fruits of a rebuild through a former Red Sox employee. Where the Cubs had Theo Epstein, the Indians had manager Terry Francona, who bolted Boston at the same time and found relative peace at the lap of the Great Lakes. Too peaceful, perhaps; despite bringing the Tribe back to respectability under his wing, Francona still presided over something of a non-existent existence in Cleveland, with a roster few outside of town recognized except maybe designated hitter Carlos Santana—a likely case of mistaken identity for tourists checking out the plaque of the other Carlos Santana at the nearby Rock and Roll Hall of Fame. They certainly weren't in Cleveland to visit Progressive Field—and neither were the locals. For four years running, the Indians had the lowest gate for any major league team not named the Tampa Bay Rays or Miami Marlins. 
The prognosis for 2016 looked even less promising for Cleveland. Outfielder Michael Brantley, the team's best hitter over the previous two seasons, was struggling to get back to game-ready speed with a persistent shoulder injury. Fellow outfielder Abraham Almonte, slotted in as an Opening Day starter, received an 80-game PED ban in spring training. Filling in for Almonte was veteran Marlon Byrd, who played well until he, too, got nabbed by the steroid police; because it was his second positive test, he got banished for 162 games.
From those early speed bumps, the Indians managed to stay barely above .500 for the season's first two months in a division that no one else—including the defending champion Kansas City Royals—seemed interested in running away with. By mid-June, somebody finally did—and it was the Indians, launching themselves on a franchise-record 14 straight wins to take a healthy lead in the AL Central for which they would never relinquish.
BTW: Cleveland would easily outdistance its record 14-game win streak a year later with one lasting an all-time AL-record 22 straight games.
When the Indians nearly did give it up, with a slim two-game lead in early August, they quickly grew it back thanks to a key acquisition. Just as the Cubs had taken from the Yankees by trading for closer Aroldis Chapman, so did the Indians—netting from the Bronx left-handed reliever Andrew Miller, a guy almost too good not to be a closer, yet apparently content to presently wear the tag as, arguably, the majors' premier set-up man. Miller's presence was a godsend for an already decent Cleveland bullpen, and it was easy to see why; in two months of regular season work setting up Indians closer Cody Allen, Miller allowed only 14 hits in 29 innings of work while striking out 46 for a 4-0 record and 1.55 ERA. 
The Indians' relatively starless lineup delivered. Nomadic slugger Mike Napoli hit .239 but set career highs with 34 home runs and 101 RBIs; Santana matched him in homers (also setting a personal best), and the youth contributed with sophomore shortstop Francisco Lindor (.301 average, 99 runs, 19 steals at age 22) and third baseman Jose Ramirez, who jumped his average nearly 100 points from the year before to a nifty .312 while leading the team with 46 doubles at age 23. On the mound, a solid rotation was gilded by ace Corey Kluber, who "rebounded" from a misleading 9-16 record in 2015 to finish 18-9 with a 3.14 ERA, a sparkling effort almost every bit as good as his 2014 Cy Young Award-winning numbers. The Indians hit well, powered well, ran well and pitched well; they also won it mattered the most, recording a 28-9 record against their two biggest foes (Detroit and Kansas City) in the AL Central.
BTW: Kluber finished third in the 2016 Cy vote, behind Boston's Rick Porcello and Detroit's Justin Verlander.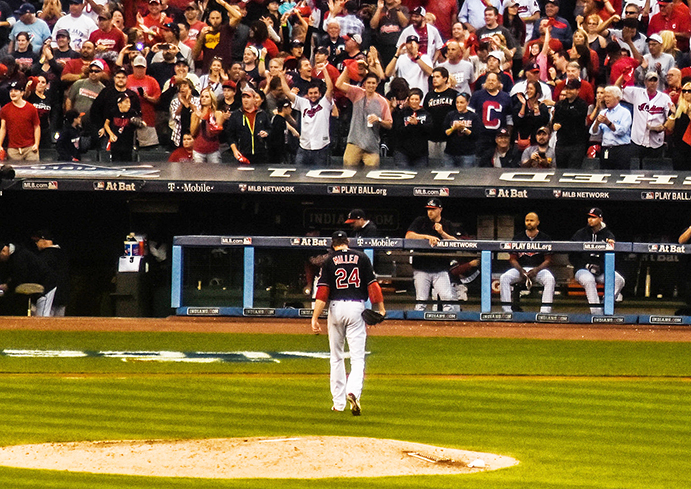 Cleveland reliever Andrew Miller walks off to the cheers of home fans after a successful inning on the mound; he had very few that were unsuccessful. (Flickr—Erik Drost)
Cleveland faced a major challenge as it entered the postseason: How to juggle a rotation suddenly broken into pieces. Danny Salazar wasn't available as he struggled with elbow inflammation, Carlos Carrasco suffered a fractured pinky in September and, after one October start, Trevor Bauer sliced up his own pinky from, of all things, repairing a drone at home. In facing two of the majors' most feared lineups—the AL East-winning Boston Red Sox in the ALDS, and the wild card-surviving Toronto Blue Jays in the ALCS—the healthy remnants rose to the occasion, best underscored when little-used, long-haired Ryan Merritt fired 4.1 scoreless innings to start the Game Six ALCS clincher at Toronto. But the Tribe's bullpen grabbed the headlines; super-set-up man Andrew Miller and closer Cody Allen combined to throw 19.1 scoreless innings while racking up 33 strikeouts over the two series. 
As amazing and unexpected as the Indians' run through the AL playoffs was, the Chicago Cubs clearly prevailed as the talk of baseball—and the talk of the country in general—as the World Series ramped up for its first pitch. 
The second fiddle was ready to crash the spotlight and play the lead. 
Corey Kluber and Jake Arrieta played dueling aces to start the series at Cleveland. In Game One, Kluber fired six shutout innings—naturally, Miller and Allen finished off the shutout, a 6-0 whitewashing—before Arrieta responded in kind by taking a no-hitter into the sixth of an eventual 5-1 Game Two win. As the series moved to Wrigley Field for the next three games, the Cubs felt enough momentum to ensure a lively party atmosphere drenched in celebrity, from Bill Murray to Pearl Jam frontman Eddie Vedder to former Supreme Court justice George Stevens—who, at 95 years of age, out-bragged all the living witnesses to the Cubs' last Fall Classic appearance in 1945 by stating that, hey, I was also there in 1929. But Cleveland sucked the air out of the festive balloon and knocked the Cubs against the ropes by taking Games Three and Four—the former on a 1-0 shutout, the latter on an easy 7-2 victory as Kluber dialed in six more strong innings on three days' rest. That old sinking feeling set in on Cubs fandom once again; maybe this ballclub just wasn't cut out to win anything ever again.
BTW: The 1-0 Game Three win gave the Indians' a postseason-record fifth shutout.
The Cubs avoided elimination in Game Five with a 3-2 squeaker as Joe Maddon, feeling good about his own bullpen, leaned on Aroldis Chapman to secure the final eight outs—which he did, albeit on a career-high 42 pitches. 
Back in Cleveland for what the Cubs hoped would be two more games and two more victories, they conquered half the battle as Addison Russell knocked in six runs—four on a third-inning grand slam—through the first three innings to easily lift Chicago in Game Six, 9-3. But a head-scratching moment occurred in the seventh when Maddon, despite a five-run lead, called on Chapman to deliver another extensive save. Pundits were puzzled, Cubs fans were aghast, tweeting variations of "Save him for tomorrow!" Maddon himself relented, taking Chapman out after an inning and a third of work covering 20 more pitches. Now the question became: Would Chapman, if needed for a seventh game, have anything left?
BTW: Maddon defended his decision to use Chapman in Game Six because he wanted him to face the Indians' best hitters at a clutch moment and guarantee the win; Chapman would later say he wasn't happy with the decision.
Nobody was going to miss this Game Seven. It would attract the largest TV audience for a baseball game in 25 years; even the boob tube wouldn't be enough for Cubs fans, who swarmed third-party ticket reseller StubHub, trekked to Cleveland and made up a good chunk of the Progressive Field crowd. 
It would be a game that greatly lived up to its billing. 
Kluber pitched again on three days' rest—but this time, on fumes—as the Cubs rang up four runs on him through the first four innings; Andrew Miller relieved him but he, too, was out of gas and conceded a pair of runs—the last on a solo home run to the ageless David Ross that would be the final hit of his career. Chicago held a 6-3 lead into the eighth as Kyle Hendricks and Jon Lester (in a rare, and long, relief outing), adequately held down the Indians—and that's when Maddon opted once more for Chapman, this time to nail down the final four outs. Chapman, his exhausted arm no longer able to raise his fastball over 100 MPH, got the outs—but not without giving up the lead when the first batter he faced, the Indians' Rajai Davis, laced a liner toward the left-field foul pole that barely cleared the tall wall for a three-run, game-tying home run. Chapman pitched on and survived the ninth, but so did the Indians—and the game headed into overtime tied at 6-6. 
That's when the rains come. A lonely cell of precipitation sent the grounds crews scurrying out to cover the field. It cooled off the frenzy of the previous nine innings, like a commercial break interrupting an exciting Indiana Jones movie. About the only people happy with the delay were the Cubs, still reeling from the Davis homer; this was their chance to take a deep breath and regroup under the rafters. 
While the Indians took bathroom breaks and minded their own business in the clubhouse, Chicago outfielder Jason Heyward cramped all of his teammates into the visitors' weight room. His speech that followed contained a little bit of love, perspective, and invigoration—the sum total of which added up to one big kick in the butt for the Cubs' spirits. It was unexpected spark and arguably the biggest contribution from a guy who began an eight-year, $184 million contract by hitting a lifeless .230 in the regular season and a near-DOA .104 during the playoffs. 
Mentally rebooted, the Cubs retook the field as the rain departed and tarps rolled back up. Kyle Schwarber, his knee repaired and his bat still sharp after a six-month layoff, led off with a single—his third of the night—through the Cleveland shift into right. Powerful but hardly fast, Schwarber was pinch-run by Albert Almora Jr., who astutely reached second on Kris Bryant's deep fly out to the center-field wall. After an intentional pass to Anthony Rizzo, Ben Zobrist—a part of Kansas City's extra-inning outburst to win the World Series a year earlier—did his best to repeat history by poking a liner the opposite way down the left-field line to score Almora Jr. After another free pass, Miguel Montero punched one through the hole to score Rizzo and make it 8-6. 
The Indians desperately tried to counter in the bottom of the 10th, but could only get halfway there. Rajai Davis returned to the plate and knocked in a run off Chapman replacement Carl Edwards Jr. But with two outs, lefty Mike Montgomery, subbing for Edwards, induced the final grounder from Michael Martinez—the last available Cleveland hitter, with a career .197 average—toward a smiling Kris Bryant. And with that, for the first time since 1908, when the Model T was introduced, Teddy Roosevelt was president and before Arizona and New Mexico were even states, the Cubs were world champions. 
There were many heroes on the Chicago side. Zobrist won series MVP honors with 10 hits. Rizzo added nine hits—four of them for extra bases—and four walks. Schwarber hit .412 (7-for-17). Arrieta picked up two wins. And there was Maddon's managing, and Heyward's rally speech. But in turn, they all toasted Theo Epstein, the Curse Whisperer. The man who rebuilt the Cubs from shame to fame now fielded a resume few previously dared to even dream: Destroyer of Boston's Curse of the Babe and, now, destroyer of Chicago's Billy Goat Curse. What next? 
Maybe the Cleveland Indians, now fielding the longest World Series drought, could give him a ring.

Forward to 2017: Astronomical! (The Scandalous Cut) The Houston Astros defeat the favored Dodgers in an exhilarating and exhausting seven-game World Series—but the trophy will soon be tarnished.

Back to 2015: A Royal Silencing of the Doubters The Kansas City Royals, perplexed over a lack of respect, get mad and even by proving the prognosticators wrong with a well-deserved world title.

2016 Leaders & Honors Our list of baseball's top 10 hitters and pitchers in both the American League and National League for the 2016 baseball season, as well as the awards and honors given to the game's top achievers of the year.

The 2010s: A Call to Arms Stronger and faster than ever, major league pitchers restore the balance and then some—yet despite the decline in offense and rise in strikeouts, baseball continues to bring home the bacon through its lucrative online and regional network engagements.