2015: A Royal Silencing of the Doubters
The Kansas City Royals, perplexed over a lack of respect, get mad and even by proving the prognosticators wrong with a well-deserved world title.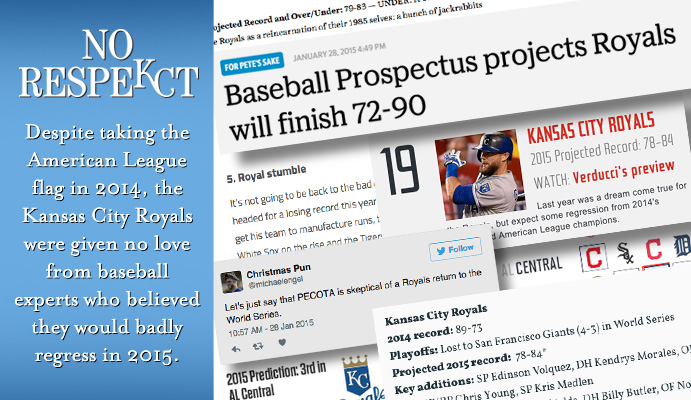 The Winter of 2015 was difficult enough for the Kansas City Royals. Yes, they were coming off their first American League pennant in nearly three decades, but the frustration of losing Game Seven of the World Series on their own turf gnawed at them as the cold winds and snow blew outside. Sleepless nights likely ruled, with rare dreamtime reserved for nightmares of Madison Bumgarner and that last 90 feet Alex Gordon might have been able to safely sprint through to tie the game in the ninth—if only he had tried. 
But then the Royals arrived at camp in Arizona, and wintertime angst segued to springtime anger. Word on the street, from the media and through the social media din was that Kansas City's impressive 2014 campaign was nothing but a fluke, with little of a follow-up expected. 
The disrespectful chatter turned the Kansas City clubhouse into a war room. It became "us against them"—'them' being, essentially, everybody. Over the next seven months, the Royals would aggressively channel all their fury through their bats, their legs, their arms and sometimes their fists as they went on a mission to prove the cynics embarrassingly wrong. The only people shamed were the ones who got in the Royals' way. 
Throughout the offseason, the Royals' roster hadn't changed much from the one that grabbed a 2014 wild card and surprised with spunk throughout October before falling so tantalizingly short to San Francisco in the World Series. The young cadets who grew and matured out of the Kansas City farm system remained, as did baseball's most stifling bullpen. But the Royals lost two key veterans with the free agent departures of designated hitter Billy Butler and workhorse ace James Shields; replacing them would be slugger Kendrys Morales, who hit .218 for Seattle in 2014, and Edinson Volquez—a solid pitcher labeled with a journeyman tag as he readied to join his fifth team in four years. Perceived as a downgrade, these moves—combined with what many felt was a flash-in-the-pan effort the year before—led baseball experts to frown upon the Royals' chances for 2015. 
ESPN's three most respected baseball writers—Buster Olney, Jayson Stark and Tim Kurkjian—all said the Royals wouldn't return to the postseason. A consensus of Sports Illustrated's top six baseball writers, including Tom Verducci, agreed that the Royals would finish somewhere just below .500. The Sporting News pegged Kansas City as a fourth-place team. And Baseball Prospectus' PECOTA projections, a purely metric and historically conservative method of forecasting, computed the Royals' 2015 record at a very lowly 72-90. (This Great Game, in its season preview, predicted the Royals to finish at 84-78 with no return to the postseason.) 
The Royals quickly let all the soothsayers know what fools they were. They fielded, for what it was worth, baseball's best spring training record at 20-10—but when the games started to count in April, they only got better, winning their first seven contests and tearing out to an AL Central lead they would concede for only 17 days during the season; when they did manage to find themselves in second place, they never trailed by more than a single game. 
The fast start was spiced with a series of confrontations that led the Royals to be branded as baseball's latest band of bad boys. And the one guy who always seemed to be at the center of it all was young pitcher Yordano Ventura, whose lightweight frame was offset by a heavyweight temper. In the season's first few months alone, he engaged in a home plate spat with Los Angeles of Anaheim superstar Mike Trout (of all people), got ejected for plunking Oakland infielder Brett Lawrie—part of a brawl-infested series with the A's—and ignited another melee in Chicago when he trash talked the White Sox' Adam Eaton to first base after fielding a hard comebacker. 
Ventura's actions were defended by his teammates—some of whom were happy to get in on the fisticuffs—and Kansas City fans even got in on the act, transcending the ballclub's rebellious mood and its hot start by shamelessly voting on Royals players for the upcoming All-Star Game over and over again. The digital stuffing, which at one point showed Kansas City players leading in seven of the nine position player spots, was muted by an executive decision from Major League Baseball to annul a sizeable chunk of Royals votes. Still, four Royals players made the American League's starting lineup—and when fans were asked to complete the All-Star roster with the "Final Vote," another Royal, third baseman Mike Moustakas, won out over four other players.
BTW: At the box office, the Royals smashed a franchise attendance record with 2.7 million paying customers; it was the first time since 1991 that they had even drawn over two million.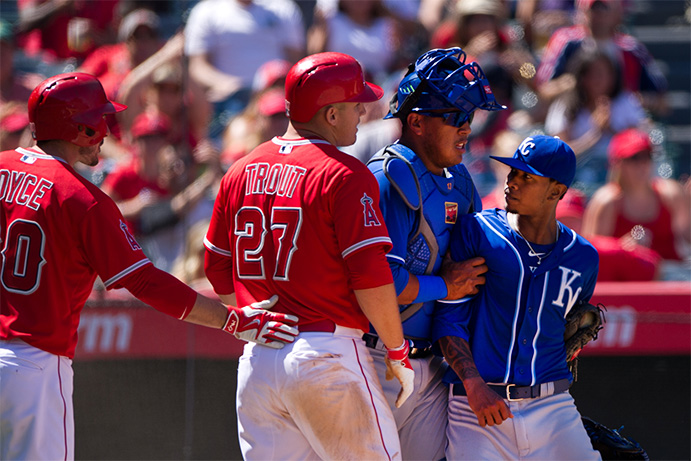 The Royals and pitcher Yordano Ventura spent much of the regular season making enemies out of opponents who bristled at Kansas City's aggressive, sometimes punchy attutude. (Associated Press)
The frisky actions of club and crowd in Kansas City were emotional spinoffs of the Royals' aggressive style of play. In a time when most everyone was unapologetically fueling strikeout numbers to record high levels, the Royals specialized in making contact and putting the ball in play—as reflected in the fact that no other team struck out less and (Miami excepted) walked less. This forced opponents to do their job and make plays on defense—and they still had their work cut out even after the Royals reached base, with Kansas City baserunners constantly gunning for an extra 90 feet dared fielders to catch them. They often couldn't, and overall made more errors against the Royals than only five other teams.  
No particular Royal stood out offensively; they all stuck to manager Ned Yost's playbook of discipline and disruption, rattling opponents while supporting one another. Moustakas, who entered the year with a lifetime .236 batting average, quickly evolved with a .284 mark and a team-high 22 homers; tireless catcher Salvador Perez added 21 blasts; Kendrys Morales, the iffy proposition at DH, surged back to strength with a .290 average, with 22 homers and 106 RBIs after a prolonged bounce-back struggle from a freak leg injury sustained five years earlier; and outfielder Lorenzo Cain came the closest to being a MVP threat with team highs in a .307 average, 101 runs and 28 steals.
BTW: Cain, in fact, finished third in the AL MVP vote behind Josh Donaldson and Mike Trout.
On the mound, a standard Kansas City rotation was saved by the addition of Edinson Volquez (13-9, 3.55 earned run average) and fellow nomad Chris Young, who contributed 11 wins and a 3.06 mark when others faltered. But the bullpen remained the beast of the Royals' staff. Kelvin Herrera, Wade Davis and closer Greg Holland remained all but impenetrable from the seventh inning on—and when Holland succumbed to Tommy John surgery late in the season, Davis took over the ninth-inning role with aplomb, becoming the first pitcher in major league history to secure a sub-1.00 ERA over a two-year period. 
The Royals bolted away from weak AL Central competition in the season's second half; Detroit's bid for a fifth straight divisional title quickly dissipated from uneven pitching and injuries to key players, including star slugger Miguel Cabrera. Kansas City finished with the AL's best record at 95-67 and, easily, the biggest cushion (12 games) of any of baseball's six divisions. 
In the postseason, the Royals rekindled a reputation they developed the previous October: The ability to spark a comeback. In the ALDS against the Houston Astros—a mild mirror image of the 2014 Royals with talented youth and spirited exuberance—the Royals trailed in all five games but found a way to bounce back and win the three necessary to advance. The defining moment of the series came in Game Four at Houston when the Royals— six outs from being eliminated and down four runs—stormed back with seven late tallies, including five in an eighth inning critically aided by Morales' double-play grounder that somehow eluded Astros rookie star shortstop Carlos Correa, turning two outs into two runs.
BTW: It was the second time in as many years that the Royals came from four or more runs down to win a postseason game when faced with elimination. No other major league team has done that even once.
Advancing to the ALCS against the powerful Toronto Blue Jays—wielding the majors' most potent offense, to say nothing of ticked-off memories of the Royals performing more headhunting stunts against them during an early August series—Kansas City was immediately lifted with two home wins to start. In Game Two, the Royals shattered Toronto rent-an-ace David Price, who had pitched effortlessly and effectively for six frames, with five runs in the seventh—a rally that all began when Ben Zobrist's lazy pop fly fell between Toronto second baseman Ryan Goins and right fielder Jose Bautista, with both thinking the other would catch it. The Blue Jays punched it up and won two of the next three, but in Game Six, the Royals' opportunity for aggression was highlighted anew. A 3-3 tie was broken in the bottom of the eighth when, on an Eric Hosmer single to right, Lorenzo Cain sprinted from first to third—and then home when Bautista, fielding the ball, threw into second assuming Cain would stop at third as most baserunners routinely do. It was a gaffe that helped send the Royals to their second World Series appearance.
The Royals' last obstacle in their quest for complete vindication would be a surprise World Series opponent in the New York Mets.
A solid organization throughout much of the 2000s, the Mets were expected to shift upward into near-invincible mode when they left aging Shea Stadium for sparkling new Citi Field in 2009. Instead, they became something of an afterthought, stagnated with subpar play in front of crowds typically smaller than what was announced. Blame was placed on owner Fred Wilpon, whose spending abilities were curtailed by his losses in the Bernie Madoff investment scandal, which some accused—and even sued—Wilpon for being a part of. The Mets had to borrow nearly a billion dollars to avoid bankruptcy, and used a majority of their revenue not to sign free agents but to pay off debt. Some Mets fans simply couldn't take it anymore; at the start of the 2015 season, a few of them paid good money to rent billboards near Citi Field with messages begging Wilpon to sell.
The vibe inside the Mets' clubhouse seemed no better than that of the front office. During spring training, second baseman and devout Christian Daniel Murphy stirred controversy when he criticized Billy Bean's homosexuality after the former player came in and preached inclusiveness within baseball; closer Jenrry Mejia was nailed with the first of two PED suspensions he would absorb, limiting his total duty on the season to a mere seven games; and rookie pitcher Noah Syndergaard, the tall, blonde-haired hope for the near future, was given a rude welcome in the locker room when veteran star David Wright and pitcher Bobby Parnell grabbed his plate of lunch and angrily tossed in the trash because he was eating during an exhibition game, an apparent no-no. All this, while the Mets somehow prepared for a campaign stuck in the same division as the Washington Nationals, most everyone's pick to win the World Series.
BTW: Mejia would be nailed with a third positive test early in 2016, leading to a permanent ban from baseball.
Despite a franchise-tying 11 straight wins in April, the Mets eventually settled into mediocrity by early summer. The problem wasn't the pitching; the Mets' rotation—featuring Syndergaard, Tommy John surgery survivor Matt Harvey and reigning National League Rookie of the Year Jacob deGrom—was one of baseball's most promising, and Jeurys Familia effectively filled in the closer void abandoned by the suspended Mejia. The truth was, the Mets couldn't hit worth a lick, at one point averaging 1.6 runs over a 14-game stretch. It all hit rock bottom late in July when the Mets fielded a starting lineup with a combined .200 batting average against Los Angeles Dodgers ace Clayton Kershaw—who, not surprisingly, took a no-hitter into the eighth before settling for a three-hit shutout. 
One simple trade made all the difference. The Mets acquired flashy Cuban outfielder Yoenis Cespedes, hoping he would light a fire under the team's offense. The spark ignited a powder keg. After Cespedes' arrival, the Mets scored 33 runs in a three-game series at Colorado, hit eight home runs in a game at Philadelphia, and won 11 straight road games in September—all team records. New York notched eight or more runs in 13 of its final 42 games of 2015, after only being able to do so eight times through its first 120.
Just as importantly, the Mets' ascension from .500 coincided with a late-summer meltdown by Washington, both in the standings and in the dugout. Surely the Mets helped hammer down the final nails in the Nationals' coffin by taking six straight games against them in the month after Cespedes came on board—but the Nationals, made preseason darlings by the same baseball forecasters who said the Royals weren't going anywhere, became their own worst enemies even in spite of a monster breakout year from 22-year-old Bryce Harper and Max Scherzer's two no-hitters. Constant injuries, spotty pitching and clubhouse dissension, which broke into the open toward season's end when veteran closer Jonathan Papelbon foolishly berated—then began to choke—Harper for a lack of hustle on a pop-up, turned what was supposed to be D.C.'s dream season into a nightmare, and a NL East title for the Mets.
Yo Gotta Believe
Offensively, the New York Mets were a mess for the first four months of 2015 the season, but the influence of Yoenis Cespedes—picked up from Detroit at the July 31 trading deadline—proved enormous.

The postseason competition awaiting the Mets had yet to face them, post-Cespedes. Their first-round opponents, the NL West champion Dodgers, would see a very different team than the one Clayton Kershaw had toyed with back in July. Daniel Murphy, the good Christian, became a mean Met by smoking a Kershaw fastball so hard into the bleachers in Game One that the ball had Murphy's name from his bat branded upon it. It was just the beginning of a raging NL playoff season for the veteran second baseman. He homered twice more in the series, and helped score the ultimate series-winning run in Game Five when he went from first to third on a Lucas Duda walk after the Los Angeles infield, playing the shift toward first base for Duda, fell asleep at the wheel and didn't cover third. Murphy next scored on Travis D'Arnaud's sacrifice fly. 
Next were the Chicago Cubs, who faced the Mets seven times, pre-Cespedes, during the regular season—all won all seven. The Cubs were a lively, young and positively upstart unit who grew faster than expected, surged late in the year and became intoxicated with a rabid Wrigley Field fan base that sensed the end of a century-old World Series drought. But Daniel Murphy would make the wait a year longer. In New York's NLCS sweep, he would homer in all four games—extending to six a streak of postseason games in which he would go deep to set an all-time record—go 9-for-17 at the plate overall, and support Mets pitching that limited Chicago's potent bats (paced by Anthony Rizzo and NL Rookie of the Year Kris Bryant) to eight runs in four games. 
But as Murphy and the Mets made it to the World Series, they would come face-to-face with the team on the mission, the Royals.
BTW: This would be the first time a World Series didn't include one of the "Original 16" teams that existed before the Expansion Era began in 1961.
Ever the aggressors, Kansas City wasted no time in Game One. Alicdes Escobar took the very first pitch from Mets ace Matt Harvey and turned it into an inside-the-park home run, the first seen in the Fall Classic in 86 years. (The Mets, who never trailed in the NLCS, fell behind 1-0 after throwing one pitch in the World Series.) The Mets rebounded and took the lead—as they would often, leading after 24 innings throughout the series compared to the Royals' 12—but Kansas City had long since proved that playing from behind was its prime strength. Two outs from defeat in Game One, The Royals erased a 4-3 margin on a solo Alex Gordon homer and won it in a World Series record-tying 14 frames, 5-4. Midway through Game Two, the Royals trailed 1-0 but stormed for seven unanswered runs as their own rent-an-ace, Johnny Cueto, fired a two-hit complete game victory. After a 9-3 loss in Game Three at New York, the Royals rallied for three eighth-inning runs in Game Four to overcome a 3-2 deficit. 
Then came Game Five. A dominant Matt Harvey had clamped the Royals down through eight shutout frames and increased his season total to 216 innings—well beyond the hard limit of 180 requested by his Tommy John surgeon, Dr. James Andrews. But Harvey wanted to throw a 217th, finish the shutout and send the series back to Kansas City. He angrily lobbied his coaches and got his wish; it would become a death wish for the Mets. 
With a 2-0 lead, Harvey walked Lorenzo Cain to start the ninth. Incredulously, New York manager Terry Collins let Harvey stay in. One batter too late, it turned out; Eric Hosmer next doubled, and closer Jeurys Familia replaced Harvey with a difficult save ahead of him. He never got it; Hosmer reached third on a ground out, then next took a huge gamble by sprinting homeward on a Salvador Perez grounder to New York third baseman David Wright—who never bothered to look Hosmer back to the bag before throwing to first—and scored as Lucas Duda's panicked throw to home went way wide of the target. Hosmer's desperate dash was even gutsier than the inside-the-park home run quest Alex Gordon had aborted 90 feet shy a year earlier, and it sent the game into extras. The game remained knotted until the 12th, when the Royals exploded for five runs and put an exclamation point on their ultimate rebuttal to the preseason cynics by clinching their first world title in 30 years. 
Kansas City's fiery disposition morphed from an early-season brand of outlaw theatrics to a merciless championship ethic in October. The Royals were distressing, rattling even the best of Mets: Closer Jeurys Familia suffered through a World Series-record three blown saves, Yoenis Cespedes was neutralized and NL playoff hero Daniel Murphy shook down to three measly singles along with crucial fielding errors in the final two games. They were resilient, winning a record eight postseason games from behind while catcher Salvador Perez—a virtual strike zone of his own as he took one bruising foul tip after another behind the plate—emerged as the World Series MVP with a .364 average. They were aggressive, with leadoff igniter Alcides Escobar batting .329 in 70 postseason at-bats without drawing a single walk. And they were assertive, as they had been all season long—constantly putting the ball in play and forcing the opponent to earn the out. Had the Royals struck out at the same dizzying rate as everyone else in baseball, then perhaps Carlos Correa doesn't have to field that double-play grounder in the ALDS. Or Ryan Goins and Jose Bautista don't have to decide who catches that pop fly in the ALCS. Or Lucas Duda doesn't have to make that throw home in the World Series.
BTW: Familia had not blown a save in three months coming into the World Series.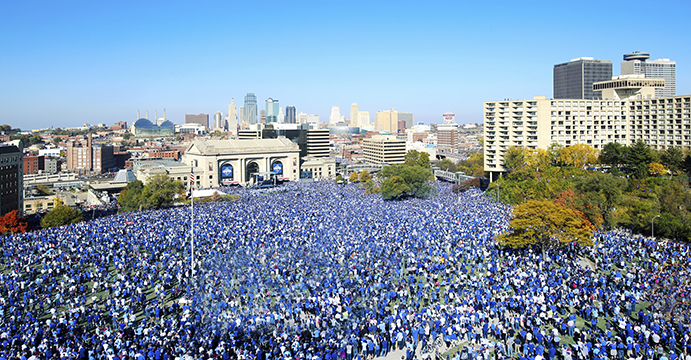 Like a bloom of wildflowers, a massive crowd of royal blue-clad Kansas City fans—nearly double the city's population—celebrates the Royals' first championship in three decades. (iStock)
The same Royals fans who tried to essentially turn the AL All-Star team into the Kansas City Royals were ecstatic over their team's triumph. They shot off so many fireworks after the final out of the World Series that local Doppler radar confused it for a lightning storm passing through the area. And when an estimated crowd of 800,000 descended upon Kansas City—population, 470,000—for the championship parade, some late arrivals hopelessly stuck in traffic literally stopped their engines in the middle of the freeway and walked from there. 
Perhaps they thought the people trying to pass through town behind them were the ones who picked the Royals to do nothing in 2015.

Forward to 2016: Cubs Win! Cubs Win! With stout pitching, a confident batch of young hitters and a magnetic manager, it finally all comes together for the Cubs, who shred baseball's longest-ever championship drought.

Back to 2014: Replay it Again, Bud Baseball finally embraces extensive video replay to review close calls, but the process leaves a lot to be desired.

2015 Leaders & Honors Our list of baseball's top 10 hitters and pitchers in both the American League and National League for the 2015 baseball season, as well as the awards and honors given to the game's top achievers of the year.

The 2010s: A Call to Arms Stronger and faster than ever, major league pitchers restore the balance and then some—yet despite the decline in offense and rise in strikeouts, baseball continues to bring home the bacon through its lucrative online and regional network engagements.