The 2020s: The Turbulent Twenties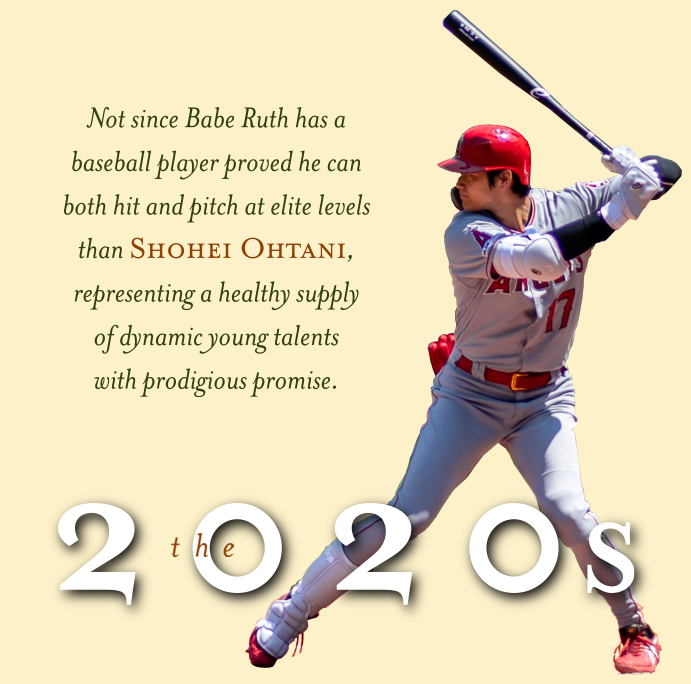 The stable, grand old game of baseball entered the third decade of the 21st Century facing a tide of change unlike anything seen in its previous 150 years. But even those suggesting to "buckle your seatbelts" had no idea just how bumpy the coming ride would be. 
The decade had barely just begun before baseball was knocked sideways with two seismic crises: Stunning revelations that the world champion 2017 Houston Astros used a rampant and effective scheme to cheat their way to the podium, and the dawn of the crippling COVID-19 epidemic, which would persist for over two years and claim a million-plus deaths in America. Major League Baseball was able to put a lid on the former matter—laying down a heavy punishment upon the Astros—but not the latter, as a lack of vaccines and bans on public gatherings forced the 2020 season to be sharply curtailed to 60 games and played before zero spectators until late in the postseason. 
As the pandemic waned, other issues cropped up and persisted. Labor relations between owners and players hit a 25-year low and resulted in a lockout, which was resolved at the last possible moment to avert another shortened season in 2022. And controversy continued to surround some of the game's biggest stars, with long suspensions handed down for steroid use (Fernando Tatis Jr.) and domestic abuse (Trevor Bauer). 
On the field, baseball's rules continued to be anything but set in stone. In response to lower scoring, lower attendance and slower pace of play, MLB desperately tried to dredge up more-than-subtle tweaks to forge its idea of a more enjoyable game. Among the changes was a pitch clock, a ban on radical defensive shifts, larger bases, expansion of the designated hitter to the National League and, most unpopular of all, the insertion of an automatic runner placed at second base to start each half-inning beyond the ninth. Purists and non-purists alike frowned on many of these changes, criticizing MLB for applying knee-jerk solutions rather than allowing the time-tested remedy of players and coaches to react, adjust and overcome any challenges. 
The 2020s offered hope for the game in a plethora of young, highly-gifted ballplayers making immediate All-Star-level impacts on the field. This treasure trove of talent included the aforementioned Tatis, Vladimir Guerrero Jr., Julio Rodriguez, Wander Franco and Juan Soto. Owners made a more aggressive tact to bet big on these players' futures, handing them massive extensions before they even became eligible for arbitration. They were essentially viewed as less of a risk than traditional free agents asking for long-term contracts lasting well into their 30s. 
Expanded playoffs made for an even more unshackled playoff season, which suited MLB just fine given the extra TV money flowing in with it. Six wild cards now compete with six division champions in October; more than ever, anything can happen. 
And as this decade has thus far proven, anything will.

Back to the 2010s: A Call to Arms  Stronger and faster than ever, major league pitchers restore the balance and then some—yet despite the decline in offense and rise in strikeouts, baseball continues to bring home the bacon through its lucrative online and regional network engagements.