Breakout ace Babe Adams of the Pittsburgh Pirates stifles the Detroit Tigers and hands them their third straight World Series loss.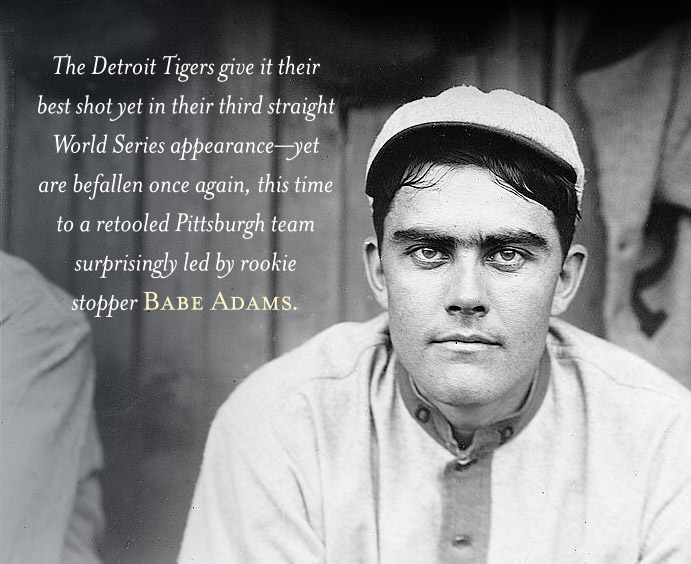 If they couldn't beat the Cubs, couldn't they at least beat a Babe?
For two consecutive years, the Detroit Tigers had ascended to the World Series—only to be thoroughly mauled both times by the powerful Chicago Cubs. In 1909, they would make it a third straight appearance, and to their utter relief, it would be against someone else: The Pittsburgh Pirates. 
And though the Tigers would do their best to hold their own by staging one of the most competitive Fall Classics to date, they would ultimately succumb to a seldom-used, 27-year-old rookie pitcher. 
Babe Adams' three Series wins propelled the Pirates to, finally, their first-ever World Series win, and handed the Tigers their third straight Series loss—an unprecedented feat of failure at the top.
In reaching the Series, the Pirates answered one of the most oft-asked questions of recent years: Who would unseat the Cubs from the National League's throne?
Chicago's three-year reign as NL champions would end, but not without a lack of effort. Their 104-49 record was the best ever by a team that didn't win a pennant.
Playing as well as they could under the circumstances, the Cubs were handicapped under manager-first baseman Frank Chance. He lost catcher Johnny Kling to a year-long holdout (Kling had a fallback as a stellar billiards player), shortstop Johnny Evers to a mental breakdown—and himself to a broken bone in his shoulder. The team's pitching was strong as ever, delivering a team earned run average of 1.75—just a shade above its own major league record, set two years earlier. Yet the Cubs' hitting descended to mediocre status. 
Chicago had first place wrestled away by Pittsburgh before the season was three weeks old—and the Pirates never lost it, ending up with an astounding 110-42 record. For player-manager Fred Clarke—who had run the Pirates through the century's first decade with consistently high marks but no World Series triumphs—1909 had to be his most satisfying year yet.
BTW: The Pirates seldom lost, period, against the National League's three worst teams, scoring a combined 56-8 record against Brooklyn, St. Louis and Boston.
Pennantless for six years entering 1909, the Pirates gained a newfound lease on superiority with a mix of leaders old and new. Clarke, Honus Wagner and outfielder Tommy Leach were the team's big three batting leaders in their earlier reign of 1901-03; they remained so in 1909. 
Wagner, now 35, continued to dominate the plate as the league's best, winning his sixth batting title in seven years (at .339) while leading the league in runs batted in at 100. Leach, 31, led the NL with 126 runs; Clarke, at 36, displayed his leadership by hitting a solid .287 while stealing 31 bases. On the mound, 33-year-old pitcher Vic Willis was just happy to play for a contender; he chalked up his fourth straight campaign winning 20 or more games for the Pirates after being tagged for 54 losses over two prior years at Boston.
The youthful side of the Bucs was punctuated by first baseman Dots Miller, outfielder Owen "Chief" Wilson and, most notably, pitcher Howie Camnitz, enjoying a breakthrough year with a 25-6 record.
The Pirates' frame of mind got an encouraging boost with the opening of their new steel-and-concrete ballpark, Forbes Field, at the end of June. Named after the city's founder, Forbes replaced beat-up, wooden Exhibition Park, a frequent target of flooding by the weather gods and, rain or shine, always seemed stuck with swampy conditions. 
Seating 25,000, Forbes Field took an incredibly quick four months to erect, and contained an expansive field destined to discourage any movement by players to start swinging for the fences; it was 360 feet down the lines and 470 to dead center. The Pirates still managed to be in the middle of the pack in terms of NL home attendance (at 500,000), but their gate was a substantial increase over figures of years past.
Forbes wasn't the first ballpark of its kind in the majors; that honor belonged to Philadelphia's Shibe Park, which beat Forbes to the punch by two months. Shibe's seating capacity of 30,000 helped make the A's the American League's top home draw; it also didn't hurt that Connie Mack's club had rebounded, giving the front-running Tigers another tough pennant race to deal with.

Steel-and-Concrete Gains
Transitioning from wood to steel-and-concrete, the majors initiated a golden era of ballpark construction with the debuts of Pittsburgh's Forbes Field (left) and Philadelphia's Shibe Park (right). In almost every case, healthy attendance increases were seen in each facility's first year of operations.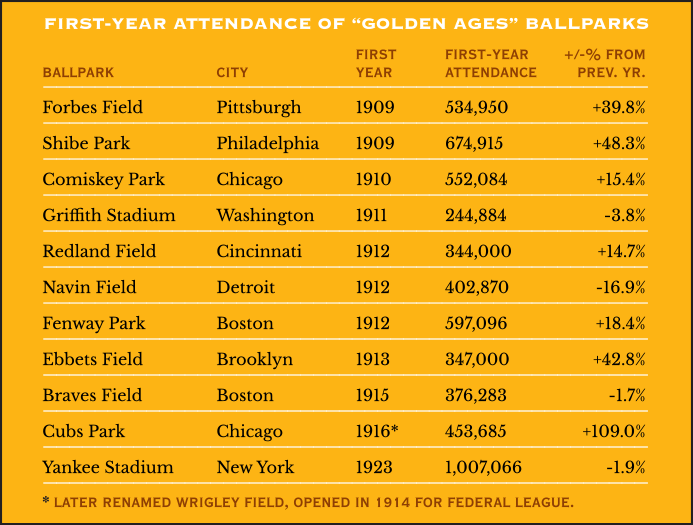 Mack had started a rebuilding program after a disappointing sixth-place finish in 1908—and quickly discovered it was in overdrive. He overhauled three-quarters of his infield and inserted three fresh, young faces—first baseman Eddie Collins (22 years old), shortstop Jack Barry (22), and third baseman Frank Baker (23). Collins, in particular, was an immediate smash, batting .346 in his first full year. The A's league-leading pitching staff was highlighted by another youngster, 21-year-old Harry Krause, who led all AL pitchers with a 1.39 earned run average.
The A's battled with the Tigers through most of the year, tying them for first place by August 10. When the two met in Detroit later that month, controversy erupted; to no one's surprise, the man at the center of it all was Ty Cobb.
The 22-year-old outfielder, having his best year to date, had delivered one of his patented, aggressive spikes-up slides at third base—tearing into the uniform and skin of Frank Baker. The normally gentile Connie Mack erupted, labeling Cobb a "back-alley artist" and "no-good ruffian."
A second series loomed for the two teams back at Shibe Park in late September, with the AL pennant all but likely to be in the balance. Incensed A's fans readied for Cobb; newspapers in Philadelphia received death threats directed at him.
Given all the unwanted attention, many thought Cobb would keep a low profile before the Tigers' engagement at Philly. But serenity wasn't a prime component of Cobb's DNA, and a few weeks before the series he engaged in one of his ugliest episodes. On the road in Cleveland, Cobb attacked an employee of the hotel where the team was staying—simply because the man was black. Cobb had to be smuggled out of Ohio to avoid immediate jail time.
BTW: This wasn't the first such alleged incident for Cobb; he reportedly assaulted a black hotel employee in 1908, too.
The heavily publicized Cleveland incident only ratcheted up the vitriol fans in Philadelphia built up for Cobb as the Tigers came to Shibe. Detroit manager Hughie Jennings showed Cobb the death threats, and friends and family of Cobb pleaded with him not to play, for his own safety. But play he did, needing special escorts to and from the ballpark, while extra police had to monitor the sidelines.
Fortunately, there were no incidents on or off the field involving Cobb, and though the A's took three out of four games from the Tigers—all played before sellout crowds at Shibe—Detroit remained ahead by two games going into the home stretch of the regular season. They then pulled away safely to a 3.5-game, first-place finish.
BTW: The third game of the series at Philadelphia drew an overflow crowd of 35,409—at the time, the largest for a major league game…The A's finished short of Detroit in the standings despite winning the season series against the Tigers, 14-8.
Remaking Ty Cobb
For roughly a century after Ty Cobb's baseball reign, the general consensus was that he was an angry white Southerner who held a vicious disposition—especially toward African-Americans. But in the mid-2010s, a pair of new Cobb biographies attempted to rehabilitate his image, suggesting that Cobb, while sometimes mean, was mythically misunderstood and certainly not a racist. In a time when conspiracy theories, fake news and the online search for favorable viewpoints to adequately fit one's narrative began to run amok, the two Cobb books became instant Kool-Aid for readers who absorbed it as ironclad gospel. While many assail the work of Cobb biographer Al Stump, who actually spent time with Cobb shortly before the ex-ballplayer's death but was said to make up much of the material, there are numerous other resources and accounts of Cobb, almost all of which describe the man as highly ill-tempered and, yes, often racist. Where there's smoke, there's fire—and some of these sources saw the fire first-hand. Revisionist tales sometimes make good points, but the writings and accounts of Cobb from multiple sources are so voluminous and synced that it's dubious to embrace an alternative viewpoint 100 years later.
Cobb's numbers sparkled brightly as ever. He dominated the AL, batting .377—his third straight batting title, and the highest average recorded to date in the AL by a player not named Nap Lajoie. By also leading the league with nine home runs and 107 RBIs, Cobb would collect the only triple crown of his career. If that wasn't enough, he also led in runs (116) and stolen bases (76).
Once again, Cobb was largely aided by Sam Crawford (.314 batting average, 97 RBIs), and vice versa; the rest of the Detroit lineup remained dependent upon Cobb, Crawford, and its sterling pitching staff. George Mullin had been a workhorse of a .500 pitcher over his seven-year career with the Tigers, but in 1909 he finally broke out and dominated opponents, recording a league-high 29 wins against just eight losses for a .784 winning percentage. Two young right-handers named Ed—Willett and Summers—contributed 21-10 and 19-9 marks, respectively. A third Ed—veteran Ed Killian—produced a team-low 1.72 ERA despite a relatively banal 11-9 record.
The World Series was built up not so much as a matchup between Pittsburgh and Detroit as it was a showdown between Wagner and Cobb—the mild-mannered, gangly veteran against the angry young man with a razor-sharp ax to grind. The two superstars were justifiably cited as the best of the day.
Just getting Cobb to Pittsburgh required some ingenuity on the Tigers' part. With Ohio separating the two cities, Cobb had to find a way to avoid the state, where he was still a wanted man for his stabbing of the hotel employee. While the team came and went through Ohio, Cobb used Canada as a detour.
Getting a surprise start for the Pirates in Game One was Babe Adams, who in his first full season started only 12 games and relieved in 13 others. But he had proven to be sharp, winning 12 of 15 decisions, allowing a .196 batting average, and earning a striking 1.11 ERA. His lack of time on the mound kept him from qualifying for the ERA title, where he would have edged out Christy Mathewson.
In starting Adams, Fred Clarke was putting his trust into NL president John Heydler, who opined that Adams' pitching style was similar to that of Washington's Dolly Gray—a pitcher giving the Tigers fits all year long.
Adams allowed a first-inning run in Game One when Cobb scored on a single, but he settled down and began the process of proving Heydler right, as the Bucs prevailed 4-1.
It was an important first win, as the teams traded victories the rest of the way—leaving the Tigers chronically a step behind. With the series tied at two games apiece, Adams was summoned to the mound for his second start; after spotting the Tigers another first-inning run, he quickly again found the rhythm while Pirate bats ripped Ed Summers apart, 8-4.
With the rest of the vaunted Pittsburgh staff failing, Adams was called upon to come to the rescue for Game Seven—on two days' rest. He responded by saving his best performance for last, tossing a six-hit shutout.
The Wagnerian Decade
Few, if any, ballplayers dominated a major league over a decade as Honus Wagner did during the 1900s. As shown below, the Flying Dutchman led the National League numerous times in all major offensive categories, and no one accumulated more totals in those same areas overall from 1900-09.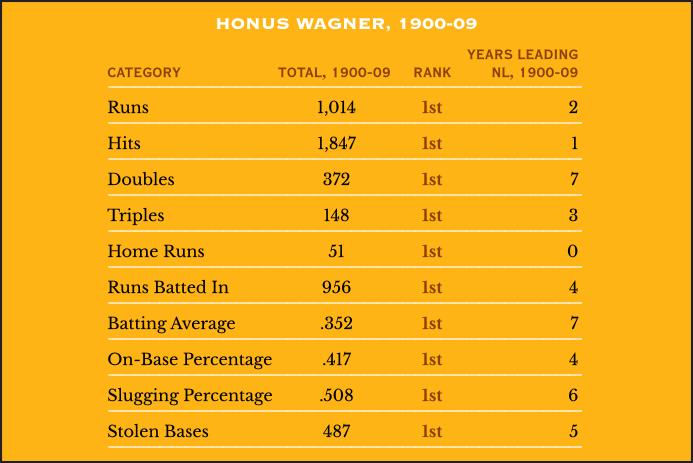 For the third straight year, the Tigers had lost the Fall Classic—and for the third straight year, were shut out in the deciding game.
The Tigers had themselves as much to blame as Babe Adams for their hat trick of World Series woe. They committed an all-time Series-record 19 errors—resulting in 13 unearned Pittsburgh runs. And once again, opposing runners ran crazy on the Tigers, with the Pirates stealing 18 bases.
BTW: In their three straight World Series defeats, Detroit allowed a total of 49 stolen bases.
Though the series played tight, the personal battle between Wagner and Cobb ended up as a mismatch. Wagner hit .333 and stole six bags, while Cobb batted just .231 with two steals. One of the great legends of the Series had Cobb ready to steal second base and announcing his intentions to Wagner at shortstop. "I'm coming down on the first pitch, Krauthead," Cobb was said to yell, and when he did, Wagner took a perfect throw from home and applied a ruthless tag to Cobb's face, loosening three of his teeth. In later years, both players would deny that any of the trash talk ever happened.
For Wagner, it was his first taste of World Series victory, a fitting enhancement for his Hall-of-Fame resume.
Ty Cobb, still at the tender age of 22, would never get another shot at the World Series.
But he was far from done making headlines.

Forward to 1910: A Carload of Trouble The World Series becomes anticlimactic following a strange and controversial ending to the individual batting race between two of baseball's premier hitters: Nap Lajoie and Ty Cobb.

Back to 1908: The Merkle Boner A 19-year-old rookie costs the New York Giants by committing one of the game's most notorious blunders.

1909 Leaders & Honors Our list of baseball's top 10 hitters and pitchers in both the American League and National League for the 1909 baseball season, as well as the awards and honors given to the game's top achievers of the year.

The 1900s: Birth of the Modern Age The established National League and upstart American League battle it out, then make peace to signal in a new and lasting era.