1925: An Intestinal Excess
The good life—or too much of it—finally catches up with a bloated Babe Ruth.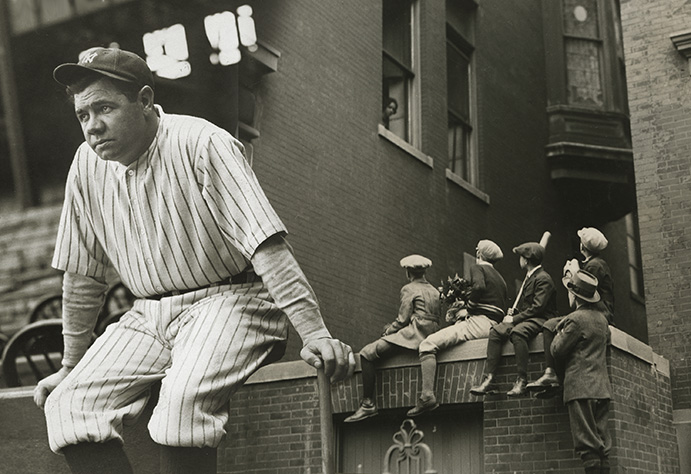 A group of kids outside a New York hospital holds a vigil for fallen idol Babe Ruth, bedridden with a severe intestinal issue. (The Rucker Archive)
Babe Ruth excelled at living life to the fullest, and then some. He gorged on food, downed the drinks, and caroused with women—lots of women. There was no secret about any of it.
Amazingly, in his five years as a New York Yankee, Ruth's bat managed to keep a potent pace with his endless parade of nocturnal hedonism. People shook their heads in disbelief, figuring Ruth had to be immortal to get away with such indulgence and still play baseball in a stratosphere above the rest.
In the spring of 1925, however, the Babe's bubble burst.
Having just turned 30, the Big Bambino reported to spring training looking more like the Bloated Bambino, weighing around 270 pounds after an especially raucous offseason of partying. Newspapers reported that Ruth had gone financially broke living too much of the good life.
But even the call to get into shape for the regular season didn't stop Ruth from continuing his escapades—"Day and night, broads and booze," recounted teammate Joe Dugan.
Ruth gradually began to suffer from a fever that not only wouldn't go away, but instead grew worse. Somehow through it all, he continued to play at his best, batting over .400 and crushing homer after homer.
As spring training wound down, the Babe finally crashed. At Asheville, North Carolina, Ruth collapsed at the train depot as the team readied to depart. After remaining behind to recover, he boarded a train for New York—when he collapsed again, this time slamming his head hard on the floor.
Ruth's second fall caused a sensation, and news of his death was greatly exaggerated; a London newspaper even published a lengthy obituary on Ruth. Reporters elsewhere who knew better humorously called the episode "The Bellyache Heard 'Round the World."
Doctors soon discovered that Ruth was suffering from an intestinal abscess—or, in short, an ulcer. An operation ensued, and Ruth was confined to a month of bed rest to recover.
The Yankees badly missed Ruth's presence in the lineup. When he finally rejoined his team, it was limping along with a 15-25 record, ahead of only the cannibalized Boston Red Sox in the American League standings. The Yankees were thus resigned to the fact that they were in the middle of a rebuilding year. They had an aging pitching staff, a tin-hitting shortstop (Pee Wee Wanniger) playing in his only full major league season, and field regulars (Whitey Witt, Everett Scott and Wally Pipp) who were being phased out—not so much for being old, but ineffective. The return of a healthy Ruth could only help in easing the transition.
BTW: Wanniger, who hit .236 with a slugging percentage not much higher, would only play one other year in the majors—a part-time effort split between the Red Sox and Cincinnati in 1927.
The ousting of Scott and Pipp from the lineup weaved an ironic prologue to one of baseball's great achievements. Scott, ringing up the longest consecutive game streak in major league history, had it snapped at 1,307 games in early May when he was replaced by Wanniger at shortstop. Less than a month later, Pipp complained of a recurring headache he suffered after being nailed by a baseball a few days earlier. He asked for the day off, and a day became an eternity. Replacing him at first base was a 22-year old who had been a sensation in the minors and had performed magnificently, albeit scantly, for the Yankees. Having pinch-hit for Wanniger the day before, Lou Gehrig played in his second consecutive contest—and it would be 2,128 games before he would be absent from a box score again.
Meanwhile, Babe Ruth apparently hadn't learned—or was simply ignoring—the lessons taught to him by his belly, continuing to ditch the team's hotel on the road for the nightlife. And minuscule Yankees manager Miller Huggins was beginning to tire of it all.
BTW: Ruth's roommate Ping Bodie commented, "I room with his suitcase."
At first glance, the 5'6", 140-pound New York skipper looked like the perfect pet for Ruth—the humorless little guy being hugged around the neck and given noogies by the big star. But those who knew Huggins better saw him as a more prominent presence who, over his eight years at New York, had skillfully sewed his talented team into a consistent winner.
By late August, Huggins had reached his breaking point with Ruth. The Babe was not changing his ways and, worse, it was starting to affect his on-field performance. So Huggins docked Ruth with a $5,000 fine—an enormous figure for the time that eclipsed most ballplayers' annual wages, though it added up to but a tenth of Ruth's salary.
Ruth complained vehemently, first to the press and then to Yankees owner Jacob Ruppert. But Ruppert, who understood the foolish risks of granting a superstar license to run a baseball team, completely backed Huggins. Under contract, Ruth had no choice but to apologize, accept the fine, and rejoin the team.
By his standards, Ruth had a miserable season, batting .290 with 25 home runs and 66 runs batted in. Most other ballplayers would take those numbers in a heartbeat, especially within the 98 games Ruth played in 1925. Protracted to a full schedule of 154 games, Ruth's output still would pale in the midst of a decade for which, on average, he would hit .360 with 49 home runs and 141 RBIs.
For the Yankees, the misery of Ruth's distractions and the team's transition in general would finally end with an embarrassing seventh-place finish in the AL.
They wouldn't suffer a downer of a season like that again for 40 years.
With the Yankees gone and no one else playing at peak level, the Washington Senators capitalized and captured their second straight AL pennant in much easier fashion. The Senators' return to the World Series was built on even stronger pitching then the year before. They had acquired legal spitballer Stan Coveleski from Cleveland and southpaw Dutch Ruether from Brooklyn—both considered to be on the down side of their careers. The pundits underestimated; Coveleski turned in the AL's sharpest performance with a 20-5 record and a league-low 2.84 earned run average, while Ruether finished with a highly respectable 18-7 mark.
BTW: The Senators' biggest competition came from the surprising Philadelphia A's, who jockeyed with Washington for first place through mid-summer—but then lost 12 in a row to bow out of the race.
The Senators' staff also included Firpo Marberry, baseball's first version of the modern-day reliever. He appeared in 55 games, all in relief, and saved 15 games—tying a major league record he set the year before.
For all of its diverse talent, the Washington pitching roster still centered around Walter Johnson. Proving his comeback effort of 1924 was no fluke, Johnson overcame an ankle injury and a midseason bout with influenza to finish at 20-7. More astounding was Johnson's hitting at the plate, batting .433 in 97 at-bats—the best season average ever by a pitcher.
BTW: Johnson also exhibited impressive power with the bat, becoming only the second right-handed batter to go the opposite way and homer over the right-field wall at Cleveland's League Park.
And for This he Bats Ninth?
Below is the top 10 list of the highest season batting averages by a pitcher (minimum of 50 at-bats), headed by Walter Johnson's sparkling .433 mark in 1925.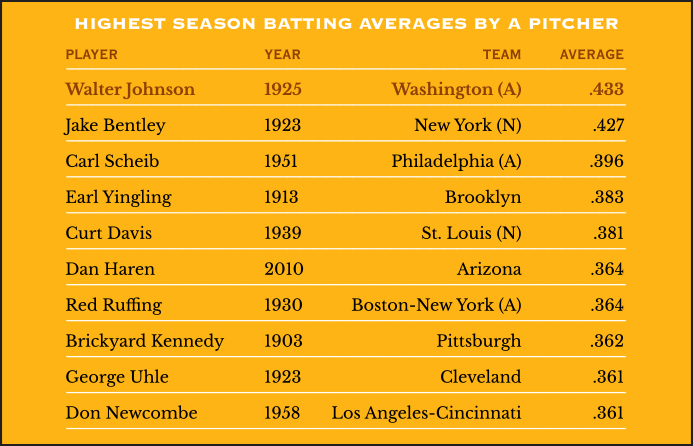 The rest of the Senators' starting lineup was consistent and solid enough to hit a combined .303, a franchise record. Goose Goslin (.334 average, 18 home runs, 113 RBIs) remained the team's all-around best hitter; Sam Rice, at .350, had the highest batting average of his 20-year career; and although he didn't have the numbers on paper to prove it, the leadership abilities and defensive play of shortstop Roger Peckingpaugh was enough to grant the 34-year-old veteran with the AL's Most Valuable Player award.
Whereas an exceptional balance of pitching and hitting carried the Senators, it was offense that primarily propelled the Pittsburgh Pirates to their first National League pennant since 1909, unseating the New York Giants from their four-year reign as NL champs.
One of the great teams of the century's first decade, the Pirates dove into darkness in the 1910s—rescuing themselves with newfound talent after World War I. An unwavering winner since, the Bucs broke through in 1925 with a wildly potent offense that batted .307. Everyone in the starting lineup hit over .300 with the exception of second baseman Eddie Moore—who checked in at .298. The Pirates were fueled by an electrifying Kiki Cuyler, who hit .357 with 18 home runs, 43 doubles, and 26 triples; he also knocked in 102 runs, scored 144, and stole 41 bases.
Ahead of Cuyler in the lineup was Max Carey, one of baseball's most proficient basestealers. While others were happy with a 60% stolen base success rate, that would have insulted Carey, who was typically over 80% if not better. In 1925, at the age of 35, he stole 46 bases while being caught only 11 other times; it didn't hurt that Carey batted a career-high .343.
The Pirates' dangerous offense may have commanded enormous respect league-wide, but they got none of it from Walter Johnson—who pitched as sharp as ever and completely deadened the Bucs' bats in his first two World Series starts against them. The veteran Washington ace allowed just a run on 13 hits through two complete game victories in Games One and Four.
The Senators took a Series lead of 3-1 at that point, thanks not only to Johnson but outfielder Sam Rice—who made for one of the most controversial moments in World Series history during Game Three.
With Washington leading 4-3 in the eighth inning, the Pirates' Earl Smith launched a deep drive off Firpo Marberry toward temporary bleachers set up in front of Griffith Stadium's center-field fence. Rice chased after it and made a lurching grab—which sent him over the fence and into the first row of the temp seats. After a long pause, Rice emerged from behind the fence with ball in hand, and umpire Cy Rigler declared Smith out, sending the Bucs into a fury. Objections denied, the catch preserved the lead and, ultimately, the win for the Senators.
With three games to win one, however, Washington could not convert. The Pirates overpowered Coveleski in Game Five, and came from behind in Game Six to draw even in the Series. That brought up Game Seven at Pittsburgh's Forbes Field.
The weather in Western Pennsylvania was miserable, but Commissioner Kenesaw Mountain Landis— perhaps still stung by criticism he absorbed for allowing a 1922 Series game to be called on account of darkness with the sun still shining—wanted the Series over without delay.
Senators manager Bucky Harris thought the rainy, gloomy conditions were in his favor, calling it "ideal Walter Johnson weather." So Harris went with the Big Train as his Game Seven starter—and stayed with him, eight innings, nine runs and 15 hits later. Though Washington led most of the way, Johnson wasn't in top form and, at age 37, didn't seem to be enjoying his "ideal" weather. The Senators' hopes for a second straight title collapsed when Kiki Cuyler nailed a bases-loaded, ground rule double in the bottom of the eighth to score three, giving Pittsburgh the lead and completing their three-game comeback.
BTW: Cuyler's double provided plenty of fuel for debate; some believed his shot cleared the fence and should have been ruled a home run while, more crucially, Washington right fielder Goose Goslin insisted that the ball was foul.
There was plenty of hindsight histrionics to throw around in the Series' aftermath. The press, perhaps goaded by AL President Ban Johnson, chastised Bucky Harris for not pulling Walter Johnson and replacing him with rested closer Firpo Marberry. Johnson, had he been less of the nice guy that he was, probably would have pointed right at Senators shortstop Roger Peckingpaugh, the AL MVP who committed eight of the team's nine Series errors—including two in the final game that led to four unearned runs. And everyone was on Landis for insisting the game be played in such lousy weather.
One other controversy would linger for years. Sam Rice, who saved Game Three with his over-the-wall catch, would be asked repeatedly if he really caught it. He remained strangely evasive to the question well past his retirement from the game, saying only that the umpire said he caught it.
With melodramatic flavor, Rice finally sent a letter to the Hall of Fame with orders not to have it opened until his death. When that day came, in 1974, the letter's contents were revealed; after a lengthy description of the play in question, Rice summed it all up:
"At no time did I lose possession of the ball."
Perhaps he didn't want to be around to answer the follow-up.

Forward to 1926: One Hell of a Hangover Old pro Pete Alexander comes in cold—and sober, maybe—to famously rescue the St. Louis Cardinals from the New York Yankees at the World Series.

Back to 1924: A Couple Bad Hops Better The Washington Senators' one and only championship comes courtesy of a pebble in front of third base.

1925 Leaders & Honors Our list of baseball's top 10 hitters and pitchers in both the American League and National League for the 1925 baseball season, as well as the awards and honors given to the game's top achievers of the year.

The 1920s: …And Along Came Babe Baseball becomes the rage thanks to increased offense and the magical presence of Babe Ruth, whose home runs exert a major influence upon the game for ages to come.