1939: Farewell, Iron Horse
The seemingly invincible Lou Gehrig contracts a rare muscular disease that gradually cripples him, ending his playing career and, with it, his streak of 2,130 consecutive games played—a record which itself would seem invincible.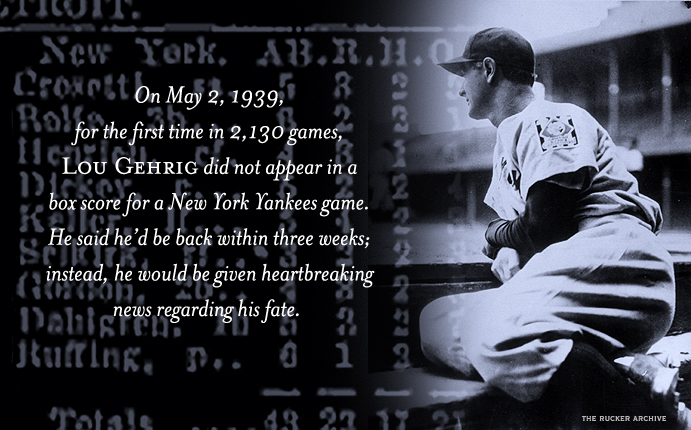 It was the cruelest of ironies. Lou Gehrig had never missed a baseball game in 14 years. Occasional back pain and a savage illness or two had attempted to thwart his everyday appearance in the lineup. But despite those obstacles and the usual nicks and knacks that come with playing the game, Gehrig managed to appear in a record 2,123 consecutive box scores for the New York Yankees, dating back to June of 1925.
Gehrig exuded invincibility. Quiet and polite in nature, Gehrig let his bat do the talking, terrifying opposing pitchers with a .340 career batting average and 493 career home runs. That, along with his broad-shouldered frame and unprecedented durability, earned him the nickname of the Iron Horse.
But in the spring of 1939, something was terribly wrong. All through the exhibition season, the action in Gehrig's bat was startlingly gone; on defense, his reflexes dramatically slowed. More alarming was what teammates saw of Gehrig off the field. He began falling down in the clubhouse for no apparent reason, and when Yankees players visited a golf tournament near camp, they noticed Gehrig walking about like an old man—meagerly sliding his feet forward, rather than lifting them upward like any other 35-year-old should.
Gehrig had slumped at the end of the 1938 season, batting .218 over his last 19 games—forcing his final season average below .300 for the first time since his rookie year. In the World Series, Gehrig collected just four singles with no runs batted in during the Yankees' four-game sweep of the Chicago Cubs; it was by far his quietest Fall Classic performance.
BTW: In 30 previous Series contests before 1938, Gehrig hit .371 with 10 home runs and 35 RBIs.
Upset over his late-season performance, Gehrig trained harder than ever through the winter and spring of 1939, and that made his debilitations at camp all the more frustrating.
While the Yankees went north to begin the regular season, Gehrig's on-field play continued to go south. He went hitless and grounded into two double plays on Opening Day; after five games he had collected just one hit in 17 at-bats. He finally connected for two hits in the Yankees' sixth game, against the Philadelphia Athletics, but when he figured he could stretch one of those hits—a blooping Texas Leaguer—into a double, he ended up being tagged out easily at second base before he even had a chance to slide.
New York manager Joe McCarthy had too much faith to force Gehrig into a corner regarding his everyday status in the lineup. If Gehrig couldn't play, McCarthy would trust him to say so.
That moment came on the evening of May 1 in a Detroit hotel room. Having managed only four singles through the team's first eight games, Gehrig approached McCarthy and told him he wasn't doing the team any good, that he was being congratulated by teammates for making ordinary plays in the field—as if they knew something was wrong. Gehrig asked to be removed from the lineup; he didn't even want to pinch-hit.
And with that, Lou Gehrig's consecutive-game streak ended at 2,130. Babe Dahlgren took over at first base the next day, and Gehrig would never play in another major league game again.
BTW: In Gehrig's place, Dahlgren batted only .235 for the year but also punched out 15 homers with 89 RBIs, while playing solid defense at first base.
Soon Gehrig would spend a week at the Mayo Clinic in Minnesota for examination. The prognosis was devastating. He was diagnosed with amyotrophic lateral sclerosis—a rare disease that caused an accelerated, unstoppable weakening of one's muscular structure. It was incurable.
The news sent shock waves throughout America. A true sports hero had become a prisoner of his own body, sentenced to rapidly wither away under a degenerating illness.
Gehrig remained in good enough health to stay in uniform, but all he could do was cheerlead from the dugout.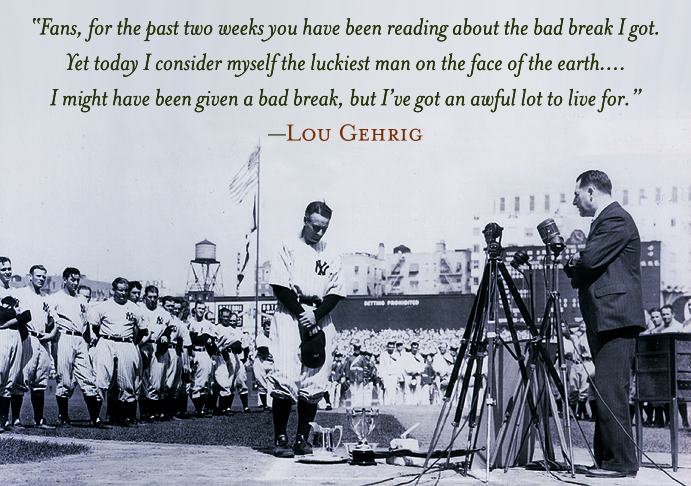 The Yankees gave Gehrig a special day on the Fourth of July, drawing a crowd of 62,000—most of whom came for the tribute to the Iron Horse. Gehrig was adorned with gifts and kind words from players both past and present, as well as team officials and outside dignitaries. After they spoke, it was Gehrig's turn to approach the microphone. Overwhelmed by the proceedings, Gehrig—never one to seek the spotlight—hesitated before being encouraged by Joe McCarthy. He would keep his words simple, brief and legendary, highlighted by the immortal phrase: "Today, I consider myself the luckiest man on the face of the Earth."
The Yankees made one last tribute to Gehrig by retiring his uniform number, the first time a major league team had made such a decree. No other Yankee would ever wear number 4 on his back again.
Inspired by Gehrig's speech, the Yankees acted like a team on a mission and rallied to a 17-game finish over second-place Boston with a 106-45 record. It was the team's best showing since its fabled 1927 campaign.
Loaded with talent like never before, the Yankees glided through May with only four losses despite the shock of Gehrig's self-imposed benching—and the loss of Joe DiMaggio, who missed the entire month with a leg injury. As usual, there was plenty of backbone to support what was lost. Third baseman and leadoff batter Red Rolfe led the American League in runs, hits and doubles; Joe Gordon, Bill Dickey and George Selkirk each collected over 20 homers and 100 RBIs; and yet another new shining star arrived in outfielder Charlie Keller, who batted .334. And once DiMaggio returned, he hit a career-high .381.
The New York pitching staff was more of a committee experience—eight pitchers started anywhere between 10-to-28 games—but they were no less potent, easily the league's best with a combined 99-37 record. While the AL overall was batting .279 in 1939, it hit only .241 against Yankee pitching.
The task of dismantling the Yankee machine in the World Series would be left up to the Cincinnati Reds—a franchise that just six years earlier lay bankrupt and ensconced in last place.
The stock market crash of 1929 all but ruined Reds owner Sidney Weil—and in turn it crashed the Reds deep into the National League hole, where it would stay for the first half of the 1930s. To the rescue came local appliance and auto magnate Powel Crosley, goaded to buy the franchise by a young, enterprising team executive named Larry MacPhail, who helped forge the idea of season tickets and night baseball in the majors. Even though these moves didn't break the Reds out of the second division, they at least were putting fans back in the seats.
The loss of MacPhail to Brooklyn after 1937 was offset by the addition of manager Bill McKechnie for 1938. Success had followed McKechnie wherever he had gone, winning championships with Pittsburgh and St. Louis in the 1920s before making a Boston Braves/Bees team largely respectable through the 1930s. Sure enough, McKechnie's sparkplug approach paid quick dividends in Cincinnati, raising the Reds out of the cellar and into fourth place in 1938, then into contention for 1939.
The McKechnie Touch
Bill McKechnie would be highly modest not to feel slighted for being omitted in a discussion on the game's great managers, as often seems to be the case. But he made good on every challenge he accepted, turning three teams into pennant-winners—and bringing rare respect to a typically lackluster Boston Braves franchise.

The Reds were spearheaded by two terrific pitchers at the height of their game, grateful at the chance to be on a contender after years of paying their dues in more pitiful environments. Paul Derringer had labored through no thick and plenty of thin throughout the decade at Cincinnati, losing as many as 25 in one season as the franchise sat destitute. In 1939, he would win 25. Pairing up with Derringer was Bucky Walters, another 20-game loser who had toiled in the majors' version of hell on Earth—the pitching mound at ultra-cozy Baker Bowl for the Philadelphia Phillies—before being traded to the Reds midway through 1938. The change of scenery was an immediate tonic for Walters; he won 11 of 17 decisions for Cincinnati in 1938, then shot to the top of the 1939 National League leader board in wins (27), complete games (31), innings pitched (319), strikeouts (137) and earned run average (2.29).
Together, Derringer and Walters combined to produce over half of Cincinnati's victory total for the year, a crucial plus for the Reds' 4.5-game finish over second-place St. Louis for the NL pennant.
The Reds' visit to the World Series was their first since their tarnished triumph over the infamous Chicago Black Sox 20 years earlier. Now they'd be going up against a powerful Yankees team that wasn't the slightest bit interested in squandering a world title.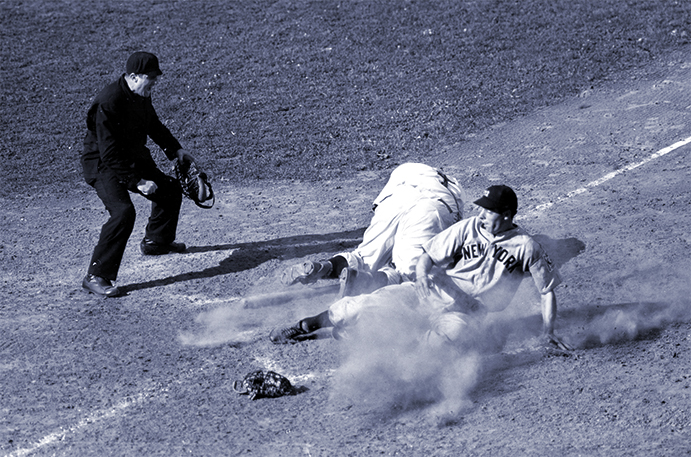 The Yankees break open a 4-4, 10th-inning tie in Game Four of the World Series when Joe DiMaggio slides past Cincinnati catcher Ernie Lombardi—still recovering from a collision with Charlie Keller seconds earlier—to give the Yankees a three-run lead and, half an inning later, their fourth straight world title. (Associated Press)
For the second straight year, the Yankees swept up on their NL opponents, cleaning out the Reds with masterful pitching that allowed only five earned runs in four games. Though the Yankees themselves hit only .206, they drilled seven homers—including three from Charlie Keller. The rookie added a .438 batting average and scored nearly half of the team's runs.
A fitting metaphor for the Reds' bewildered state of being occurred in the 10th inning of the final game. Having already blown a two-run lead in the ninth, the Reds allowed the go-ahead run to score in the 10th when Joe DiMaggio singled in one run, then a second when Keller smashed through Cincinnati catcher Ernie Lombardi at home plate, jarring the ball loose—and jarring the senses out of Lombardi. An opportunistic DiMaggio took advantage and breezed past a dazed and confused Lombardi while the entire Reds infield looked on, believing the play was dead.
The victory capped an unprecedented era in which the Yankees became the first team to win four straight World Series. The mere achievement was one thing, but that the Yankees did it with such authority was another. Over their four straight championships, they won 16 games while losing only three, outscored their opponents 113-52, outhomered them 23-7, and authored a team ERA of 2.32. Though Yankee teams of future years would surpass this string of success, they would never match the sheer quality and force that this dynasty would employ.
Pinstriped Dominance
Pitching and power were the prime assets of the Yankees' successful World Series run from 1936-39, as shown below.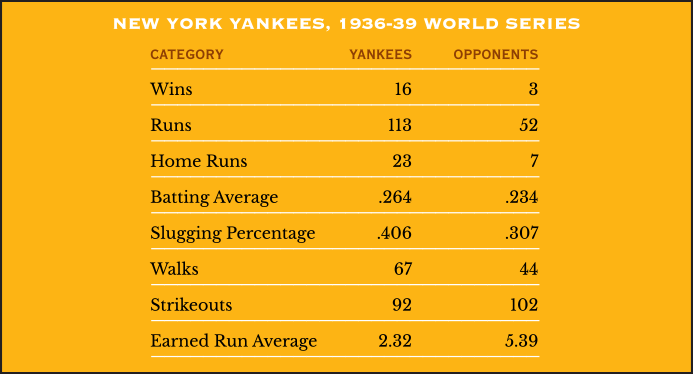 Lou Gehrig, who had participated in the first three Yankee triumphs, could only watch this time around. As 1939 came to a close, his body quickly began to deteriorate. Simple domestic tasks were becoming complicated to perform. It was as painful for those around Gehrig to watch as it was for him to experience.
On June 2, 1941—less than two years after he was told of his fate—Gehrig died in Riverdale, New York at the age of 37. He had been defeated by a disease known for short as ALS, though more commonly referred to in later years as, simply, Lou Gehrig's Disease.
There was no cure for ALS in 1941.
Today in the 21st Century, there still isn't one.

Forward to 1940: Victorious Healings The Cincinnati Reds and Detroit Tigers, two teams coping with personal loss, dedicate themselves toward winning a World Series title.

Back to 1938: A Rockier Road The New York Yankees' quest for a third straight world title is roughened with controversy.

1939 Leaders & Honors Our list of baseball's top 10 hitters and pitchers in both the American League and National League for the 1939 baseball season, as well as the awards and honors given to the game's top achievers of the year.

The 1930s: Dog Days of the Depression The majors take a hit from the Great Depression as both attendance and bravado are on the wane—until newborn icons Joe DiMaggio and Ted Williams emerge to rejuvenate the game's passion for the fans.