1978: The Denting of the Red Sox
The New York Yankees return to the postseason with a furious late-season comeback—and a memorable one-game playoff against archrival Boston decided by the improbable heroics of light-hitting Bucky Dent.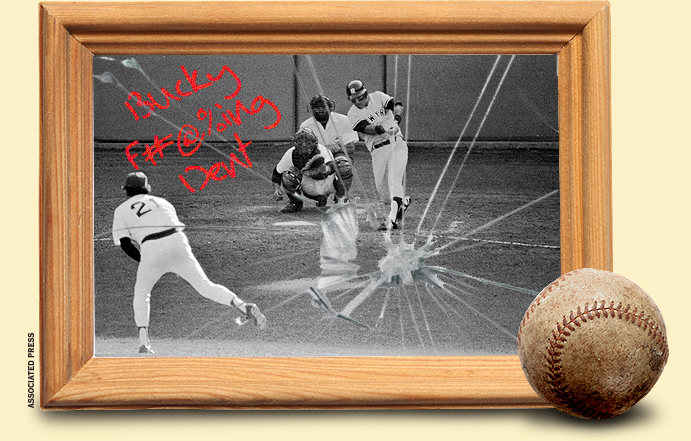 Bucky Dent seemed beneath underdog status. To compare him to David fighting Goliath would have embarrassed David.
In a season that lasted a season and a day, the handsome but offensively destitute New York Yankees shortstop came to bat in the seventh inning of that extra day—a tie-breaking playoff against the archrival Boston Red Sox—trying to shed his role as the Little Engine That Simply Couldn't.
The odds didn't sympathize with Dent. He batted ninth in the order. He had a slugging percentage lower than Rod Carew's batting average. He hit only .148 in the prior three weeks with no power attached. Knee problems were bedeviling him. The Red Sox looked at Dent, representing the go-ahead run with two runners on base, as an automatic out. So did the Yankees, who at such a clutch moment would have normally pinch-hit for him—if only they had an infielder on the bench to replace him. Friend or foe, in unison they all said, "We know he can't." Dent said, "I think I can," even after hobbling around for three minutes after fouling strike two off his foot.
Sucking it up, Dent next smacked one of baseball's most memorable home runs of the unexpected, lifting the Yankees on their way to their second tumultuous world championship in a row.
For the first half of 1978, the Red Sox and Yankees were running in opposite directions—the Red Sox bursting out to a phenomenal start, the Yankees emotionally careening on a self-destructive path. Any idea, midway through the season, that the two teams would meet in October on equal footing would have seemed ludicrous. But that's why baseball's regular season goes 162 games—sometimes 163—and not 81.
Rejuvenated pitching and matured slugging set the spark for the Red Sox' early explosiveness. Retooling a badly patched-together starting rotation from the year before, Boston muscled up on the mound with free-agent veteran Mike Torrez (16-13 with a 3.96 earned run average) and the emergence of two 23-year olds: Dennis Eckersley (20-8, 2.99) and Bob Stanley (15-2, 2.60 and 10 saves). Offensively, Fred Lynn, Carlton Fisk, Dwight Evans and 38-year-old Carl Yastrzemski put up the usual Fenway-induced numbers in the 20-homer, 80-RBI range—but they were all dwarfed by Jim Rice, who produced one of the most individually dominant campaigns in recent memory. The 25-year-old Rice batted .315 and led the American League with 213 hits, 46 homers, 139 RBIs and 15 triples; with 406 total bases, he became the first AL player to surpass 400 since 1937; no one in the league has done it since.
Winning 34 of their first 40 games at Fenway while storming out to a double-digit lead in the AL East, the Red Sox seemed to quickly reduce the Yankees to an afterthought. Not surprisingly, the defending champs were proving to be their own worst enemy.
The latest episode of "As the Yankee World Turns" was providing the usual boatload of gossip-varnished subplots: Owner George Steinbrenner publicly angry with his team's .500 start; manager Billy Martin angry with Steinbrenner's insistence of making his own lineups; Reggie Jackson angry with Martin "demoting" him to designated hitter; and reigning Cy Young Award winner Sparky Lyle angry over losing his closer role to Goose Gossage.
The Yankee soap opera came to a crashing crescendo worthy of a prime time season finale on the night of July 17. It began with a livid Lyle splitting from Yankee Stadium while in the midst of pitching more inglorious middle relief, then continued in the ninth inning when an emotionally exhausted Jackson defied Martin and tried to bunt a runner ahead with two strikes—and botched it foul for strike three. The Yankees' 9-7 loss to the Kansas City Royals in extra innings placed them 14 games behind Boston, a distance that led some Yankees to publicly concede the season.
BTW: Martin had put the bunt sign on for Jackson with the first pitch, then took it away; the All-Star slugger kept bunting anyway.
Steinbrenner suspended Jackson five games his on-field disobedience—the Yankees won all five—but Martin didn't think the sentence fit the crime; he wanted Jackson expelled for the year. Feeling the Boss' proverbial noose tightening around his own neck—and beginning to mentally buckle as a result—Martin was incensed to hear Jackson, on his return, say that he hadn't done anything wrong. The manager finally let it all loose after a few drinks at a Chicago airport bar, blurting out to New York reporters on Steinbrenner and Jackson: "The two of them deserve each other. One's a born liar, and the other's convicted." Steinbrenner could absorb most criticisms of himself, but bringing up his 1974 guilty plea for illegal fundraising to the 1972 Nixon campaign was touchy territory. If Steinbrenner was looking for an easy excuse to fire Martin, this was it.
BTW: Jackson on Martin's firing: "I felt like I won the lottery."
It got weirder. Steinbrenner, having underestimated Yankees fans who loved Martin—and fearful that the crosstown Mets would pick him up—announced five days later that he would bring Martin back as manager in 1980. The news was given to a packed Yankee Stadium on Old-Timer's Day, for which Martin joined his ex-teammates on the field and accepted a wild ovation that lasted eight minutes.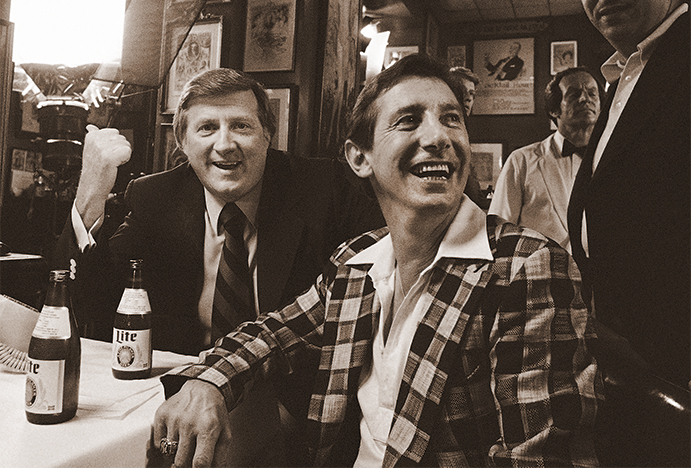 New York Yankees owner George Steinbrenner (left) and former manager Billy Martin share a rare light moment together, filming a beer commercial in which Steinbrenner 'fires' Martin—who laughingly retorts, "Not again!" Just two weeks earlier, Steinbrenner had fired Martin—for real. (Associated Press)
Back in the Yankees clubhouse, Martin's replacement was Bob Lemon, who said little, moved little and emoted little. Lemon understood Steinbrenner enough to admit, "I tell George what I think and then I do what he says."
Almost overnight, the compass of Yankee luck swung 180 degrees. Lemon's relaxed presence allowed the players to focus on baseball. Greater calm arrived with the absence of beat reporters from the New York newspapers; they went on strike, and would remain so through the rest of the year.
And, most fortuitous of all, the Red Sox began slumping.
Injuries, sloppy defense and failing pitching turned the Red Sox mortal and allowed other teams re-entry into the AL East race. The most prominent contender would be the Yankees, who under Lemon had won 30 of 43 to reduce the Red Sox lead to only four games—just in time to show up in Boston for an important four-game series in early September.
Before the Fenway faithful could say Harry Frazee, the rampaging Yankees finished gunning down the once-mammoth Red Sox lead in what would be remembered as "The Boston Massacre." It was even more of a rout than the scores of 15-3, 13-2, 7-0 and 7-4 would indicate; every game was over before it began, with the Yanks shooting out to huge leads. Boston chipped in with 12 errors.
The Boston Massacre
In one of baseball's most famous regular season series, the Yankees stormed into Fenway Park in early September and destroyed the Red Sox to all but cement their momentum toward the AL East title.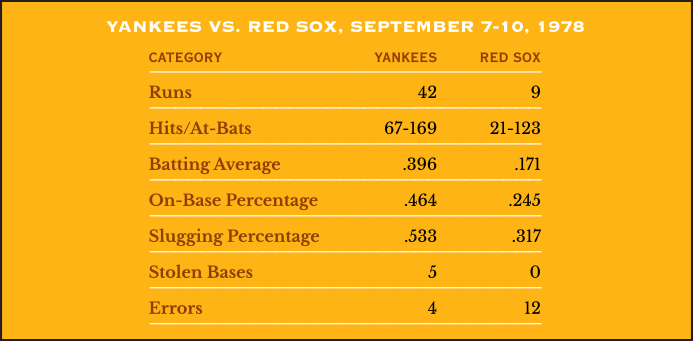 After two more losses at Yankee Stadium a week later, the Red Sox had dropped 3.5 games behind the Yankees. But out of paralysis, the Red Sox re-awoke; they won the final game of the New York series and then proceeded to win 11 of their last 13 contests—including the last eight—to force a tie-breaking playoff with the Yankees.
BTW: The Yankees had won six straight themselves and could have clinched the AL East without a playoff on the season's final day—but lost to lowly Cleveland, 9-2.
The Red Sox won the all-important coin toss to host the playoff, but couldn't get a red cent flipped to determine the Yankees' starting pitcher. New York had that choice, and it would be Ron Guidry.
Frustrated by a lack of progress a few years earlier, Guidry—a lightweight southpaw from Louisiana—considered quitting. But he regrouped his game, developed into the real thing for the Yankees in 1977—and became unreal in 1978, winning his first 13 decisions. Whenever Guidry got two strikes on his opponents, Yankees fans began a routine that would become standard everywhere in later years, applauding and cheering in anticipation of Guidry's next pitch—which 248 times in 1978 would be strike three. Guidry took a 24-3 record into Boston on three days' rest.
A Carl Yastrzemski solo home run and a Jim Rice run-scoring single helped advance the Red Sox to a 2-0 lead off Guidry through six innings, but then Boston starter Mike Torrez—also pitching on three days' rest—gave up seventh-inning singles to Roy White and Jim Spencer with one out. That brought up Bucky Dent, the light-hitting shortstop who was all glove, no hit—except now. His fly ball lofted into the mild jet stream toward—and over—Fenway's Green Monster to give the Yankees a stunning 3-2 lead. New York added two late tallies—including an insurance solo shot by Reggie Jackson—while a flat but effective-enough Goose Gossage pitched the final 2.2 innings for Guidry to secure a 5-4 Yankees win and a ticket to the postseason.
The Kansas City Royals matched the Yankees by three-peating in the AL West with a less explosive yet still potent offense, a solid four-man starting rotation led by Dennis Leonard (21-17, 3.33 ERA) and Paul Splittorff (19-13, 3.40) and, finally, a quality closer in Al "The Mad Hungarian" Hrabosky (8-7, 20 saves, 2.88 ERA), plucked across Missouri from St. Louis. Alas for Kansas City, the third time would not be the charm against the Yankees at the ALCS—discovering once again that if it's October, it must be Reggie.
Picking up where he left off from the 1977 World Series, Jackson crushed the Royals with a 6-for-13 performance, including two home runs and six RBIs to buoy the Yankees to a 3-1 series conquest.
Having won one rematch, the Yankees now readied for another at the World Series against the Los Angeles Dodgers.
The Dodgers managed to match the Yankees in clubhouse soap opera drama—even using New York for their stage. First baseman Steve Garvey and pitcher Don Sutton, two All-Stars not to be confused as friends, wrestled with one another on August 20 in the Shea Stadium locker room over remarks the outspoken Sutton made to the Washington Post criticizing Garvey's perceived self-promotional habits. Words became violence when Sutton reportedly brought Garvey's spotlight-starved wife Cyndy into the discussion.
BTW: Sutton had his own controversy to deal with, having been ejected a month earlier in St. Louis for throwing a scuffed ball. Never one to back down, Sutton readied to sue everyone in sight if ever again accused of such a thing.
Out of the acrimony, the Dodgers rallied in the National League West and overcame a small lead held for much of the year by the youthful San Francisco Giants. In the end, Los Angeles placed first by 2.5 games over the Cincinnati Reds, who made more news from Pete Rose's NL record-tying 44-game hit streak—and less news from a season-long slump for Reds sparkplug Joe Morgan, who misfired with a .236 batting average.
The Philadelphia Phillies survived a personal slump of their own from Mike Schmidt (batting .251 with just 21 homers) and a late run by the Pittsburgh Pirates, who won 24 straight home games before the Phillies ended the streak on the season's penultimate day—clinching the NL East title in the process. That meant little to the Dodgers, who slammed the Phillies once more at the NLCS. Los Angeles was powered by its vaunted infield of Garvey, Davey Lopes, Ron Cey and Bill Russell, who hit a combined .377 with seven home runs and 17 RBIs in a 3-1 series victory.
BTW: All four divisional champions from 1977 repeated in 1978.
The Dodgers infield remained hot at the plate in the first two games of the World Series, storming out to a 2-0 lead over the Yankees. Lopes smashed two homers with five RBIs in a 11-5 Game One trashing, while Cey knocked in all four runs during a 4-3 Game Two win preserved by 21-year-old rookie pitcher Bob Welch—who struck out Jackson in a memorably epic at-bat in which Jackson fouled off pitch after pitch before finally whiffing to end it.
From there, the Yankees took over. Guidry went the distance in a 5-1 Game Three win, but owed his life to third baseman Graig Nettles, who performed some of the most spectacular Series glovework this side of Brooks Robinson. In Game Four, Jackson made news in a way he previously never had—breaking up a double play between first and second base when Bill Russell's attempted throw to first hit off his thigh and into right field, allowing a run to score from second. Vehement protests from the Dodgers that Jackson intentionally stuck his hip out and interfered with the play fell on deaf ears, and the pivotal run ultimately helped the Yankees prevail in 10 innings, 4-3.
The Yankees grabbed the next two games and their second straight championship not on the strength of their All-Stars, but with the bottom of their batting order—highlighted by Bucky Dent. Both he and Brian Doyle—a late-season call-up thrust into the starting lineup for injured second baseman Willie Randolph—each had three hits in both Games Five and Six, 12-2 and 7-2 victories for the Yankees. Lest he be overshadowed, Jackson capped the scoring in the clincher with a powerful atonement of a home run off Welch.
Jackson could have easily won his second straight Series MVP. He certainly had the numbers: A .391 average, two home runs and eight RBIs. But the sportswriters gave it to Bucky Dent. Although leading the Yankees with 10 hits and batting .417, Dent contributed no game-winning hits, no dramatic homers, and committed the only two New York errors of the Series.
Perhaps it was a belated note of congrats for Dent's dramatics back at Boston, which allowed the Yankees to return to the World Series in the first place.

Forward to 1979: One for Pops and His Family After years of injury and career decline, Willie Stargell comes alive at 39 to lift the Pittsburgh Pirates.

Back to 1977: Reggie! Reggie! Reggie! Reggie Jackson caps a stormy first year in New York with a storybook flourish for the Yankees at the World Series.

1978 Leaders & Honors Our list of baseball's top 10 hitters and pitchers in both the American League and National League for the 1978 baseball season, as well as the awards and honors given to the game's top achievers of the year.

The 1970s: Power to the Player Curt Flood's sacrificial stand to win free agency opens the door for the biggest challenge yet to the reserve clause, which is eventually shattered—but not without fans suffering from numerous player strikes and holdouts.