The 10 Most Notable Omissions From Our Top 10 Lists
A list of baseball greats you think would have made the grade on This Great Game's assorted lists. Don't blame us, blame the numbers.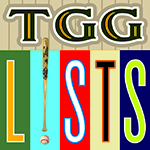 We once ripped apart Major League Baseball's Franchise Four lists, naming the four best players for each franchise, as the lists suggested a serious bias toward players who performed after 1960 while snubbing no-doubt-about-it legends from yesteryear—most notably deadball era pitching greats Walter Johnson, Cy Young, Christy Mathewson and Pete Alexander.
Now it's time to rip into ourselves.
One of This Great Game's most popular sections is the Teams section where we include our choices for the greatest pitchers and hitters for each team—lists of 10 for the "Original 16" franchises that began on or before 1901, and five for the 14 expansion teams that have played roughly half the time or less. For the most part, the lists are not decided by opinion; they're instead tabulated through our two metrics-based indices that determine the top 10 hitters and pitchers for each league every season, as shown in our Leaders + Honors pages in the Yearly Reader section. The rankings from those lists thus reveal the order of historical greats for each team.
The beauty of our top 10 lists is that they hold neither bias nor grudges against deserving players; no memories are fading here. Some have praised the lists for opening their eyes not only to players they never knew were that good, but also to players they've never even heard of. The lists are an honest depiction of forgotten stars like Mel Harder, Del Ennis and Carl Weilman, players who deservedly bumped their way into the top 10 so emerging baseball fans can learn about them, perhaps for the first time.
Ah, but lists are made to be argued over. And believe us, we've heard your arguments, your angry rants, your disbelief. Even we have sat back at times after reviewing the results and wondered: "Where's that guy?"
Blast the formulae and spreadsheets if you want, but we'll stand by them. Having said that, here's our list of 10 players who are missing from TGG's roll calls of greatness, and why they didn't make the cut. Maybe it won't make those of you who've written in feel any better, but perhaps you'll understand.
Mark Buehrle, Chicago White Sox
For fans on the South Side who've closely followed their favorite team over the last 15 years, Buerhle's omission from our list of top 10 White Sox pitchers just doesn't compute. Like clockwork, the steady southpaw was always good for 200 innings, some 13-16 wins with fewer losses, and earned run averages that didn't necessarily wow people but were consistently respectable in a time when hitters (quite a few of them juiced) ruled the game. Buehrle barely missed the cut for our list, and he might have made it had he lived up to something Sparky Anderson said long ago: That every good pitcher will have one great year. Buehrle never had one.

Frank "Wildfire" Schulte, Chicago Cubs
Some of you may have never heard of Schulte, but you should; he was a star slugger powerful enough to twice lead the National League in home runs, including an award-winning 1911 campaign in which he belted 20—the Deadball Era's equivalent to 50. But Schulte wasn't just all about going deep; he was a constant pain on opponents and, most nostalgically for Cubs fans, was a member of their last World Series-winning team in 1908 (hitting .389, no less) for a long, long time. Some will look at Schulte's career numbers and shrug, "What's the fuss," but again note that this was the Deadball Era, where his numbers were impressive on a relative scale—especially given that the NL lacked big-time star power during his tenure in Chicago. When we compiled our list of the Cubs' greatest hitters, we expected him to make the cut toward the bottom—and we're surprised when he didn't.
Steve Garvey, Los Angeles Dodgers
How does a guy who makes eight All-Star appearances, wins a MVP award, collects 200 hits six times and knocks in 100 runs five times over 14 years with the Dodgers not make their top 10 list of best hitters? Blame the walks—or lack of them. Garvey never walked more than 50 times in a season, and frequently finished somewhere in the 30s. That may seem somewhat insignificant, but on-base percentages are almost as important as batting averages in the metric eye. That's why Babe Herman and Roy Campanella, and not Garvey, rounds out the Dodgers' list.
Richie Ashburn, Philadelphia Phillies
Unlike Garvey, the Phillies favorite did walk—and walk often, leading the NL four times in that department. He also got the hits, three times pacing the league as well on his way to collecting more knocks than anyone in Phillies history outside of Jimmy Rollins and Mike Schmidt. But here's the problem: Most of Ashburn's hits were singles. In 12 years at Philadelphia, he only hit 22 home runs, and although he made our Leaders + Numbers rankings on numerous occasions, he didn't go higher up the charts because he competed with guys who racked up more total bases through a bigger collection of long hits. So yes, chicks dig the long ball—and so do the metrics, so long as you're not muscular one-trick ponies like Dave Kingman.
Dennis Eckersley, Oakland A's
No major leaguer had a more dominant run as closer than Eckersley, who enjoyed his premier status during the A's glory years of the late 1980s and early 1990s following a conversion from the starting rotation. Consider this: His WHIP (walks and hits allowed per inning) from 1988-92 was a spectacular 0.79, and he was even good enough to win an American League MVP in 1992, a rare thing for a closer. But he doesn't make our top 10 in A's pitching greats for several reasons. One, he didn't star long enough in Oakland to push himself onto the list like, say, Mariano Rivera—who's #2 on the Yankees' vaunted list because he played there 19 years and was good in just about every one of them. Two, closers have a harder time stepping up the rankings ladder because, well, they're glorified relievers—those who will get numerical credit from our end for earning saves, but still pitch far fewer innings than the starters who are simply better deserving.

Barry Larkin, Cincinnati Reds
Larkin was a lifer for the Reds, a popular, 12-time All-Star shortstop second only to Pete Rose in franchise hits and (likely) the hearts of Cincinnati fans. So, what's up with his absence from the Reds' top 10 hitting list? Larkin frequently hit over .300, racked up plenty of hits, runs, walks and steals throughout his career and he even laid down some pretty good power, like in 1996 when he belted 33 homers (his next biggest total: 20). But his big problem was staying healthy; of his 19 years in uniform, he only logged 140 or more games in seven of them. The collection of absences added up to hurt his chances of registering higher on the L+H lists—especially in a time like the Steroid Era when .300-30-100 hitters were, more than ever, a dime a dozen.
Mickey Cochrane, Philadelphia A's
The hard-nosed, sweet-hitting catcher and thinker of the game often and unfairly gets lost in the conversation of the greatest backstops ever—but how does he get lost on our top 10 list of the A's all-time hitting greats? After all, Cochrane hit .321 for the A's over nine seasons, wielded good power, walked and scored often and almost never struck out. But even the best catchers back in the day were hardly everyday players—rules makers clearly had them in mind when lowering the qualification standards for batting titles—and Cochrane always sat out some 20-30 games a year, costing him a chance to rise in the rankings in a period (1926-34) when stat-gorging sluggers saturated the AL. Also not helping Cochrane's cause for inclusion was, like so many other greats who played for the A's (Reggie Jackson, Jimmie Foxx, Eddie Collins, et al), he didn't play his full career with them, dealt away to Detroit after 1934 in one of manager Connie Mack's cost-saving fire sales.
Jack Morris, Detroit Tigers
It's a stat you've probably heard many times: No pitcher won more games in the 1980s then Morris, the Tigers ace who saw it all in a decade that included a world title (1984) and a 100-loss disaster (1989). He was a tireless workhorse who pitched often and late into games, and lists high on the franchise list for wins, innings pitched, complete games and shutouts. Easy inclusion, right? Well, maybe not. While Morris racked up a lot of innings and wins for the Tigers—two valuable set of assets that certainly help anyone shoot up to the top of our L+H rankings—his ERAs were never sterling, with a career 3.73 mark over 14 years in Detroit. Morris bent often, never broke, and at best was borderline brilliant; it certainly didn't hurt that his teammates supported him well, averaging nearly five runs per start. Just a little more efficiency could have propelled him onto our list of the top 10 Tigers pitchers.
Tim Lincecum, San Francisco Giants
What, no Timmy? The guy who won two Cy Young Awards, threw two no-hitters and wears three championship rings? Granted, there's some big names competing for web space on our page of Giants pitching greats (like Christy Mathewson, Carl Hubbell and Juan Marichal, for starters), but the popular Lincecum finds himself on the outside looking in. So how is that? The big problem here is that while Lincecum logged nine years of service for the Giants—plenty of time to rack up L+H points towards inclusion—he was only good in four of them, before his velocity slipped a few gears and he suddenly went from being one of the game's most unhittable pitchers…to among the most hittable. (He also barely won over 100 career games.) Had he just had one more solid year, he might have made the list. It just didn't happen.
Derek Jeter, New York Yankees
This is the one omission that's gotten us into more hot water, the one where angry picketers would march in fiery protest in front of the This Great Game offices—that is, if we had offices. One email after another has poured through our servers asking the same question: Where the hell is Derek Jeter on your list of top 10 Yankee hitters? The arguments are well founded; he's this proud franchise's all-time hit leader, a career .310 hitter, a winner of five World Series, a guy who's brought all those gorgeous women to his pad…he's The Captain, for God's sakes.
We hear you. Now hear us—please. First, this is a pretty tough list to crack. There's names like Ruth, Gehrig, DiMaggio and Mantle. Yes, we also know it includes Charlie Keller, Bobby Murcer and Rickey Henderson. But even in the relatively short time they wore pinstripes, these were guys who dominated. Which brings us to our second point. Jeter put up gaudy numbers, for sure, but so did a lot of other players during the time he played, a little something called the Steroid Era. Had Jeter transported his numbers to, say, the 1950s and 1960s, he'd make this list. But it's also quite possible the conditions of that era would have whittled those numbers down. Everything is relative.
Finally, know this: The list in question breaks down the Yankee's top 10 hitters. If we had a list of the franchise's 10 best players—one that amalgamated hitting, pitching, defense and intangibles such as poise and leadership, all without relying on metrics—then you can bet Jeter would be included. We've never doubted that Jeter is a legend among legends in Yankee annuls, but when you break it down to simple statistical hitting, others are just plain more deserving.