Baseball's 10 Most Famous Celebrity Wives
These women are just as famous as the major league ballplayers they married.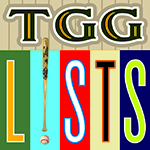 "You've probably heard of him. He plays for (insert major league team here)."
That's what the wife of a ballplayer will often say when new acquaintances ask about their husband. But sometimes the roles get reversed. Major leaguers aren't always the most well-known name within a marriage, with celebrity status getting equal billing at the top of the wedding cake.
Here are 10 women who married major leaguers, yet needed no introduction—at least, none beyond the description, "She's the wife of (insert major league ballplayer here)."
Esteban Loaiza and Jenni Rivera
One of the top Latin singers, the Mexican-born Rivera was riding high fame in 2010 when she married Loaiza, a former 20-game winner and two-time All-Star who'd been out of baseball for a couple of years. The so-called "power couple" were popular enough to gain a spot on the Las Vegas Walk of Stars, for all that's worth. The union did not end well as Rivera and Loaiza, citing "irreconcilable differences," divorced in September 2010. Alas, things only got worse from there—in the case of Rivera, tragically worse. Just two months after the couple split, Rivera along with eight others were killed in a plane crash in Mexico; later in 2018, Loaiza was arrested for cocaine possession with intent to distribute, and eventually was handed a three-year prison sentence.
Chuck Finley and Tawny Kitaen
Finley was a handsome 200-game winner over 17 years of play, mostly with the California/Anaheim Angels, who caught the attraction of Kitaen—who in 1984 gained widespread exposure as Tom Hanks' fiancé in Bachelor Party. The role looked to be a launching pad for an actress who had the looks and grace to become American's next screen sweetheart, but instead she devolved into soft-porn junk like The Perils of Gwendoline in the Land of the Yik-Yak and sultry video music cameos for the heavy metal band Whitesnake. She also had quite the temper, as Finley—whom she married in 1997—found out five years later after being on the painful end of an excessive face-kicking from Kitaen and her high heels. Needless to say, a messy divorce ensued, during which Kitaen admitted to painkiller abuse. The two eventually reconciled—they didn't remarry—and often got together with their two daughters. (A sad update: Kitaen died at age 59 on May 7, 2021.)
Ray Knight and Nancy Lopez
It's often said that misery loves company—and it can even lead to marriage. Such was the case for Knight, the heir apparent to Pete Rose at third base in Cincinnati, and Lopez, the golfer whose Tiger Woods-like explosion onto the LPGA scene in the late 1970s turned many heads. In 1981, both were slumping and going through painful divorces when they hooked up, began talking of each other's troubles, and eventually bonded toward a wedding date. Their marriage would last 27 years, and athletically they would be the better for it, as Lopez rebounded out to reclaim her breakout form while Knight returned to hitting around the .300 mark and winning a ring with the 1986 New York Mets. Both have streets named after them that cross one another at Phoebe Putney Memorial Hospital in Knight's hometown of Albany, Georgia. Knight, in a nod to his former wife, said of the signpost at the intersection: "She should be on the top."
Mike Donlin and Mabel Hite
A highly talented hitter with good looks and a penchant for trouble, Donlin hit .333 over 1,000 games—mostly for the New York Giants—at the height of the Deadball Era. He might had made it to the Hall of Fame had he not kept quitting the game to pursue an acting career. On stage and off it, Donlin bonded with Hite, a Vaudeville actress he married in 1906; together they peaked on Broadway with the one-act play Stealing Home, which ran for three years. Hite tragically died of cancer in 1912 at the tender age of 29, leaving Donlin in search for a new direction; he attempted a comeback in baseball, hitting .312 as a part-timer for the Pittsburgh Pirates, but as he advanced into his late 30s he realized his best stuff was behind him. So he moved to Hollywood and stuck with acting, appearing in over 50 films over the next 20 years—mostly in small roles such as Buster Keaton's The General—before dying at age 55.
Nomar Garciaparra and Mia Hamm
He's the two-time batting champ whose .372 average in 2000 is the American League's highest since George Brett's dalliance with the .400 mark in 1980. She was, until Abby Wambach came along, the most productive goal-scorer in international soccer history—men and women included. How did they attract one another? "It was his hair," Hamm confessed in a recent interview. Garciaparra, meanwhile, recalls the ease of the relationship's evolution, saying that he felt he could be "himself" around her. From all indications, this couple is one of the most harmonious on this list, as they've swam along together in the often challenging waters of marriage, bringing along with them three children including a pair of twin girls. The two recently co-invested in Major League Soccer's Los Angeles Football Club, better known as LAFC.

Leo Durocher and Laraine Day
The steady film actress whose most memorable role came in Alfred Hitchcock's Foreign Correspondent was a Mormon who never swore, smoked or drank—which made her marriage to Durocher, the street-fightin', mob-befriending manager, the ultimate case of opposites attracting. To be fair, Day was not so squeaky clean herself; she first met Durocher in 1942, likely started an affair with him at some point and, then, early in 1947—while the ink was drying on her divorce—wedded Durocher shotgun-style in El Paso, Texas. A California judge annulled the marriage, saying she had to wait a year. (We'll save you from hearing the long version of that story.) But this was the least of Durocher's problems at the time; he was in commissioner Happy Chandler's doghouse for his ties with the mob, while at the same time fighting with a faction of Dodgers players who didn't want rookie Jackie Robinson on his squad. (Durocher would be suspended a year for the former issue.) Once everything settled down, Durocher and Day enjoyed a 12-year marriage, during which she garnered the name "First Lady of Baseball" for her studious devotion to the game; she even hosted a TV pregame show of sorts before every home game for the New York Giants, who Durocher moved over to manage starting in 1948.
David Justice and Halle Berry
The gorgeous former model and future Oscar winner whose acting career was on the rise hooked up with the Atlanta Braves star outfielder in 1992 after expressing mutual interest from afar through the media. But the marriage was short and stormy; that it lasted even three years was surprising. Berry initiated the divorce filing, and at one point won a temporary restraining order against Justice, claiming physical abuse; she later publicly spoke of permanent hearing loss in one ear as the result of taking a slug from a man she wouldn't name—but most assumed it was Justice. "Hit the ball like you hit Halle," Justice recalls one fan yelling. For his part, Justice didn't want to get into a public war of words with Berry, but couldn't help but want to set the record straight when Berry charged up her PR machine. Who was telling the truth? Hard to say, but Justice remarried and has remained with his second spouse for 20 years; Berry, meanwhile, has gone through one messy breakup after another.
Justin Verlander and Kate Upton
We should all be lucky to hook up with the supermodel of our dreams. Verlander, who's all but got his passport stamped for Cooperstown, lived the fantasy that began in 2012 when he filmed a commercial featuring Upton; during a break in filming, he blurted out to people nearby that he'd like to get her number—unaware that his mic was still on, within earshot of Upton. It wasn't long before they became an adorable item together. Not only did Verlander find a beautiful mate in Upton, but also a sorely needed confidant as she kept him sane through an injury-prone, mid-career crisis that had sent him to the edge of depression. Firmly back on track by 2016, Verlander found Upton to be his most loyal fan—and she proved it when, after he barely lost the Cy Young Award vote despite getting more #1 nods, tweeted, "I thought I was the only person allowed to f**k Justin Verlander." The fairy tale was complete in 2017 when Verlander helped the Houston Astros win their first world title and, a few days later, swept Upton off her feet to get married in the Tuscany region of Italy.

Alex Rodriguez and Jennifer Lopez
We might be a little premature on this one since, at posting time, they have yet to officially wed—and we're keeping our fingers crossed, given the roving romantic history of both. J-Lo's already been married three times, A-Rod once—and additionally, his long list of brief companions includes names like Madonna, Kate Hudson and Cameron Diaz. (And as we all know from the Biogenesis saga, Rodriguez has shown that he's not above cheating.) Rodriguez's on-the-record affection for Lopez began way back in 1998 when he said that Lopez would be the first woman he would ask out, telling a reporter, "Hopefully you can find me a date with her." Seven years later, he got her autograph—and in 2017, they began seeing one another, followed by an engagement two years later, with Rodriguez proposing on a beach in the Bahamas with a massive diamond ring worth as much as $4 million. So far, so good—the two are even looking into buying the New York Mets—but who knows where this will go. But here's a heads-up: Six of the other nine marriages on this list ended in divorce. (Update: We found out where this went, as the two broke up in the Spring of 2021.)
Joe DiMaggio and Marilyn Monroe
But of course. For All-American nuptials, this is as iconic as it gets: DiMaggio, the smooth, well-heeled New York Yankees superstar, and Monroe, the legendary blonde bombshell of everyone's dreams. DiMaggio made the first move, asking Monroe's agent to arrange a blind date; hesitant at first, Monroe eventually agreed and found his quiet demeanor to be a refreshing contrast to the more arrogant men salivating over her. In January 1954, over a year after that first date, they married in San Francisco; nine months later, they divorced. The reason was pretty simple for even those who didn't personally know the two; Monroe relished her glamour image and played the extravert, while DiMaggio relished his privacy to the point of once being labeled a "male Garbo." He was said to be highly controlling over Monroe and disapproved of her sexy image, something all too apparent when he grew irate on the set of Monroe's The Seven-Year Itch as she filmed the fabled wind-blowing-her-skirt-up scene. Monroe detested DiMaggio's oversight and claimed "mental cruelty" in her divorce filing.
In spite of the dysfunctional marriage, DiMaggio and Monroe remained close friends after the break-up, staying in close contact up to her final days—even hoping to remarry her. That hope ended in 1962 when Monroe died of a pill overdose. DiMaggio arranged her funeral and barred the Kennedys—whom he suspected was involved in her death but never publicly stated it, telling a close friend that he "didn't want to start a revolution." The loss of Monroe obviously pained DiMaggio; it was said that he sent roses to her gravesite at least once a week, every week, until his own passing in 1999.