The 10 Most Imperfect No-Hitters in Baseball History
So-called gems achieved by major league pitchers who labored to fame in spite of wildness, some clumsy play—and sometimes even a loss.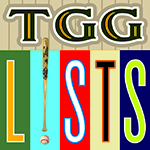 The no-hitter is usually perceived as a remarkable feat, a thing of beauty, a rarity; in the long history of the majors, there's only been some 250 of them thrown. Only a perfect game is rarer for pitchers, but a perfect game is exactly that: Perfect. Twenty-seven guys up, twenty-seven down. No-hitters are a little less impeccable, often achieved with a walk or an error sprinkled in. Then there's the occasional no-hitter that's anything but perfect; somehow, some way, the pitcher struggles to get through the game even as he continues not to yield a hit. Here's 10 examples of major leaguers who labored, bumbled or went wild in making history.
Johan Santana, June 1, 2012
It was an historic night for the New York Mets. Fifty years and 8,019 games, many of them pitched by some of the game's greats, and not a single no-hitter—until Santana, the veteran lefty with two Cy Young Awards in his back pocket, took the mound and finally gave the Mets a taste of no-hit nirvana against the St. Louis Cardinals. 
Only thing was, it shouldn't have counted. 
In the sixth inning, former Met and current Cardinal Carlos Beltran curled a line drive around the third base bag that hit the left-field line behind it—but third base umpire Adrian Johnson called it foul, to the contradiction of television replays that clearly showed a dent on the chalk where the ball struck. Beltran went on to ground out, one of 11 consecutive outs that would constitute the longest such run on the night for Santana. 
Beltran's double that should've been wasn't the only break on the night for Santana. With one out in the eighth, St. Louis pinch-hitter Shane Robinson appeared to be hit on the hand—but home plate umpire Gary Cederstrom disagreed, and Robinson went on to become one of Santana's eight strikeout victims. And an inning earlier, Yadier Molina laced a deep line drive to left—and New York outfielder Mike Baxter, running fearlessly to protect the no-hitter, caught up to the ball, made the catch and hung on as he slammed into the Citi Field wall. 
The play preserved the no-hitter but cost Baxter two months on the disabled list with a shoulder injury. In the long run, the no-no probably cost Santana as well; the complete-game gem, padded with five walks, took the Venezuelan native 134 pitches to complete—20 more than what Mets manager Terry Collins normally would have allowed. Santana was erratic in the outings to follow, then just plain awful; he missed the final eight weeks of the season and never pitched in the majors again as recurring shoulder issues got the best of him.
Johnny Vander Meer, June 15, 1938
One of the game's great achievements came when the young Cincinnati southpaw pieced together two straight no-hitters—a feat unmatched, before or since—but the latter outing was hardly a masterpiece. 
He had first blanked the Boston Bees (Braves) on no hits and three walks back home at Crosley Field; now here he was in Brooklyn, across the Hudson from his hometown of Prospect Park, pitching on three days' rest against the Dodgers in the first night game in Ebbets Field history. A sellout crowd showed up to witness the novelty of night baseball in the Borough, but they had no idea what Vander Meer was about to entertain them with. 
With each passing inning, the crowd—which included members of Vander Meer's family—quickly caught on that the 23-year-old pitcher was repeating history, retiring batter after batter as he did against Boston. But as he drove toward the finish line, Vander Meer began to take everyone for a wild ride. In the seventh inning, he walked two batters with one out, but the Dodgers could neither hit nor walk them in. In the ninth, with the no-no on the line, Vander Meer really brought on the suspense; again with one out, he walked Babe Phelps, then Cookie Lavagetto, then Dolph Camilli to load the bases. But fortunately for Vander Meer—who would end up with eight walks on the evening—his next two batters would be rookie Ernie Koy and shortstop Leo Durocher, who before his managing days was known as "The All-American Out." Vander Meer had shown no wildness toward any of these two batters throughout the game, and he wouldn't now—retiring each to achieve both his second consecutive no-hitter and instant immortality.
Cliff Chambers, May 6, 1951
Sabermetrically speaking, Chambers makes the list for producing a "Game Score" of 83, the lowest generated by any no-hit pitcher per the calculus established decades later by stat master Bill James. This obscure stat will probably blow over most baseball fans' heads, but those who can decipher it understand just how tough it was for the Idaho-bred southpaw to keep the Boston Braves hitless—to say nothing of scoreless—through the first game of a doubleheader for the Pittsburgh Pirates. 
Chambers gave up a career-low zero hits but also walked a career-high eight, with a wild pitch added in. In fact, he walked so many batters that, at some point late in the game, he figured he must have allowed a hit because there were "so many men on base." Only when he realized that his teammates were avoiding him in the dugout—and thus following through on the superstition to leave a pitcher alone while he's tossing a no-no—did he sense that something cool was up. 
Besides the wildness, Chambers was also hit hard—but fortunately for him, the Braves him 'em where his Pirate teammates were. His biggest sigh of relief likely took place in the sixth inning when Bob Elliott, after fouling off five pitches, launched a drive to deep right field that was caught up to by outfielder Gus Bell after a stiff wind blowing in kept it from clearing the fence. Not only did the wind and Bell buddy up to preserve the no-hitter, it preserved the Bucs' 2-0 lead. In the ninth, Chambers was hit hard several times—but they all became outs, and the no-no was mercifully completed. 
Unlike most obscure no-hit artists of his day, Chambers did not receive a bonus for his feat; in fact, he never even received a congratulatory telegram from Branch Rickey, the famed baseball executive who was then the Pirates' general manager. A month later, Rickey would finally acknowledge Chambers by trading him, focusing on his lousy start to the year (3-6, 5.58 ERA) rather than the one gem that stood out as the pinnacle of an otherwise unremarkable six-year career.
Edwin Jackson, June 25, 2010
You would think that any pitcher tossing a no-hitter would do it with a minimum of pitches—after all, by retiring just about everyone he faces, that pitch count should end up being pretty low, right? Don't tell that to Edwin Jackson, who had to labor harder and longer than anyone who ever threw a nine-inning no-no. 
Performing for the Arizona Diamondbacks in an interleague contest at Tampa Bay, Jackson practically walked himself out of history before the game was halfway over, handing out seven passes in the first three innings alone. With so many baserunners to contend with, Jackson had to take the scoreboard's word for it that he hadn't given up a single hit. It was bad enough that the pitches were piling up, but so was the stress as Jackson had only a run of support (a second-inning Adam LaRoche home run) to work with all evening. In spite of Jackson's progressing gem, Arizona manager A.J. Hinch had the bullpen warming up as early as the sixth inning; had there not been a no-hitter in the making, he surely would have pulled Jackson from the game well before the ninth. But he didn't want to rob his pitcher of fame, telling the press afterward, "We stopped counting at 115 (pitches)." 
After Jackson's early wildness, he actually settled down, walking only one more batter the rest of the way while hitting another. When he retired the Rays' Jason Bartlett on a ground ball to end it, he had thrown 149 pitches—the most by anyone throwing a nine-inning no-hitter, and the most racked up by any major league pitcher over the previous five years. The Diamondbacks sensed that he was so exhausted by the night, they gave him not the customary four days off, but seven to rest up before his next start. And like Cliff Chambers before him, Jackson found himself with another team within a month, shipped off to Chicago to help the White Sox chase down a playoff spot.
Jim Maloney, August 19, 1965
After nine innings of no-hit baseball at Wrigley Field, the 25-year-old Cincinnati right-hander wasn't likely thinking "no-no" but, instead, "oh, no." Just two months earlier, Maloney had also delivered a no-hitter through nine frames, then 10—but his Reds teammates were fit to be scoreless, and he finally caved in and lost to the woeful New York Mets on two 11th-inning hits, 1-0. Now here was Maloney again, forced to take yet another no-hitter overtime in the midst of a 0-0 game against the Chicago Cubs.  
The worse thing was, unlike his earlier, aborted extra-inning pursuit of glory, Maloney wasn't entirely sharp. In 11 innings against the Mets, he had struck out 18 and walked only one; through nine innings at Chicago, he struck out 12 but walked nine, hit another and went to a full count over a dozen times. Yet Maloney was no stranger to wild no-hitters; once in high school, he notched one striking out 25 batters, walking 15 and hitting 10 others. The Cubs weren't exactly killing Maloney's pitches—no one managed to hit one past the infield until Doug Clemens flied out in the eighth—because his wildness wasn't allowing them the chance.   
As he sat in the dugout in the top of the 10th, Maloney finally saw some light at the end of his frustration when Leo Cardenas belted a home run that gave the Reds a 1-0 lead. When Maloney took the mound for the bottom half of the inning and walked his 10th batter in Clemens to start things off, he must have been thinking "oh, no" again. But he bore down and retired the next two hitters—future Hall of Famers Billy Williams and Ernie Banks—the latter on a double play that, after 187 pitches on the day, finally gave him the no-hitter and victory. Because as then-NL President (and former Reds GM) Warren Giles later explained, "Anyone who pitches two 10-inning no-hitters certainly deserves to win one of them."

A.J. Burnett, May 12, 2001
After the young Burnett clinched his no-hitter at San Diego in what would be his eighth career win and first complete game, he told reporters: "I'm on cloud nine right now." Moments earlier, he was actually on walk nine, wrapping up the no-no with a wild display of no-hit artistry that also included a wild pitch and a hit batsmen (which broke the hand of the Padres' Damian Jackson), all within 128 pitches—barely half of them (65) for strikes. 
Hurling for the Florida Marlins, Burnett was making only his second start of the year after missing April with a broken foot sustained in spring training; his hand was a bigger issue as he took the mound against the Padres, having accidentally pressed it with an iron five days earlier. Before a huge Saturday afternoon crowd of 41,000 at Qualcomm Stadium, Burnett ironed out the Padres but had to work through plenty of wrinkles; he walked one in the first, two in the second, two in the third, one each in the fourth and seventh and his last two in the eighth. 
Burnett's nine walks tied a Marlin record and set a still-standing mark for the most in a nine-inning no-hitter; he only retired the side in order three times, including the ninth—with Phil Nevin popping out to clinch the no-no.
Dock Ellis, June 12, 1970
It may all be just a tall, elaborate tale told over the years, but if what Dock Ellis claims is completely true, then his no-hitter for the Pirates at San Diego (yes, the poor Padres again) certainly has to rank as one of the strangest and, therefore, amazing achievements by any player in any sport. 
Years after the wild no-no in which he walked eight and hit one, the controversial Ellis confessed that he pitched the game under the heavy influence of LSD. (A version of events suggesting he had purchased the drugs directly from counterculture icon Timothy Leary—who famously urged people to "turn on, tune in, drop out"—proved to be false.) According to Ellis, he dropped his first batch of acid at the airport in San Diego after asking Pirate manager Danny Murtaugh for a day off; he went to a friend's house near his native Los Angeles, dropped more acid and lost track of both consciousness and time; when awakened, he was told he was mere hours away from his start against the Padres. Ellis didn't realize that night had passed and thought he was still on his day off. 
Ellis hustled to the ballpark and, with the help of more illegal drugs (the relatively benign stimulant known as "greenies") ramped up for baseball; but he was still high, seeing hitters as little more than blurry objects to the left or right of the plate while the ball seemed to change sizes on him. His teammates knew he was high, but they weren't exactly sure on what. 
On a misty evening, Ellis' acid reign proceeded. Through the first six innings, he walked seven and hit another—but he didn't give up that first hit. After just one inning, rookie second baseman Dave Cash razzed Ellis in the dugout that he had a no-no going; when he kept it up after the fourth, his superstitious teammates told him to shut the hell up and leave Ellis alone. Back on the mound, Ellis settled in through the final three innings—saying the effects of the LSD muted any anxiety he normally would have felt—and Willie Stargell's two solo homers were enough to lift the Pirates on the scoreboard while Ellis completed a long, strange trip of a no-hitter.
Matt Young, April 12, 1992
Matt Young was not exactly a great major league pitcher, with a career 55-95 record that most cellar-dwelling teams would wince at; he twice flirted with 20 losses in a season. But Young never got much luck, either. To wit: In his first start of 1992 for the Boston Red Sox, his fifth team in six years, he threw a no-hitter—and lost. 
If that wasn't bad enough, Young's hollow gem isn't officially classified as a no-hitter. Why? Because just a year earlier, baseball's Committee for Statistical Accuracy—an outfit the New York Times described as sounding like "something left over from the old Soviet Union"—changed the qualifications for what constituted a no-hitter and what didn't; in order to throw a no-no, you had to start the game, finish it, and throw at least nine innings. Young met the first two conditions but not the third as he didn't get the chance; because the opposing Cleveland Indians were the home team and led 2-1 after eight and a half innings, there was no need for a bottom of the ninth. 
So how did Young and the Red Sox outhit the Indians, 9-0, but lose, 2-1? Kenny Lofton led off the Indian first with a walk—the first of seven allowed by Young—stole second and third, then scored on an error by shortstop Luis Rivera. The third inning brought the Tribe's second run when Young walked the first two batters, one of them eventually scoring on a ground out by Carlos Baerga. Meanwhile, the Red Sox couldn't plate anything despite a mass of baserunners, leaving 11 men on base and ruining a promising ninth-inning rally when Mike Greenwell hit into a double play to end the game and deny Young a chance for pitching a ninth frame. 
It was a bittersweet clubhouse sit for Young with the accent on 'bitter'; in talking with reporters, he summed up his no-hit, no-win effort in one word: "Purgatory." Young's rotten luck continued afterward; he appeared in 27 more games in 1992, starting seven of them—and didn't win one.

Ken Johnson, April 23, 1964
Like Young, Ken Johnson was riddled with tough luck throughout his early career. But he was a better pitcher. While Young had a sound offensive nucleus behind him called the Boston Red Sox, Johnson had the Houston Colt .45s—a young franchise loaded with young hitters, many of whom didn't appear ready for major league duty. In 1963, he finished 11-17 despite a stellar 2.65 ERA. But the worst was yet to come, which brings us to his third start of 1964. 
Through eight innings against Cincinnati, Johnson was magnificent. In holding the Reds hitless, he had struck out nine and walked only two. But the Houston offense remained its usual listless self, unable to score against veteran lefty Joe Nuxhall. 
Taking the mound for the top of the ninth, Johnson first retired Nuxhall on a grounder. Easy enough. Up next was Pete Rose, who was always ready to win at any cost—even if it meant bunting for a hit, a no-no when a no-no was on the line, never mind that the score was still 0-0. Rose didn't get the bunt hit, but Johnson didn't get the out; hurrying to pick up the ball and retire the aggressive Rose, Johnson threw wild and wide of the bag, allowing Rose to take second. The scorekeeper gave Johnson the error and denied Rose the hit, but it didn't stop Houston coach Jimmy Adair from getting into a bizarre shouting match with first base umpire Stan Landes that ended in his ejection—because he demanded to know from Landes if Rose had beaten Johnson's throw. 
The agony had only just begun. After retiring Chico Ruiz on a grounder—sending Rose to third—Johnson induced another grounder from Vada Pinson to future Hall-of-Fame second baseman Nellie Fox, who booted the ball for the second error of the inning to score Rose from third with the game's first run. The Colt .45s failed to respond in the bottom of the ninth, and Johnson became baseball's first ever victim of a nine-inning no-hit loss. Johnson remained perplexed at his continued hard luck in Houston a day later, as did the many who came up to congratulate him—and gave him condolences at the same time.
Andy Hawkins, July 1, 1990
Early in their infancy, the Chicago White Sox were lovingly called the "Hitless Wonders" for their ability to win in spite of their inability to hit. But nearly a century later, the Hitless Wonders truly lived up to their name on a gusty, sun-splashed Sunday afternoon before a raucous crowd that came to celebrate old Comiskey Park's 80th birthday—and the New York Yankees' Andy Hawkins would be the victim of it all, pitching the craziest no-hitter never won. 
Entering the game with a 1-4 record and 6.49 ERA through 13 starts, Hawkins found himself in cruise control through the first four-plus innings, retiring the first 14 White Sox batters. Then he found himself in a bit of two-out trouble in the fifth. He walked consecutive batters before a young Sammy Sosa launched what appeared to be a sure three-run homer to left—but a furious wind blowing straight in from Lake Michigan literally knocked the ball back into the field of play, where outfielder Jim Leyritz ran a circuitous route and made a dizzying catch on the warning track. 
In the eighth inning of a scoreless game, the elements switched allegiance and became Hawkins' enemy; his Yankee teammates didn't help. After retiring the first two batters, Sosa hit a sharp grounder to third, where Mike Blowers—whose underwhelming defense led to his nickname, Mike Blow-Errors—botched the grab; his throw to first was too late to retire a sliding Sosa. At first the play was ruled a hit, leading to numerous glares towards the press box from Yankee players and coaches; after seeing a replay, the scorekeeper rightfully changed the ruling to an error, keeping Hawkins' no-hitter intact. 
But Hawkins' misadventures were only just beginning. He walked the next two hitters, Ozzie Guillen and Lance Johnson, to load the bases. Then came up Robin Ventura, who hit a big fly to left; Leyritz, a third baseman by training playing only his fourth major league game in the outfield, scrambled back and to his left before the ball glanced off his glove and sped to the corner. By the time he threw the ball in, all three baserunners had scored and Ventura was on with a three-base error. Next came up Ivan Calderon, who went the other way to right—where outfielder Jesse Barfield not only had wind to contend with but a bright sun; he lost sight of the ball, shirked back and had it tip off his glove, scoring Ventura. Hawkins finally (and mercifully) ended the inning when he finally gave up a pop fly that wasn't dropped, murmuring back to the dugout with eight innings of no-hit ball and four unearned runs to his ledger. 
The Yankees went down with little fight in the ninth, and Hawkins secured his place as baseball's most snakebit no-hit author.