1965: The Fall of the Yankee Empire
Fresh off managing St. Louis to a world title, Johnny Keane is courted into becoming the New York Yankees' field leader—and finds himself piloting a burned-out, beat-up and rapidly aging ballclub to its first losing campaign in 40 years.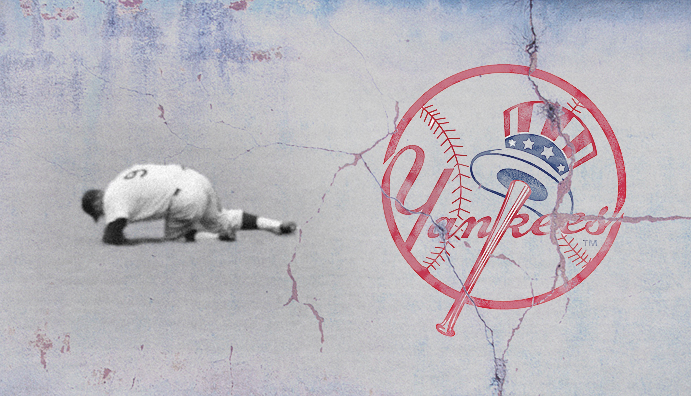 Roger Maris' tumble to the ground after pulling a hamstring epitomized the state of the 1965 New York Yankees, who fell to second-division obscurity as aging, injury-prone shadows of their former selves. (Associated Press)
The New York Yankees. Those very four words conjure up visions of eternal championship glory. Nearly a half-century after Babe Ruth boisterously and magnificently came on board, baseball's lone superpower piled up one World Series triumph after another; around the country, young ballplayers dreamed of donning Yankee pinstripes and playing alongside the best of the best. To these kids, there was no second choice.
Boasting an arrogance backed by triumphant results, the Yankees were both revered and detested by the rest of the baseball world. In an astonishing 44-year period starting in 1921, the Yankees reached the World Series 29 times and won 20 of them. Even when they didn't reach the Fall Classic, they were close, often finishing second or third—though anything less than first was considered an embarrassment to the Yankees establishment.
New York entered 1965 looking for an unprecedented sixth straight American League pennant. But they would soon discover that they'd been living out the autumn of their reign in advance of a prolonged nuclear winter that was about to set in for the franchise.
After losing a tight seven-game World Series to the St. Louis Cardinals the year before, prospects for a Yankees rebound looked encouraging. They hired the man who helped beat them—former Cardinals manager Johnny Keane—and were now bankrolled by the corporate millions of CBS, the team's new owners. On the surface, these moves were the usual signs that the Yankees were playing their powerful percentages to assure a stay at the top, as they had always done in times of doubt.
The 53-year-old Keane may have been a perfect fit for the tight-knit, intensely focused Cardinals, but he was all wrong for the Yankees, who were professional yet relaxed and free-spirited. Keane's firebrand style of managing instantly alienated the players, while his strategies on the field—using speed, bunting and the hit-and-run—were foreign to New York hitters who normally relied on reaching base and waiting for the three-run homer.
Philosophical differences aside, Keane was also inheriting a Yankees lineup that was physically deteriorating in front of his very eyes. "Break up the Yankees!" opposing fans continually cried during the team's heyday. Keane's Yankees were more on the verge of breaking down.
Mickey Mantle began the final chapter of his career, one in which he would play out the string; various injuries limited him to hit just .255 with 19 home runs and 46 runs batted in. Roger Maris' hand was misdiagnosed as a bruise when, in fact, it was a hairline fracture; he batted .239 with eight homers in 46 games. Elston Howard, two years removed from his 1963 MVP performance, struggled from a bad elbow and batted .233. Shortstop Tony Kubek hit just .218 while laboring with a bad back—for which he would retire from at the end of the year when told he risked permanent spinal damage. Jim Bouton, the young 18-game winner of 1964, suddenly lost velocity in his motion and descended to a miserable 4-15 record. Whitey Ford somehow managed to look respectable at 16-13 despite using an arm that often left him without feeling in his pitching hand. It was clear the 36-year old was playing on borrowed time.
The Years We Were Mortal
From the time Babe Ruth first donned a Yankee uniform in 1920, to 1964—the eve of the franchise's disappointing CBS era—the Yankees seldom failed to contend for the AL pennant. Listed below are the team's five worst years during this otherwise remarkable reign—before it all fell apart in 1965.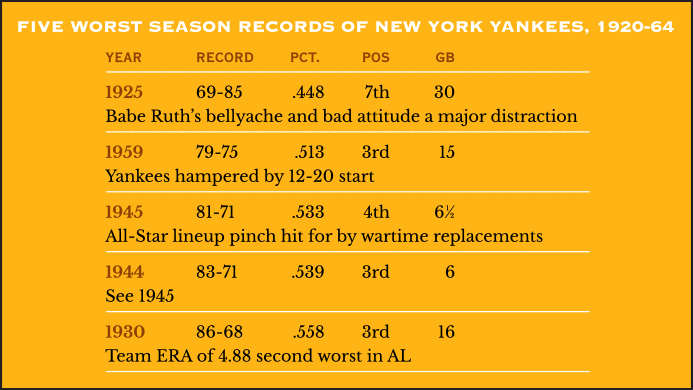 A paranoid Keane was suspicious of the injured players and believed they were playing up their maladies to spite him. The pressures of trying to spring the team to first place—and failing miserably—became so great, in one midseason game at Minnesota a strung-out Keane had to be given a time out and oxygen when he suffered a nervous breakdown in the dugout.
Keane got no help from the normally reliable New York farm system. The quality of Yankees prospects had been in decline for several years, in part because the team arrogantly continued to shun both African-American blue-chippers and outrageous bonus baby contracts to potential superstars. Baseball was also introducing the free agent draft, which allowed an equitable process of each major league team picking the best high school and college players—with the worst teams picking first. Thus the Yankees could no longer go out and sign whomever, whenever; now, they would have to get in line like everyone else and wait their turn.
Worse, the lineage of Yankees superstars was about to be severed. Babe Ruth gave way to Lou Gehrig, who gave way to Joe DiMaggio, who gave way to Mantle, who gave way to…Roger Repoz? That's what Yankees farm director Johnny Johnson kept insisting to the media. Repoz reported to New York halfway through the 1965 season and hit 12 home runs—but at the expense of a .220 average and 57 strikeouts in 218 at-bats.
BTW: Repoz would ultimately spend nine years in the majors—only a handful of them with the Yankees—and hit a collective .224 with 82 career home runs.
The Yankee Way had hit a dead end. In 1965, the Yankees would finish sixth in the 10-team AL at 77-85—New York's worst finish since 1925, when Babe Ruth's bellyache seriously disrupted the team. It would get worse in 1966; Keane was fired after a listless 4-16 start—and the team languished to a rare last-place result.
Keane would not have long to reflect on his experience; he died of a heart attack near Houston a year later.
"This is a great circumstance, the Yankees in depression," new Yankees president Mike Burke would proudly spin toward the end of 1966. "We have the opportunity to create a whole new level of excitement for Yankee fans." In other words, the spoiled nature of the diminishing Yankees fan base had been flushed out. Now they could learn to appreciate an underdog—something their team would be for the next 10 years.
As the mighty Yankees plunged, it was only poetic justice that their replacement at the top of the AL standings would be the Minnesota Twins—the franchise formerly known as the Washington Senators, with all of six winning seasons to its credit since making its last World Series appearance in 1933.
As bad luck would have it for baseball fans in the Nation's Capitol, their originally loathed Senators would quickly transform into a contender once relocated to the Twin Cities, while they would be stuck with a replacement expansion version of the Senators that would continue the losing tradition of Washington baseball. The Twins' talent in bloom seized on the new enthusiasm of larger crowds in Minnesota and, through the early 1960s, shed the losing image that remained unshakeable in D.C. In 1965, the Twins finally broke through with an impressive 102-60 campaign, never allowing any of their contenders to challenge towards season's end. And as if to play a cruel trick on their former D.C. diehards, the Twins clinched the pennant on September 26—in Washington, against the replacement Senators. 
BTW: Finishing in second place, seven games back, were the Chicago White Sox—piloted by the luckless Al Lopez, who would manage a ballclub to second place for the 10th time in 15 years.
For decades, the Senators/Twins had developed a strong scouting presence in Cuba, and although that never helped the team get over the top in Washington, it made all the difference in winning the AL pennant at Minnesota—even five years after the so-called "Cuban Express" had been derailed by the Castro Revolution. While outfielder Tony Oliva followed up his terrific rookie campaign by winning his second straight AL batting title at .321, lightweight (150 pounds) Zoilo Versalles played the team's heavyweight at the plate, leading the AL with 126 runs, 45 doubles and 12 triples. Add on 27 stolen bases and Gold Glove work at shortstop, and Versalles' total effort earned him the AL MVP award.
BTW: Harmon Killebrew, the Twins' super-slugger, missed 48 games due to a dislocated elbow but still banged out a team-high 25 homers.
While two talented Cubans propelled the Twins to an easy AL triumph, a native of the neighboring Dominican Republic became the flashpoint of a charged-up National League pennant race, featuring two bitter rivals boiling to an unprecedented level of mutual hatred for one another.
The San Francisco Giants and Los Angeles Dodgers had good-naturedly battled one another for first place through the first 120 games of the year, but things turned downright ugly when the two met in San Francisco in late August. A sellout crowd was attracted by a marquee matchup featuring the Giants' Juan Marichal, looking for his 20th win of the year, and Dodgers ace Sandy Koufax. Los Angeles took the early lead on Marichal, who responded by knocking several Dodgers to the ground; when it came Marichal's turn to bat, an angry Johnny Roseboro, the Los Angeles catcher, Koufax to retaliate. But the emotionally pacifistic Koufax preferred to get even by punching out opponents with third strikes, not chin music.
Frustrated, Roseboro took matters into his own hands—firing his return tosses within centimeters of Marichal's head, inciting the Giants ace to confront Roseboro. Within seconds, all hell broke loose. Roseboro was in Marichal's face, and Marichal, in the heat of the moment, responded by slamming his bat on Roseboro's head. The ensuing melee lasted 15 awful minutes, and it took desperate mediation from Giants star Willie Mays, with Roseboro's blood on his uniform, to cool everyone down. The extent of Roseboro's injury was so alarming, some on the field thought that he had lost an eye.
With Marichal ejected, a shaken Koufax lost his focus and quickly gave up a three-run homer to Mays that ultimately won the game for the Giants, 4-3. But the Giants would feel a more extended pain; Marichal was suspended eight games, fined a then-NL-record $1,750, and was ordered not to accompany the Giants when they visited Los Angeles two weeks later.
BTW: Roseboro would sue Marichal for $110,000; the two parties settled out of court for $7,500—in 1970.
The Giants slumbered through Marichal's suspension, but re-awoke by winning 14 in a row through early September after his return to take a 4.5-game lead over Los Angeles. Then it was the Dodgers' turn: Just as the San Francisco streak ended, Los Angeles started one of its own, winning 13 straight to reclaim first place and win the NL pennant by two games—ironically, the number of starts Marichal lost to suspension.
BTW: In winning 15 of their final 16 games, the Dodgers allowed just 17 runs, shutting out opponents eight times.
Pitching, once again, returned the Dodgers to the World Series. Just when it seemed Sandy Koufax couldn't get any better, he did—winning 26, losing eight, and striking out a major league-record 382 batters in 335.2 innings. That his ERA wasn't substantially lower than 2.04 with career-best figures in opposing batting average (.179) and on-base percentage (.228) created pause for thought. (Juan Marichal had the NL's second-best ERA at 2.13.) Koufax sidekick Don Drysdale impressively added 23 wins, and preseason acquisition Claude Osteen won only half of his 30 decisions despite a 2.79 ERA, in part because he got no support from the Dodger's popgun offense—which ranked seventh in batting, eighth in runs scored, and dead last in home runs with 78.
An obvious choice to start the opening game of the World Series, Koufax instead had a higher calling for that day: Yom Kippur, the holiest day of the Jewish year. While Koufax stayed loyal to religion, Drysdale was inserted instead and got rocked 8-3 by the Twins at Minnesota. Koufax returned for Game Two and was neither immortal nor supported in a 5-1 loss.
Returning home to the friendlier (and more pitcher-friendly) confines of Dodger Stadium, the Dodgers quickly got out of the hole and won three straight over the Twins—with Koufax pitching a four-hit shutout with 10 strikeouts in Game Five to give Los Angeles the edge going back to Minnesota. When the Twins forced Game Seven, Koufax returned to the mound—on two days' rest—and silenced the Bloomington Bombers yet again, shutting them out this time on three hits with 10 more strikeouts.
BTW: The Twins, shut out twice by Koufax in four days, were blanked by American League opponents only three times all year.
Koufax's continued utter dominance left everyone in baseball scratching their heads over how to beat him. But as Koufax found that it hurt to win with increasing frequency, it wasn't long before opponents could stop worrying and learn to love baseball without him.

Forward to 1966: Wish You Were Here, Mr. DeWitt Frank Robinson dominates the American League for the Baltimore Orioles—and proves to his former employers in Cincinnati that he's not an "old thirty".

Back to 1964: The Fizz Kids How the Philadelphia Phillies suffer through baseball's most infamous pennant race collapse.

1965 Leaders & Honors Our list of baseball's top 10 hitters and pitchers in both the American League and National League for the 1965 baseball season, as well as the awards and honors given to the game's top achievers of the year.

The 1960s: Welcome to My Strike Zone In a decade where baseball as a tradition is turning stale with America's emerging counter-culturism, major league owners see its biggest problem to be, of all things, an overabundance of offense in the game. The result? An increased strike zone, further contributing to a downward spiral in attendance, but greatly aiding an already talented batch of pitchers.