Baseball's 10 Most Unbreakable Records
Here's 10 baseball records that currently reside in the record book—and will likely stay there for all eternity.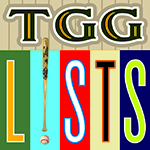 It's been said that records are made to be broken. Except for the 10 on this list. Nobody's touching these. Not ever.
Of course, by bizarre chance that someone does, maybe it'll be because the game has radically changed to the point that a whole new section of the record book needs to be carved up for the "post-modern" era. Or perhaps because the game will be played in private, away from the stress-inducing glare of the media—professional, social and otherwise.
For this list, we're strictly sticking with records accumulated after the start of baseball's modern era, which officially goes back to 1900. Baseball was a much different game in the 19th Century, with different rules and a wholly different mindset that allowed players like Will White to once pitch 680 innings in a season, Hugh Duffy to hit .440 and Old Hoss Radbourn to win 59 games.
Most Inside-the-park Home Runs, Season—12, Sam Crawford, 1901
The Hall-of-Fame masher who served the bulk of his career as Ty Cobb's reliable right-hand man in the Detroit lineup did a lot of running around—he racked up a record 309 lifetime triples, a subject we'll talk about momentarily—but he really exhausted himself in 1901 when he beat the throw to the plate a dozen times. These days, 12 inside-the-parkers are more or less the average of all major leaguers combined in a typical season. So unless some speedster has gap power and the luck of using it against clueless outfielders, expect Crawford's dozen to stay in the books.
Most Consecutive Games Played—2,632, Cal Ripken Jr., 1982-1998
Some would put this mark at #1 or #2 on their lists solely for its popularity, but a lot of folks thought Lou Gehrig's 2,130-game mark would never be broken until Ripken cruised right past it and kept going for another three years. So maybe there's a chance someone will come along and top Ripken, but in a much more physically demanding and financially weighted time when it's hard to find any one guy playing all 162 games in a season—and then to ask him to repeat the effort 17 years in a row—we truly doubt 2,632 will ever be surpassed.
Most Consecutive Games with a Hit—56, Joe DiMaggio, 1941
Fans and historians alike would love to see this mark challenged more than any other record out there—and that makes it all the more challenging for the next guy who approaches it. Remember the intense attention and media scrutiny placed upon Pete Rose and Paul Molitor, the two players who've come the closest to DiMaggio's fabled mark in recent times? And that was before today's social media-saturated, 24/7 news-cycle world. Our advice for the next challenger: Shut off your Twitter account, pump up the music on your Beats headphones, barricade yourself behind your team's media relations staff and enjoy the ride.
Most Triples, Season—36, Owen "Chief" Wilson, 1912
It's considered a big deal these days when a major leaguer works up a total of 20 triples in one year—only 10 players have gotten that far since World War II—so imagine when people see Wilson's 36 stand out of a crowd, as if he accidentally had his extra-base totals switched (he really did have just 19 doubles to go with his record loot of three-baggers). His mark is the marquee moment in a season full of triples; Joe Jackson set the American League record with 26, and Wilson's Pittsburgh Pirates added 90 of their own to set a team mark with 126. What's the method of Wilson's madness? Try 360-462-376. Those were the field dimensions, from left to right, at Pittsburgh's spacious Forbes Field. With today's smaller ballyards and more defensively adroit outfielders, don't expect anyone to approach Wilson's record.
Fewest Strikeouts in a Season, Minimum of 150 games Played—4, Joe Sewell, 1925, 1929
With strikeouts more abundant than ever, anyone who can keep his whiff totals annually below 100 probably gets classified as a contact hitter. Sewell, who struck out 114 times over a 14-year career, has to look at today's mass collection of K's and wonder what's wrong with the hitters' eyes. In 1925, he went down on strikes a mere four times in 608 at-bats; four years later, he did it again in just 578 trips. It's not that today's players are trying not to strike out; they just don't care anymore. It's all about power, because big stats equal big money. A strikeout, to them, is an out by any other name. Sewell's time has clearly come and gone.

Most Wins, Season—41, Jack Chesbro, 1904
We were a tad hesitant to include some of the pitching records from the Deadball Era, but modern times are modern times, and baseball officially recognizes them as any time after 1900. But even for his day, what Chesbro accomplished—winning 41 games out of 51 starts and four relief appearances—had to raise plenty of eyebrows. (He would have won a 42nd and a pennant for his New York Highlanders had it not been for one of baseball's most famous wild pitches.) Today's starting pitchers don't even start 41 games, let alone win them. The only theoretical way someone can take down Chesbro's mark is for a reliever with 60 or more appearances to get very, very lucky.
Most Runs Allowed in One Game—24, Allan Travers, 1912
When Kansas City's Vin Mazzaro was forced to endure a torturous two-plus innings in which he surrendered 14 runs during a 2011 relief outing, we thought back nearly a century to Travers, the guy who really had it rough one bizarre day at Philadelphia's Shibe Park. The local kid who had just turned 20 years of age wouldn't have even been on the mound for Detroit on May 18, 1912 had it not been for a boycott formed by Tiger regulars over a punishment handed down upon star player Ty Cobb after he pummeled a handicapped heckler into submission several days earlier. 
Travers and a bunch of other semipro players from Philadelphia were rushed in as replacements and provided a weak brand of competition for the powerful A's, who had no problem with the faux Tigers. Travers was paid $25 to start the game, and $25 more to finish it—and for that, he earned a very permanent place in the record books as the A's piled up 24 runs on 26 hits and seven walks. Mercy comes much quicker for today's pitchers—even Vin Mazzaro.
Shortest Nine-inning Game by Time—51 Minutes, September 28, 1919
While Major League Baseball scratches its head over how to speed up today's games—which have reached an average of three hours—it has to wonder how the New York Giants and Philadelphia Phillies ever managed to get in a full game in less than one hour. Well, let's think; first of all, back in 1919, there was no TV—and thus, no commercial breaks that swallowed up over 30 minutes' worth of downtime. Secondly, players didn't step out of the box to readjust their equipment between each pitch, because in part they had little to adjust besides their uniforms.
The truth probably is that the two teams, playing the first game of a doubleheader on the regular season's final day, probably just wanted to get the year over with—and fast. There were 70 plate appearances during the game, meaning the average at-bat lasted well under a minute. Perhaps the players made a gentleman's agreement to swing at the first pitch to speed things up; or maybe they just wanted to hurry up and place their bets on the upcoming World Series between the Cincinnati Reds and the Chicago Black, er, White Sox.

Most Errors, Season—98, John Gochnaur, 1903
We acknowledge that big league fields way back in the day weren't always as professionally manicured, or gloves as reliable, as they are now, but what John Gochnaur did in the American League's embryonic days was ridiculous. Playing for the Cleveland Blues (now Guardians) because the team apparently couldn't find anyone better, Gochnaur committed a modern era-record 98 errors at shortstop. That works out to an atrocious .869 fielding percentage that even some modern little leaguers would find embarrassing. (Okay, you're thinking Gochnaur must have been there for his bat, right? Wrong. He hit .185 with no homers.) Needless to say, this was Gochnaur's last shot at the bigs. Can anyone top his defensive futility? Given that the last guy to commit even 50 errors in a year was way back in 1950, such a player wouldn't even be given the chance.
Most Innings Pitched, Season—464, Ed Walsh, 1908
Think about this one: Given the fragile state of modern major league pitchers, anyone asked to throw this many frames in one year is to be burdened with a death wish. The workhorses of today, who feel pretty good about pushing the limit at 200 innings per year, must look at what the White Sox ace of the Deadball Era accomplished in 1908 when he started 49 games, relieved in 17 others and won 40 with a sizzling 1.42 earned run average over 464 incredible innings. Walsh was the last pitcher to top 400 innings; Steve Carlton, in 1980, was the last to reach 300. Trust us on this one, nobody will ever break Walsh's record. Never.