The 10 Unlikeliest Three-Home Run Performances in Baseball History
Nobody expected these guys to go deep three times, whether it was due to their unimpressive slugging abilities, their age, the setting or the times.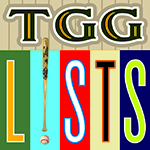 Three home runs in a game is not exactly the rarest of achievements in baseball; that would be reserved for the perfect game, the unassisted triple play and, yes, the four-homer performance. But it is a special feat that earns nationwide media attention, brief fame for casual fans and something cool for hardcore enthusiasts of the game to remember. 
There are times, however, where the attention and fame of a three-homer effort is transcended by the unexpected nature of the accomplishment. It may have been achieved by a player known not known for going deep. Or it might have occurred in a difficult setting that would raise eyebrows. Or it could have been done by one whose career was in the midst of a steep downslide. We dutifully went through the records and came up with 10 such three-homer games that nobody whatsoever saw coming.
Joe DiMaggio, September 10, 1950
Just seeing Joltin' Joe's name above will leave some to scratch their heads because, hey, wasn't the great Yankee Clipper capable of hitting three home runs any ol' time? Sure—but not when he came to spacious Griffith Stadium in Washington. 
The long-time home of the Senators had developed a reputation for yielding few homers. There was good reason for that. Just five years earlier, in 1945, the home team hit one home run at the ballpark—for the entire season. With the exception of the right-field porch, there was no easy place to poke a ball over the Griffith Stadium fence; it was even 400 feet down the left-field line. Josh Gibson, the powerful Negro Leagues legend, had once hit three homers at Griffith. But no major leaguer had done it—yet. 
The Senators did bring in the fences for 1950, but just a little; it was still far from a bandbox. Yet in the midst of his last great season, the 35-year-old DiMaggio strode into Washington late in the season and took Senator pitching deep in the second, sixth and ninth innings to guide the Yankees to an easy 8-1 win. 
DiMaggio would actually make Griffith look somewhat small over his entire career, bashing 30 home runs in 495 at-bats at Washington with a .352 batting average; still, the three-homer performance was an impressive achievement, especially to a Senator team that would hit 18 all year at home. Over the ballpark's remaining 12 years, only one other player, Jim Lemon in 1956, would park three over the fence—but that was after they had finally brought in the fences a great deal to promote more home runs.
Clyde McCullough, July 26, 1942
A part-time catcher, McCullough wielded fair power at best but never reached double-digit home run totals in any of his 15 big league years; his high water mark was nine during his first full year of 1941, when he logged 125 games for the Chicago Cubs. But he was given less playing time a year later and, after sitting on the bench for a week in one stretch, was told to get ready to start in the first game of a doubleheader at Philadelphia's Shibe Park against the Phillies. 
McCullough was excited to finally get back on the field. Boy, was he excited. He drilled three balls over the fence, three of five he would hit for the entire season in 337 at-bats. His three clouts were also among the eight conceded by Phillies pitcher Tom Hughes over 253 innings on the year. 
Alas, McCullough's shots, all solo, wouldn't be enough for the Cubs, who lost 4-3. It was the first time—but not the last—in which a team lost while one player accounted for all of its runs on three solo homers. 
There was a second game to be played, but because catching is the most demanding position on the ballfield—both physically and mentally—the Cubs decided to rest McCullough and his hot bat for the nightcap, using him only for a late pinch-hit performance in which he walked.
Dan Johnson, October 3, 2012
Over the early years of his career in Oakland, the left-handed slugger from Minnesota was a promising force of power, showing off good home run muscle and a patient eye at the plate that led to many walks and not a ton of strikeouts. But somewhere along the way, Johnson lost it. He descended back to minor league status, rarely popping up for major league duty; but he had this thing for season finale heroics. There was the last day of the 2011 campaign when, pinch-hitting for Tampa Bay with a .105 season average, Johnson delivered a two-out, two-strike ninth-inning home run that gave the Rays extra-inning life and, ultimately, a postseason spot when they won in the 12th. 
Rewarded for his season-saving blast in Tampa Bay by not being resigned, Johnson hooked on with the Chicago White Sox—and spent the bulk of the 2012 season back at Triple-A. Called up to an expanded roster in September, Johnson showed nothing until the final game of the year at Cleveland, when he was granted a rare start. No playoff berth was at stake for the White Sox, but Johnson nevertheless channeled his season finale magic of a year earlier. 
He went deep—424 feet deep—in the second inning, leading a teammate with good knowledge to remark: "What it is about Game 162 and you?" He hit a second homer in the fifth; before his final at-bat in the ninth, Chicago catcher A.J. Pierzynski told him that former Tampa Bay teammate Evan Longoria had hit three earlier in the day. Fueled with the thought, Johnson—who later told reporters "I was not going to let (Longoria) show me up," completed the trifecta with his third shot of the day as the White Sox romped, 9-0. 
Johnson's hat trick would not signify a big-league rebirth, as he bounced from the minors to Mexico—even turning to pitching—before giving it up in 2018.
Jeff Treadway, May 26, 1990
The largest crowd of the year showed up at Philadelphia to honor Mike Schmidt and watch his number become officially retired, and what happens? He gets shown up by Treadway, a lightweight infielder playing for the visiting Atlanta Braves. 
Treadway would amass a mere 28 homers over 2,119 career at-bats, but three of them came on this night. Even Schmitty was impressed. In what would be the only multi-homer game of his career, Treadway went deep three times and flied out twice to right; when he had a chance to make it four in the ninth inning of a 12-3 Atlanta rout, he drew the count to 3-2 and then was walked by the Phillies. What was left of the crowd of 56,789 at Veterans Stadium booed. 
After the game, even Treadway couldn't explain his out-of-body power surge to reporters. "The earth must have been spinning a little harder for the ball to go out," he said. "It must have been the centrifugal force. Never, in my wildest dreams, did I expect to hit three home runs."
Merv Connors, September 17, 1938
A lifetime minor leaguer with 400 home runs below the big-league level, Connors had an early shot to prove himself in the majors and looked ready for long-term stardom as he drilled three homers in the second game of a doubleheader at Comiskey Park; he came within mere inches of a fourth when a sizzling line drive hit off the top of the scoreboard on the left-field wall. 
The victim of all three of Connors' blasts was Philadelphia A's pitcher Jim Reninger, who was making his major league debut. This was something he probably wouldn't want to tell his grandkids about. Nor would anything else he did in the majors; he pitched in seven more games and didn't win any of them. 
And what of Connors? Instead of becoming a star, he became the answer to a trivia question: His eight career major league homers are the fewest by anyone who hit three in a game. So what happened? A combination of injuries and disappointing play pinned Connors down in the minors for the entirety of the next season; when he appeared to right himself and ready for a return to the bigs, he was called instead to the military for World War II, parachuting his way through the Battle of the Bulge at one point. When Connors returned home unscathed, the majors never bothered calling him back; he spun his wheels through the minors, playing in just about every Texas town that had a team before calling it a day in 1953.

Jack Manning, October 9, 1884
In the infant, raw, lawless history of baseball through 1883, no one had yet to hit three home runs in a game. Then suddenly in 1884, it happened three times. The first occurrence came courtesy of Ned Williamson, whose 27 on the year would set a record that would hold until Babe Ruth showed up; the second was by Cap Anson, only the greatest hitter of the 19th Century. The third display came from Manning, far and away the most unlikely of the trio to pull it off, given his 11 other home runs in 3,500 career at-bats. 
What Manning and the other two players had in common besides going deep three times was that they all did it at the same ballpark, Chicago's Lakefront Park—very possibly the smallest ballfield in major league history. The wall measured roughly 180 feet down each line from home plate; straightaway center was only 300 feet away. That more players didn't collect three homers in any one game at Lakefront—or that nobody did it four times—is something of a miracle. 
Manning's outburst didn't help his Philadelphia Quakers (Phillies)—a terrible team in its second season—from losing to the Chicago White Stockings (Cubs), 19-7. In fact, the 12-run was deficit was the worst by a team in which one of their players went deep thrice.
Babe Ruth, May 25, 1935
If you thought having Joe DiMaggio on this list was weird, you got to think we're nuts including the Sultan of Swat—all 714 home runs of him. But in May of 1935, most everyone thought he was done at 711. Ruth was running on empty, sputtering on the fumes of a career spent far too long on a life of booze, broads and hotdogs. Clad in a Boston Braves uniform—intellectually a long, long way from the pinstriped preeminence of the New York Yankees—Ruth appeared to be showing up just to draw fans—and then striking out repeatedly. 
Of all the performances on this list, most will know of Ruth's the most. It happened out of nowhere on a cool Saturday afternoon when he magically awoke to vintage form before 10,000 at Pittsburgh's Forbes Field. He homered into the right-field bleachers in the second inning, did it again in the third—and in the seventh launched his third of the day, a titanic blast that became the first to ever clear the right-field roof since the ballpark opened 26 years earlier. 
Once he trudged around the bases for the last time in his career, Ruth took himself out, and he was feverishly talked into retiring right then and there by family and friends. But he labored on, with nothing left to show, for the remainder of the road trip to satisfy fans and Braves management, for whom he was hoping to be promoted to the front office (it never happened).
Bill Glynn, July 5, 1954
A large holiday crowd of 46,000 spilled into Detroit's Briggs Stadium for a Monday doubleheader expecting fireworks at some point—but they didn't see it coming from Glynn, the Cleveland first baseman who came into the day totaling exactly one home run and three RBIs through 61 games. The Indians didn't see it coming either, or else they wouldn't have placed him in the leadoff spot. 
Glynn's first round-tripper was a killer, a third-inning grand slam off of Detroit reliever Ralph Branca—three years removed from serving up a far more memorable homer to a guy named Bobby Thomson—that gave the Indians an 8-0 lead. But Glynn wasn't done; he homered in his next two at-bats off different Tiger relievers, and had a shot at a fourth in the ninth—again with the bases loaded—but settled for a sacrifice fly when his deep drive was caught in center. As it was, Glynn finished the game with eight RBIs, easily a career high; in fact, only J.R. Towles (with 50) has fewer lifetime RBIs among those who had eight or more in a game. 
A second game gave Glynn continued opportunity to take advantage of his slugging momentum, but he went hitless in five at-bats, reaching the outfield only twice. Hoping this was more than just lightning in a bottle, the Indians—on their way to an extraordinary 111-43 record—played Glynn with more regularity over the next few weeks. But when he didn't produce, he found himself on the bench in favor of Vic Wertz, who had been traded to Cleveland earlier in the summer. 
Glynn ended up in the minors a year later, never to return to the majors—where his 10 homers is second only to Merv Connors (above) in terms of the fewest among those with a three-homer game to their credit.

Jim Tobin, May 13, 1942
On rare occasion, pitchers will often help themselves out at the plate by supplying their own offense while trying to win on the mound. And nobody helped himself more than the right-handed workhorse for the Boston Braves in an early season start against the Cubs at Braves Field. 
Tobin was already acknowledged as an excellent hitter by pitchers' standards. Once in the Pacific Coast League, he knocked in seven runs in one inning on a grand slam and bases-clearing double; he had gone deep in his first start of 1942; and on May 12—the day before he took the mound against Chicago—he was asked to pinch-hit and delivered with another blast. The next day, he was ready to turn the power switch on at full force. 
In the fifth inning, Tobin went deep to tie the game; two innings later, he sent another one over the fence as part of a two-run rally that tied it up again; and an inning later, he hit his third shot of the day, a two-run blast that gave him and the Braves a lead they would hold to the finish. 
Only one other pitcher in major league history has hit three homers in a game, but it was done way back in 1886 by a guy named Guy Hecker, whose three round-trippers were all inside the park. Tobin remains the only modern-era hurler to turn the hat trick.
Freddie Patek, June 20, 1980
Chances are if you're a ballplayer who stands 5'5", weighs 148 pounds and goes by the nickname "Flea," no one's ever going to bet on you to smash three home runs in a game. Freddie Patek identified with all of the above, playing 1,650 career games spread over 14 seasons with a mere 41 homers. 
And three of them came on one day. 
After spending the 1970s as a key component of the Kansas City Royals' early glory, Patek signed on as a free agent with the California Angels for 1980 and, at age 35, found him part-timing it with an even older (38) Bert Campaneris and a young Dickie Thon. When he hit his first home run of the year early in June, he joked to reporters: "You won't have to worry about me hitting another one this year." 
Perhaps the Boston Red Sox bought into that statement when the Angels came to town and saw Patek in the lineup on a Friday night—maybe the same way they were convinced that similarly-sized Yankee shortstop Bucky Dent would never go deep on them in the 1978 playoff to decide the AL East. 
In his first at-bat, Patek doubled off Fenway Park's Green Monster in left; he was just warming up. In his next two at-bats, he cleared the Monster—and after hitting into a double play in the sixth, went deep for a remarkable third time in the eighth, giving him a career-high seven RBIs on the night as the Angels were on their way to thrashing the Red Sox, 20-2. Patek had one more shot in the ninth, but struck out. Still, his three-homer effort—the second by a major league shortstop after Ernie Banks—was all the more impressive given his size and the fact that he never hit more than six in any one season.