The 10 Best Hitters of the 1940s
World War II had a say in determining the ranking of these 10 great sluggers, who missed various amounts of time to wartime service.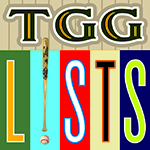 Balance between the hitter and pitcher returned to normal in the 1940s after a couple of offensively charged decades, and it allowed the true hitting stars of the time to stand out of the crowd and make an impact—often with achievements of legendary proportions. There was also balance in that the old mixed with the new, as aging stars held their ground while rising talents marched upon the baseball landscape and dominated.
But there was one thing that even the mightiest of the mighty could not conquer: War. With Pearl Harbor giving America no choice but to join the massive global conflicts of World War II, players either enlisted or were drafted into the military service, costing some of them a chance to deepen their legacies as their prime years were snatched away from the ballpark. Fortunately, the war impacted baseball for no more than four years, keeping middle-of-the-road ballplayers-turned-wartime stars such as Snuffy Stirnweiss from breaking through to the list that follows.
Mel Ott
1940-47, New York Giants. Best Year: 1942 (.295 average, 118 runs, 30 home runs, 93 RBIs, 109 walks)
One of the premier sluggers of the 1930s, Ott had enough gas left in the tank to push on impressively through much of the 1940s, and he had both the Polo Grounds and the war to thank for that. The Giants' ballpark, with its right-field foul line running a mere 257 from plate to pole, exaggerated much of Ott's power numbers; of the final 123 home runs he hit, 100 came in New York. Then of course there was the increasingly weakened competition as star players joined the war effort, replaced by lesser talent, 4-Fs and has-been's. As a result, Ott extended his Hall-of-Fame career by leading the National League in home runs for the sixth and final time in 1942—and in 1945, led the Giants for the 18th straight year. Ott took over the Giants' managerial spot in 1942 and reduced his playing time in the years to follow—but remained potent enough as a player to earn All-Star reservations for the decade's first five seasons, in part because there were few names of fame left playing in the majors. When the war ended and everyone returned in 1946, it was evident that Ott—now 37 years of age—could not adapt, batting .074 (5-for-68) before stepping off the field and sticking to full-time managing, ranked #1 at the time in the NL with 511 career homers.
Ralph Kiner
1946-49, Pittsburgh Pirates. Best Year: 1949 (.310 average, 116 runs, 54 home runs, 127 RBIs, 117 walks)
Ott's then-home run record was well thought to be short-lived thanks to Kiner, who stormed upon the NL's postwar environment and led (or co-led) the circuit in home runs over each of his first seven seasons with 294—an average of 42 per year. Signed by the Pirates in 1941, Kiner's journey to the majors was interrupted by several years serving in the Navy, but as soon as peace settled in, Kiner broke out. He hit 23 homers as a 1946 rookie, good enough to set a Pirates team record—but that was a mere warm-up act for a stunning 1947 follow-up in which he took advantage of valuable tutoring from a new teammate (ex-Tigers slugger Hank Greenberg) and reduced field distances at voluminous Forbes Field—a demand made by Greenberg in order to join the Bucs. Kiner pounced on the opportunities, slamming 51 homers in 1947, including eight in one four-game stretch and two separate games with three each. A year later he nailed 40 more, then in 1949 peaked with a career-high 54—16 of them alone launched in September, which remains a NL record for that month. Back issues would ultimately curtail Kiner's playing career and shorten what likely would have been a truly mighty career, but his prodigious start in the late 1940s helped make it Hall of Fame-worthy.
Bill Nicholson
1940-48, Chicago Cubs; 1949, Philadelphia Phillies. Best Year: 1944 (.287 average, 116 runs, 35 doubles, 8 triples, 33 home runs, 122 RBIs, 93 walks)
Some might look at Nicholson's wartime reign from 1943-44 and conclude that he was a slightly illegitimate star presence who took advantage of inferior wartime competition, but he had already proven himself as All-Star-worthy after being named to the 1940 and 1941 Midsummer Classics—well before the armed forces came calling for major leaguers. The aforementioned Mel Ott certainly thought the world of him; during a 1944 game, the Giants slugger/manager intentionally walked the husky Nicholson with the bases loaded, thinking that conceding just one run was safe enough. At his peak, Nicholson led the NL in both home runs and RBIs in back-to-back seasons; only Mike Schmidt and Nolan Arenado has been able to match that achievement in NL history. Then, in 1945, Nicholson's game sank and he didn't recover until 1947, and even by then he was no longer the All-Star-caliber performer. The culprit for the sudden decline may have been diabetes, which he was diagnosed with by 1950. Nicholson knocked in eight runs on just six hits in the much-maligned 1945 World Series for the Cubs, who lost in seven games to Detroit.
Vern Stephens
1941-47, St. Louis Browns; 1948-49, Boston Red Sox. Best Year: 1949 (.290 average, 113 runs, 39 home runs, 159 RBIs, 101 walks)
The military rejected the native New Mexican on account of a bad knee, but that apparently didn't keep him from evolving into one of the majors' more consistent stars—war or no war—throughout the decade. With a Browns team that benefitted from such a surplus of 4-Fs that they managed to sneak in the only pennant of their existence in 1944, Stephens was always good for a .290ish average with 20ish homers and 90-100ish RBIs. Before the 1946 season, Stephens stepped into controversy when he agreed to an eye-widening five-year, $200,000 deal with the Mexican League—and then quickly changed his mind and returned to St. Louis when the majors declared the circuit as an "outlaw" and threatened him with a lifetime ban within organized ball. He found a new home in 1948 with the Red Sox, where he found offensive bliss batting behind Ted Williams; in his first three seasons at Boston, he averaged 147 RBIs, including a titanic 159 in 1949 that would be the most seen by an American Leaguer until Manny Ramirez's 165 in 1999. Williams paid Stephens the ultimate compliment by saying that no one else protected him better in the lineup.
Enos Slaughter
1940-42, 1946-49, St. Louis Cardinals. Best Year: 1949 (.336 average, 92 runs, 191 hits, 34 doubles, 13 triples, 96 RBIs, 79 walks)
A fierce hustler in the Pete Rose mode—just to be clear, that's 'hustling' as in running hard, not wagering bucks—Slaughter was a nonstop fury of pure aggression, stopped only by the war as he served three years in the Air Force. His relentless reputation would be further defined by two singular moments during the decade. In 1946, he forged folklore when he scored from first base on a Harry Walker single for the winning run in the deciding seventh game of the World Series against the Red Sox. A year later, the North Carolina native spiked Dodgers rookie Jackie Robinson on the calf while running out a grounder to first, enhancing the perception—truthfully or falsely—of being a racist villain after earlier being suspected as ringleader of a reported Cardinals boycott against Robinson and the Dodgers. But there was simply no doubt that Slaughter was a competitor of the highest order, hitting .312 for the decade, twice leading the NL in triples and once in RBIs (130, in 1946). Stan Musial may have been The Man in St. Louis, but Slaughter definitely supplied bountiful grease to keep the Cardinals' offense grooved to the road.

Charlie Keller
1940-43, 1945-49, New York Yankees. Best Year: 1941 (.298 average, 102 runs, 13 doubles, 10 triples, 33 home runs, 122 RBIs, 102 walks)
Certainly one of the Yankees' more underrated star players—yes, there is such a thing—Keller put up numbers equitable to those of Joe DiMaggio in his relatively brief time at the top wearing pinstripes. Though listed at only 5'10" and 185 pounds, Keller had a brawny, almost brute-like façade that gained him the nickname "King Kong"; he certainly shared the power factor of said fictional marvel. He topped 30 home runs and 100 RBIs three times, though as a dead-pull left-handed hitter never racked up an unbalanced amount of home runs reaching Yankee Stadium's short right-field porch. Beyond his strength, Keller's most vital asset was his patience with pitchers that helped draw over 100 walks in five different seasons. Visions of extended greatness were blurred in 1947 when, as he was leading the AL in homers (13) and RBIs (36) just 43 games into the season, his back flared up. It would soon be discovered that he was suffering from a slipped disc, which had to be removed; he would never be the same.
Joe DiMaggio
1940-42, 1946-49, New York Yankees. Best Year: 1941 (.357 average, 122 runs, 193 hits, 43 doubles, 11 triples, 30 home runs, 125 RBIs, 76 walks, 13 strikeouts)
After an incomparable start to his career in the late 1930s, the Yankee Clipper endured through highs and lows during the 1940s, a decade full of great moments but also interrupted by occasional injury and, of course, the war. The legendary moment of moments for DiMaggio came in 1941 with his fabled 56-game hitting streak, cementing his immortality within American sport. After a slight drop-off in 1942—one can't expect to fashion such a hit streak every year—DiMaggio was called to the Army, robbing him of three seasons (at ages 28, 29 and 30) that could have represented his career peak. Upon his return from the military, DiMaggio put up mild numbers by his standards for a couple of seasons, but his 1947 effort nevertheless gained him his third AL MVP—barely (and controversially) edging out a more deserving choice in Ted Williams. To finish the decade, DiMaggio stepped it up to vintage form, hitting .320 with 39 homers and 155 RBIs in 1948 and, in 1949, a .346 average with 14 jacks and 67 RBIs in half a season's worth of after being hobbled by a bad heel. Though he had the advantage of being protected in the lineup by a strong supporting cast of Yankee teammates, DiMaggio also suffered through the disadvantage of posting relatively inferior numbers at Yankee Stadium—where left-center field wasn't called Death Valley for nothing. Overall, DiMaggio was potent enough to bat .325 for the decade, averaging 112 RBIs despite missing an average of 20 games a season; the Yankees certainly understood his superior value by rewarding him with the majors' first-ever $100,000 salary in 1949.
Johnny Mize
1940-41, St. Louis Cardinals; 1942, 1946-49, New York Giants; 1949, New York Yankees. Best Year: 1947 (.302 average, 137 runs, 51 home runs, 138 RBIs, 74 walks)
Like DiMaggio, the Big Cat had three of his potential prime years stolen away from him during World War II, and that's a shame as he prospered with power when eligible to play big league ball. During the decade, he was a three-time leader in home runs—the latter two of his crowns shared with the aforementioned Ralph Kiner, including the 51 he belted as part of the Giants' then-record team total of 221 in 1948. He began the 1940s with the Cardinals and collected the third and fourth homer hat tricks of his career; he added a fifth in 1947, five years after being sent to the Giants—where he provided long overdue relief to solitary slugging threat Mel Ott. In his wartime absence from the majors, Mize was a member of what may have been the decade's best baseball team: The Great Lakes naval team, a collection of major league stars who entertained the military and bashed 48 of 50 opponents—some of them exhibitions against actual major league teams. By the end of the decade, Mize—now in his mid-30s—could still pack a wallop but couldn't run or throw very well, precipitating the end of his full-time career as he was shipped to the Yankees, becoming a valuable part-time/pinch-hit slugger until age 40.

Stan Musial
1941-44, 1946-49, St. Louis Cardinals. Best Year: 1948 (.376 average, 135 runs, 230 hits, 46 doubles, 18 triples, 39 home runs, 131 RBIs, 76 walks, .702 slugging percentage)
At the beginning of the decade, Musial was a struggling minor league pitcher. By the end of it, he was the National League's best hitter. It took the Cardinals' voluminous farm system four years to figure out that his hitting talent far outshone his pitching arm, a realization totally verified when he hit .426 in 47 late season at-bats in 1941. That audition proved more rule than fluke as he regularly punished opponents throughout the rest of the 1940s—and well beyond. A potent hitting machine, Musial during the decade won three batting crowns and was a five-time leader in both hits and doubles. He also consumed on triples; in all seven full-time seasons he would perform during the 1940s, he achieved baseball's version of the triple-double—at least 10 homers, doubles and triples each—as he led the majors with 102 three-baggers during the decade. But Musial was never better than 1948, when he set career highs in most statistical categories as shown above, hit .415 on the road, produced a .702 slugging percentage that was the NL's highest between 1930 (Chuck Klein) and 1994 (Jeff Bagwell), had four five-hit games and finished a mere home run shy of sharing the lead with Kiner and Mize to secure an arguably impure triple crown. Had it not been for a single season (1945) lost to wartime service, Musial might have had enough numbers to push his career totals over 500 homers, 2,000 runs scored and 2,000 RBIs.
Ted Williams
1940-42, 1946-49, Boston Red Sox. Best Year: 1941 (.406 average, 135 runs, 37 home runs, 120 RBIs, 147 walks, .553 on-base percentage, .735 slugging percentage)
The Splendid Splinter entered the 1940s having justified, in his 1939 rookie campaign, his brag that he'd be better than all the veteran stars who dared to make fun of him. Frankly, it's tough to find anyone who had a better offensive decade—and that doesn't even account for the fact that Williams had three of his prime years lost to the war effort. This mind-boggling period made for legendary spectacle in 1941 when he became the last player to date to hit over .400; he would end the 1940s with four batting titles, missing out on a fifth in 1949 when George Kell beat him by a fraction of a point. Beyond the batting averages, there were all the walks he forged thanks to his scientific gift for taking and hitting pitches; he put together a .553 on-base percentage in 1941—a figure surpassed only twice by a steroids-fueled Barry Bonds in the 2000s—and in each of his next five seasons set his OBP somewhere in the .490s. Williams won two AL MVP awards (in 1946 and 1949) and should have won two others (in 1941 and 1947) except that venomous Boston sportswriters, who feuded with Williams and cast the votes, refused to even place him on the ballot. He was so good, he never struck out more than twice in any game during the 1940s—and opposing managers, desperate to neuter him, went so far as to create the modern-day version of the shift to stop him. (It didn't work.) Perhaps the only disappointment for Williams during this prodigious decade was a meager .200 average in what would be his only World Series appearance, a seven-game loss to the Cardinals. His separation from greatness to über-greatness was attributed to those three lost seasons during the war; chances are, had he been fully active in the majors during that time, he would have hit over 600 homers, collected 3,000 hits, and be currently ranked #2 each in career runs, RBIs and walks.