The 10 Best Hitters of the 1950s
Baseball's golden era was a boon for muscle-bound sluggers, and no longer restricted by race.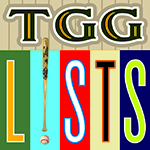 For the first five decades of the 20th Century, baseball struggled to get its bearings straight. The pitchers had it too good. Then the hitters ruled supreme. Then there was war. And there was game-fixing. And racial prejudice. 
Finally, in the 1950s, this great game achieved the perfect balance, with only a few external headaches (i.e., the Korean War). Matinee idols dominated as never before, as baseball entered a mature, golden phase of its existence. Star hitters had their say, and so did the star pitchers. An increased roll call of sluggers snipped their sleeves and showed off their muscle, powering away at the plate. And to make the game rightfully whole, African-American ballplayers were allowed to participate, albeit slowly at first; still, four of the 10 following players on this list wouldn't have made the list in previous decades because of the color of their skin. Check it all out below and see if you agree.
Yogi Berra
1950-59, New York Yankees. Best Year: 1950 (.322 average, 116 runs, 30 doubles, 6 triples, 28 home runs, 124 RBIs, 55 walks, 12 strikeouts)
Yes, he was great at spewing out mind-bending one-liners, and younger fans who never saw him play probably look at him as some goofy descendent of those pint-sized warriors in the Hobbit movies. But the fact is that Berra was a damn good catcher—arguably, the best ever. Playing for the almighty Yankees of the 1950s helped elevate such claims, but it could also be said that he helped make those teams so good in the first place. Writers of the day certainly believed so; they voted him the American League's Most Valuable Player three times, excelling as much defensively behind the plate as he did offensively at it. Berra never led the league in any major hitting category but always seemed to have a place in the top 10, whether it was for batting average, home runs or RBIs. He also rarely struck out; in 1950, his best statistical season as noted above, he whiffed only 12 times in 656 plate appearances. As playing for the Yankees dictated during this time, Berra made the World Series all but an annual extension of the season; in the eight times the Yankees made it to the Fall Classic during the decade, Berra was there to leverage his game from the 154 played beforehand, hitting .303 with nine homers and 25 RBIs in 51 games.
Hank Aaron
1954-59, Milwaukee Braves. Best Year: 1959 (.355 average, 116 runs, 223 hits, 46 doubles, 7 triples, 39 home runs, 123 RBIs)
The eventual all-time home run champ—some believe he still holds that title because he did it cleanly—showed that he was much more than one who just hit a ball over the fence. Rushed into everyday status in 1954 when newly-acquired Brave Bobby Thomson broke his ankle, the soft-spoken Aaron showed he belonged in the majors and quickly evolved into a world-class talent, winning two batting titles during the 1950s along with the first of his four home run crowns, banging out 44 to match his uniform number in 1957. A hero in Milwaukee—which seemed a million miles away from the racial hostility he endured growing up and playing minor league ball in the South—Aaron returned the love to Braves fans, winning the 1957 National League MVP (the only such honor of his storied career) while hitting .364 with three homers in back-to-back World Series appearances (the only two he would ever play) in 1957-58. Aaron's prominence would continue well past the 1950s, but his efforts during this decade would be his most holistically complete.
Larry Doby
1950-55, 1958, Cleveland Indians; 1956-1957, 1959, Chicago White Sox; 1959, Detroit Tigers. Best Year: 1950 (.326 average, 110 runs, 25 home runs, 102 RBIs, 98 walks, .442 on-base percentage)
The AL's first black player, Doby endured no less of challenge in adapting to teammates and opponents—and vice versa—than Jackie Robinson, the man who preceded him in breaking baseball's color barrier. Like Robinson, Doby was there not because he was a promotional stunt with black skin, but because he was good. Doby proved that repeatedly throughout the 1950s, twice leading the AL in home runs, including the Indians' fabled 1954 season in which they won 111 games. Doby was also not shy at drawing the count deep and swinging away; four times he struck over 100 times, an eye-opening figure for the period, but he also twice drew over 100 walks as his on-base percentage was frequently 100 points higher than that of his batting average. Doby followed the same guidelines as Robinson when he began, being told not to fight back—but once African-Americans became established in the majors, challengers became fair game, as the Yankees learned in a 1957 game when Doby instigated a nasty brawl after Art Ditmar sailed a pitch over his head.
Eddie Mathews
1952-59, Boston/Milwaukee Braves. Best Year: 1953 (.302 average, 110 runs, 31 doubles, 8 triples, 47 home runs, 135 RBIs, 99 walks)
While Hank Aaron developed into a superstar with the Braves, it was his third-base teammate Mathews who many thought would be the guy to topple Babe Ruth's career mark of 714 home runs; shoulder issues would derail such ambitions in the 1960s. Mathews impressed as a 20-year-old rookie for the Boston Braves, belting 25 home runs—three of them at Brooklyn in what would be the team's penultimate game before moving to Milwaukee. It was in Wisconsin, a year later, that Mathews exploded into the limelight; no Braves player had ever hit 40 homers in a season, but Mathews did it three straight years starting in 1953. He went 40-deep a fourth (and last) time in 1959, piling up a NL-best 46. Mathews was accommodated by a robust Milwaukee lineup throughout the decade, scoring 100 runs five times, knocking in 100 four times, and walking over 100 twice. Mathews was not an in-your-face type of guy unless opponents pressed the issue—and often, they'd regret it, as the pugilist in Mathews was a pretty mean one.
Minnie Minoso
1951, 1958-59, Cleveland Indians; 1951-57, Chicago White Sox. Best Year: 1954 (.320 average, 119 runs, 182 hits, 29 doubles, 18 triples, 19 home runs, 116 RBIs, 77 walks, 16 hit-by-pitches, 18 stolen bases)
The ageless star who refused to quit—as you read this, his ghost is probably lobbying someone for another guest pinch-hit appearance—Minoso could do it all during his prime of the 1950s. The six-time All-Star hit for solid average, supplied strong line-drive power that didn't result in a ton of home runs but more than the average player's share of double and triples, and was a pain on the basepaths. Popular wherever he played, the Cuban native enjoyed spraying the ball around the wide-open spaces of the two ballparks he called home during the decade: Chicago's Comiskey Park and Cleveland's Municipal Stadium. He infuriated opposing pitchers with his ability to get on base any way he could; he walked often, reached on error often, and eight times during the 1950s led the AL in getting hit by pitches.

Duke Snider
1950-59, Brooklyn/Los Angeles Dodgers. Best Year: 1953 (.336 average, 132 runs, 198 hits, 38 doubles, 42 home runs, 126 RBIs, 82 walks, 16 stolen bases)
One of the biggest topics of conversation in New York City during the 1950s was which of the city's three major league teams had the best center fielder. At Brooklyn's Ebbets Field, the bias would certainly slant toward the Dodgers' own in Snider. It's hard to fault such loyalty; the brawny-looking Snider was a terror upon opponents at the Dodgers' cozy home field, and he was easily considered the team's king bopper among the many others who flourished during Brooklyn's famed Boys of Summer era. For five straight years starting in 1953, Snider hit at least 40 home runs—with at least 23 per year hit at Ebbets. He was particularly on fire in August 1953, when he parked a then-record 15 over the fence. But Snider seemed to save his best for October; in five World Series appearances during the decade, he batted .313 with 11 homers in just 31 games. Snider was not all about the home run; he hit .308 throughout the 1950s and, over the decade's last two years, hit .310 for the Dodgers after their move to his hometown of Los Angeles—despite the fact that the oval-shaped Memorial Coliseum, complete with massive outfield space in right and right-center, sapped him of his power numbers.
Ted Williams
1950-59, Boston Red Sox. Best Year: 1957 (.388 average, 38 home runs, 87 RBIs, 119 walks, 33 intentional walks)
Aging well into his 30s, the Splendid Splinter was both splendid and splintered in a decade in which he put up astonishing numbers—and he might have been higher on this list had he not been sidelined by…well, you name it. In 1950 he missed nearly half the year from a career-threatening broken arm suffered at the All-Star Game; missed the majority of the 1952-53 seasons as he rejoined the Navy during the Korean War, surviving one crash landing during combat; broke his collarbone early in 1954; and briefly retired in 1955, returning late in May. Despite all of this, Williams constantly produced MVP-like numbers and broke adding machines trying to calculate how crazy his stats would have been had he played a full season (which he rarely did during the 1950s). Williams hit .336 for the decade—including a .366 figure at Fenway Park, where he continued his love-hate relationship with fans and local reporters. But his biggest achievement of the decade clearly had to be in 1957 when, as he surpassed his 39th birthday, he won his fifth batting title with a remarkable .388 average—his highest since his legendary .406 effort of 1941. Williams followed that up with another batting title, his last, in 1958 when he hit .328. (He would have won another crown in 1954, but rules of the day didn't count walks, and he thus didn't accrue enough at-bats.) As always, Williams had an especially strong eye for what pitches to hit as he racked up 100-plus walks four times during the decade—even though he amassed over 420 at-bats just once.
Willie Mays
1951-52, 1954-59, New York/San Francisco Giants. Best Year: 1954 (.345 average, 119 runs, 195 hits, 33 doubles, 13 triples, 41 home runs, 110 RBIs)
Actress and loyal Giants fan Tallulah Bankhead once said: "There have been only two geniuses in the world: Willie Mays and Willie Shakespeare." The genius within Mays didn't show up in New York at first, somewhat struggling to gain star footing over his first two seasons—the latter of which was cut short when he was drafted into the military during the Korean War. But when he returned in 1954, he suddenly flashed his superstar potential with a dream season—winning his only batting title with a .345 mark, clouting 41 home runs, and helping to sweep the Indians in the World Series not only with his bat but with his glove—making baseball's most famous catch as he ran into the deep accesses of the Polo Grounds' center field to snare Vic Wertz's 450-foot drive. This breakout campaign established a level of greatness for which Mays would seldom deviate from; he drilled 51 homers in 1955 for his first of four home run crowns, four times led the NL in steals, and three times in triples—racking up 20 in 1957 to become one of only a handful of major leaguers to collect at least 20 doubles, triples and home runs each in the same season. And if you think Duke Snider (above) was God at Ebbets Field, he had nothing on Mays' career numbers at the ballpark; in 56 games at Flatbush, Mays hit .355 with 28 homers and 60 RBIs. Mays was about as good a five-tool player that has ever come along; it's for this reason that some consider him the greatest major leaguer, ever.

Stan Musial
1950-59, St. Louis Cardinals. Best Year: 1951 (.355 average, 124 runs, 205 hits, 30 doubles, 12 triples, 32 home runs, 108 RBIs, 98 walks, 24 intentional walks)
As with Ted Williams, Musial gave middle-age ballplayers a good name during the 1950s as he continued to play at superstar level well into his 30s. The sweet-swinging, left handed-hitting outfielder sailed into the new decade, winning batting titles from 1950-52 to reconfirm his standing as the NL's most fearsome force at the plate. At that point, Musial was so revered that the Cardinals gave him a blank check to write in whatever salary he felt he earned. (He wrote in $85,000.) Players such as Mays, Aaron and Snider emerged on the scene within the league to challenge Musial's top-dog status, yet The Man continued to cruise along with nary a hiccup, always pushing beyond the .300-30-100 barrier while playing every day—895 consecutive games at one point to set a then-NL record. Such automatic abilities actually kept the spotlight off of him during the 1950s—playing for a Cardinals team that repeatedly wobbled around the .500 mark didn't help—but he was hardly ignored, making the NL All-Star team every year during the decade. On occasion, Musial did make news; in 1954, he smacked five home runs in a doubleheader against the Giants, and in 1957—at age 36—he nabbed his seventh and final batting title with a .355 mark, while also poking out his 3,000th career hit. Musial served as an inspiration and idol to countless young ballplayers, including the one below who tops this list…
Mickey Mantle
1951-59, New York Yankees. Best Year: 1956 (.353 average, 132 runs, 188 hits, 52 home runs, 130 RBIs, 112 walks, 10 stolen bases)
With an unparalleled power stroke that was lethal from either side of the plate, the blonde-haired, switch-hitting, Oklahoma-born Mantle extended the lineage of Yankee immortals that began with Babe Ruth and continued with Lou Gehrig and Joe DiMaggio. An everyday regular at age 19, Mantle initially found the massive expectations placed upon him too burdensome and at one point wanted to quit; a mental refresh set him right. Mantle put up solid but not spectacular numbers in the early portion of the decade, but in 1955 he exploded with a .306 average and 37 homers—then followed that up in 1956 with a prodigious triple crown effort in which he batted .353 with a career-high 52 homers and 130 RBIs. There was little Mantle couldn't do; he hit for average and power, he was patient by walking often, and was fast around the bases in spite of numerous knee surgeries early in his career. He also ushered in the era of the "tape-measure" home run, leaving his mark not just inside all the ballparks he played in but outside of them as well—best remembered when he launched a 565-foot homer out of Washington's Griffith Stadium and into someone's backyard in 1953. Many wonder how much more dangerous Mantle would have been had it not been for the accumulative nicks and knacks he endured, not to mention the self-torture of alcohol abuse that ultimately led to a relatively early death at age 63 in 1995.