The 10 Best Hitters of the 1960s
Pitchers may have had the upper hand, but a banner crop of star hitters still made for a glorious time at the ballpark.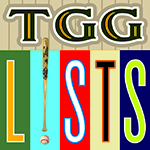 The 1960s began with the equilibrium between major league hitters and pitchers existing as the status quo, and it remained that way a few years in. But near mid-decade, pitchers began to take control—and their grip on the batters got stronger and stronger with each passing season, peaking in a 1968 campaign now remembered as the "Year of the Pitcher." 
The dominance of those on the mound didn't intimidate the best the majors had to offer at the plate. The following 10 ballplayers more than held their own and gave fans across the major league landscape plenty of thrills and lasting memories throughout the decade.
Orlando Cepeda
1960-66, San Francisco Giants; 1966-68, St. Louis Cardinals; 1969, Atlanta Braves. Best Year: 1961 (.311 average, 105 runs, 46 home runs, 142 RBIs, 12 stolen bases)
The Baby Bull was an instant rookie smash in the Giants' first year at San Francisco in 1958, and he carried his A-game into the 1960s by almost always hitting above the .300 mark with power to boot—peaking in 1961 when he smashed 46 home runs with 142 RBIs (both NL bests) for the Giants. But he fell out of favor with Giants managers Al Dark and Herman Franks, with some believing that his Puerto Rican heritage had something to do with it; a season-long knee injury in 1965 and a depth chart battle at first base with Willie McCovey didn't help. Traded early in 1966 to the Cardinals, Cepeda felt like a free man and was far more appreciated by St. Louis coaches. He responded in 1967 by leading "El Birdos" (as he called the Cardinals) to a world title with a .325 average, 25 homers and 111 RBIs to win National League Most Valuable Player honors—making up for being snubbed in 1961. He wrapped the decade with the Braves, making his third straight postseason and going 5-for-11 with a home run in a losing NL Championship Series effort against the New York Mets. Cepeda would ultimately be a six-time All-Star, though he always seemed to leave his bat behind when on the field at the Midsummer Classic—accumulating a mere single in 27 at-bats.
Tony Oliva
1962-69, Minnesota Twins. Best Year: 1964 (.323 average, 109 runs, 217 hits, 43 doubles, 9 triples, 32 home runs, 94 RBIs, 12 stolen bases)
After the Cuban-born Oliva hit a combined .372 in two years at the minor league level along with two brief call-ups to the parent team, one had to wonder what the Twins were waiting for to give Oliva a shot at everyday play. The head scratching, in retrospect, became all the more apparent when Oliva became the first player ever to win batting titles in each of his first two full seasons at the major league level. And he wasn't just a singles machine; "Tony-O" led the American League three times during the decade in doubles, hit as many as 32 home runs, and always racked up close to 100 RBIs. After those first two terrific seasons, Oliva's batting average cooled down—but so did everyone else's in the pitching-dominated AL of the late 1960s; a .289 average in 1968, at first glance, seemed almost subpar by Oliva's standards, but only two American Leaguers hit higher in what would be recalled as the "Year of the Pitcher." Consistency was the hallmark of Oliva's decade, as he made it to the All-Star Game in every one of his full-time campaigns of the 1960s and led the AL four times in hits. An earlier-than-expected decline in the 1970s would keep him from what was thought to be an easy path to the Hall of Fame.
Dick Allen
1963-69, Philadelphia Phillies. Best Year: 1966 (.317 average, 112 runs, 25 doubles, 10 triples, 40 home runs, 110 RBIs, .632 slugging percentage)
Like Oliva, Allen exploded onto the scene in 1964, winning NL Rookie of the Year honors while helping to lead the Phillies toward a World Series—all before they infamously blew a 6.5-game lead over the final two weeks via a 10-game losing streak. (Don't blame Allen—he hit .414 during the slide.) Allen remained a prodigious presence in the Phillies' lineup throughout the decade, three times hitting north of 30 home runs, often hitting tape-measure shots, and completing baseball's triple-double of power in his first four years by collecting double-digit totals in doubles, triples and home runs. But he was also a lightning rod of controversy, some of which was unfairly burdened upon him. In his second season, Allen (who was black) took offense to a racially-tinged comment by white teammate Frank Thomas, leading to a brawl; in later years, he would show up late for games, miss flights, and finally in 1969 went into brief exile for what he felt was unfair treatment of him. Most fans in Philly surely didn't side with him—though many Phillies players could relate—and it got so ugly that he had to resort to wearing a batting helmet for protection while in the outfield during home games. By the end of 1969, Allen begged the Phillies for a trade, and they accommodated him—sending him to St. Louis in the deal that would bring Curt Flood to Philadelphia—until, that is, Flood sued baseball in a case that would ultimately lead to the end of the game's dictatorial reserve clause.
Willie McCovey
1960-69, San Francisco Giants. Best Year: 1969 (.320 average, 101 runs, 45 home runs, 126 RBIs, 121 walks, 45 intentional walks)
Imposing, streaky and very amiable, the left-handed slugger spent the first half of the decade struggling to make it as an everyday player as he put up dreadful numbers against left-handed pitching and was blocked at first base by the aforementioned Orlando Cepeda. This, despite nearly becoming a World Series hero in 1962 when his wicked, would-be series-winning liner was snared by the New York Yankees' Bobby Richardson, and despite co-leading the NL with 44 homers during his one full year (1963) during the early decade, playing the outfield as naturally as he could. The Giants finally gave McCovey the first-base job on a permanent basis starting in 1965 (ultimately leading to the shipping out of Cepeda to St. Louis), earning the nickname "stretch" while showing a more relaxed presence at the plate; that would be good news for McCovey and the Giants, bad news for opponents. McCovey progressed every year through the remainder of the decade, leading the NL in both home runs and RBIs in back-to-back seasons (1968-69) while peaking in 1969 with a formidable NL MVP performance that saw the end to his weakness against lefties (hitting .293). By then, pitchers were so reluctant to pitch to McCovey, they gave him 45 intentional walks in 1969—setting a major league record that would be smashed decades later by future Giant Barry Bonds.
Mickey Mantle
1960-68, New York Yankees. Best Year: 1961 (.317 average, 131 runs, 54 home runs, 128 RBIs, 126 walks, 12 stolen bases, .687 slugging percentage)
The greatest offensive force of the 1950s still had enough juice left in his explosive bat, toiling well into his 30s as his Yankees became a once-mighty outfit torn apart by front office incompetence from its new owner, CBS. That Mantle played as long as he did was a testament to a body ravaged by too many injuries and surgeries to count, as well as off-field abuse from extensive alcohol consumption. Mantle's performance of the 1960s, like that of the Yankees, was broken down into two parts; the early decade in which the switch-hitting star remained in peak form, and the backend years where that luster was shaved off by the accumulation of injuries—though he remained a threat with his every plate appearance. Mantle finished second in the AL MVP twice vote to start the decade—that includes his 54-homer effort of 1961 that trailed teammate Roger Maris' 61—but copped the award for the third and last time in 1962, hitting .321 with 30 homers in just 123 games. He placed second again in 1964 with his last truly potent campaign, amassing 35 homers and 111 RBIs to go with a .303 average as the Yankees won their fifth straight pennant—and their last for 12 years. In those five World Series, Mantle was hit-and-miss but collected seven homers in 27 games to give him a lifetime total of 18, a figure which remains a Fall Classic record. To the end, Mantle remained dangerous when hitting from the right side of the plate, collecting a .320 average during the 1960s against left-handed pitchers.

Carl Yastrzemski
1961-69, Boston Red Sox. Best Year: 1967 (.326 average, 112 runs, 189 hits, 44 home runs, 121 RBIs, 91 walks, 10 stolen bases, .418 on-base percentage, .622 slugging percentage)
Ted Williams' heir apparent in left field was a lone light of hope in otherwise dark times at Fenway Park, winning a batting title in 1963 and thrice leading the AL in doubles as the Red Sox struggled to be relevant through the mid-portion of the decade. With the help of offseason conditioning—something few players of the time even considered—Yastrzemski's game bolted upwards in 1967 as he became the 13th major leaguer to win baseball's triple crown—and the last to do so until Miguel Cabrera, 45 years later. More importantly, the Red Sox stunningly rose with him—winning the AL pennant before losing a tough seven-game World Series to the Cardinals, with Yastrzemski leading the way with a red-hot finish to the campaign before hitting .400 with three homers in the Fall Classic. A year later, Yastrzemski won a third batting title as the only American Leaguer to hit over .300 (at .301) in the "Year of the Pitcher"; by 1969, he was the league's highest-paid player, earning $130,000 as he crushed 40 homers with 111 RBIs despite a subpar .255 average. Though he peaked in the late 1960s, Yastrzemski had enough longevity in him to last through his 44th birthday in 1983, performing his entire career for the Red Sox.
Harmon Killebrew
1960-69, Washington Senators/Minnesota Twins. Best Year: 1969 (.276 average, 106 runs, 49 home runs, 140 RBIs, 145 walks, .427 on-base percentage)
One of baseball's nicest guys nevertheless went by the handle of "Killer" for his prodigious slugging talent, five times leading the AL in home runs during the 1960s and pacing all major leaguers during the decade with 393—nearly 40 a year. They weren't just fence-scrapers, either; among Killebrew's tape-measure shots was a 520-foot monster in 1967, the longest ever hit at Minnesota's Metropolitan Stadium. Any other kind of hit seemed to be of no concern to Killebrew; only six times during the 1960s did he collect 20 or more doubles. Thus, Killebrew was not to be confused for a batting champ as his .256 career average would attest, but he made up for his lack of total hits by accumulating enough walks to record a .400-plus on-base percentage three times; only Mickey Mantle and Frank Robinson had a higher on-base figure for the entire decade. To end the 1960s, a 34-year-old Killebrew produced the best annual numbers of his career, finally earning an AL MVP after previously finishing fourth or higher in the vote four times. Killebrew today remains far and away the Senators/Twins' all-time leader in home runs and RBIs.
Willie Mays
1960-69, San Francisco Giants. Best Year: 1965 (.317 average, 118 runs, 52 home runs, 112 RBIs, .645 slugging percentage)
The Say Hey Kid grew up and became the central source of sage in a talented Giants clubhouse that often needed it throughout the 1960s; he also remained a damn good ballplayer on the field. Mays spent the decade's first few years still getting acclimated to the Giants' new home in San Francisco, a chore made strangely more difficult by Bay Area fans who saw him more as a New York Giant. But as he continued to produce the same kind of numbers that made loyalists of him at the Polo Grounds years earlier, they came around to adore Mays all the same. He hit an even .300 throughout the decade and three times led the majors in homers—topping out with a career-high 52 in 1965, leading to his second NL MVP. Mays' role as a team leader was never more crucial than in 1964, when he had to keep teammates from revolting after manager Alvin Dark criticized the "mental alertness" of the team's African-American and Latino players. Even the great ones begin to fade at some point, and Mays—for whom some consider the greatest, ever—began to bow to age in the late 1960s as he drew closer to his 40th birthday. But he remained potent enough to make a difference and be admired by his peers and fans, making the All-Star roster every year of the decade.

Frank Robinson
1960-65, Cincinnati Reds; 1966-69, Baltimore Orioles. Best Year: 1966 (.316 average, 122 runs, 182 hits, 34 doubles, 49 home runs, 122 RBIs, 87 walks, .410 on-base percentage, .637 slugging percentage)
The stunning talent who began his career in 1956 with a then-rookie-record 38 homers entered the 1960s at the top of his statistical game, scoring an OPS (on-base + slugging percentages) of over 1.000 from 1960-62—and winning the NL MVP in 1961 as he led the Reds to a NL pennant. After a thunderous follow-up in 1962 (hitting .342 with 39 homers, 136 RBIs and 51 doubles), Robinson suddenly slumped in 1963—collecting a .259 average with only 21 homers—and although he rebounded well over the next two seasons, the Reds believed that his best years were behind him. Cincinnati owner Bill DeWitt said as much when he faced the press and announced a trade of Robinson to the Orioles in 1966, stating that the perennial All-Star outfielder was "an old 30." Robinson made DeWitt instantly eat his words when he won the triple crown in his first year at Baltimore, adding two more homers and a double among four hits in the Orioles' four-game sweep of the Dodgers in the World Series, the first world title in Browns/Orioles franchise history. For his efforts at the plate and in the clubhouse—where he also proved DeWitt wrong with strong leadership—Robinson took the AL MVP and became the first player to win the honor in both leagues. Robinson's performance wavered through the rest of the decade but he remained largely dangerous, finishing third in the AL MVP race in 1969 and lifting the Orioles to another pennant.
Hank Aaron
1960-69, Milwaukee/Atlanta Braves. Best Year: 1963 (.319 average, 121 runs, 201 hits, 44 home runs, 130 RBIs, 31 stolen bases, 78 walks, .586 slugging percentage)
Quietly and seemingly without effort, the legendary, "clean" home run king cruised through the 1960s, putting together one great year after another. Aaron made the All-Star team and placed high in the NL MVP vote every year during the decade, but he lacked the one "OMG" season that might have won him the award. He had to settle for being consistently stellar; five times he hit anywhere between 40 and 45 homers (leading the NL three times), and knocked in more runs than any other player in the decade with 1,107—nearly half of a career total that currently has him #1 on the all-time list. Aaron could also run; his 204 steals during the 1960s were topped by other six other players. After 12 years with Milwaukee, Aaron packed up with the Braves to Atlanta, back in the Deep South where he grew up—but also back in a region wracked by racial turmoil. If Aaron felt any discomfort, it hardly showed as he thrived at Atlanta-Fulton County Stadium, which earned the nickname "Launching Pad" for its reputation as a home run haven. Aaron finished the decade at age 35, going 5-for-14 (with two doubles and three homers) in an inaugural NL Championship Series lost in three straight to the upstart Mets. With 554 career homers to his credit by at that point, Aaron would enter a new decade where the spotlight would shine more blindingly upon him as he closed in on Babe Ruth's pinnacle of 714.