The 10 Best Hitters of the 1970s
A diverse mix of power sluggers, contact hitters and colorful personalities defined a transitional decade at the plate for baseball.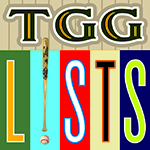 In a volatile decade that saw the abolition of the reserve clause and the ensuing birth of modern free agency, the game's status quo on the field was shaken up by a new breed of players that didn't necessarily have home runs on the brain, unlike their predecessors of the previous five decades. While there are muscular mashers on the list that follows, there's also some players who focused on all-around, relentless offensive tactics in which they hit short, far, sharp and smart. And when they reached base, they weren't done—ramping up the speed to match their batting abilities. The result was an exciting blend of power, hustle and charisma quite unique for this great game.
Johnny Bench
1970-79, Cincinnati Reds. Best Year: 1970 (.293 average, 97 runs, 35 doubles, 45 home runs, 148 RBIs, 11 sacrifice flies)
You could parse the Oklahoma native's brilliance in two different directions. One was through his tremendous gift behind the plate, revolutionizing one-handed catching and winning 10 straight Gold Gloves as a result. The other was his slugging abilities that more than occasionally reached prodigious levels. Bench was off-and-on early in the decade—but when he was on, he was on. In 1970, he walloped 45 homers with 148 RBIs, then two years later reached 40 and 125 to earn his second National League Most Valuable Player award in three years. This would be the first of four straight years in which he would knock in at least 100 runs, thanks in part to a potent list of teammates that permeated the Cincinnati lineup. When Bench failed to make it five straight seasons in 1976 with an underwhelming regular season effort (batting just .234 with 16 jacks and 74 RBIs), he more than made up in the postseason with 12 hits (including three homers) in 27 at-bats. After one more solid season in 1977 (with 31 homers and 109 RBIs), Bench began to show the effects of wear and tear forged from playing the game's most demanding position, and the inevitable decline followed; in his last few years during the early 1980s, Bench rarely played catcher at all, positioned instead either at third or first.
Reggie Smith
1970-73, Boston Red Sox; 1974-76, St. Louis Cardinals; 1976-79, Los Angeles Dodgers. Best Year: 1977 (.307 average, 104 runs, 32 home runs, 87 RBIs, 104 walks, .427 on-base percentage)
No-nonsense and intensely focused, Smith never emerged as The Star on any of the three teams he played for during the decade as the spotlight was aimed more upon All-Star teammates (Carl Yastrzemski in Boston, Ted Simmons in St. Louis, Steve Garvey in Los Angeles). Smith also never had that big year; even the one we list above as the best was, in the public eye, part and parcel of the unprecedented quartet of 30-homer hitters on the 1977 Dodgers. Popular with teammates for his nonstop determination and solid output, Smith was a terrific switch hitter who hit just as well against righties (.287) as against lefties (.288). He was happier as the decade wore on; he found Boston uncomfortable because of the city's tense racial undercurrent that sometimes seeped into Fenway Park, found solace in St. Louis with star African-American teammates in Bob Gibson and Lou Brock, and in Los Angeles felt at ease back in his hometown. Smith punched it up for the Dodgers in the 1977 World Series, belting three homers—but was overshadowed by that other Reggie, the Yankees' Reggie Jackson, who famously hit three in the last game.
Jim Rice
1974-79, Boston Red Sox. Best Year: 1978 (.315 average, 121 runs, 213 hits, 15 triples, 46 home runs, 139 RBIs, 406 total bases)
The "other rookie" on the 1975 AL pennant-winning Red Sox as the general public fawned over Rookie of the Year/MVP Fred Lynn, Rice would gradually prove that there was no one more valuable at Fenway Park—and by decade's end, no one more valuable in the league. The Red Sox certainly knew what they had in Rice before bringing him up, as he won back-to-back MVPs as a Triple-A star in the International League, taking the triple crown of hitting in the last of those two seasons. Rice had a solid rookie effort by hitting .309 with 22 homers and 102 RBIs for the 1975 Red Sox, but he missed out on the legendary World Series against Cincinnati when he fractured his hand a week before the end of the regular season. (He would have to wait until 1986 to experience his first postseason.) From that sterling debut, Rice only got better—and by 1978, he was practically indomitable, producing eye-popping numbers and becoming the first American Leaguer since Joe DiMaggio (in 1937) to collect over 400 total bases. Rice loved Fenway; over the last three years of the 1970s, he hit .350 at home with a stunning .699 slugging percentage. It was this late-decade performance that ultimately helped thrust Rice into the Hall of Fame.
George Foster
1970-71, San Francisco Giants; 1971-79, Cincinnati Reds. Best Year: 1977 (.320 average, 124 runs, 197 hits, 31 doubles, 52 home runs, 149 RBIs, .631 slugging percentage)
No one during the decade went on quite the offensive rampage (albeit briefly) as Foster did during the late 1970s—but it took him awhile to climb the ladder to stardom. Traded by San Francisco in one of many awful trades that would doom the Giants through mid-decade, Foster at first found it frustrating to fit in with the Big Red Machine, but an outfield spot opened up for him early in 1975 and he finally seized the moment, hitting an even .300 in the regular season and postseason to follow. Foster improved in 1976 with a NL-leading 121 RBIs—and then he really cranked it into overdrive in 1977, producing the decade's single-best offensive effort, a monster year that included the only 50+ homer performance seen in the majors between 1965-1990. He led the NL again in home runs and RBIs the next season (with 40 and 120, respectively) and might have taken another RBI crown in 1979 had he not pulled his thigh in that year's All-Star Game (his fourth straight), missing the next 24 games. Foster's peak years ended with the 1970s; he remained a serviceable (but not dominant) power hitter midway through the 1980s before fading completely out of the picture.
Willie Stargell
1970-79, Pittsburgh Pirates. Best Year: 1973 (.299 average, 106 runs, 43 doubles, 44 home runs, 119 RBIs, 80 walks, .646 slugging percentage)
A powerful, gregarious slugger who always looked on the bright side of life, Stargell helped the Pirates all but bookended the decade with world titles in 1971 and 1979—the latter effort forged through his leadership and vintage performance at the plate that earned him co-MVP honors in the NL. He started off the 1970s in monster form, twice leading the NL in homers including a career-high 48 in 1971; many of his blasts were hardly fence-scrapers, as he was the first (and second) player to completely hit balls out of Los Angeles' Dodger Stadium, and had seats in the upper deck of his home yard of Three Rivers Stadium repainted to acknowledge where some of his longer tape-measure shots landed. Stargell's game withered toward the end of the decade, suggesting the inevitable bowing out of the game was at hand as he neared 40 years of age. But after a slow start in 1978, he came roaring back to life with vintage vigor—and continued it into 1979, belting 32 homers with 82 RBIs over just 424 at-bats while spiritually residing as the father figure of the "We Are Family" team that won it all. For the entire decade, no one hit more home runs than Stargell's 296—and that doesn't include seven additional jacks during postseason action.

Bobby Bonds
1970-74, San Francisco Giants; 1975, New York Yankees; 1976-77, California Angels; 1978, Chicago White Sox; 1978, Texas Rangers; 1979, Cleveland Indians. Best Year: 1973 (.283 average, 131 runs, 182 hits, 34 doubles, 39 home runs, 96 RBIs, 87 walks, 43 stolen bases)
Nobody was on the move—inside and outside the ballpark—as was the exciting, multi-faceted outfielder who wielded power, averaged nearly 40 steals per year during the decade and eventually became quite familiar with moving services as he wore the uniform of six teams in the 1970s. Groomed as Willie Mays' successor in San Francisco, Bonds appeared to be meeting the demand as he constantly scored over 100 runs, came close to 100 RBIs even while hitting mostly in the leadoff spot, and in 1973 came within one homer of becoming baseball's first 40-40 man (40 homers, 40 steals). But Bonds had a falling out with Giants management in 1974, precipitating yet another lousy deal made by San Francisco when he was sent one-up to the Yankees for Bobby Murcer. The trade hurt Bonds as much as the Giants; though he continued to produce, he was constantly unhappy wherever he went for various reasons and found himself virtually on a new team every season for the rest of his career. This nomadic existence had a profound impact on Bonds' son Barry, who would inherit his father's greatness—but also his disdain for management and, especially, the media.
Reggie Jackson
1970-75, Oakland A's; 1976, Baltimore Orioles; 1977-79, New York Yankees. Best Year: 1973 (.293 average, 99 runs, 32 home runs, 117 RBIs, 76 walks, 22 stolen bases)
Not since the days of Babe Ruth and Dizzy Dean had anyone mixed elite productivity and elite arrogance until the free-swinging, loveably egocentric Jackson emerged on the stage. A trend-setter of sorts by becoming the first major leaguer in 58 years to step on a field sporting a mustache, Jackson was the winner of the AL MVP for the 1973 regular season, World Series MVPs in 1973 and 1977, and the MVQ (Most Valuable Quote) as his comments often made headlines and rankled teammates and bosses. No boss was more enraged than tempestuous Yankee manager Billy Martin, who never wanted Jackson in New York (owner George Steinbrenner did) and wasn't afraid to pull him from the middle of games—even the middle of the inning—to feed his own ego. In spite of butting rams with Martin, Jackson ate up New York City and vice versa; that love was never more legendary than in a magical 1977 World Series triumph when he homered in his last three at-bats of the clinching Game Six—all on the first pitch—to give him a record-setting five for the series. Surviving through two turbulent owners during the decade—Steinbrenner and Oakland's Charles Finley—Jackson managed to pick up five World Series rings and bat .360 in 24 Fall Classic games with nine homers and 23 RBIs over just 86 at-bats.
Mike Schmidt
1972-79, Philadelphia Phillies. Best Year: 1973 (.282 average, 108 runs, 36 home runs, 116 RBIs, 106 walks, 23 stolen bases)
Powerful with the bat, graceful with a glove and articulate with his opinions, Schmidt evolved into a perennial MVP source for a Phillies team that itself emerged from a dark period in the early 1970s and became an annual contender by mid-decade. The right-handed slugger's trial by fire took place in 1973 with a dreadful rookie showing, going hitless over his final 26 at-bats to ensure a sub-.200 (.197) batting average. But he turned it completely around in 1974, leading the NL for the first of three years in homers with 36; it might had been 37 had a titanic blast at the Houston Astrodome not struck a speaker at the very top and dropped straight down for a single. Two years later, Schmidt had a game for the ages when he homered four times and set other career marks with five hits and eight RBIs in the Phillies' 18-16, 10-inning win at Chicago. Schmidt settled into an elite groove in which he annually reached 100+ in runs, RBIs, walks and, yes, strikeouts—and it still wasn't enough for the Phillies' notorious hard-to-please fan base, which wanted more out of Schmidt and booed when they didn't get it. It didn't help Schmidt that he was a postseason bust in during the decade, hitting .182 with no homers in 11 NLCS games. A 45-homer effort in 1979 signaled that Schmidt's best years were still on the horizon.

Rod Carew
1970-78, Minnesota Twins; 1979, California Angels. Best Year: 1977 (.388 average, 128 runs, 239 hits, 38 doubles, 16 triples, 14 home runs, 100 RBIs, 69 walks, 23 stolen bases)
The 1970s' version of Ty Cobb (minus the anger), the left-handed hitter from the Panama Canal Zone was an absolute hitting machine during the decade, racking up six batting titles for the Twins; a severe knee injury in 1970 kept him from nabbing what might have been a seventh (he hit .366 over 191 at-bats). Carew also wasn't afraid to steal any base, including home—swiping the plate 17 times throughout his Hall-of-Fame career. Crouched when hitting to reduce the strike zone, Carew never walked a ton as expected but was a superior contact hitter with few weaknesses to exploit. Carew enjoyed his peak season in 1977 when he hit above .400 into mid-July before slightly cooling off to a season-ending .388 mark, earning AL MVP honors. Despite constantly reaching base, Carew incredibly only scored and knocked in 100 runs for the one time in his career during the 1977 campaign, illustrating the weak support he got from teammates during his time with the Twins. He bolted Minnesota after 1978 for a different reason, simmering over racially insensitive comments made by Twins owner Calvin Griffith to a group of locals that leaked out to the general public; Carew signed with the star-studded Angels, stating that he refused to be "another nigger on (Griffith's) plantation." In Anaheim, Carew enjoyed five more straight seasons of .300+ ball (though he failed to win another batting title) and ultimately reached the 3,000-hit milestone.
Joe Morgan
1970-71, Houston Astros; 1972-79, Cincinnati Reds. Best Year: 1976 (.320 average, 113 runs, 30 doubles, 27 home runs, 111 RBIs, 114 walks, 12 sacrifice flies, 60 stolen bases)
Cincinnati's powerful Big Red Machine was built partly through the benefit of a few crucial, one-sided trades. We already discussed the deal that brought George Foster the Reds' way, but the other big coup came when they let go of Lee May, Tommy Helms and Jimmy Stewart to Houston for four players, including workhorse pitcher Jack Billingham—and the slick, multi-talented Morgan. The short (5'7") second baseman had shown promise but inconsistency in nine previous seasons with the Astros, but nobody realized how much upside he still had in him when he became a Red as he flourished under manager Sparky Anderson's directive to free himself up at the plate (and on the basepaths) to do what he pleased. The end product was stunning; in his first six years at Cincinnati (1972-77), he hit .295 and annually averaged 113 runs, 22 homers, 84 RBIs, 118 walks and 60 steals. Morgan's career peak, in 1975-76, coincided with that of the Reds, who won back-to-back world titles; he took the NL MVP in both seasons and, in a four-game World Series sweep of the Yankees in 1976, was 5-for-15 with a home run and two steals—a rare uptick for a top player who strangely struggled in other postseason series (he hit .169 in his 46 other playoff games). Morgan's game tailed off sharply starting in 1978 as age began catching up, but he remained occasionally dangerous to keep opponents on their toes into the early 1980s, past his 40th birthday.