The 10 Best Hitters of the 1980s
Baseball stars were slugging, running and walking their way to success in a volatile but popular time for the game.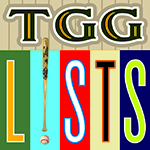 The 1980s was a terrific time to enjoy baseball—work stoppages and collusion shenanigans notwithstanding. Attendance was up, nostalgia was in, and statistically there was something for everybody. The following list is a reflection of that; it includes contact hitters, sure-fire sluggers and speedsters who stole bag after bag, with a few players who were a healthy combination of all three elements. Check it out and see if you agree.
George Brett
1980-89, Kansas City Royals. Best Year: 1980 (.390 average, 33 doubles, 9 triples, 24 home runs, 118 RBIs, 22 strikeouts, 117 games played)
The blonde-haired, blue-eyed third baseman with All-American looks was All-World when he entered the decade, staggering the baseball world with a .390 batting average (he hit .437 against right-handed pitchers and .469 with runners in scoring position) and 118 RBIs in 117 games. Brett's batting title, one of three he would achieve (each one in a different decade), led to his lone MVP award and the Royals' first-ever AL pennant. There was no way that Brett was going to replicate his 1980 effort, but he remained a prime star for the rest of the decade even as various nicks and knacks forced him to miss an average of 30 games per season. He emerged back into stellar form in 1985 when he hit .335 with career highs in home runs (30), RBIs (112) and walks (103), leading the Royals to another pennant and their first world title; besides hitting .360 that October, he added four homers and was just a top-of-the-wall double away from a three-homer performance in an ALCS game against Toronto. For better or for worse, the lasting image of Brett was and forever will be his raging charge toward umpires after they disallowed his go-ahead, ninth-inning home run in a 1983 game against the New York Yankees after they found that the pine tar on his bat exceeded the maximum 18 inches from the top. The American League eventually overruled the umpires and ordered the game to continue at a later date with Brett's homer reinstated.
Wade Boggs
1982-89, Boston Red Sox. Best Year: 1987 (.363 average, 108 runs, 200 hits, 40 doubles, 6 triples, 24 home runs, 89 RBIs, 105 walks, .461 on-base percentage)
The left-handed-hitting Omaha native made his major league debut midway through the 1982 season as if he'd been playing the game for years—he batted .349, followed by a sensational .352 figure through the rest of the decade. Boggs not only mastered right-handed pitchers with a .370 clip during the 1980s, but also the Red Sox' home yard of Fenway Park, where he hit .383. As if all those hits—at least 200 each year from 1983-89—weren't enough, Boggs was patient enough to earn a multitude of walks, four times surpassing 100 during the decade. Boggs had a reputation as a singles hitter, but he did average 43 doubles in his seven full-time seasons in the 1980s and, for at least one year, found a power surge as he muscled out 24 home runs in a 1987 campaign universally looked upon as a season in which the ball (and in some cases the bats) was likely juiced. The secret to all of this: Chicken. Or so Boggs, a highly superstitious person, might have bragged as he made it a daily routine to dig into the poultry before every game. Boggs' eating habits remained his top claim to fame in the pop cultural realm, at least until 1989 when a woman came forth and revealed that she had been paid up to $100,000 a year to hook as Boggs' mistress on the road.
Robin Yount
1980-89, Milwaukee Brewers. Best Year: 1982 (.331 average, 129 runs, 210 hits, 46 doubles, 12 triples, 29 home runs, 114 RBIs, 14 stolen bases)
From his first game as a scrawny 18-year old in 1974, Yount was a reliable soldier of a shortstop for the Brewers until 1980, when offseason weight training allowed him to blossom into a major threat at the plate with 23 homers, 49 doubles and 121 runs scored. That would become his new normal on a potent Milwaukee lineup that also boasted the likes of Cecil Cooper, Paul Molitor and Gorman Thomas. By 1982, Yount emerged as the leader of this lethal attack, winning the AL MVP and smashing two homers and a triple in the AL East-clinching victory against Baltimore on the last day of the regular season; he would go on to hit .355 in 12 postseason games to follow as the Brewers grabbed their first-ever flag but fell short by a game in the World Series against St. Louis. Yount's All-Star offensive levels dropped off into mid-decade, but he picked up a second wind toward the end of 1980s, resulting in another MVP in 1989 when he hit .318 with 21 homers and 103 RBIs, edging out Ruben Sierra (who arguably had the better year at the plate but was defensively atrocious) in the vote. An easygoing teammate who never once got ejected from a ballgame, Yount would go on to play all 20 of his big league seasons with the Brewers and collect a team-record 3,142 hits.
Andre Dawson
1980-86, Montreal Expos; 1987-89, Chicago Cubs. Best Year: 1987 (.287 average, 90 runs, 49 home runs, 137 RBIs)
The Hawk reached the major league scene in the late 1970s with expectations worthy of Atlas, burdened with five-tool expectations as one who could hit for average, hit for power, run, field and throw—all at an elite level. Dawson had a difficult time reaching for that "next big thing" status, bubbling on the precipice of superstardom but never quite getting there; not helping was the hardened outfield turf at Montreal's Olympic Stadium, which weakened his knees just as it would with future Expos great Vladimir Guerrero. Worse, Dawson was financially disrespected, arguably the most blatant victim in the owners' despicable collusion scheme of the mid-1980s; a free agent after 1986, no one bid for his services except the incumbent Expos, who offered an underwhelming contract. Dawson had to resort to handing a contract to the Cubs and letting them fill in whatever salary they wished; the Cubs wrote in $500,000, and Dawson responded with a career-year effort (listed above) that included his lone cycle and one of two three-homer performances. Never mind that the Cubs finished last; Dawson still got the votes to win his only MVP award. A six-time All-Star during the 1980s, Dawson was an unfortunate dud during the postseason (hitting .186 with no homers and just three RBIs over 59 at-bats), but his collective regular season work was strong enough to eventually gain him entry into Cooperstown.
Dwight Evans
1980-89, Boston Red Sox. Best Year: 1987 (.305 average, 109 runs, 37 doubles, 34 home runs, 123 RBIs, 106 walks)
Lost in the shadows of more nationally renowned Red Sox names (Jim Rice, Wade Boggs, Carl Yastrzemski and, for a time, even Mike Greenwell), the humble-looking Evans quietly produced at a high and consistent level throughout the decade, combining power and patience even as his batting averages strayed far from the Top 10. His peers apparently forgot about his contributions as well; he was named to just two All-Star teams in the 1980s. Known more in the 1970s for his rocket throwing arm than his hitting, that changed in the new decade as Evans shared the 1981 home run crown with Tony Armas and Eddie Murray, smashing 22 in a strike-shortened campaign; like fine wine, he only got better as the 1980s progressed as he approached (and passed) his mid-30s. Three times, Evans hit over 30 homers, four times scored over 100 runs and four times knocked in over 100—including three successive seasons to close out the decade. Making him even more of a pest for opponents was his keen eye for taking pitches, drawing over 100 passes three times; only Rickey Henderson forged more walks during the 1980s. He remains unheralded to all but loyal longtime Red Sox fans, and that's a shame.

Eddie Murray
1980-88, Baltimore Orioles; 1989, Los Angeles Dodgers. Best Year: 1983 (.306 average, 115 runs, 178 hits, 30 doubles, 33 home runs, 111 RBIs, 86 walks)
The 1980s' version of Mr. Consistency, the switch-hitting Hall-of-Famer's numbers barely wavered; in picking our choice for the "Best Year" above, we could have gone with any number of campaigns. This was especially true in the decade's first six years, when Murray was at his best; he constantly hit .300 (give or take a few points), racked up roughly 30 homers, and knocked in at least 110 runs except for 1981—because that year's player strike kept him from playing enough games to get that far. Murray was, of course, equally good from each side of the plate, and pitchers struggled to find any weakness within him; in 1987, he became the first major leaguer to homer from both sides of the plate in consecutive games. Murray was definitely dangerous with the bases loaded, registering a .419 in said situations during the decade with 13 of his eventual 19 career grand slams, a mark surpassed by only three other players. In the postseason, Murray contributed to the Orioles' 1983 World Series triumph over Philadelphia by clubbing two homers in the series finale. All of these accolades, along with six All-Star appearances, five top-five MVP placements and the 1983 ring, didn't lead to an inflated ego on Murray's part; he remained humble and quiet, wearing a necklace that simply said, "Just Regular."
Tim Raines
1980-89, Montreal Expos. Best Year: 1983 (.298 average, 133 runs, 183 hits, 32 doubles, 8 triples, 11 home runs, 71 RBIs, 97 walks, 90 stolen bases)
During their Olympic Stadium years, the Expos thrived on speedsters who gorged on stolen bases—but none of them contained offensive potency as Raines would throughout his Hall-of-Fame tenure. "Rock" never threatened to win a home run crown, but his blazing speed turned singles into doubles and doubles into triples, while his abundance of walks continually propped him over the .400 mark in on-base percentage. While Fernando Valenzuela was hogging the rookie spotlight early in 1981, Raines was quietly swiping one bag after another throughout his first season—40 of them by the end of May; he had a good shot at breaking Lou Brock's then-season record of 118, but the seven-week players' strike intervened, with the cancelled games never to be made up. His 71 steals as a rookie was the first of six straight years swiping at least 70, and he rarely got caught; his 84.6% career success rate is among the best by any player. Raines' career was nearly derailed before it fully blossomed, as he became addicted to cocaine in 1982, spending up to $40,000 that year to keep his habit going. Cleaned up a year later, Raines began a streak of four straight years hitting over .300—including a .334 mark that led the NL in 1986. Following that season, Raines became yet another victim of collusion, receiving incredibly low offers from other teams while the Expos held firm on what they had previously paid him. He received nearly $1 million in settlement money after the owners fessed up a few years later.
Dale Murphy
1980-89, Atlanta Braves. Best Year: 1983 (.302 average, 131 runs, 36 home runs, 121 RBIs, 90 walks, 30 stolen bases)
Big, humble and clean-cut—all he had to do was put on glasses and people would have confused him for Clark Kent—Murphy came out of the proverbial phone booth ready to save the Braves in 1980 when the team converted him from catcher to outfielder. The move paid off as it allowed him to focus more on hitting; by 1982, he became All-Star-worthy, evolving into the prime mover in the Braves' unlikely rise to the top, mixing power (36 homers), patience (93 walks) and even speed (23 steals). He maintained at that peak for the next three years, earning MVP honors from 1982-83—thus making him the youngest player yet to win back-to-back honors—and never missing even a single game, all while getting prime national exposure as the Braves were broadcast on the widespread basic cable station WTBS. His power reached its apex in 1987 when he belted a career-high 44 homers, but that was followed by consecutive subpar years (with batting averages buried in the .220s) at decade's end to signal the inevitable decline. Still, Murphy commanded the 1980s with seven trips to the All-Star Game and five 100-RBI seasons.

Mike Schmidt
1980-89, Philadelphia Phillies. Best Year: 1981 (102 games, .316 average, 78 runs, 31 home runs, 91 RBIs, 73 walks, 18 intentional walks, 12 stolen bases, .644 slugging percentage)
Long since established as a star slugger, Schmidt entered the 1980s as baseball's premier sledgehammer, winning NL MVPs in each of the decade's first two seasons with punishing numbers. In 1980, everything went right for Schmidt and the Phillies; he set career highs with 48 home runs and 121 RBIs, then overcame past postseason demons by going 8-for-21 with a pair of jacks and seven RBIs in helping to secure the franchise's first-ever world title. Schmidt heightened his game even further in 1981, hitting over .300 for the only time in his career; had it not been for the players' strike that wiped away a third of the regular season, he might have powered his totals up to 50 homers and 140 RBIs. This burst of near-superhuman output lessened in the years to follow as Schmidt entered his mid-30s, but he remained a top threat; he led the NL in home runs three more times, took home two additional RBI crowns, and won a third MVP in 1986 as he turned age 37. Inexplicably, despite all of the above, the notoriously rough Phillies fans continued to give Schmidt hell, but by now the perennial All-Star third baseman was taking the criticism and booing in stride; he even once took the field wearing a Rastafarian wig and sunglasses as comic retort. Finally in 1988, Schmidt's game took a sharp dive, and it got even worse a year—forcing him to quit in midseason, his Hall-of-Fame residency assured.
Rickey Henderson
1980-84, 1989, Oakland A's; 1985-89, New York Yankees. Best Year: 1985 (.314 average, 146 runs, 24 home runs, 72 RBIs, 99 walks, 80 stolen bases)
The speedy Chicago native by way of the Bay Area was an amalgamation of all that trended offensively during the 1980s: Aggressive baserunning, power to spare, and patience to await the right pitch to hit. Of course, it was the steals that were top of mind when referencing Henderson. He opened the decade, at age 21, by becoming the first American Leaguer to swipe 100 bases in a season; two years later, he topped Lou Brock's all-time record and totaled 130, which remains the gold standard. For the rest of the decade, the "Run, Rickey, Run" mantra continued unabated. Henderson led the league every year in steals during the 1980s with the exception of 1987, and that was only because he missed two months to injury; he stole four bases in a game 18 times and once stole five; and for the entire decade, he pilfered 840 bags, a total that only three other players have surpassed in their entire careers. After 1984, he was traded to the Yankees because the A's wanted to focus more on power—yet ironically, the compact yet well-built Henderson ramped up the muscle in New York, hitting as many as 28 homers. Perhaps Henderson's only weakness was his mental approach to the moment's perspective; he could absolutely turn it out when he wanted, but also could mentally shut it off when unhappy. Henderson exhibited both traits in 1989 when his attitude (and thus his numbers) soured under new Yankees manager Dallas Green; traded back to the A's to help in their quest for a world title, he recharged into prime Rickey mode. In nine postseason games that year, Henderson was simply unstoppable—hitting .441 (15-for-34) with 12 runs, two doubles, three triples, three homers, eight RBIs, nine walks and 11 steals, helping to earn his first of two World Series rings and add yet another highlight to his Hall-of-Fame resume.