The 10 Best Hitters of the 1990s
Eye-popping numbers set records and dominated baseball in a decade beset with work stoppage and growing steroid fever.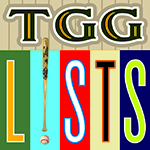 After some 50 years of mostly continuous equilibrium between pitching and hitting within the majors, the sluggers took over with a vengeance not seen since the early days of the live-ball era. For the few generations prior, home run hitters were abundant, but few were ever confused for a batting champ; yet the brawny titans of the 1990s hit well into the .300s on a continual basis, as you'll definitely see from the "Best Years" segments of the 10 players showcased below. It took a few years for the offense to settle in, but the 1994 season—with outrageous personal numbers that would have been more outrageous had the year not been shortened by the start of the 1994-95 players' strike—set the pace for the rest of the decade to follow. The accomplishments were remarkable and, with only a few exceptions, done free of PEDs as the steroid epidemic loomed.
Juan Gonzalez
1990-99, Texas Rangers. Best Year: 1998 (.318 average, 110 runs, 193 hits, 50 doubles, 45 home runs, 157 RBIs)
Few lineups were as dangerously dense during the 1990s as that of the Rangers, and the tall, quiet and muscularly Gonzalez represented their top threat. He wasn't called "Juan Gone" for nothing; the Puerto Rico native smashed over 40 homers five times during the decade, winning back-to-back home run crowns in 1992-93. But it was his utter ability to drive in runs that seemed to separate him from most sluggers of the day. Over a four-year period from 1995-98, Gonzalez knocked in 514 runs—in 511 games; in 1998, he became only the second major leaguer (after Hank Greenberg in 1935) to reach 100 before the All-Star Break. Six times, he knocked in at least six RBIs in a game. This bring-them-home-at-will mentality helped earn Gonzalez MVPs in 1996 and 1998; in the first of those two award-winning seasons, Gonzalez did all he could to advance the Rangers past the New York Yankees in the American League Divisional Series, slamming a postseason series-record five homers in just four games—but the rest of the team hit .190 and collectively drove in fewer runs that Gonzalez's nine in bowing to the eventual world champs. Though he was never officially pinned by Major League Baseball for steroid use (in a time when there was little or no enforcement), the optics for vouching for his cleanliness didn't look good in 2001 when a bag he and his personal trainer—Angel Presinal, who would later gain infamy as Alex Rodriguez's steroid pusher—was confiscated by Canadian customs agents in Toronto and found to contain steroids. Gonzalez has since been highly reticent to go down Memory Lane with the Rangers; he even refused to appear for his own Rangers Hall of Fame ceremony.
Edgar Martinez
1990-99, Seattle Mariners. Best Year: 1995 (.356 average, 121 runs, 182 hits, 52 doubles, 29 home runs, 113 RBIs, 116 walks, 1.105 OPS)
All but accepting a backseat away from a spotlight reserved for Ken Griffey Jr. and Alex Rodriguez, Martinez emerged as the toughest out in the Mariners' lineup, reaching base at an astounding .430 clip for the decade and snatching two batting titles while maintaining respectable power numbers. Martinez only developed into of the game's best, pure designated hitters after he no longer had to sweat over his awful defense at third base. After hiccupping in 1993-94 as he recovered from a severe knee injury suffered while running the bases on a slipshod, temporary surface in an exhibition at Vancouver, Canada, Martinez turned up the heat and never hit below .320 for the rest of the decade. Martinez's 1995 campaign was his most magical; after hitting a career-high .356, he was unstoppable in the Mariners' very first postseason series, a thrilling ALDS triumph over the Yankees when he knocked in a personal-best seven runs in Game Four, then connected on an 11th-inning, series-winning double in Game Five. (For the series, Martinez was an electrifying 12-for-21 with 10 RBIs.) A four-time All-Star during the 1990s, Martinez never benefitted from any ballpark's hitter-friendly quirks; he hit the ball just as well on the road (.320) as he did at the bandboxed Kingdome (.324) during the decade. While his star teammates bitched about the more challenging conditions of the Mariners' new ballpark (Safeco Field, later T-Mobile Park) midway through 1999, Martinez shut up and carried on—hitting .394 in 41 games to finish out the season at the team's new home. Martinez's .318 career average and .418 lifetime on-base percentage eventually granted him entry into Cooperstown.
Fred McGriff
1990, Toronto Blue Jays; 1991-93, San Diego Padres; 1993-97, Atlanta Braves; 1998-99, Tampa Bay Devil Rays. Best Year: 1994 (113 games played, .318 average, 81 runs, 34 home runs, 94 RBIs)
Consistency personified, McGriff was affectionately known as "Crime Dog" after ESPN broadcaster/nickname guru Chris Berman likened his name to the public service cartoon canine McGruff. But it would have been more accurate to steal from Charlie Gehringer and label the slugger the Mechanical Man, because he always seemed to put up the same solid numbers, year in and year out. McGriff's only inconsistency may have been his home address; he began the decade in Canada, was sent packing cross-country to San Diego, where the fire-selling Padres soon exiled him to Atlanta—reawakening a slumbering Braves team into champion mode down the stretch, erasing a big midseason lead by San Francisco to capture the NL West title. What may be keeping him out of the Hall of Fame is his failure to be a dominant for a season or for a moment; he practically sailed through the decade in relative anonymity while bigger names encrypted fans' long-term memories with eye-popping feats. Even when McGriff appeared ready to bust through to MVP numbers in 1994, the crippling players' strike put an end to the quest; he was on pace for 48 homers and 133 RBIs—both numbers easily representing career highs—when the players walked out in early August. As reliable a threat as he was during the regular season. McGriff was even better in October; in 45 postseason games during the 1990s, he hit .323 with 10 homers and 34 RBIs.
Mark McGwire
1990-97, Oakland A's; 1997-99, St. Louis Cardinals. Best Year: 1998 (.299 average, 130 runs, 70 home runs, 147 RBIs, 162 walks, 1.222 OPS)
There are many ways to describe McGwire's time in the 1990s: Turbulent, arduous and triumphant are three primary adjectives that quickly come to mind. The decade didn't particularly start well for Big Mac; though his A's were riding high and he was sharing marquee space with Jose Canseco as part of the "Bash Brothers" brand, McGwire struggled as his Bunyanesque power was offset by poor batting averages; he was benched for the final game of the 1991 season to avoid finishing with a sub-.200 average. Then came the mid-1990s, and a series of injuries that greatly reduced his playing time—yet through all of that, a funny thing began to happen; when healthy and available to play, McGwire brought his batting and on-base percentages into respectable territory—all while his power numbers increased toward a level of statistical insanity. For the A's in 1995, he hit 39 homers—in just 104 games; a year later, he dropped a then career-high 52 in just 130 games, while batting an impressive .312. Sent away by a new, more budget-conscious Oakland regime in 1996 to St. Louis (where he reunited with ex-A's manager Tony La Russa), he combined for 58 homers on the season—24 in just 51 games for the Cardinals. By 1998, McGwire looked so big and strong, the bat in his hands looked no bigger than a toothpick; it was tough to imagine him hitting it anywhere but over an outfield wall. He rocketed out to a massive start and maintained the pace, dueling with fellow (and out-of-nowhere) muscleman Sammy Sosa as they both chased Roger Maris' season record of 61 homers; McGwire obliterated the mark and prevailed at year's end with 70. He added another 65 in 1999, making him the first major leaguer with four straight years of 50-plus. The feel-good presence of McGwire's feats of strength, and his credit for saving baseball in the post-strike era, became heavily tarnished in the next decade when he first denied—then admitted—that he took steroids to help power up.
Larry Walker
1990-94, Montreal Expos; 1995-99, Colorado Rockies. Best Year: 1997 (.366 average, 143 runs, 208 hits, 46 doubles, 49 home runs, 130 RBIs, 78 walks, 33 stolen bases, 1.172 OPS)
The British Columbia native was a promising five-tool talent and part of a promising batch of young, rising stars across the Great White North in Montreal. It was just a matter of time before he hit top gear in the majors—but it didn't come fast enough for the Expos, a championship-level ballclub heartbreakingly denied by the 1994 players' strike after a 76-40 start and, shortly afterward, the breaking up of the team under the weight of free agency. In Walker's case, Montreal's loss became Colorado's gain; Walker signed as a free agent with the fledgling Rockies, making an immediate impact in his first season by being one of four team members to hit over 30 homers. Coors Field's offensively friendly, pre-humidor conditions helped elevate Walker's numbers as if he was playing two miles high; he hit a collective .414 at Coors Field in the decade's final four seasons (including an outrageous .461 clip in 1999), while becoming the first player since Al Simmons (in 1929-31) to hit over .360 in three straight seasons (1997-99). But he was hardly an easy out at sea level; to wit, 29 of his career-high 49 home runs in 1997 were hit on the road. While Colorado's reputation for allowing easy offensive numbers has likely handicapped Walker's chances of getting into Cooperstown, so has his aggressive playing style that always seemed to leave him at less than 100%; only once in his playing career did he log over 143 games.

Jeff Bagwell
1991-99, Houston Astros. Best Year: 1994 (110 games played, .368 average, 104 runs, 147 hits, 32 doubles, 39 home runs, 116 RBIs, 65 walks, 15 stolen bases, .750 slugging percentage)
The Boston Red Sox needed some bullpen help in their quest for an AL pennant in 1990, and got it when they received veteran reliever Larry Anderson from the Astros. But they paid a heavy price by surrendering Bagwell, a fourth-round draft choice a year earlier who hit the ball for average but had yet to show the prodigious power that would soon make him the Astros' first bona fide slugging superstar. Sporting a goatee and a vicious upper-cut swing, Bagwell copped NL Rookie of the Year honors in 1991 with all-around solid numbers—and the Astros, sensing that his power stroke was still evolving, brought in the fences at the pitcher-friendly Astrodome the next year. It took a few years, but Bagwell answered the challenge—starting with a mind-boggling 1994 campaign (see Best Year, above) cut short not by the players' strike but by a season-ending broken wrist suffered two days before the start of the work stoppage. Bagwell's .750 slugging percentage that season was the highest recorded since the days of Babe Ruth, and his overall performance earned him his lone NL MVP. After a modest 1995 follow-up, Bagwell returned to All-Star form for the remainder of the decade, averaging 38 homers, 123 RBIs, 122 runs and 130 walks per year from 1996-99 as he paired up with fellow future Hall of Famer Craig Biggio as part of the Astros' famed "Killer B" threats. Bagwell's biggest disappointment of the decade was likely his failure to produce in the postseason, hitting .128 with no homers in 39 at-bats from 1997-99.
Albert Belle
1990-96, Cleveland Indians; 1997-98, Chicago White Sox; 1999, Baltimore Orioles. Best Year: 1994 (106 games played, .357 average, 90 runs, 35 doubles, 36 home runs, 101 RBIs, 1.152 OPS)
Baseball's enfant terrible of the 1990s, the burly, scowling Belle constantly made news—not always for the right reasons. A recovered alcoholic who changed his named from Joey to start the decade, Belle threw baseballs at fans and photographers, chewed out dugout reporters and fans who returned home run balls to him, viciously fore-armed defenders trying to tag him out, and was caught using a corked bat—though he had the backs of his teammates, one of whom tried to sneak the bat away from the umpires' locker area by crawling through the ballpark ducts. Sometimes, Belle's controversies were not of his own making; his blockbuster contract with Chicago in 1997 left the other owners so infuriated with White Sox lord Jerry Reinsdorff—who had been preaching the virtues of financial restraint amid management's ongoing, contentious battle with players on collective bargaining—that they quickly made a deal with the union. But when Belle was behaving with the bat, he was arguably the decade's most prodigious slugger. He averaged nearly 40 homers a year in his full-time campaigns of the 1990s, knocked in over 100 runs each season from 1992-99 (yes, that includes the strike shortened 1994-95 seasons) and in 1995 became the first (and still, only) major leaguer with 50 doubles and 50 home runs—a feat all the more remarkable given he did it in a season shortened by 18 games due to work stoppage. The two-baggers particularly flowed for the five-time All-Star; he hit four in a game twice in 1999, just one month apart. But Belle's legacy as a troublemaker, fairly or unfairly, trumped that of his awesome hitting talent; his surly attitude undoubtedly led to a quick exit from Cooperstown polling after just one year of eligibility.
Ken Griffey Jr.
1990-99, Seattle Mariners. Best Year: 1997 (.304 average, 125 runs, 185 hits, 56 home runs, 147 RBIs, 76 walks, 23 intentional walks, 15 stolen bases)
"Junior" was the envy of every kid looking to grow up and become a big star like him, not so much for the way he played the game—flashy touches, unworldly play and all—but for the way he loved playing it. Anointed as The Next Big Thing when he arrived in Seattle as a 19-year-old legacy while his father's career wound down, Griffey Jr. gradually met the expectations—then exceeded them starting in 1993 when he smashed over 40 homers for the first of seven times in his career, accentuating the effort by tying the all-time mark of homers in eight consecutive games. In the offensively-mad but ultimately strike-killing campaign of 1994, Griffey Jr. was one of a handful of players making a run at Roger Maris' then-season home run mark, with 32 blasts before the end of June; he finished the year stuck at 40, his first of four home run crowns. In his first postseason appearance in 1995, he complimented the aforementioned Edgar Martinez with a stunning pack of numbers—belting five homers in the Mariners' ALDS triumph over the Yankees, adding another with a .333 average in Seattle's losing ALCS battle against Cleveland. Griffey Jr. closed out the decade in peak form; he won his lone MVP in 1997 by clubbing a career-high 56 homers—matching that total a year later. In 1999, the Mariners' switch from the Kingdome to the more voluminous, outdoor Safeco Field led Griffey Jr. to pause about his future in Seattle as he set his sights on the all-time career home run record; sure enough, he would depart the Northwest for Cincinnati the following season, starting an injury-racked tenure that defined the rest of his career. But Griffey Jr. will always have the 1990s, a decade in which he appeared as an All-Star every year—and not disappointing with 10 hits in 23 at-bats.

Frank Thomas
1990-99, Chicago White Sox. Best Year: 1994 (113 games played, .353 average, 106 runs, 34 doubles, 38 home runs, 101 RBIs, 109 walks, 1.216 OPS)
A massive presence at the plate, the 6'5", 240-pound Thomas lived up to his nickname "The Big Hurt" by inflicting a ton of pain upon opposing pitchers. That he could hit for average and power with great patience is highly reflected in the fact that he holds a major league record producing a .300 average, 20 home runs and 100 runs, RBIs and walks each in seven consecutive years; he managed to achieve that feat despite two strike-shortened seasons (1994-95). Thomas needed no time to warm up to stardom, compiling bruising numbers from the get-go late in 1990; three years later, he won his first AL MVP, and made it two straight a year later when he, like some many others on this list, put up insane numbers worthy of a full season even though he only played 113 games due to the strike. Such remarkable production finally gave the White Sox a no-doubt-about-it, legitimate offensive weapon they had forever lacked, and his existence gave the team playoff aspirations after decades of mediocrity. In the Sox' only postseason appearance of the decade, Thomas did all he could in a six-game ALCS loss to Toronto in 1993—collecting six hits including a home run while walking 10 times to result in a .593 series on-base average. Inexplicably, Thomas was named to only five All-Star rosters and played in only three games—going 4-for-5 with a home run. An amiable personality, Thomas was also discreet when it came to the evolving baseball subject of steroids, willing to speak to authorities more than others in part because he was clean; quite frankly, he was too good to ever feel the need to take them.
Barry Bonds
1990-92, Pittsburgh Pirates; 1993-99, San Francisco Giants. Best Year: 1993 (.336 average, 129 runs, 181 hits, 38 doubles, 46 home runs, 123 RBIs, 126 walks, 43 intentional walks, 29 stolen bases, 1.135 OPS)
For those who continue to trash Bonds as a serial juicer unworthy of Cooperstown, they need to take a good luck at his performance in the 1990s—which was easily HOF-level and clean of steroids until decade's end, when he fumed over the attention being given to Mark McGwire and Sammy Sosa and decided to jump into the PED game. After showing off highly promising but wildly uneven talent in his first four seasons to close out the 1980s, Bonds hit full gear in 1990 as he did it all on offense—hitting over .300 for the first time, belting 33 homers and stealing 52 bases to help revive the Pirates from the recent depths of the dead. But he was also unhappy in Pittsburgh; he grated with crusty Pirates manager Jim Leyland, and he had a tumultuous relationship with the press—a disposition partly generated by how, as a kid, he witnessed reporters treat his father, Bobby Bonds. When most of the Bucs' star players bolted for free agency after 1992, Bonds joined along and found a perfect fortress of solitude in San Francisco, where he was reunited with his father (hired as the Giants' hitting coach) and godfather/Giants legend Willie Mays. The results were immediate, setting decade highs in bat average, home runs and on-base/slugging percentages while leading the Giants to 103 wins (but no postseason, a year before the institution of the wild card). Bonds was one of many players in 1994 on pace for 50 homers when the players began picketing; in time, he'd get to the milestone—and well beyond. But in the meantime, he remained a perennial All-Star threat with few if any peers. That reputation was classically heeded in a 1998 game when Bonds was given an intentional walk with the bases loaded. Bonds' lone failing in the 1990s was October, as he collectively hit a weak .200 with a single homer and five RBIs in 80 postseason at-bats. (His teams lost all four series he played in.) That, too, Bonds would correct in the next decade.