The 10 Best Hitters of the 2000s
In a decade dominated by steroid accusations and admissions, some of these 10 hitters did it cleanly. Some of them.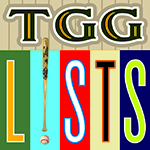 Hitting in big-league baseball has always been at the mercy of the rules, the culture and the times, producing a parabolic swing of momentum from the low ebbs (the Deadball Era), to the acmes (the birth of the live ball). But as the offense hit peak level in the 2000s, it came with unprecedented controversy; players past and present began to unzip their lips and expose the scourge of steroids spreading across Major League Baseball like an invasive species. MLB, which had dragged its feet and looked the other way on the topic, had no choice but to enact enforcement, feeble as it initially was. 
On the list that follows, there are five players who either admitted to or were caught using performance enhancing drugs to improve their game during the decade. We make no apologies for including them here, as much as some may gnash their teeth in response; the numbers are the numbers, and so these players must include mentioning, whether they did it cleanly or illicitly. 
Jim Thome
2000-02, Cleveland Indians; 2003-05, Philadelphia Phillies; 2006-09, Chicago White Sox; 2009, Los Angeles Dodgers. Best Year: 2002 (.304 average, 101 runs, 52 home runs, 118 RBIs, 122 RBIs, .677 slugging percentage)
Few sluggers of the time wielded more confidence with raw power than Thome, whose numbers may have gotten lost in the limelight of some of the decade's other incredible performances—but they weren't certainly lost on teammates or fans of his teams. The left-handed first baseman began the decade in peak form with his original team, the Indians—and in 2002 had his best year ever, poking out a career-high 52 home runs, including one in each of seven straight games to fall one short of the all-time record. His likeable character and charitable touch outside the lines also led to his being granted with that year's Roberto Clemente Award. A free agent, Thome left Cleveland for Philadelphia, where he signed a six-year, $85 million contract—but he lasted only three years with the Phillies, the last of which was an injury-marred campaign that led to his being traded to the White Sox. His first year in Chicago was his last superb effort, hitting the triple-triple (100 runs, RBIs and walks each) for the eighth and final time of his career, while his 42 homers was his sixth and last collection of 40-plus. Tailing into his late 30s to close out the decade, Thome struggled to get his bat average over the .250 mark but remained potent with his power and patience, still generating more than the average share of home runs and walks. He would eventually finish his career with a whopping 612 round-trippers, granting him easy access into the Hall of Fame.
Vladimir Guerrero
2000-03, Montreal Expos; 2004-09, Anaheim Angels/Los Angeles Angels of Anaheim. Best Year: 2002 (.336 average, 106 runs, 206 hits, 37 doubles, 39 home runs, 111 RBIs, 84 walks, 32 intentional walks, 40 stolen bases)
It seemed a bit of a contradiction for a ballplayer with one of the game's most undisciplined-looking swings to put up some of its most disciplined numbers—a combination about as likely as a guy from the Dominican Republic being named Vladimir. But with a murderous upper-cut swing that gave him power and a .318 lifetime average while never striking out 100 times in a season, Guerrero bucked the contrast and developed into a fearsome, Hall-of-Fame slugging presence. He began the decade playing in relative anonymity in Montreal with an Expos team on life support as contraction talks spread; it was in these years that Guerrero put up his most complete numbers, hitting a career-high .345 in 2000 and then, in 2002, falling just one homer shy of joining the exclusive 40-40 club (40 homers, 40 steals). After an injury-shortened 2003 campaign, Guerrero entered free agency and left the Expos—who had nowhere near the money he probably would have demanded—and came to Anaheim, where he made an immediate impact in 2004 with an out-of-body last week of the season (14-for-25 with six homers) to lift the Angels into the postseason and cap an overall MVP effort (.337, 39 homers, 126 RBIs). A seven-time All-Star during the 2000s, Guerrero remained a tough out through to end of the decade while his power remained intact; he won the Home Run Derby at San Francisco in 2007 with a top drive of 505 feet—landing in the vicinity of the giant glove behind AT&T Park's left-field bleachers.
Lance Berkman
2000-09, Houston Astros. Best Year: 2006 (.315 average, 95 runs, 45 home runs, 136 RBIs, 98 walks, 22 intentional walks, 1.041 OPS)
Nicknamed the Big Puma for his hefty (yet quite agile) frame, Berkman was clearly one of the decade's more underrated performers, a consistent presence in a vaunted Houston lineup that included fellow "Killer B" vets Jeff Bagwell and Craig Biggio. The five-time All-Star averaged 32 homers per year, knocked in 100 or more runs six times and scored 100-plus another five times—all while hitting an even .300. Some would suggest that playing in a hitters' park aided Berkman's numbers, but his away numbers were frequently just as strong as those at Minute Maid Park—where, as a left-handed slugger, he didn't have the advantage of aiming for a closed-in bleacher structure in right field, like the Crawford Boxes in left. Voters never bestowed an MVP upon Berkman, but gave him enough love to five times list him in the top five during the 2000s. He was no less dangerous during the postseason—hitting .312 in 25 games with six homers and 20 RBIs. An outgoing personality sometimes prone to outspoken statements, Berkman was active in the Houston community, especially with helping out underprivileged kids. But such charity, on top of his terrific numbers, wasn't enough to woo Hall-of-Fall voters who stunningly gave him an anemic 1.2% of the vote in his first year on the ballot—knocking him out of any future eligibility in the general vote.
Jason Giambi
2000-01, 2009, Oakland A's; 2002-08, New York Yankees, 2009, Colorado Rockies. Best Year: 2001 (.342 average, 109 runs, 47 doubles, 38 home runs, 120 RBIs, 129 walks, 24 intentional walks, 1.137 OPS)
A solid player to end the 1990s, the gregarious Giambi exploded into the new decade, putting up incredible numbers from 2000-01 with the A's that included sharp hitting (.338 average), power (81 homers), clutch efforts (257 RBIs) and a great eye for the strike zone (266 walks); his 2000 campaign, in particular, earned him the AL MVP. In the wake of that destruction, the free-agent Giambi left penurious Oakland and signed a seven-year, $120 million deal with the deep-pockets Yankees—the brick wall that he and the A's kept running into during the postseason, despite his best efforts (10-for-31 with a home run and 11 walks in two failed divisional series against New York). With the Yankees, Giambi initially retained the superstar numbers, but his average dropped 60 points to .250 in his second year—and then things really got worse. He admitted to a grand jury that he had taken PEDs for three years through the drug supplement outfit BALCO and Greg Anderson, who was also trainer to Barry Bonds. His testimony was the first to leak, setting off a cascade of scandal that eventually forced baseball to begin steroid testing of its players; the news so infuriated Yankee owner George Steinbrenner that he considered voiding Giambi's contract. Looking noticeably lighter when he arrived at spring training in 2005, Giambi apologized—though for what, he never made clear. The rest of the 2000s saw Giambi wobble through some good years and bad, unable to rekindle the spark of his early-decade greatness—though that was hardly surprising given he was aging into his late 30s while put on notice by MLB's newfound steroid police.
Manny Ramirez
2000, Cleveland Indians; 2001-08, Boston Red Sox; 2008-09, Los Angeles Dodgers. Best Year: 2000 (118 games played, .351 average, 92 runs, 34 doubles, 38 home runs, 122 RBIs, 86 walks, 1.154 OPS)
Like many of the hitters on this list, the Dominican-born slugger whose baggy presence always looked like he was wearing a uniform and helmet one size too large had sensational power but also batting champion-worthy averages; he hit a career-high .351 in the first year of the decade—and his last in Cleveland—while averaging more than one RBI per game through his final three seasons for the Indians. Ramirez's consumptive thirst for productivity continued at his next step in Boston—as did his flaky, problematic attitude, which included occasional mental lapses, refusals to pinch hit or play a certain position, and exaggeration of injuries. But teammates, coaches and writers summed it up as "Manny being Manny" because they tolerated his tremendous hitting talent. Pairing up with fellow Red Sox bopper David Ortiz, Ramirez helped deliver Boston its first two World Series trophies since 1918 with triumphs in 2004 and 2007—hitting .364 with six homers and 27 RBIs over 28 postseason games during those two campaigns. But his act continued to try the patience of the Red Sox; he was nearly traded one-up for Alex Rodriguez before 2004 (the union said no because it would reduce Rodriguez's salary) and he and his $20 million annual salary were put on waivers shortly thereafter—with no takers.
By 2008, Ramirez's passive-aggressive routine had become less passive, more aggressive; he engaged in fights with teammate Kevin Youkilis and the team's 64-year-old traveling secretary, faked injuries, and got a vote of no confidence from 23 of 24 teammates who were polled by the media. Inevitably he was dealt to the Dodgers—where like a free man he exploded with a .396 average, 17 homers and 53 RBIs in 53 games to win over the fans at Chavez Ravine. But the joy was short-lived; in early 2009, Ramirez was suspended 50 games for using a female fertility steroid and, combined with a second suspension in 2011—on top of being included on the leaked list of players who tested positive in 2003—the legitimacy of essentially his entire career has been thrown into doubt.

David Ortiz
2000-02, Minnesota Twins; 2003-09, Boston Red Sox. Best Year: 2007 (.332 average, 116 runs, 182 hits, 52 doubles, 35 home runs, 117 RBIs, 111 walks, 1.067 OPS)
Ramirez's partner in crime during Boston's long-overdue rise to the winner's platform, Ortiz secured the nickname Big Papi because (1) he was big and (2) he was emerging as the father figure in the Red Sox clubhouse. (This paternal support of his teammates leaves many to assume that he was the only one of the 24 players above who vouched confidence for Ramirez in 2008.) A member of the Twins to start the decade, Ortiz looked on the verge of becoming nothing more than a part-time slugger struggling with consistency, but when he came on board with the Red Sox in 2003, he found his groove—hitting 27 of his 31 homers during the season's second half. This came in the midst of a gradual and impressive ascent in home run production over a seven-year period that began with 10 in 2000 and peaked in 2006 when Ortiz smacked a career-high and Red Sox-record 54; 47 of those came as a designated hitter to set a major league record, and 32 were hit on the road—tying Babe Ruth's 1927 mark. Although Dave Roberts gets much of the fanfare for his stolen base igniting the Red Sox' unprecedented comeback from three games down to beat the Yankees in the 2004 ALCS, it was Ortiz who finished the job—hitting a walk-off homer to win Game Four, a walk-off single in Game Five, and opening the scoring with a two-run shot in the decisive Game Seven.
After five years of prime output from 2003-07—hitting .302 with an annual average of 42 doubles, 42 home runs, 128 RBIs and 95 walks—Ortiz experienced a noticeable decline in the decade's last couple of seasons as he aged into his 30s and no longer had Ramirez as lineup protection; he was also scarred by revelations that, like Ramirez, his name appeared on the 2003 list of major leaguers testing positive for steroids. This made his return to top form early in the 2010s all the more remarkable—likely clinching his ticket to Cooperstown, even in spite of the steroids evidence.
Todd Helton
2000-09, Colorado Rockies. Best Year: 2000 (.372 average, 138 runs, 216 hits, 59 doubles, 42 home runs, 147 RBIs, 103 walks, 1.161 OPS)
The Tennessee native was the latest—and most accumulative, by career—Rockies star to get a statistical lift from the mile-high atmospherics of Denver's Coors Field, hitting a lifetime .345 at home over 17 seasons in a Colorado jersey. Helton was never better than the first couple years of the 2000s, winning his lone batting title in 2000—hitting over .400 through late August—along with career highs in hits, doubles and RBIs (see above); in 2001, he smacked a personal-best 49 homers and became the first and only major leaguer to amass over 400 total bases in back-to-back seasons. He remained dangerous through the decade's first five years, winning the Silver Slugger award for NL first baseman from 2000-03, making the All-Star team from 2000-04, and nearly winning his second batting title in 2003 (he finished a point behind Albert Pujols). The last half of the decade marked a peculiar change in Helton's output, as his home run numbers shrank from the 30-40s to the mid-10s, though his batting averages remained over the .300 mark while continually pounding out 40-plus doubles a year. It's thought that back issues and the Rockies' activation of the humidor at Coors Field had much to do with it—but Helton also had to furiously deny steroid accusations from no less than the team's own broadcaster (Wayne Hagin), who said that Colorado manager Don Baylor tried to talk Helton off PEDs because he was too good to be taking them. (Hagin later clarified his remarks, saying that the drug in question was actually a legal supplement.)
Barry Bonds
2000-07, San Francisco Giants. Best Year: 2004 (.362 average, 373 at-bats, 129 runs, 45 home runs, 101 RBIs, 232 walks, 120 intentional walks, 41 strikeouts, 1.422 OPS)
The top player of the 1990s made an incredible bid in the next decade to become the top player of all time—and when Bonds played his last game in 2007, he had made good on the home run title, surpassing Hank Aaron and finishing his career with 762 round-trippers. Bonds circa 2000-04 was, in a word, unbelievable; he set the season home run mark in 2001 with 73, won two batting titles and took the NL MVP in all five seasons (giving him a record eight such trophies for his career), strikingly accomplishing all of this in his late 30s and past 40 when he finished the 2004 season. Perhaps the most eye-opening category of all during this remarkable stretch was that of the walks. By 2004, Bonds' bases-on-balls numbers had grown to an insane level as he forged 232 passes, 120 of which were intentional; both numbers smashed existing records. (Adding perspective, no other player has been intentionally walked more than 45 times in a year.)
Opposing pitchers became so petrified to face Bonds, they didn't even bother—deferring him to first with a free pass even when there was no one on base. Bonds' superhero-like burst of play allowed him to get one monkey off his back, that of his postseason struggles; after continuously bombing in October earlier in his career, he hit .333 in the Giants' run to the 2002 World Series with eight homers, 16 RBIs and 27 walks. But the glory of Bonds' times was tarnished by accusations of steroid use; corralled into testifying at the infamous BALCO trial, he admitted to a grand jury that he took steroids, albeit unknowingly—thinking that the PEDs were, instead, flaxseed oil. (Greg Anderson, his trainer, refused to testify and spent over a year in jail for it.) Historically hostile to reporters after what his father went through as a ballplayer, Bonds became even more belligerent as the press pressed him on the allegations. In 2005, Bonds suffered a knee injury and never returned to the form of his early-decade dominance—but he was still dangerous, and still commanded respect from opponents who continued to walk him. Yet the steroid revelations have left a massive stain on his career.

Albert Pujols
2001-09, St. Louis Cardinals. Best Year: 2003 (.359 average, 137 runs, 212 hits, 51 doubles, 43 home runs, 124 RBIs, 79 walks, 1.106 OPS)
From the word go, Pujols played the decade as a no-can-do-wrong All-Star of the highest order, setting baseball on fire as a rookie in 2001 with a .329 average, 37 homers and 130 RBIs; he would go on to become the only player to finish the first 10 years of his career hitting at least .300 with 30 homers and 100 RBIs in each. The 2000s would indeed become the Pujols Decade in St. Louis; he was a three-time MVP and runner-up in three other years—including a 2002 season that was his only campaign of the decade without All-Star representation. Pujols was tough to whiff, striking out over 70 times only once (93, in his rookie season). He was tough to retire, period—leading all hitters in the 2000s with a .334 average, barely edging out Ichiro Suzuki's .333 mark. He was powerful, setting career highs in 2006 with 49 homers and 137 RBIs despite missing 19 games. And he was a leader, forging the Cardinals to six divisional titles, two pennants and a world title in 2006—hitting .322 with 13 home runs in 56 postseason games. Laser focused with just enough of a scowl to unnerve opposing pitchers, Pujols was hardly animated on or off the field—and any talk of steroid usage was immediately trashed; his bigger scandal, such as it was, was whether he had fudged his birth date. Thought to be The One to bring down Bonds' home run record, Pujols' game would depreciate immediately with his move to Anaheim following the 2011 season, but his Hall-of-Fame credentials seem to be quite in order.
Alex Rodriguez
2000, Seattle Mariners; 2001-03, Texas Rangers; 2004-09, New York Yankees. Best Year: 2007 (.314 average, 143 runs, 54 home runs, 156 RBIs, 95 walks, 24 stolen bases, 1.067 OPS)
It only seems fitting that in a decade dominated by steroid-using cheats, A-Rod takes the top. As the new millennium dawned, the 24-year-old Rodriguez had already built up a remarkable resume with the Mariners by gathering up a batting title (1996), a 40-40 season (1998) and three All-Star appearances. But privately and publicly, he detested Safeco Field, the new Mariners ballpark that was far more pitching-friendly than the bandboxed Kingdome. His 2000 numbers backed up the frustration; on the road he hit .356 with 28 homers, while at Safeco he could only muster a relatively paltry .272 mark with 13 dingers. It was the perfect time for Rodriguez to achieve free agent status; he split from Seattle and inked a humungous, record-setting 10-year/$252 million deal with the Rangers—saying he wanted to play for a winner. While Rodriguez put up the most prodigious numbers of his career with Texas, the team consistently finished below .500—in part because there was little available payroll left to build a playoff-worthy team around him.
To sever the dilemma, the Rangers after 2003 traded Rodriguez to New York, where he would play for an annual contender—yet was also forced to co-exist with the city's intense media that tested his cool but curiously calculating persona. Rodriguez's first five years with the Yankees was a mixed bag of success, with some scorching numbers soured by poor clutch play—particularly in the postseason. Suddenly in 2009, Rodriguez's carefully crafted world came apart; that February, a Sports Illustrated reporter released a book exposing evidence that A-Rod had taken steroids all the way back to his high school days. Cornered, Rodriguez confessed that he had, in fact, taken PEDs during his Rangers days out of immense pressure to live up to his massive contract, but few believed that his steroid usage was limited to that short tenure. Such shaky credibility would be utterly blown apart in 2013 when he was inexplicably caught up in the Biogenesis scandal. The sum of the PED parts virtually cast the cleanliness of Rodriguez's 2000s numbers—which included a stunning 435 homers, three MVPs and eight All-Star appearances—into serious doubt.