The 10 Best Hitters of the 2010s
Good guys with great numbers and all-around productivity dominate this list.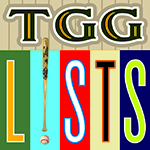 After several decades in which baseball's top players were soaked in scandal and screw-you attitudes, we finally come to the 2010s and a refreshing change of pace. A kinder, gentler culture prevailed in major league clubhouses, with players keeping team chemistry upbeat while stiff-arming the chemistry of steroids; with one notable exception, this list is a solid reflection of that mindset. 
What's also eye-opening is that while 30% of all major leaguers were foreign-born, all but one player on this list are natives of either the U.S. or Canada. And of those nine domestic performers, three of them are African-Americans. This is not an insensitive shot at the game's healthy inclusiveness of players from all nations, but an encouraging sign that North America still knows how to churn out great baseball quality, if not quantity.
Giancarlo Stanton
2010-17, Florida/Miami Marlins; 2018-19, New York Yankees. Best Year: 2017 (.281 average, 123 runs, 59 home runs, 132 RBIs, 85 walks, .631 slugging percentage)
The bruising slugger listed 6'6" and 245 pounds, but he looked even bigger to opposing pitchers who surrendered his tape-measure homers and searing line drives that seemed to leave permanent dents in padded outfield walls. The question wasn't whether Stanton beheld massive power, but whether the sky would be the limit in wielding it. Turns out, that limit would not be sky but health, as constant injuries kept him out of action an average of 40 games per season throughout the 2010s. Despite these major chunks of absences, Stanton still outhomered all but two players (Nelson Cruz and Edwin Encarnacion) for the entire decade. With his early successes and unlimited potential, it seemed a matter of time before the low-budget, small-minded Marlins would do what they did best: Trade their hot star for a cache of prospects before he became too expensive. Instead, they stunned everyone after the 2014 season by giving him, at the time, the richest pro sports contract ever at $325 million over 13 years. Stanton justified the lucrative deal in 2017 when, playing pain-free, he won the NL MVP with a thundering 59 homers. But new Marlins ownership, led by former Yankees legend Derek Jeter, wanted to tear the roster down and start from scratch, meaning Stanton and his massive contract had to go; they found a taker in the cash-flush Yankees, eager to add the slugger as a final puzzle piece back toward championship glory.
Mookie Betts
2014-19, Boston Red Sox. Best Year: 2018 (.346 average, 129 runs, 180 hits, 47 doubles, 5 triples, 32 home runs, 80 RBIs, 30 stolen bases, 81 walks, 1.078 OPS)
In sharp contrast to the overpowering Stanton, the 5'9", 175-pound dynamo represents the Little Train that Could Do It All on this list. His exemplary fielding skills aside since this is a column celebrating hitting, Betts showed off his myriad of offensive attributes after joining the Red Sox at mid-decade. He claimed a batting title in his 2018 MVP season, hitting .346 in leading the Red Sox to their fourth world title of the century. He was a master of the long hit, collecting at least 40 doubles per season from 2015-19 while hitting for the cycle in a 2018 contest. He showed off unexpected power by hitting three home runs in a game five times before turning 27—shattering the previous Red Sox record of three held by Ted Williams. And he flew about the bases like a strong gust of wind, stealing 126 bases—including 37 without once getting caught against left-handed pitchers, who normally have the natural advantage of keeping baserunners at first base in check. Betts is so gifted an athlete, he's even bowled a perfect 300 three times, and has participated in Professional Bowlers Association events. Betts became the Red Sox' heir apparent to David Ortiz as the vox populi favorite at Fenway Park—and then he got traded to the Los Angeles Dodgers for 2020.
Ryan Braun
2010-19, Milwaukee Brewers. Best Year: 2011 (.332 average, 109 runs, 187 hits, 38 doubles, 33 home runs, 111 RBIs, 33 stolen bases)
Like Betts, Braun was vastly popular in front of his home fans at Milwaukee. But that was early in the decade, when the outfielder continued an amazing run of terrific campaigns that culminated with the 2011 NL MVP and runner-up for the 2012 honor. Then Major League Baseball found that he tested positive for steroids. Braun denied it and attacked the sample tester's credibility and motive (suggesting it was an anti-Semitic snipe at Braun, who is Jewish), all before the union got him exonerated on a technicality. The role of vindicated victim was well played by Braun until 2013, when smoking gun evidence placed him at the center of the Biogenesis steroids scandal that also claimed Alex Rodriguez and Nelson Cruz. With nowhere to spin, Braun recoiled, humbly accepted a 65-game ban and, upon his return in 2014, was drowned out by boos—including some from understandably upset Brewers fans. The post-Biogenesis Braun was a decidedly more muted one, not only in terms of personality but also performance; he went from great to good, though still effective enough to be a counted-on component of the Brewers' offense. Highlights of this period included his lone three-homer effort—ironically, in his sixth game back after serving the Biogenesis suspension—and an All-Star Game appearance (the sixth of his career) in 2015. Braun's postseason numbers for the decade pretty much mirror his regular season effectiveness: Brilliant (17-for-42, two homers, 10 RBIs) before Biogenesis, fair (13-for-46, no homers, four RBIs) after.
Freddie Freeman
2010-19, Atlanta Braves. Best Year: 2017 (117 games played, .307 average, 84 runs, 35 doubles, 28 home runs, 71 RBIs, 65 walks, .989 OPS)
When the topic of future Braves stars came up at the start of the 2010s, all eyes were cast upon Jason Heyward, who was compared by some as the second coming of Willie Mays. While Heyward never came close to matching such unfair expectations, the true new star emerged in Freeman, who looked like, played as and personified a rock through an oscillating decade in which the Braves started strong, weakened through a rebuild and came back to power by 2018-19. It could be argued that the durable first baseman is the most underrated on this list; year in and year out during the 2010s, he produced consistently solid numbers with little fanfare or memorable moments. But he wasn't lost on fans and peers who voted him four times to the All-Star Game, nor BBWAA voters who placed him in the top 10 of the NL MVP count another four times. A shot at a career season in 2017 to garner more attention failed to materialize when Freeman missed nearly two months to a wrist fracture; a full season played at his productive pace could have netted him 50 doubles and 40 homers to go with a .300-plus average. And when he did set career highs in 2019 with 38 homers, 121 RBIs and 113 runs scored, most of the attention regarding the Braves was focused instead on flashy young star Ronald Acuna Jr. Yet Braves fans and teammates full well know the value of Freeman's existence within the organization as one of its all-time top players.
Andrew McCutchen
2010-17, Pittsburgh Pirates; 2018, San Francisco Giants, 2018, New York Yankees; 2019, Philadelphia Phillies. Best Year: 2012 (.327 average, 107 runs, 194 hits, 31 home runs, 96 RBIs, 70 walks, 20 stolen bases)
Talented and compact with five-tool potential, McCutchen represented the Great Hope for Pirates fans starved for just anything over .500 after endless years of continuous losing—and he helped to deliver, if even in the short term. The Florida-born outfielder sparkled from the start and only got better, revving into MVP form starting in 2012; he finished in the top five in voting in each of the next four years, winning the honor in 2013 with a .317 average, .404 on-base percentage, 21 homers and 27 steals. McCutchen's rise to stardom coincided with the Pirates' escape from a record 20 years of sub-.500 results, earning postseason berths from 2013-15; though he hit well (.321) over eight total playoff games, he failed to knock in a single run—perhaps a consequence of a lackluster Pirates offense that otherwise batted .202. A favorite of teammates, fans and the community, McCutchen was smartly rewarded with a rare long-term (six years, $51 million) contract offering from the penurious Pirates before 2013; his departure from Pittsburgh, via a trade to San Francisco in 2018 after signs of a career downturn, left the Bucs' clubhouse without a spiritual team leader—something plainly apparent when the team descended into turmoil within two years. Beyond all of the above, McCutchen's legacy in Pittsburgh is set in that he's on the franchise's top 10 list for a myriad of offensive categories, including home runs, walks and steals—no easy feat given the rich heritage of Pirates hitters through the years, from Wagner to Waner to Kiner to Clemente to Bonds.

Nolan Arenado
2013-19, Colorado Rockies. Best Year: 2019 (.315 average, 102 runs, 185 hits, 41 home runs, 118 RBIs)
In our review of the best hitters of the 2000s, we lauded Todd Helton and his current designation as Mr. Rockie. We stress the word "current" because Arenado, the energetic Colorado third baseman, could very well take over that mantle if he keeps up his 2010s productivity well into the 2020s. And it's not like he's leaving anytime soon; in 2019, he signed an eight-year extension worth a whopping $260 million. (Yes, there is an opt-out clause along the way—but would you leave Coors Field?) It's easy to see why Arenado has earned this value; this past decade, he three times led the NL in home runs, twice in RBIs and from 2015-19 averaged 40 homers and 124 RBIs while staying healthy despite his otherworldly, death-defying play at third which made him a Gold Glove winner at the position in every year. Additionally, he set the Rockies' record with a 28-game hit streak in 2014, homered in six straight games (another franchise mark), and was dangerous in the clutch by hitting .332 with runners in scoring position—something quite underscored when he became the first player ever to belt a come-from-behind, game-winning homer to complete a cycle in a 2017 game against San Francisco. Of course, any expert trying to dig deep into the weeds of Arenado's effectiveness will rush headlong to the splits and see what he's done at Coors Field versus on the road—and while he hit 60 points higher at mile-high Denver, his power remained potent on the road, averaging 30 homers per 162 games played at sea level. His restless disposition at the plate is due to his being afflicted with ADHD (Attention Deficit Hyperactivity Disorder), which surely hasn't affected his performance.
Paul Goldschmidt
2011-18, Arizona Diamondbacks; 2019, St. Louis Cardinals. Best Year: 2015 (.321 average, 103 runs, 182 hits, 38 doubles, 33 home runs, 110 RBIs, 118 walks, 21 stolen bases)
The lumbering, easygoing first baseman was the offensive prime mover for a wavering Arizona team struggling to find its footing throughout the decade. Constantly hitting just south or north of .300, Goldschmidt added power with 30-plus homers five times during the decade, 100-plus RBIs three times, 100-plus runs scored four times, and 100-plus walks twice. He also had deceptively good speed for a guy whose physical appearance otherwise suggested lead feet; in 2016, he stole a career-high 32 bases. The Diamondbacks surely got their money's worth out of Goldschmidt, somehow getting him to agree to a team-friendly, five-year, $32 million deal in 2014. The ease of Goldschmidt's productivity, combined with his relative incognito nature, may have actually hurt him in the MVP vote; twice he finished runner-up for the NL honor (2013 and 2015) and placed third and sixth in 2017 and 2018, respectively. A six-time All-Star, Goldschmidt's play upheld the love between him and the fans at Chase Field—which made it all the more biting when the Diamondbacks, fearful on the eve of a big payday for their star player, traded him to the Cardinals in 2019. Though Goldschmidt's average took a tumble (to .260) in his first year at St. Louis, his muscle did not—making his presence felt in just his second game for the Redbirds with a three-homer performance, the second of his career.
Joey Votto
2010-19, Cincinnati Reds. Best Year: 2017 (.320 average, 162 games played, 106 runs, 34 doubles, 36 home runs, 100 RBIs, 134 walks, .454 on-base percentage)
At first glance, you might think the Reds had a Goldschmidt clone in Votto, a somewhat big and muscular first baseman who pretty much provided the offensive glue at Cincinnati for the bulk of the decade. But look closer, and you'll quickly discover that the Toronto native is not quite the carbon copy; he walks even more (almost to a fault) and, when you least expect it, he'll show off a razor-sharp edge—as a front-row Cincy fan alarmingly found out in 2016 when the six-time All-Star angrily tugged at his shirt after interfering on a foul pop-up. Votto started the decade hot, winning the NL MVP with a .324 average and career highs in 37 homers and 113 RBIs; seven years later, he barely lost a shot at a second honor when Giancarlo Stanton edged him in the vote, 302-300. Reaching base was not a problem for Votto; seven times during the decade, he led the NL in on-base percentage as no one accrued more bases on balls. He safely reached base 48 consecutive times in 2015 to tie Pete Rose's team record, and two years later ran up another streak of 19 games in which he reached at least twice—just one game shy of Ted Williams' all-time mark. Some believed that Votto's preponderance of walks was a result of being too patient at the plate—but the Reds, who made a liberal habit of dealing away star players throughout a topsy-turvy decade, saw his value as too immense to trade on, even as they were paying him a franchise-record contract of $225 million over 10 years.

Miguel Cabrera
2010-19, Detroit Tigers. Best Year: 2013 (.348 average, 103 runs, 193 hits, 44 home runs, 137 RBIs, 90 walks, 1.078 OPS)
There may have been no better pure hitter in the 2010s than Cabrera, who wielded a bit of pudge within his frame but also exhibited excellent discipline that led to plenty of hits—both of the short and long variety—without succumbing to prodigious strikeout numbers as so many others of his time seemed to do without care. Cabrera began the decade in peak form, in the best and worst of ways; his productivity at the plate was in excellent shape, but unfortunately so was his productivity at the bar. He finally sobered up after a reckless sequence during spring straining 2011 nearly cost him his life—to say nothing of others desperately trying to swerve out of his way on a Florida road. 
At bat, the question was not whether the Venezuelan native would win a triple crown, but when; after placing within the top three in batting average, home runs and RBIs in 2010, he became the first player in 45 years to top all three categories with a .330-44-139 combination in 2012. A shot at a second straight hat trick fell just short a year later when only the Orioles' Chris Davis surpassed him in homers and RBIs—but it didn't prevent him from winning his second straight AL MVP. What made Cabrera's output even more impressive was that much of came at less than 100%, as he often fought nagging pain; in 2014, neither a stress fracture in his foot nor bone spurs in his ankle kept him from hitting .313 with 25 homers, 109 RBIs and a career-high 52 doubles. Throughout the decade's first seven years, Cabrera collectively hit .330 and won four AL batting crowns; only four other AL players—Ty Cobb, Rod Carew, Ted Williams and Wade Boggs—have won more. The aches and pains finally appeared to catch up to Cabrera toward decade's end as his numbers began to decline.
Mike Trout
2011-19, Los Angeles Angels. Best Year: 2007 (.314 average, 143 runs, 54 home runs, 156 RBIs, 95 walks, 24 stolen bases, 1.067 OPS)
The answer: Matt Hobgood, Bobby Bochering and Jiovanni Mier. The question: Name three players drafted ahead of Mike Trout in 2009. They're just three of 24 players who all got opted for before the Angels snatched the wunderkind from Millville Senior High School in New Jersey. And while some of the others we didn't name have gone on to have pretty good major league careers—Stephen Strasburg, Zack Wheeler and A.J. Pollock among them—you can damn well bet that if any of those teams picking ahead of the Angels had to do it all over again, they'd pick Trout in a heartbeat. And why not? The question is not what Trout could do—it's what he couldn't do, as he marveled at the plate, on the basepaths and in the field as an outfielder continually stealing home runs from opponents.
Trout initially struggled in a late-season call-up in 2011—but he was 19 and still learning the ropes of pro baseball. Just a year later, he got it all figured out—stunning with a .326 average, 30 homers, 129 runs and 49 steals. He only got better from there; though he didn't dominate the top of the leaderboards as other Best of the Best applicants of other generations, the collective sum total of Trout's offensive presence clearly made him the decade's preeminent player. That he only won two AL MVP awards (he finished runner-up five times) might have been explained by his presence on an Angels team that made little headway in the pennant races of the 2010s. But that he was also productive with relatively light protection in the lineup—with all due respect to a fading Albert Pujols—made his numbers even more remarkable. All the congenial, clean-cut Trout wants to do is play baseball—don't bother him for endorsements, as frustrated MLB marketing execs have found out—and no one played it better in this decade.