The 10 Best Pitchers of the 1990s
These pitchers somehow managed to stay immune—and actually excel—in a time of increasing offensive dominance.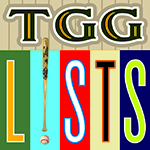 You had to be really special to be a top pitcher in the 1990s, because everyone else was getting flattened by sluggers who went "boom" in an offensively rich decade. After a few years to start the 1990s, with the pitcher-hitting equilibrium of the previous decade intact, the hitters took over and dominated—leaving pitchers submissively ducking for cover at a rate not seen since the 1920s and 1930s. Two rounds of expansion, which typically leads to more offense, didn't help. 
The 10 performers on the list that follows seemed largely resistant to the massive upswing in hitting, pitching as if from another era. It certainly left the stars they faced to drop their bat, tip their cap and patiently wait for the more mortal pitchers to pounce on.
Doug Drabek
1990-92, Pittsburgh Pirates; 1993-96, Houston Astros; 1997, Chicago White Sox; 1998, Baltimore Orioles. Best Year: 1990 (2.76 ERA, 22 wins, 6 losses, .786 win percentage, 9 complete games, 231.1 innings)
The Pirates have never been known for pitching legends—not a single pitcher who played the majority of his career with the Bucs is in the Hall of Fame—but Drabek looked to have the trajectory to be heavily considered before he rode a busy one-way express out of Pittsburgh. Another youthful giveaway by George Steinbrenner's New York Yankees during the 1980s when that team constantly traded away prospects for win-now veterans, Drabek landed with a Pirates team on an upswing after a dark period burdened by an abundance of losses and drugs. In 1990, the calm southpaw peaked, winning more games than any Pirates pitcher since Bob Friend in 1958, earning the National League's Cy Young Award, and coming within an out of what would have been his lone career no-hitter in an August game at Philadelphia. Drabek remained solid over the next two seasons, winning 15 games each year, as the Pirates began the decade with three straight NL East titles; but although he was exceptional in the three NL Championship Series to follow, his 2.05 earned run average in seven starts could only net him a 2-5 record, a reflection of the Pirates' frustration as they lost all three series. Part of an exodus out of Pittsburgh following the 1992 season that also included the departures of Barry Bonds and Jose Lind, Drabek signed a free-agent pact with Houston and performed admirably—including a Cy Young-level effort in 1994 cut down by the players' strike, though it did lead to his one and only All-Star appearance. In 1995, Drabek began a career slide in which his ERA never came close to sub-4.00 territory; playing in live times at live yards (Chicago's New Comiskey Park and Baltimore's Oriole Park at Camden Yards) didn't help.
Dennis Martinez
1990-93, Montreal Expos; 1994-96, Cleveland Indians; 1997, Seattle Mariners; 1998, Atlanta Braves. Best Year: 1991 (2.39 ERA, 14 wins, 11 losses, 9 complete games, 5 shutouts, 222 innings, 9 home runs allowed)
"El Presidente," as he was known thanks to his Nicaraguan roots, was already in the midst of a career renaissance following an alcohol-fueled detour, pitching some of his best baseball in the early 1990s. Using a terrific curve to set up a "decent" fastball, Martinez was never better than in 1991, when he copped the NL ERA title and threw a perfect game at Los Angeles in late July—part of a memorable weekend series in which, two days earlier, teammate Mark Gardner had a no-hitter through nine before giving up two hits in a 0-0 tie in the 10th. That Martinez only posted a 14-11 record that year had more to do with a lack of support, as the Expos gave him only 3.48 runs per start. After two more solid seasons with Montreal, Martinez moved on to Cleveland where he absorbed the intense momentum the Indians were enjoying with a virtual All-Star lineup and new ballpark; he was one of many aging (but still productive) veteran starters who delivered, recording a 32-17 record from 1994-96. In the Indians' run to the 1995 World Series—Martinez's first postseason participation since 1979—he started five October games at age 41 and posted a fine 2.73 ERA despite a 1-2 record. The fine wine-like stretch of superb pitching finally turned sour when stints with the Mariners and Braves showed a well-liked pitcher finally on the decline—but his 245 career wins remained a record among Latino pitchers until Bartolo Colon surpassed him in 2018.
Kevin Appier
1990-99, Kansas City Royals; 1999, Oakland A's. Best Year: 1993 (2.56 ERA, 18 wins, 8 losses, 238.2 innings, 186 strikeouts, 8 home runs allowed)
The California native likely wins the title of the most obscure name on this list, in large part he just missed the boat on the Royals' glory years as the franchise sank into small-market anonymity in the 1990s. Without him, the Royals would have been an annual mess. He began his career in style in 1990, sporting a sterling 12-8 record and 2.76 ERA; he threw a one-hit shutout at Detroit, giving up a first-inning, leadoff single to Lou Whitaker and then not allowing another hit the rest of the way. By 1993, Appier was arguably the AL's best pitcher, winning the ERA crown but finishing third in the Cy Young vote. He continued to be tough on opponents throughout the strike years, earning his lone All-Star representation in 1995. In 1998, a torn shoulder muscle forced him to miss most of the season, and he never really recovered; although he remained durable in the seasons to follow, his ERA was never close to that of his early decade output. Tired of the losing and assured by Kansas City management that it would return to winning form, Appier grew angrier as the promise became more hollow with each passing season; by 1999, he demanded a trade and got it, to Oakland. Final tidbit: Appier apparently enjoyed pitching when the sun was out, as his daytime career ERA was a full run lower than his nighttime figure.
Pedro Martinez
1992-93, Los Angeles Dodgers; 1994-97, Montreal Expos; 1998-99, Boston Red Sox. Best Year: 1997 (1.90 ERA, 17 wins, 8 losses, 241.1 innings, 13 complete games, 4 shutouts, 305 strikeouts, .184 opposing batting average)
Debuting as the scrawny little brother of established veteran pitcher Ramon Martinez, Pedro grew up, left the Dodgers (who later kicked themselves for trading him one-up to the Expos for Delino DeShields after 1993), and emerged as a Hall-of-Fame talent with flair to spare—sparking baseball's "I struck you out, I celebrate" movement on the mound. His first eye-opening performance came in 1995 when he threw a perfect game through nine innings at San Diego before giving up a hit to the 28th batter in the 10th inning of a 0-0 game. Martinez remained a promising work in progress, and by 1997 flourished full flower—winning his first of five ERA titles, striking out 305 batters and earning his first of three Cy Young Awards. But it was a bittersweet evolution for Montreal fans, who knew he'd flee via free agency the following winter as the low-budget Expos certainly made no attempt to retain him. Scooped up by the cash-rich Red Sox, Martinez made Boston fans quickly forget about the departure of Roger Clemens a couple of years earlier as he entered the dominant phase of his career that would last into the next decade. In 1998, Martinez's 2.07 ERA was easily the league's best (David Cone was second with a 3.44 figure) while his 13.2 Ks per nine innings remains a major league record even as 20 years of increased strikeout frequency have followed. Martinez couldn't help get the Red Sox over the hump to championship status, but it wasn't without effort; in four postseason appearances from 1998-99, he was 3-0 with a 1.13 ERA. The only reason he's not higher on this list is because his greatness was split into two decades—so expect to read more about his exploits on the 2000s list.
Mike Mussina
1991-99, Baltimore Orioles. Best Year: 1992 (2.54 ERA, 18 wins, 5 losses, .783 win percentage, 241 innings, 4 shutouts)
The Orioles were popularized in the 1990s because of Cal Ripken Jr.'s amazing consecutive game streak, the debut of the trendsetting Oriole Park at Camden Yards and a prodigious offense epitomized by "huh?" efforts like Brady Anderson's 50 homers in 1996. But Baltimore's most underrated asset had to be Mussina, the right-hander from Williamsport, Pennsylvania who made little leaguers out of many major league opponents from the mound. Dominance would not be the first word to come to mind when describing Mussina—but he was certainly one of the most reliable and durable of the decade, always there to give the Orioles a better than fighting chance. In fact, outside of his initial half-season of work in 1991, Mussina never suffered a losing record in the 1990s; even in 1996, when he posted a decade-worst 4.81 ERA , he still managed to post a 19-11 record. (Being given nearly seven runs of support per start had much to do with it.) A five-star All-Star during the decade, Mussina otherwise never basked in baseball's celebrity circles, failing to win a Cy Young Award or ERA crown. More frustratingly, he was repeatedly denied a shot at 20 wins—he was on pace to reach the milestone in both 1994 and 1995, but strike-shortened schedules curtailed his efforts, while in 1996 he had himself to blame when he couldn't win any of his last four starts while stuck at 19; he finally got to 20 in the last start of his final season, pitching for the 2008 Yankees. Despite a superb 273-150 career record, Mussina struggled to earn Hall-of-Fame status until 2019 when the yays outnumbered those nays who felt he was very good, but not great.

Randy Johnson
1990-98, Seattle Mariners; 1998, Houston Astros; 1999, Arizona Diamondbacks. Best Year: 1997 (2.28 ERA, 20 wins, 4 losses, .833 win percentage, 291 strikeouts, .194 opposing batting average)
The tall (6'10"), intimidating presence with a roguish face that would make you think twice of walking near him in a back alley began the decade as a promising but unrefined talent—throwing wildly and accumulating a lot of strikeouts but also a ton of walks (including a career-high 152 in 1991). Like Sandy Koufax and Nolan Ryan before him, Johnson's bumpy early career ride was sprinkled with a few gems—such as his first no-hitter in 1990—but then he learned to think as well as throw, and tossed in a hard slider that kept opponents in knots; the walks and the ERA went down, while his strikeouts and Hall-of-Fame chances went up. From 1993 through the rest of the decade, Johnson furnished a sensational 111-40 record, all with a 1996 back surgery thrown in that limited his activity that season to eight starts. His true dominance hit high stride in 1995, when he won his first of six Cy Young Awards and threw 150 pitches in a victorious 163rd game playoff to give Seattle its first-ever playoff spot. To say that Johnson was valuable to the Mariners that year was a major understatement; they were 27-3 when he took the mound, and 52-65 when he didn't. Johnson became comfortable pitching in the offensive-minded Seattle Kingdome, furnishing a 2.97 ERA during the decade—but really, it didn't matter where he pitched, as an .209 opposing batting average throughout the 1990s would attest. Amid an unusually bad campaign and with free agency looming in 1998, Johnson was sent to Houston after the July 31 deadline, and he quickly found revival by posting a 10-1 record and 1.28 ERA in 11 starts with the Astros. His next stop would be Arizona with the fledgling Diamondbacks, where his best stuff was still yet to come.
Tom Glavine
1990-99, Atlanta Braves. Best Year: 1998 (2.47 ERA, 20 wins, 6 losses, .769 win percentage, 229.1 innings)
It seems almost mind-boggling in this day and age to think of a 300-game winner as underrated, but the unassuming southpaw from Michigan quietly went about his sterling work for a team that featured more than its share of aces. Glavine only suffered one losing record during the decade—a 10-12 mark in 1990 for a 65-97 Braves team on the cusp of a remarkable turnaround, followed by a remarkable reign. From 1991-99, Glavine won 154 games, lost only 75, captured two Cy Young Awards (1991 and 1998) while finishing in the top three in voting three other times, and led (or co-led) the NL in wins four times, including three successive seasons from 1991-93. Like star teammate Greg Maddux, Glavine made an art form of clipping the corners with his deliveries, mixing in a fastball and outstanding curve; he was so good at the framing, umpires looked seduced into giving the strike zone a few extra inches to accommodate his pitches. A six-time All-Star during the 1990s, Glavine found the spotlight upon him no brighter than in 1995—for reasons both good and bad. As the Braves' union rep, he absorbed heavy booing from angry Atlanta fans after the crippling 1994-95 strike, but those same fans vociferously cheered him on at the end of the campaign when he produced eight innings of one-hit shutout ball in Game Six of the World Series over Cleveland to give the Braves their lone world title of the decade. It was the highlight of a bittersweet compilation of postseason pitching for Glavine, who in the many, many October series played by Atlanta during the 1990s furnished a blasé 10-11 record—but with a sharp 3.01 ERA.
Kevin Brown
1990-94, Texas Rangers; 1995, Baltimore Orioles; 1996-97, Florida Marlins; 1998, San Diego Padres; 1999, Los Angeles Dodgers. Best Year: 1996 (1.89 ERA, 17 wins, 9 losses, 3 shutouts, 233 innings, 8 home runs allowed, 0.94 WHIP, 26 grounding into double plays)
The tall, wiry right-hander quiet came upon the scene to start the decade, a solid component of a Texas rotation (with Nolan Ryan getting most of the attention) who became All-Star-worthy in 1992 with a career-high 21 wins. Brown's specialty was a sinking fastball that was difficult for hitters to make solid contact on; when they did, the ball often bounced within the infield, which explains Brown's 232 double play grounders he induced throughout the decade. Surly and not terribly vocal (especially with reporters), Brown left Texas after 1994 and would eventually suit up for four teams over the next five years, all as he developed into a top ace. He was at his peak in 1996 when he set a personal best in ERA and kept his WHIP (walks and hits allowed per inning) below 1.00; he could have easily won another 20 games had the Marlins not scored a miniscule three runs per start on average for him (he had to settle for 17). A year later, Brown threw his lone career no-hitter at San Francisco and lifted the Marlins to a world title—but was one of many star players in Miami who went on the chopping block in the following offseason when Marlins owner Wayne Huizenga severely cut payroll. Brown found himself back at the World Series a year later with the Padres after yet another stellar regular season campaign; again a free agent, the build-up of his resume became too tempting for the Dodgers to ignore, and so they made him the first $100 million player with a seven-year deal that included, among many other perks, the ability to jet his family out from Georgia (with the Dodgers paying the freight) to watch him pitch. Thus began a rocky tenure in Los Angeles that degraded itself through injury and, as revealed in baseball's Mitchell Report on steroids, proof that he began taking PEDs as early as 2000.

Roger Clemens
1990-96, Boston Red Sox; 1997-98, Toronto Blue Jays; 1999, New York Yankees. Best Year: 1997 (2.05 ERA, 21 wins, 7 losses, .750 win percentage, 264 innings, 9 complete games, 68 walks, 292 strikeouts, 27 grounding into double plays)
The Rocket started the 1990s strong before doing an occasional misfire—then refueled for the decade's stretch run, a revival that would later take on a dubious coat of doubt. Clemens won AL ERA titles in each of the decade's first three years, including a 1.93 figure in 1990 that would be the best of his 13-year tenure at Boston. His aggressive, in-your-face attitude was also in peak form—best recalled when he profanely bitched long distance at ALCS Game Four home plate umpire Gerry Cooney, earning an instant ejection in what would be the Red Sox' final game of the year (they got swept by Oakland). Clemens averaged only 10 wins per season from 1993-96, and although limited action due to work stoppages had something do to with it, his invincibility clearly began to show some cracks. The Red Sox certainly noted this and let him pursue free agency after 1996, with Boston GM Don Duquette famously stating that the ace had reached his "twilight." Clemens didn't leave Boston without pitching one more gem; his final win as a Red Sock was a 20-strikeout performance (on 151 pitches) that matched his own record from 10 years earlier. Moving on to Toronto, Clemens pitched as if he had something to prove—and he delivered two of his very finest seasons, furnishing a 41-13 record, 2.33 ERA, 563 strikeouts, two Cy Young Awards and two triple crowns of pitching (leading the AL in wins, ERA and strikeouts) from 1997-98. But the Blue Jays at the time were an anonymous, middle-of-the-road unit—and Clemens, with two years left on a $40 million contract, told the team he wanted a trade, preferably to the Yankees. Almost apologetically, the Jays obliged him—and although he struggled in his first year in New York, he managed to extend a winning streak started the year before to an AL-record 20 before suffering his first Yankee loss. The shine on what would be Clemens' late-career emergence would, years later, be tarnished when Brian McNamee, his trainer from his Toronto days, testified under oath that he began giving Clemens steroids in 1998. It is for this reason that Clemens remains without representation at Cooperstown.
Greg Maddux
1990-92, Chicago Cubs; 1993-99, Atlanta Braves. Best Year: 1994 (1.56 ERA, 16 wins, 6 losses, 202 innings, 10 complete games, 3 shutouts, 31 walks, 156 strikeouts, 0.90 WHIP)
In a decade gone offensively mad, no one defied the physics of the times more than the gifted, baby-faced right-hander. As the hitting escalated, so did Maddux' pitching proficiency—and by the time the offense had reached peaked boom status, Maddux countered with personal numbers that looked lifted from the Deadball Era. To defeat his opponents, Maddux didn't resort to overpowering; in fact, his fastball velocity was a bit below average. But he had a plethora of pitches to choose from and, with pinpoint accuracy that arguably is second to none in major league history, kept hitters guessing—and almost always, they guessed wrong. Maddux never wasted his pitches, as he often went the distance throwing less than 100 pitches; in a 1997 game, he needed only 76 pitches to complete nine innings of work. (This led to the current-day term of a pitcher throwing a "Maddux.") Even if a hitter managed to make contact off Maddux, it was best not to send it back his way or near, as his cat-like reflexes earned him a Gold Glove at the pitcher spot in every year of the decade. Maddux' decade started off humbly, with solid but not spectacular results for the Cubs; once he moved on to the Braves—joining fellow All-Star rotation aces Tom Glavine and John Smoltz to form the decade's most formidable "Big Three"—he began a fantastic stretch of seasons that included the last three of four consecutive Cy Young Awards, four ERA crowns, far fewer walks, and he was always a candidate to win 20 while rarely losing more than 10. The 1994-95 campaigns represented Maddux at his absolute best; he furnished a combined 35-8 record, 1.60 ERA and opposing .201 batting average (along with a .233 on-base percentage). For the Braves' frequent trips to the postseason during the decade, Maddux provided added excellence with a 2.39 ERA over 150.2 innings, but he only got a 10-9 record to show for it as his teammates often failed to support him at the plate.