The 10 Best Pitchers of the 1980s
A decade of sensational debuts is well represented on this list of top pitchers from a robust time for baseball.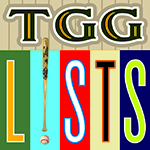 The 1980s were an exciting time for breakout pitchers, young studs who came out of nowhere with explosive performances that invigorated existing fans and created new ones. Many of those pitchers are included on the list that follows, returning us to a time when pitchers and batters were at equilibrium with each other, thanks to a variance of talent on both sides. 
Unlike the previous two decades, the pitchers of the 1980s weren't counted on to labor strenuously through to the ninth with every start; the gradual emergence of the closer was taking care of that. Still, the aces reigned—though efficiency trumped durability. That will explain why Jack Morris, who won more games and threw more innings than anyone else in the decade—but also had a modest 3.66 earned run average—isn't on this list. In fact, our Top 10 is an exercise in filtering through some big names to find lesser ones who are more deserving; it's interesting to note that of the 10 following pitchers, only two are currently in the Hall of Fame.
Bert Blyleven
1980, Pittsburgh Pirates; 1981-85, Cleveland Indians; 1985-88, Minnesota Twins; 1989, California Angels. Best Year: 1989 (2.73 ERA, 17 wins, 5 losses, .773 win percentage, 241 innings, 5 shutouts)
The Netherlands native (by way of Southern California) continued to display his typical workhorse production that stressed quality over quantity—that's the core of point of those arguing against Blyleven's place in Cooperstown. But in this decade, he did show off some top-notch pitching that stifled opponents, making him a top-five applicant for the American League's Cy Young Award three times. The early 1980s was a time of turbulence for the veteran right-hander; he demanded a trade out of Pittsburgh and got one to Cleveland—where he soon wanted out as well. That led him back to Minnesota—where he played his first seven major league seasons back in the 1970s. Wuith the Twins, Blyleven finally felt content, and recovered from a series of injuries that dogged his Cleveland tenure, twice leading the American League in innings pitched while winning three games in the team's 1987 postseason march to its first Minnesota-era world title. As much as he loved being back among the Twins' faithful, he detested the Metrodome—which was primarily responsible for his record-breaking concession of 50 home runs in 1986. (He gave up another 46 a year later.) After an especially atrocious 1988 campaign (10-17, 5.43 ERA), Blyleven was dealt to the one team he could embrace more than the Twins: The Angels, situated within the land he was raised. At age 39, Blyleven responded with, arguably, the most effective effort of his career (see Best Year, above).
Steve Carlton
1980-86, Philadelphia Phillies; 1986, San Francisco Giants; 1986, Chicago White Sox; 1987, Cleveland Indians; 1987-88, Minnesota Twins. Best Year: 1980 (2.34 ERA, 24 wins, 9 losses, .727 win percentage, 13 complete games, 304 innings, 286 strikeouts)
It was undoubtedly a tale of two decades for the aging Lefty, who leveraged his top standing from the 1970s into the new decade before disintegrating as he reached his 40s. Carlton began the 1980s in peak form, becoming the last pitcher to date to throw 300 innings; he added another 27 in four postseason outings—one of which involved 159 pitches— winning three of them to help lead the Phillies to their first ever world title. He had an outside shot at another 300 in 1981, but the two-month players' strike squashed any chance of a repeat—and a year later, he came close again with 295.1 frames thrown. Through all of this, he remained brilliant—winning the last two of his four career Cy Young Awards in 1980 and 1982—and he remained quiet, continuing his self-imposed gag order with reporters. A disrespectful 15-16 record notwithstanding, Carlton in 1983 posted a sharp 3.11 ERA and did all he could to deliver Philadelphia another championship, but despite a 2-1 record and 1.33 in three postseason games, the Phillies lost the World Series in five to Baltimore. Carlton experienced more rotten luck over the next two years in terms of ineffective support; and then, rotator cuff issues permanently crippled his dominance. From 1986-88, Carlton's ERA shot up from the low 3.00's to the low 5.00's and often worse, as he bounced around from team to team in search of a rejuvenation that never came. A teammate of Blyleven (above) with the 1987 Twins, he didn't even get the call to participate in Minnesota' winning October. But he stuck around long enough to collect 329 career wins and 4,136 strikeouts—the latter number good for fourth on the all-time list.
Bret Saberhagen
1984-89, Kansas City Royals. Best Year: 1989 (2.16 ERA, 23 wins, 6 losses, .793 win percentage, 12 complete games, 262.1 innings, 43 walks, 0.96 WHIP)
Debuting with the Royals a week before his 20th birthday, the innocuous-looking right-hander with a peach-fuzz mustache held his own in a 1984 rookie season before exploding to ace form a year later—but few took notice, as the baseball world focused on another stunning rookie (Dwight Gooden) in a much bigger market (New York). It wasn't until Saberhagen starred in the Royals' controversial World Series triumph (thank you, Don Denkinger), starting, winning and completing both his starts while allowing just one run, that he finally received spotlight status including a guest appearance on the Tonight Show with Johnny Carson. What followed was an odd pattern—both figuratively and literally—in which Saberhagen repeatedly followed a great year with a subpar year. If it was an odd year, he was on; there was the aforementioned 1985 breakout, a 1987 campaign in which he racked up 18 wins and a career-high 15 complete games, and a dominant 1989 performance that earned him his second Cy Young Award (he also received 1985 honors). Saberhagen didn't overpower opponents, instead frustrating them with master control that yielded few walks; no non-reliever gave up fewer passes per nine innings in the decade than his 1.75.
Jerry Reuss
1980-87, Los Angeles Dodgers; 1987, Cincinnati Reds; 1987, California Angels; 1988-89, Chicago White Sox; 1989, Milwaukee Brewers. Best Year: 1980 (2.51 ERA, 18 wins, 6 losses, .750 win percentage, 10 complete games, 6 shutouts)
Never the workhorse, the personable, often brash Reuss was beyond dependable as he provided strong mid-rotation muscle for the Dodgers until a series of injuries eventually broke him down. Reuss began the decade with bruising efficiency, tying a career high in wins and throwing his lone no-hitter (it might had been a perfect game were it not for a Bill Russell error). A year later, he greatly contributed to the Dodgers' successful run at a World Series title by throwing 18 scoreless innings against Houston in the strike-induced divisional series, and a five-hit, complete-game victory in Game Five of the six-game World Series over the New York Yankees. Elbow issues threatened to end his career in 1986, but he stabilized by adopting change-of-speed deliveries as he could no longer depend on his bread-and-butter fastball. The results were murky, as he got bumped from team to team before calling it a day at age 41 in 1990—but not before snapping pregame photos of numerous major league facilities, themselves on their last legs, that he has made popular on his Flickr account.
Dwight Gooden
1984-89, New York Mets. Best Year: 1985 (1.53 ERA, 24 wins, 4 losses, .857 win percentage, 276.2 innings, 16 complete games, 8 shutouts, 268 strikeouts)
Few players personify Greatness Lost as much as Gooden, who became a baseball phenomenon of the highest order in the mid-1980s before gradually being done in by his own demons. "Dr. K" struck out 300 batters as an 18-year-old in the minors in 1983; a year later, he debuted with the Mets and racked up a rookie-record 276 K's to go with a 17-9 record and 2.60 ERA. That was nothing, however, compared to his incomparable 1985 campaign (see Best Year, above); Gooden became such a safe bet to win, some Vegas sportsbooks wouldn't post odds on games he started out of fear they'd lose easy money. But in 1986, things began to fall apart for Gooden. He lost movement on his fastball, stripping him of his invincibility; worse, he began snorting cocaine on a daily basis, supplementing an existing drinking habit. Few players on a rambunctious, championship-level Mets side bothered to look after Gooden; though he shined in that year's NLCS, he bombed in the World Series—and missed the championship parade after an all-night cocaine binge. The substance issues got so bad that he missed the first two months of the 1987 season while undergoing chemical dependency treatment, but he never totally cleaned up; drug use would dog him beyond his playing career. Still, Gooden remained a remarkable pitcher when temporarily cold turkey, finishing the decade with a 100-39 record. But the booze and drugs likely deprived him of a near-certain spot at Cooperstown.

Roger Clemens
1984-89, Boston Red Sox. Best Year: 1986 (2.48 ERA, 24 wins, 4 losses, .857 win percentage, 10 complete games, 238 strikeouts
Through his first two seasons, the burly, aggressive fastballer couldn't make his presence felt within baseball's stream of consciousness. That changed on April 29, 1986, a night in which Clemens became the first pitcher to strike out 20 batters in a nine-inning game. It was the prime highlight in an explosive start to the year in which Clemens went 14-0 over his first 15 starts, earning not only his first of a record six Cy Young Awards but also his lone MVP honor. Additionally, he was the winning pitcher in the All-Star Game (retiring all nine batters he faced), before suffering through a relatively subpar postseason, at his best in the Red Sox' fateful Game Six that looked to be the World Series clincher until Mookie Wilson's grounder went through Bill Buckner's legs. With a fiery fastball to match his temperament, Clemens carried on at elite form, recording a 55-32 record over the decade's final three seasons with 40 complete games, 18 shutouts and (in 1988) his first of five strikeout crowns with 291. As good as Clemens was in the 1980s, he would be arguably better in each of the next two decades, as both his heater and intimidation tactics remained intact.
Dan Quisenberry
1980-88, Kansas City Royals; 1988-89, St. Louis Cardinals. Best Year: 1983 (1.94 ERA, 5 wins, 3 losses, 45 saves, 139 innings, 11 walks, 19 grounded into double plays)
Reporters loved "Quiz" because he was easily approachable, colorful and always had something funny to say. Opposing hitters hated him because they couldn't make solid contact when he took the mound. The wiry pitcher with a bushy mustache—he might have been confused for a softball weekender who wandered his way onto a major league ballfield—reinvented himself in 1980 when veteran reliever Kent Tekulve taught him how to pitch submarine-style. Result: Quisenberry led the AL in saves five times through the next six years, including a then-record 45 in 1983. And he did it in an era when closers were counted on to get more than three outs; five times, Quisenberry amassed over 120 innings without making a single start. With no fastball to offer, Quiz instead baffled batters with sinkers, curves and change-ups that produced one ground ball after another. And while he rarely struck out opponents, he seldom gave away free passes; at the peak of his game, from 1982-85, he allowed 0.86 walks per nine innings pitched. It's somewhat remarkable that Hall-of-Fame voters suffered brain cramps when not checking off his box in his one and only year of eligibility, accruing just 3.8% of the vote while comparable (at best) closers eventually got a plaque.
Fernando Valenzuela
1980-89, Los Angeles Dodgers. Best Year: 1981 (2.48 ERA, 13 wins, 7 losses, 25 starts, 11 complete games, 8 shutouts, 192.1 innings, 180 strikeouts)
The breakouts of Saberhagen, Gooden and Clemens paled in comparison to Fernandomania, named after the impassive, portly and dirt-poor Mexican native who took baseball by storm in 1981. There was good reason for this; wielding an effective screwball, Valenzuela won each of his first eight starts—all complete games, five of those shutouts. The invincibility wore off—he couldn't maintain a 0.50 ERA forever—but he did finish the strike-shortened 1981 earning trophies for both Rookie of the Year and Cy Young Award; he was an additional 3-1 with a 2.21 ERA in the postseason to follow, leading the Dodgers to a world title. Though he never quite recaptured the magic of that first season in the years to follow—outside of another blazing start in 1985 when he didn't allow an earned run through his first 41.1 innings—Valenzuela remained a borderline elite presence by winning 20 games for the first (and only) time in his career in 1986 with a 21-11 record; his 20 complete games that season made him the last pitcher to date to reach that number. In five All-Star appearances, Valenzuela threw 7.2 scoreless innings, and in three additional postseason appearances outside of 1981, he was 2-0 with a 1.61 ERA. Fernandomania energized the Southland's Latino community, which embraced Valenzuela and (by extension) the Dodgers as annual attendance of three million became the new normal at Dodger Stadium.

Dave Stieb
1980-89, Toronto Blue Jays. Best Year: 1985 (2.48 ERA, 14 wins, 13 losses, 265 innings)
In an about-face to many of the others on this list, the competitive right-hander lacked the glamour, unforgettable breakout and big moments. What's ironic is that the one thing Stieb is best remembered for is taking no-hit bids to two outs in the ninth in consecutive starts—and losing out on both. But he was an absolute rock in the Blue Jays' rotation, using a splendid slider and combative fastball to produce strong results for much of the decade. The wins and losses never seemed to justify his hard-earned ERAs; in 1985, the year the Blue Jays made their first postseason appearance, Stieb won the ERA crown despite an uneventful 14-13 record. After four years averaging 275 innings, Stieb in 1986 began a two-year hiccup in which his durability and effectiveness suffered, leading the Jays to actively shop him to another team. Instead, they stuck with him—and their patience was rewarded with some of his stingiest work, recording a 51-22 mark over the next three years. The 1988-89 seasons were memorable for his frustration in excellence; he threw five one-hitters including the aforementioned double no-hit failures, and another start in mid-1989 in which he retired the first 26 Yankees before they ended his bid for perfection. (Stieb finally got his no-hitter in 1990—the only one pitched by a Blue Jay through the franchise's first 30-plus years of existence.) Named to six All-Star teams during the decade, Stieb remains at the top of most pitching categories in Blue Jays history.
Orel Hershiser
1984-89, Los Angeles Dodgers. Best Year: 1988 (2.26 ERA, 23 wins, 8 losses, .742 win percentage, 267 innings, 15 complete games, 8 shutouts, .213 batting average against)
It's hard to intimidate opponents when people compare your looks to Howdy Doody, but Hershiser overcame the wimpy perception and rightfully earned the nickname "Bulldog" with an unrelenting assortment of pitches, each distributed at various speeds and to all corners of the strike zone to completely baffle opponents. After a first full season spent partly in the bullpen, Hershiser stunned in 1985 with a 19-3 record and 2.03 ERA—he was 11-0 with a brilliant 1.08 mark at Dodger Stadium—establishing himself as yet another in a long line of superior Dodgers aces. But you can't talk about Hershiser and this decade without diving head-long into his remarkable 1988 campaign in which he did it all: A major league-record 59 straight scoreless innings, the NL Cy Young Award, and MVPs for both the NLCS and World Series as he went a combined 3-0 with three complete games and a 1.48 ERA in the postseason—carrying the torch for the Dodgers in the Fall Classic after Kirk Gibson's shock walk-off against Oakland in Game One. (Hershiser even went 3-for-3 against the A's at the plate.) His stellar 1988 effort was sandwiched in between two equally superior seasons burdened with deceiving .500 records; his 2.31 ERA in 1989 was just a scooch above that of the year before despite a 15-15 mark, as he was given only 3.3 runs per start by his teammates. Hershiser led the NL in innings pitched each season from 1987-89, and such workhorse usage likely led to a two-year breakdown to start the 1990s before he remedied himself to respectable form until his retirement from the game in 2000.