The 10 Best Pitchers of the 1970s
Tireless workhorse aces kept the focus and stayed in charge during a time of change and upheaval in the game, on and off the field.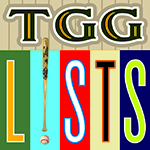 In an especially invigorating time for baseball—not always for the best reasons—the game witnessed a second wind of sorts from an impressive collection of innings eaters who mixed quantity with quality. Forty times during the 1970s, pitchers threw over 300 innings—it's only happened once in the 40 years since—yet in most cases their durability remained remarkably intact. The dominance of these pitchers was such that the American League, in 1973, threw the designated hitter into the mix to loosen their grip. But the better pitchers continued on without a dent, and were unaffected by the advent of modern free agency. When they did fall apart, they could rely on a revolutionary life-saving procedure: Tommy John surgery. 
The group of 10 pitchers to follow likely also qualifies as the collection of the most colorful characters among all our tops-of-the-decade lists. See if you agree.
Steve Carlton
1970-71, St. Louis Cardinals; 1972-79, Philadelphia Phillies. Best Year: 1972 (1.97 ERA, 27 wins, 10 losses, 30 complete games, 346.1 innings, 310 strikeouts, .207 batting average against)
You never knew what you were going to get out of Lefty, either on the field or off it. He was a perfect creature for the 1970s, displaying a highly atypical character in which he struggled with the simple qualities of being human. Carlton was also a perfect pitcher for the time; he was always productive, good or bad, and ate innings up with regularity—averaging 274 per season. Beginning the decade with St. Louis, Carlton was constantly disgruntled at not being paid what he felt he was worth; when the Cardinals tired of his pay-me-more distractions, they sent him to the Phillies. Initially unhappy with the move, Carlton settled in to say the least with a remarkable debut—accounting for nearly half of the Phillies' wins (he won 27; the rest of the team won 32) in 1972. Much of that year's success came courtesy of a rediscovered slider many considered the best ever thrown by a pitcher, but also one Carlton had chronic problems controlling. This led to uneven results throughout the decade; twice he led the NL in wins (1972 and 1977—both years earning him the Cy Young Award), and twice led in losses. The Phillies, who improved dramatically around Carlton as the decade wore on, tolerated and often placated his offbeat personality, even giving him a "blue room" at Veterans Stadium where he can quietly meditate before his starts; he didn't talk much outside of the room either, refusing to speak to reporters from 1973 through the end of his career, nearly 15 years later.
Randy Jones
1973-79, San Diego Padres. Best Year: 1975 (2.24 ERA, 20 wins, 12 losses, 18 complete games, six shutouts, 285 innings, 35 grounded into double plays)
In the dreadful, early years of the Padres, someone always seemed to get tagged with 20 losses. Jones, whose copper-colored perm stood out even among the hair-intensive crowd of the 1970s, felt the pain; he lost a NL-high 22 games in 1974, his second season. A year later, he suddenly turned things around—going 20-12 with a 2.24 ERA that was half his previous season's figure. A year later, Jones won another 22 over a prodigious 315.1 innings while completing 25 starts—all three numbers the most by any Padre, ever. The secret of Jones' success was his sinker, complemented with an equally baffling slider; he needed those two pitches badly, because his fastball velocity rarely topped out over 80 MPH and he struck out precious few batters—in that workhorse 1975 effort, he averaged just 2.7 Ks per nine innings. His walk rate was even lower; in 1976, he pitched 68 straight innings without issuing a pass, tying Christy Mathewson's NL record. Alas, Jones' ride at the top would be short-lived. A nerve tore in his pitching arm in his last start of 1976, and he largely struggled for the rest of the decade (and, by short extension, his career), with only one decent year in 1978 when he finished 13-14 but with a fine 2.88 ERA.
Tommy John
1970-71, Chicago White Sox; 1972-78, Los Angeles Dodgers; 1979, New York Yankees. Best Year: 1979 (2.96 ERA, 21 wins, 9 losses, 17 complete games, 276.1 innings, 45 grounded into double plays)
Forever linked to the groundbreaking procedure that saved his pitching career, the left-handed John transformed from grade-B starter to ageless ace throughout the 1970s. He first cut his major league teeth with the White Sox, who traded him after two decent seasons to start the decade because, among other reasons, he wasn't achieving winning records; John wouldn't have another losing mark through the next dozen years. Playing for better teams had much to do with that, as John would find out pitching for the Dodgers and, at decade's end, the Yankees. After a fine first few seasons at Los Angeles, John was off to a career-year start in 1974—he was 13-3 with a 2.59 ERA by mid-July—when he suffered a torn ligament in his pitching elbow. Normally a death sentence for pitchers, John was intrigued when surgeon Dr. Frank Jobe suggested a radical procedure in which the ligament could be replaced by a perfectly functioning one from his wrist. The operation, soon to be labeled Tommy John surgery, succeeded beyond anyone's wildest dreams. After missing the 1976 season to recover and performing a mild comeback effort in 1977, John in 1978 hit 20 wins for the first time in his career at age 35; he would reach 20 twice more in the next three seasons, and would pitch all the way to 1989, wrapping up a 26-year career with 288 victories—164 of those coming after his surgery.
Ron Guidry
1975-79, New York Yankees. Best Year: 1978 (1.74 ERA, 25 wins, 3 losses, .893 win percentage, 16 complete games, 9 shutouts, 273.2 innings, 248 strikeouts)
While Yankee players often made headlines for the wrong reasons during the franchise's triumphant yet turbulent early years under owner George Steinbrenner, Ron Guidry quietly went about his business, avoided the local tabloids and proved masterful on the mound—particularly in a brilliant 1978 campaign that's considered one of the majors' most dominant ever witnessed. No one, not even Guidry, would have known what was coming when the skinny southpaw from Louisiana struggled in his first few years at New York, almost to the point of early retirement. But he would soon equip himself with a formidable fastball mixed with a nasty slider, and the results were immediate and spectacular. In the decade's last three years (postseason included), Guidry fashioned together a fantastic 63-18 record with a 2.35 ERA as higher-priced rotation mates (Don Gullett, Catfish Hunter) flamed out. Standing out from this period is his phenomenal 1978 season, which included a 13-0 start, was the highest win percentage ever by a 20-game winner, the most shutouts by a left-hander since Babe Ruth (in 1916), and an 18-K performance against California on June 17 at Yankee Stadium that gave birth to the now widely-used routine of fans exhorting a pitcher on when he had two strikes on a batter. Guidry's prowess grew in his most important outings; he was 4-0 in the postseason from 1977-78, and was the winning pitcher in the Yankees' legendary tie-breaker victory (i.e., the Bucky Dent Game) against the Red Sox at Boston.
Catfish Hunter
1970-74, Oakland A's; 1975-79, New York Yankees. Best Year: 1972 (2.04 ERA, 21 wins, 7 losses, .750 win percentage, 16 complete games, 7 shutouts, 295.1 innings, 191 strikeouts, .189 batting average against)
A man of unassuming nature, Hunter weathered the storm of baseball's two more tempestuous dynasties—the Charles Finley-led Oakland A's of the early 1970s, and Steinbrenner's Yankees late in the decade. His true reign took place most during his time with the A's; starting in 1971, he won at least 20 games for five straight years, and led the AL in wins (25) and ERA (2.49) in 1974, earning him league Cy Young Award honors. That season would be his last in Oakland; Finley had not paid $50,000 into an annuity as stipulated in Hunter's contract, and the pitcher successfully sued to become a free agent. A year before the reserve clause was struck down and modern free agency was born, Hunter gave a taste of the future when he holed himself up in his native North Carolina that winter and was entertained by one major league owner after another trying to tempt him with a sweet deal; he finally chose the Yankees, at five years and $3.75 million. In New York, Hunter did not initially disappoint, putting up deadball era-like numbers (23 wins, 328 innings, 30 complete games) in his 1975 Yankees debut. But the remaining four years of the decade—and ultimately, of Hunter's career—would see a gradual decline, one that became particularly steep in 1977 when he dropped to a mere 143.1 innings and nine wins as he became affected by a tired arm and a worsening diabetes condition.

Vida Blue
1970-77, Oakland A's; 1978-79, San Francisco Giants. Best Year: 1971 (1.82 ERA, 24 wins, 8 losses, .750 win percentage, 24 complete games, 8 shutouts, 312 innings, 301 strikeouts, 0.95 WHIP)
There was never a dull day playing in Oakland for Finley's A's, as the colorful southpaw certainly discovered in a mostly productive but topsy-turvy decade. Called up toward the end of 1970, Blue threw a one-hitter in his second start, and a no-hitter in his fourth to presage a spectacular 1971 breakout that captured the country's attention. Blue blew past opponents with a blazing fastball second only to Nolan Ryan, winning 17 games before the All-Star Break, posting a fantastic 1.82 ERA (it was just 1.19 at the Oakland Coliseum) and capturing both the AL Cy Young and MVP awards. An immediate encore was not in the cards as Blue held out for a better salary (selling toilets in the meantime) before returning to record a lowly 6-10 mark in 1972. Worse, it was about this time that Blue began a dalliance with drugs that would continue until he got busted and did brief prison time in the early 1980s. Yet still, Blue proved resilient with a pair of 20-win campaigns in the mid-1970s even if his fastball lost some of his juice—after striking out 301 batters in 1971, he never racked up more than 200 in any other season. Blue nearly joined Hunter in New York with the Yankees in 1976, but commissioner Bowie Kuhn voided Finley's trade for $1.5 million—part of a larger fire sale the mercurial A's owner was attempting. Blue watched as one star after another departed the Oakland clubhouse; he was the last of the A's dynastic roster to go when he was traded for six players and $300,000 to the Giants in 1978. He would miss pitching in Oakland, where his career Coliseum numbers included a 70-41 record and 2.43 ERA.
Don Sutton
1970-79, Los Angeles Dodgers. Best Year: 1972 (2.08 ERA, 19 wins, 9 losses, 18 complete games, 9 shutouts, 272.2 innings, 207 strikeouts)
There may have been someone on the Dodgers' pitching staff who always put up better numbers throughout the decade—from Claude Osteen to Andy Messersmith to Tommy John—but Sutton was a consistent, highly reliable force who always stood out as a solid second best. Brash and opinionated, the right-hander spoke his mind about everything from the rulebook to Steve Garvey's wife; not only was he unafraid to absorb the comeback, he doubled down—most notably in 1978 when he sued baseball for an ejection from a game where he was accused of scuffing the balls. Sutton surpassed 20 wins for the only time in his 23-year Hall-of-Fame career in 1976, and took home 19 twice more (in 1972 and 1974); he didn't suffer a losing record in the decade until 1979. The further Sutton progressed into the season, the better he got; his record after August 1 was 55-23 throughout the 1970s, and he carried that momentum into October with a 6-4 record and 3.38 ERA in the postseason (that does take into account an unusually rough 1978 playoff in which he failed to get on track). Even when the games didn't count, Sutton proved excellent—throwing eight shutout innings amid four All-Star Game appearances, earning the MVP for the 1977 Midsummer Classic.
Gaylord Perry
1970-71, San Francisco Giants; 1972-75, Cleveland Indians; 1975-77, Texas Rangers; 1978-79, San Diego Padres. Best Year: 1972 (1.92 ERA, 24 wins, 16 losses, 29 complete games, 342.2 innings)
After 10 years with the Giants, the notorious, ageless spitballer began the roadshow portion of his career, playing for seven teams over the next 12 years—but the 1970s proved to be a highly productive and invigorating time for the right-hander. Perry's peak came in his 3.5-year tenure with the Indians, winning his first Cy Young Award in 1972—he might have also won 30 games had the Tribe given him more than 2.9 runs per start—completed 29 of his starts in back-to-back years (1972-73), and ran up a 15-game win streak (one short of the AL record) in 1974. He clashed with player-manager Frank Robinson in 1975, leading to a trade to Texas where he enjoyed wavering success; another trade to San Diego in 1978 prompted his most successful (if not workhorse-like) campaign, a 21-6 mark that helped hoist the Padres above .500 for their first time ever while capturing his second Cy—thus becoming the first pitcher to win one in both leagues. Perry was as tireless as he was dominant, averaging a whopping 290 innings per season during the decade while pitching beyond the ninth 25 separate times; but the bigger chatter surrounding Perry continued to be his use of the spitball. In his 1974 book Me and the Spitter, Perry fessed up and said he had in fact thrown the wet pitch, but had since ceased to use it; opponents remained skeptical of the claim. Perry's repertoire included pitches with all sorts of movement, not all of them illegal—but the thought that he might throw the spitter mentally twisted the minds of most opposing hitters.

Tom Seaver
1970-77, New York Mets; 1977-79, Cincinnati . Best Year: 1971 (20 wins, 10 losses, 1.76 ERA, 286.1 innings, 21 complete games, 289 strikeouts)
The erudite right-hander, whose quick rise in the late 1960s catapulted the Mets from joke status to champions, reached peak performance in New York during the early portion of the decade with three ERA titles and two Cys (1973 and 1975); analytics considered, he should have also won the award in 1971 with four fewer wins but an ERA one full run lower than recipient Ferguson Jenkins. Seaver baffled opponents with complex variations of both the fastball and slider; this was never more evident in a 1970 game against the Padres when he struck out a then NL-record 19 batters, 10 of them in a row—another all-time mark which still stands. Beloved by Mets fans, Seaver was never afraid to speak his mind—and this got him into trouble after he criticized the team for not taking advantage of the new free agent frontier in the aftermath of the Andy Messersmith decision that doomed the reserve clause. New York Daily News writer Dick Young, a virtual poison pen for Mets owner M. Donald Grant, repeatedly belittled Seaver in print to the point that the ace demanded a trade and got it, to Cincinnati in 1977; the deal infuriated Mets fans, and the team immediately went into a deep recession that would take years to recover from. With the Reds, Seaver missed out on the Big Red Machine's championship years but at least gave them the notable star ace they long lacked; he threw his lone career no-hitter at Cincinnati in 1978 and helped lead them to the NL West title in 1979. An eight-time All-Star during the 1970s, Seaver was popular even outside of the major league cities he called home.
Jim Palmer
1970-79, Baltimore Orioles. Best Year: 1966 (1.73 ERA, 27 wins, 9 losses, .750 win percentage, 41 starts, 27 complete games, 5 shutouts, 323 innings, 317 strikeouts)
Left unprotected in the expansion draft in 1969—and ignored by the four new teams weary of his early injury history—the right-hander from New York by way of Phoenix emerged as the best and most persistent of Baltimore's voluminous assortment of pitching stars in the 1970s. Like Seaver, Palmer was both an intelligent thrower and human being—but he showed more sex appeal, as the ladies frequently espied in the numerous underwear ads he posed for. His identity created a counterbalance for crusty old-school Orioles manager Earl Weaver, who never got along with Palmer—but he surely tolerated the ace's proficiency in success. Eight times during the decade, Palmer won at least 20 games; he failed to reach the milestone in the other two seasons because nagging pains kept him at well under 100%. Mixing a fastball, curve and slider, Palmer never overwhelmed batters as he registered modest strikeout totals and walked more than his share (three times over 100), but hits were difficult for opponents to come by as they hit under .230 against him seven times; his four Gold Gloves for stellar defense contributed as well. A three-time Cy Young Award winner (1973, 1975-76) and top five finalist four other times during the decade, Palmer recorded 186 of his eventual 268 career victories in the 1970s and won another five games (against two losses) in 13 postseason appearances, with four complete games and a 2.75 ERA.