1967: The Impossible Dream
Carl Yastrzemski's torrid late-season hitting lifts the Boston Red Sox above a crowded AL pennant race—but it's the St. Louis Cardinals, led by pitcher Bob Gibson and speedster Lou Brock, who keep Boston from earning its first world title in 50 years.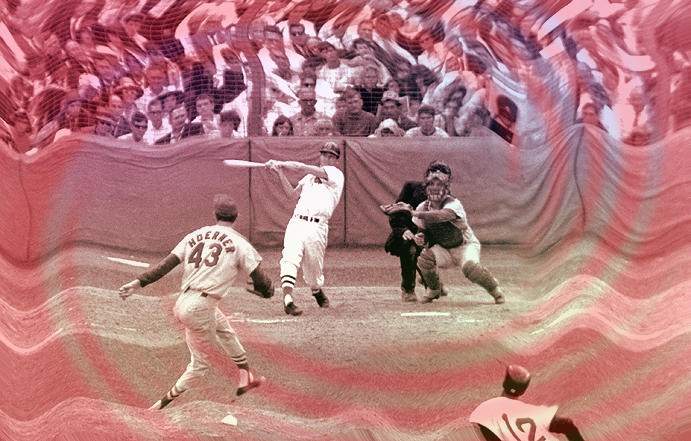 Was it really just a dream? Boston's Carl Yastrzemski blasts his second of two home runs in Game Two of the 1967 World Series. The Red Sox made a one-year climb from ninth to first in the American League, but met their match in the Fall Classic against the St. Louis Cardinals. (Associated Press)
The Boston Red Sox were having an identity crisis. 
The fabled franchise that enjoyed a healthy share of American League dominance through its first two decades and later basked in an extended period of popularity off the bat of Ted Williams seemed to lose its sense of purpose.
They couldn't blame Harry Frazee for this one. Saved 34 years earlier by current owner Tom Yawkey, the Red Sox looked once again in need of redemption. Boston hadn't enjoyed a winning season since 1958, bottoming out at 100 losses in 1965. The commonly fanatic Red Sox fan base was attending in absentia, with annual attendance shrinking to a mere 650,000 at Fenway Park—a ballpark rumored to be in danger of demolition as plans for a suburban domed facility began to be drawn up.
Worse, it seemed the Red Sox players didn't care. There was a pervasive lack of urgency in a clubhouse filled with no-namers and has-beens who developed an undisciplined country club attitude. Since Williams' departure, the only serious threat in the Boston lineup came from his replacement in the outfield, Carl Yastrzemski—an undisputed star in relative terms only. Although Yastrzemski won a batting title in 1963, he otherwise had shown little else to convince Red Sox Nation that he was genuine superstar material.
There did appear to be some light at the end of a very long tunnel. Young sluggers such as Tony Conigliaro, George Scott and Rico Petrocelli were emerging as equals to Yastrzemski. They hired a general manager, Dick O'Connell, who finally made the Red Sox get serious about signing quality black talent, not token benchwarmers to pacify outsiders. And their new skipper was Dick Williams, barely three years removed from the end of his marginal playing days—but connecting as a manager, having taken the Sox' top farm team in Toronto to successive International League titles.
These moves were all fine and nice for the long-term, but as the Red Sox readied for 1967, pundits believed the status quo was in order. Sports Illustrated picked the Red Sox to finish ninth in the 10-team AL, while Vegas oddsmakers made Boston 100-1 longshots to win the pennant.
Little did anyone realize how swiftly the Red Sox' long-term goals would be achieved.
Red Sox players filtering their way into spring camp in Florida quickly learned that their laid-back atmosphere was about to be shattered by Dick Williams, who despite his 38 years of age looked gruff and acted the part. It was his way or the Tollway; it didn't matter if you were a rookie or an All-Star. Even Ted Williams, visiting camp to lend his sage, wasn't spared; the new manager read the living legend the riot act for disrupting outfielders from doing their daily drills.
Those who came to Florida overweight suffered worse under Williams; he threatened to bench George Scott if he didn't tip the scales the right way, and when young starter Jerry Stephensen couldn't shake off 10 pounds as Williams ordered, off to the minors he went.
One player who would have no problem with Williams' shape-up-or-ship-out policy was Yastrzemski. In the winter he had discovered something called off-season training—a form of exercise many players of the day still resisted. Worked hard daily by a former Hungarian Olympic coach, Yastrzemski immediately felt a new surge of power in his swing during spring training, a crucial element that would pay off handsomely for the Red Sox.
BTW: Yastrzemski also had help from Boston hitting coach Bobby Doerr, who refined Yaz's batting stance.
The year that would be best known for the Red Sox as "The Impossible Dream" started out more like yet another nightmare. The team struggled into May in seventh place, and although they felt improved over 1966, such optimism was offset by Williams' emotionally harsh and icy rule. As if that wasn't enough, the players fumed—and briefly considered mutiny—when Williams repeatedly ridiculed his players in front of the media.
After the All-Star break, the Red Sox won 10 straight games to break away from the .500 mark; suddenly the focus was off a vindicated Williams and on a crowded pennant race. In late August, the team was further motivated and won another seven straight after witnessing its darkest episode of the year: The beaning of Tony Conigliaro. The left cheekbone of the talented 22-year-old slugger took such a direct hit from California Angels pitcher Jack Hamilton, Conigliaro's skin was indented with the stitches of what teammates suspected was a spitball. The injury would sideline Conigliaro for a full year and a half, and the vision problems he suffered would result in a shortened career—in advance of a shortened life after baseball.
BTW: A vilified Hamilton was turned away at the hospital where Conigliaro was recovering, and was intensely booed when he pitched a few days later against the Red Sox at Fenway…Conigliaro died of a heart attack in 1990, at the age of just 45.
The Red Sox entered September thick in the hunt for an AL pennant that resembled a total free-for-all. Three other teams joined Boston in a month of musical chairs in which teams often rose from fourth to first in a single day, and vice versa.
The contenders included the Minnesota Twins, re-energized after a middling start that led to the firing of manager Sam Mele; the Detroit Tigers, a well-balanced bundle of talent many believed was the best in the league; and the Chicago White Sox, attempting to emulate the Hitless Wonders of 1906 with a .225 team batting average—with not one everyday player hitting above .241. Needless to say, rock-solid pitching kept the White Sox in the chase.
BTW: Chicago's 2.45 ERA and .219 opposing batting average were both far and away the best in baseball.
Dancing in September
In one of the tightest pennant races ever witnessed, four AL teams—Boston, Minnesota, Detroit and Chicago—stayed within no more than three games of one another from September 1 on. Here's how many days during this time each team led or had a share of either first, second, third or fourth place.

On the morning of September 7, all four teams were locked in a first-place tie—and over the season's final three-plus weeks, they never lost sight of one another. The final weekend arrived with AL officials scratching their heads over the real possibility of a round-robin playoff in the event three teams tied for first.
The White Sox were the first to bow out, in the only way they knew how—by being shut out in three straight games, as part of a five-game losing streak to end the year. The Tigers were faced with the rough task of wrapping the season up with consecutive doubleheaders against the Angels, while the Twins and Red Sox squared off against each other at Fenway for their final two games.
The Tigers split on Saturday, while Carl Yastrzemski hit a three-run homer to lift the Red Sox over Minnesota, 6-4. That left Sunday's matchup at Fenway as a winner-take-all—assuming the Tigers didn't sweep the Angels.
Behind a 4-for-4 performance by Yastrzemski and strong pitching by starter Jim Lonborg—a nice guy who in 1967 turned mean on the mound—the Red Sox knocked out the Twins with a 5-3 victory. The celebration was paused as the team gathered in the clubhouse to hear the fate of the Tigers, who had won the day's first game over the Angels—and with a win in the nightcap could set up a tie-breaker playoff against Boston. They listened as the Angels, after trailing early, came back to hand the Tigers an 8-5 loss—and help the Red Sox capture their second AL pennant in nearly 50 years.
BTW: The Baltimore Orioles went from world champs to a sixth-place tie with the Washington Senators. Another stellar year from Frank Robinson was offset by subpar performances and an aching pitching staff.
Though much of the Red Sox players contributed with a series of cardiac-style comeback wins throughout the year, Yastrzemski and Lonborg were the team's unquestioned valuables. Yastrzemski rose in the clutch, batting over .500 with five home runs in the Sox' final 12 games—helping to earn him the AL triple crown with a .326 average, 44 homers and 121 runs batted in. Lonborg, in only his third big league campaign, led the AL with 22 wins (while losing only nine) and 246 strikeouts.
The tense AL race was the only suspense left for the St. Louis Cardinals, wondering whom they'd face in the World Series while breezing to the National League pennant.
Since last winning it all in 1964, the Cardinals transitioned themselves through two average seasons, purging elder power hitters Bill White and Ken Boyer—while picking up a younger one early in 1966 with Orlando Cepeda, the outspoken first baseman who fell out of favor with manager Herman Franks in San Francisco. For 1967, the Cardinals also rescued Roger Maris from his Hell away from home, New York. Even though Maris' power production was a skeletal resemblance of his Yankees years, he remained a highly skilled player who knew how to win—and, by returning to the heartland close to where he grew up and lived, was now a far happier camper to boot.
Playing well in July, the Cardinals feared trouble ahead in their quest to hold first place when ace pitcher Bob Gibson had his leg broken from a Roberto Clemente line drive. Without Gibson, the Cardinals actually began to play better, as the new cast coalesced and performed as a solid unit of one. Gibson's return in September only helped to make the pennant race a closed case as St. Louis charged to a 101-60 mark.
BTW: Reigning two-time NL champ Los Angeles badly missed the retired Sandy Koufax and finished a dismal seventh at 73-89.
Cepeda, the Puerto Rican native who continuously rallied his teammates to the triumphant cry of "El Birdos," batted .325 with 25 home runs and 111 RBIs to secure the NL Most Valuable Player award. Lou Brock easily had the numbers to make a case for the MVP as well—batting .299 with 32 doubles, 12 triples and 21 home runs, while leading the league with 52 steals and 113 runs scored. On the mound, the staff for which Gibson seemed to tower well above on Opening Day rose to provide an uplifting presence in his absence. Most notable among the upstarts was 29-year-old rookie Dick Hughes, who thrived upon the challenge of taking Gibson's spot in the rotation and finished the year at 16-6 with a 2.68 ERA.
A competitive and feisty World Series would be dominated by the stars who helped get their teams there: Bob Gibson and Lou Brock for the Cardinals, Jim Lonborg and Carl Yastrzemski for the Red Sox.
The Cardinals got the running start in Game One with a six-hit complete game victory for Gibson, 2-1, as Brock scored both runs in a 4-for-4 effort. Lonborg, with only two days' rest after winning the regular season finale, got the Sox even in Game Two with spectacular verve, retiring the first 19 batters on his way to a one-hit, 5-0 shutout; backing Lonborg at the plate was Yastrzemski, smashing a pair of homers with four RBIs.
 Moving on to St. Louis, the Cardinals won the next two games, with Gibson firing a five-hit shutout in Game Four to put the Red Sox on the edge of elimination. But it was Lonborg nearly matching Gibson's achievement in a 3-1 Game Five win, his bid for a shutout spoiled only by a too-little, too-late homer by Maris in the ninth.
Back in Boston, it was Yastrzemski in Game Six. He ignited a home run binge when he hit the first of three consecutive blasts in the fourth inning—Reggie Smith and Rico Petrocelli would follow up with the other two—and the Red Sox forced Game Seven with an 8-4 win over a Cardinal team that used eight pitchers.
After missing each other in the rotation, Gibson and Lonborg—preparing for his fourth start in 12 days—finally got the chance to go head-on in Game Seven.
Emotions ran high and tense off the field before the winner-take-all finale. Headlines in Boston newspapers quoted Dick Williams' forecast: "Lonborg and Champagne." At the Boston hotel where the Cardinals stayed, even the cooks in the kitchen were playing mind games—attempting to starve Gibson out of his breakfast by continuously "messing up" his order before finally serving him two pieces of burnt toast. A fiery Gibson asked to have the toast taken away, to which the waitress was said to retort: "We'll take you away."
Lonborg, Yastrzemski and the rest of the Red Sox were the next to be toast, discovering that Gibson was at his best when angry; he allowed just three hits in a complete-game effort, striking out 10 and adding a solo home run to the wealthy support of St. Louis offense (aided by Brock's three steals) to give the Cardinals their second world championship in four years, 7-2.
All That Yaz
Carl Yastrzemski's celebrated tear to end 1967 was all the more impressive with his World Series numbers tacked on. Here's how hot he was over his last 19 games, including the seven he played in the Fall Classic.

In the 27 innings that made up Gibson's three complete-game victories, only three runs and 14 hits were allowed while 26 struck out. Brock was Gibson's every equal at the plate, going 12-for-32 (.375) with four extra base hits, eight runs, and a Series-record seven steals. In defeat, Yastrzemski amassed 10 hits in 25 at-bats (.400) with three homers; the other Red Sox players collectively hit just .193. Lonborg, after winning his first two starts, was asked too much in his third, pitching for the second time on two days' rest while facing off against Gibson.
The Cardinals' return to baseball dominance was, in historic terms, overshadowed by the impressive Red Sox revival—one that would ignite the team to above-.500 campaigns over each of its next 15 years. After suffering a miserable stretch in the doldrums, one impossible dream had been achieved for the Boston Red Sox.
The dream, however, of winning the World Series—something the Red Sox had not done since 1918—would itself seem to remain an impossibility.

Forward to 1968: Year of the Pitcher Batting averages plummet as major league pitchers dominate the game of baseball as never before.

Back to 1966: Wish You Were Here, Mr. DeWitt Frank Robinson dominates the American League for the Baltimore Orioles—and proves to his former employers in Cincinnati that he's not an "Old Thirty."

1967 Leaders & Honors Our list of baseball's top 10 hitters and pitchers in both the American League and National League for the 1967 baseball season, as well as the awards and honors given to the game's top achievers of the year.

The 1960s: Welcome to My Strike Zone In a decade where baseball as a tradition is turning stale with America's emerging counter-culturism, major league owners see its biggest problem to be, of all things, an overabundance of offense in the game. The result? An increased strike zone, further contributing to a downward spiral in attendance, but greatly aiding an already talented batch of pitchers.