1968: Year of the Pitcher
The side effects of the increased strike zone reach epidemic proportions as amazing pitching feats abound everywhere—and become the centerpiece for a memorable World Series between the St. Louis Cardinals and Detroit Tigers.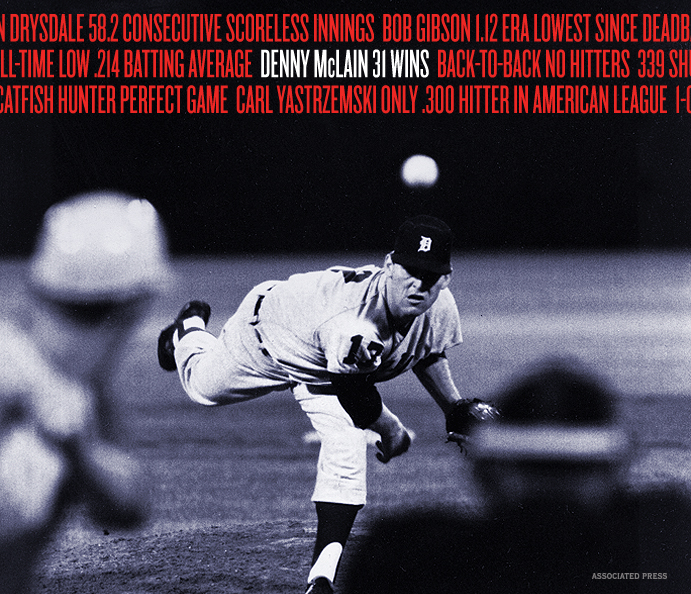 In the 1920s, baseball fans discovered Babe Ruth and locked in on him. So did major league owners, who juiced the rules to increase scoring—and thus attendance. The batting bonanza got out of hand by 1930, with the average player hitting .300, before cooling off to more normal levels in the years to follow.
In 1961, the fans saw Roger Maris, Jim Gentile and Norm Cash—and the owners, led by commissioner Ford Frick, chose this time not to embrace but to revolt. They felt these out-of-nowhere sluggers were too common to be breaking records with an abundance of home runs. So they put the clamps on the batter, browning out the power surge with an increased strike zone.
This would all become too much of a good thing for pitchers in 1968, a year rightfully remembered as one where the hitters didn't stand a chance.
Fans starving for hitting exhibitions had nowhere to escape, bearing witness to non-stop feats of excellent pitching that added up to an endless string of zeroes on the scoreboard—causing the bottom to fall out of a hitter's bear market that had already been dropping for five years.
Hitters in both leagues suffered, but American Leaguers felt the sting the most—collectively batting an abominable .230 for their worst average ever. Leading the pack of hitless blunders were the Oakland A's at .240, while the rear was dragged by the once mighty New York Yankees, coughing up an all-time franchise low of .214. On an individual level, Carl Yastrzemski of the Boston Red Sox became the lone man above .300—and barely, at .301—needing a big rally in the season's final month just to ensure that he'd reach it.
MLB Runs Per Game, 1960-68

The National League fared batter, but its .243 average was still the second worst in modern NL annals, lowly and barely surpassed by its 1908 deadball era performance. Startlingly immune to the game's nationwide power outage were the Cincinnati Reds, which led the majors going away with a .273 average. The Atlanta Braves and the Pittsburgh Pirates were both a distant second at .252.
BTW: Proving that cozy Crosley Field had something to do with the Reds' lively hitting, the team's pitching staff had the NL's highest earned run average at 3.56—and allowed nearly five runs a game at home.
Amazing exploits from the mound spread like roses in full bloom, or like the plague—depending on whose viewpoint you heard, the pitchers' or the hitters'. There were 339 shutouts thrown in 1968, almost double the number tossed in 1962—the year before baseball swelled the strike zone. Catfish Hunter of the A's threw the AL's first perfect game since 1922. San Francisco's Gaylord Perry tossed a no-hitter against St. Louis; the Cardinals responded in kind the next day when Ray Washburn did the same to the Giants. Don Drysdale of the Los Angeles Dodgers kept opponents scoreless for a record 58.2 consecutive innings, while Luis Tiant, on his way to allowing an all-time low .168 batting average, put together 41 straight scoreless innings for the Cleveland Indians.
MLB Batting Average, 1960-68

Pitchers often discovered they couldn't have it both ways, as cursed by their teams' inability to score as they were blessed disabling opponents. Ferguson Jenkins of the Chicago Cubs finished the year at 20-15, but nine of his losses occurred when the Cubs got blanked. The New York Mets' Jim McAndrew lost four straight games in which his team failed to score. And on April 15, the Mets and Houston Astros traded zeroes for 24 innings before a bad hop on a double play ball went through Mets infielder Al Weis, scoring the winning—and only—run on the evening for the Astros.
Not even the game's best hitters could jumpstart the offense at the All-Star Game. A 1-0 NL win featured a total of 20 strikeouts and just eight hits, and its only run was scored in the least ideal of fashions: Willie McCovey hit into a double play to bring Willie Mays home from third.
MLB Home Runs Per Game, 1960-68

Above all of the above, the two most astounding pitching performances of the year would prove instrumental in determining both pennants.
About two months into the season, Bob Gibson was clearly feeling the pain of an offense that had abandoned him in St. Louis. Despite a stellar 1.32 ERA, Gibson's record was at 3-5. Obviously, if his Cardinals teammates couldn't support him, Gibson would have to reach back, collect a little extra fire, and go on a mission to take matters into his own hands.
And so he would, big time.
Gibson would win his next 15 decisions—10 by shutout. Within this streak was a remarkable run of 95 consecutive innings in which Gibson allowed just two earned runs. And within that streak was yet another where Gibson fired blanks for 48.2 straight innings—broken up, ironically, by the Dodgers and Drysdale, who knew his 58.2-inning record of a month earlier would remain safe.
Although St. Louis hitters continued to play dead for Gibson—they averaged only 2.8 runs per start for him—they were otherwise ignited during his streak, as the Cardinals soared above the rest of the NL flock to easily rack up their second straight pennant, finishing nine games ahead of San Francisco, which placed second for the fourth straight year. Overall, the Cardinals were no less affected at the plate than most everyone else in baseball, hitting .249 as a team with just 73 home runs. But the men at the top of the order—outfielders Lou Brock (NL highs with 46 doubles, 14 triples and 62 steals) and Curt Flood (one of five NL batters hitting over .300, at .301) made sure the damage was done early and often against opposing pitchers.
And then there was Gibson. When the regular season wrapped, fans were trying to figure out, as they do today, how Gibson could have produced an astounding 1.12 ERA—surpassed among modern big leaguers only by Dutch Leonard's 0.96 mark in 1914—and still lose nine games to go with his 22 victories.
BTW: Tim Keefe of the Troy Trojans holds the all-time ERA record at 0.86, but he earned it pitching only 12 games in an 83-game schedule in 1880, with rules and regulations vastly different from post-1900 baseball.
Without a Little Help From Your Friends
Bob Gibson was so good in 1968, perhaps his teammates felt he would do all the work when he pitched. In his nine losses, he did. The Cardinals scored a total of just 12 runs and batted .147 during those nine defeats, which included a no-hit loss at San Francisco on September 17.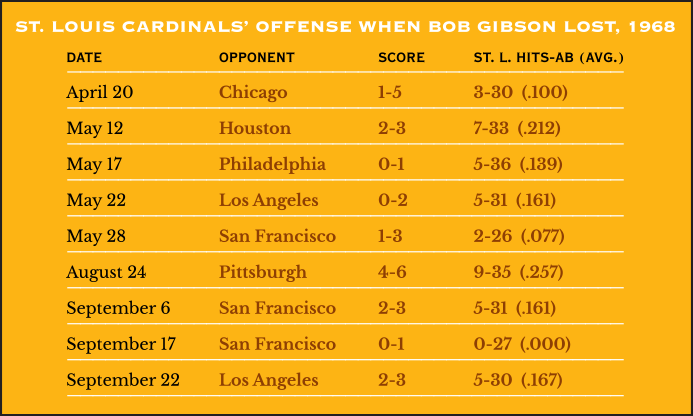 As Gibson was stunning enough to have won 30 games, such a pursuit was not out of reach elsewhere in 1968.
Denny McLain, in terms of disposition and discipline, was the polar opposite of Gibson. On the field, the amiable, fair-haired Detroit Tiger showed a game face that was more happy-go-lucky smile than nostril-flaring scowl. Off the field, McLain was a 1960s-style free spirit more in common with Vegas than Berkeley, a jet-setting wannabe whose two passions outside of baseball were playing the organ and drinking mass quantities of Pepsi—up to 10 bottles a day.
What McLain did have in common with Gibson was his ability to get the job done on the mound, winning 53 games over his previous three years as he entered 1968 at the age of 24. And as McLain was mastering the slider from highly revered Tigers pitching coach Johnny Sain—who earlier in the decade had forged magic out of the Yankees and Minnesota Twins—his impenetrable grin was about to widen even more.
No one had won 30 games in the majors since Dizzy Dean in 1934, but McLain started, stayed and finished on pace to breeze into one of the game's least-approached territories.
McLain racked up victories with brisk acceleration. He took only two months to win his first 10 games; a month and a half to win his next 10; and a mere month and a half more to reach 30 on September 14, with three starts to spare. McLain was lucky to remember the moment; as the Tigers rallied from behind in the ninth to beat the A's at Tiger Stadium, 5-4, an overjoyed McLain leapt high off the dugout bench—and into the concrete dugout ceiling, leaving him dazed but unfazed in celebration.
Thanks to McLain, the Tigers had little problem securing the AL pennant, finishing 12 games ahead of second-place Baltimore. But thanks to Detroit hitting that averaged five runs per start for McLain, the right-hander didn't have to redouble his efforts like Gibson just so he could win, icing his remarkable year with a 31-6 record and 1.96 ERA in 336 innings. So long as major league teams in the present day depend on five-man rotations and multi-millionaire relievers, McLain's claim to fame as baseball's last 30-game winner will likely hold for a long, long time.
In standing with most everyone else, the Tigers were finding hitting conditions difficult—as a team they hit .235—but they easily led the majors with 185 home runs. Eight different players were in double figures, led by muscular Willie Horton's 36, and 25 each from first baseman Norm Cash and perennial All-Star catcher Bill Freehan.
MLB Earned Run Average, 1960-68

The World Series was built up more as The Main Event between McLain and Gibson, the best of the best in the year of the pitcher. But after cruising through the season, McLain was starting to feel some payback from within as his shoulder gradually began to ache. Gibson, on the other hand, was rolling. And he used the world's stage in Game One to show everyone that he was second to none, McLain included, by very possibly hurling the game of his life. Gibson shut Detroit down on five hits, but the headlines were reserved for the 17 Tigers he struck out—a World Series record that still stands. McLain was generic by comparison, gone by the sixth inning of a 4-0 Cardinals win.
It got worse for McLain when the two paired up again in Game Four. He gave up a leadoff homer to Lou Brock and never recovered; trailing 4-1 in the third, a 90-minute rain delay struck and stiffened McLain's shoulder even more. He never returned, while Gibson—unaffected by the stoppage—went all nine innings in a runaway 10-1 rout. The Cardinals, up three games to one with two games still to be played at St. Louis, looked untouchable.
That's when Mickey Lolich crashed the stage.
Lost in the McLain media madness was the left-handed Lolich, whose solid 17-9 record looked innocuous in comparison to McLain's 31 wins. But he was just as feared by opponents, especially a Cardinals lineup that had trouble hitting southpaws. He had gone the distance in the Tigers' only win of the Series, an 8-1 Game Two laugher. Called upon in Game Five to keep the Tigers' hopes alive, Lolich was touched for three runs right off the bat but quickly settled in and fired blanks the rest of the way, as Detroit fought back for a 5-3 win.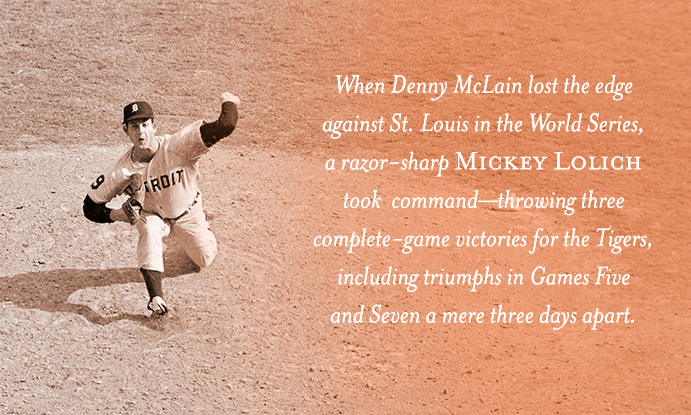 McLain returned for Game Six, and so did his comfort level—in part because of a healthy pre-game cortisone shot to his shoulder, but also due to a big 12-0 lead he was given after just three innings. St. Louis fans hoping to celebrate at home at the expense of McLain instead saw their team blasted 13-1, as McLain scattered nine hits over nine innings.
Suddenly emerging as Gibson's equal, Lolich dueled the Cardinals ace in Game Seven for six scoreless innings, and derailed a St. Louis rally in the sixth when he picked off both Brock and Curt Flood. The wasting of such precious, golden opportunities in a game that means everything often leads to that sinking feeling, and the Cardinals knew it. So did the Tigers. The very next inning, the Detroit offense awoke with a two-out rally that produced three runs off of Gibson, including two on a Jim Northrup triple that Flood misplayed in center field. Lolich took it from there, allowing only a ninth-inning run in a 4-1, Series-clinching victory.
BTW: The Game Seven baserunning gaffe by Brock was his second major one of the series; in Game Five, he neglected to slide and was tagged out at the plate standing by Freehan in a crucial play…Gibson would finish his World Series career with a 7-2 record in nine career starts—eight of which he finished—a 1.89 ERA and 92 strikeouts.
The Tigers' first championship in 33 years couldn't have come at a better time, giving Detroit an emotional uplift after riots had devastated its inner city a year earlier. Lolich was clearly the Series hero with three complete game wins, overshadowing McLain and, as he always seemed to be, Tigers outfielder Al Kaline—a consistent All-Star hitter who led the team with 11 hits, two home runs and eight RBIs.
In watching what 1968 had wrought in terms of dominant pitching, nervous baseball owners realized they had created a monster. So they set out not so much to slay it but to domesticate it. Three-ball walks and designated hitters were discussed as face-saving options, but in the end the owners decided on more transparent alterations: A return to the smaller, pre-1963 strike zone, and a reduction in the height of the mound to 10 inches, which would affect high fastball pitchers such as Gibson. A new round of expansion for 1969 wouldn't hurt, either.
Even with these changes, pitchers would retain some strength for the next decade, but gradually the batters would take over and become kings into the 21st Century.

Forward to 1969: The Amazin' Mets Batting averages plummet as major league pitchers dominate the game of baseball as never before.

Back to 1967: The Impossible Dream The Boston Red Sox get serious after a decade of living a mediocre, country club-like existence.

1968 Leaders & Honors Our list of baseball's top 10 hitters and pitchers in both the American League and National League for the 1968 baseball season, as well as the awards and honors given to the game's top achievers of the year.

The 1960s: Welcome to My Strike Zone In a decade where baseball as a tradition is turning stale with America's emerging counter-culturism, major league owners see its biggest problem to be, of all things, an overabundance of offense in the game. The result? An increased strike zone, further contributing to a downward spiral in attendance, but greatly aiding an already talented batch of pitchers.