1958: And Now, From Coast to Coast
The Giants and Dodgers stagger the sports world by relocating to California, where growing metropolises greet them with record-breaking attendance figures…while millions back in New York City are numbed with betrayal.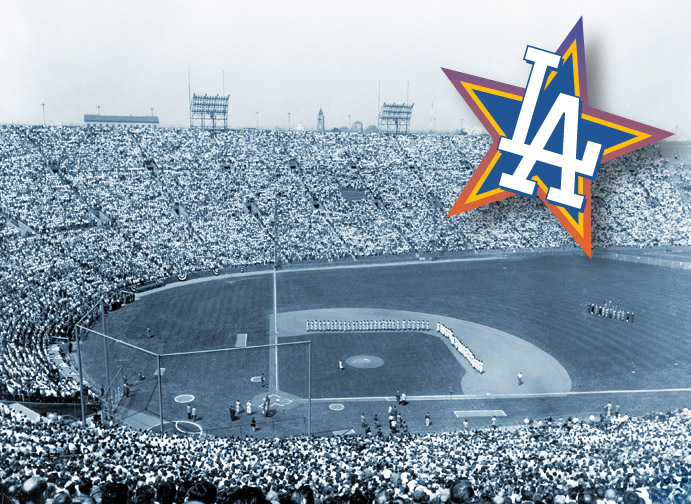 Lacking a big-time ballpark in Los Angeles, the relocated Dodgers forged one out of oval-shaped Los Angeles Memorial Coliseum knowing that baseball-thirsty fans would fill it; they did, as proven by the 78,000 that showed up for the franchise's first-ever home game in California. (Associated Press)
The 1950s would ignite an era of baseball where the lonely loyalists became a dying breed. The teams they heartily supported, from the Boston Braves to the St. Louis Browns to the Philadelphia Athletics, had become impoverished cousins to big ticket attractions like the Red Sox, Cardinals and Phillies, unable to draw at the gate or win on the field. In the emerging postwar modern age, the weak links within these two-team markets knew that their days were numbered and thus staked out more promising and untried territories.
No one protested. No one cried. These relocations were considered correctional shifts within baseball's geographic and economic landscape, and the few fans left behind, their hearts broken, nonetheless understood.
The mass contingent of fanatical Brooklyn Dodgers followers never thought twice, let alone once, that their team could suddenly desert them in the same way. The Dodgers were a constant success both on the field and in the stands, winning the occasional pennant before crowds that always totaled over a million at season's end, repeated figures only the New York Yankees could match.
But Dodgers owner Walter O'Malley, an astute and crafty businessman, didn't conceptualize the need of moving a baseball team as the difference between losing money and making money—but rather, the difference between making money and making more money.
The departures to California of the Dodgers and the New York Giants, two fabled franchises drenched in historic glory, stunned fans everywhere and cemented the reality that, no matter what Oliver Wendell Holmes said in 1922 when he gave the game its antitrust exemption, baseball was indeed a business.
O'Malley, a portly man consumed, according to sportswriter Roger Kahn, with "nonromantic intelligence," had acquired full ownership of the Dodgers in 1950 after ousting partner Branch Rickey through power politics. Witnessing what a change of scenery and a new ballpark did for the Braves once they moved to Milwaukee, O'Malley grew increasingly restless at Ebbets Field—a facility well attended, but also one that was aging, lacked parking, and was increasingly surrounded by gangs and graffiti.
At first, O'Malley publicly wanted nothing more than a new Brooklyn ballpark—provided that the public paid for most of it. The then-novel idea of local government subsidizing professional sports didn't go over too well with city reps, who at best were cool to the idea.
BTW: O'Malley brought in famed architect Buckminster Fuller to design a mixed-use stadium with a geodesic dome.
At the same time, O'Malley had gotten word that an official from the County of Los Angeles, Kenneth Hahn, was courting the Washington Senators to move west. O'Malley sneaked and snaked his way in front of Senators owner Calvin Griffith and convinced Hahn that the Dodgers could be L.A.'s if the right deal was struck. Hahn, unlike his counterparts in Brooklyn, was ready and eager to provide it.
O'Malley stepped up the pressure on Brooklyn while strengthening his options with Los Angeles. In 1956, he scheduled seven Dodgers home games across the Hudson at Jersey City to subtly let local officials know he wasn't bluffing. He did it again in 1957. Most telling of all, he made a deal to trade his baseball territorial rights in Fort Worth for those owned by Chicago Cubs owner Phil Wrigley: Los Angeles, California.
With increasing speed, news of a possible move spread like a terminal cancer through loyal Brooklyn fans, who had the Dodgers practically absorbed into their lifeblood.
They gradually began to realize that they weren't the only ones in town feeling the pain.
If O'Malley was finding the status quo at Brooklyn increasingly unacceptable, it was worse for the New York Giants. They had become second division wanderers since winning the 1954 World Series, and home attendance had shrunk to dead last in the National League—despite a popular drawing card in megastar Willie Mays. It hadn't just grown dangerous outside the Polo Grounds, but inside as well—as underscored by a fan who was killed sitting in the second deck by a gunman atop a nearby housing project.
BTW: The assailant, a teenager, said it was an accident.
Giants owner Horace Stoneham wanted out as well. He considered two options: To build a new ballpark, or share Yankee Stadium with the Yankees. Neither made progress. Stoneham decided to look west as well, but only to Minneapolis. By then O'Malley told him where he was headed, and Stoneham started romanticizing the thought of playing at San Francisco, where the Dodgers would have geographic company while preserving the tense Giants-Dodgers rivalry for two West Coast cities that already enjoyed jabbing one another.
In the summer of 1957, Stoneham officially announced the Giants' departure from New York. Prodded by reporters to explain why he was abandoning 75 years of grand tradition, the normally taciturn Stoneham replied with stinging wit: "We're sorry to disappoint the kids of New York, but we didn't see many of their fathers at the Polo Grounds in recent years."
O'Malley, well aware he had become Brooklyn's Public Enemy Number One, never faced the media when it came time to announce his move to California in October 1957. He left the dirty work to his spokesmen, who finally said it right out: The Dodgers were leaving Brooklyn.
Overnight, the great baseball triad of New York was stripped of two of its cornerstones. Gotham's loss would be the Golden State's gain, as major league baseball would no longer be envisioned as some faraway adventure for fans living on the West Coast.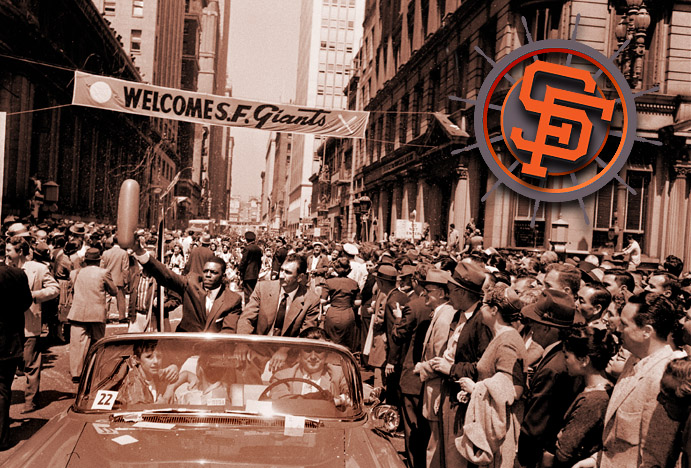 Leaving behind a decaying, increasingly troubled section of New York, the Giants came west to San Francisco where an emerging and vibrant market enthusiastically welcomed them—as Willie Mays (left) and Hank Sauer discover at the team's official introductory parade. (Associated Press)
While new ballparks were being drawn up for the San Francisco Giants and the Los Angeles Dodgers, they would have to make do in temporary quarters to begin life along the Pacific in 1958. The Giants settled into Seals Stadium, a naked slab of concrete that barely sat 23,000. But it was often filled, as the Giants drew nearly 1.3 million fans in their first year at San Francisco; only twice in 75 years did the New York Giants draw more in one season. Buoyed by the new enthusiasm and a group of everyday rookies including Felipe Alou, Jim Davenport, Willie Kirkland and NL Rookie of the Year Orlando Cepeda, the Giants responded by finishing third in the NL after consecutive sixth-place results during their last two years at New York.
The Dodgers had a harder time adjusting to their new environs at the Los Angeles Memorial Coliseum. Never mind that the voluminous stadium was made for more rectangular-shaped sports like football and track and field; O'Malley was seduced by the potential for big crowds with 90,000 available seats. Hitters struggled to get comfortable with the wacky field dimensions, including 440 feet to the right-center power alley and a mere 251 feet to left field—somewhat aided by a 42-foot mesh screen. Such distances rewarded right-handed hitters with pop fly homers, while the frustration on left-handed sluggers was best exemplified by Duke Snider, who after hitting at least 40 homers in each of his last five years at Brooklyn could only knock 15 out for Los Angeles in 1958.
Go Left, Young Man
From 1958-61, the easiest home run in baseball was undoubtedly the chip shot over the Los Angeles Memorial Coliseum's 42-foot left field screen, which ranged from 250 to 320 feet from home plate. Conversely, the hardest home run may have been trying to go right or straightaway to center in the same venue, as shown below.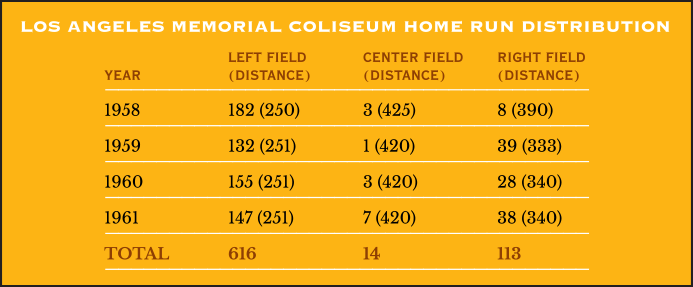 Overall the Dodgers staggered, bouncing in and out of last place before finally finishing seventh. And although they attracted enough spectators to set a franchise record at 1.9 million, whatever intensity the crowds gave was absorbed into the vast, laid-back recesses of the Coliseum—in sharp contrast to the tight, boxed-in atmosphere back at Ebbets Field, where avid Brooklyn fans always seemed to be right on top of the players' backs.
As the Dodgers and Giants settled westward, the majors in general endured through a blasé summer rerun with the two defending pennant winners, the Milwaukee Braves and the New York Yankees, repeating through non-existent pennant races.
The Braves prospered for the second straight season with league-leading numbers in batting average (.266) and earned run average (3.21). Hank Aaron's individual numbers weren't as eye-popping as the year before, yet by hitting .326 with 30 home runs and 98 runs batted in, no one was suggesting by any means that the 24-year-old Aaron had peaked. Warren Spahn breezed to a NL-high 22 wins against 11 losses; Lew Burdette, on the heels of his 1957 World Series brilliance, enjoyed his best regular season numbers in 1958 with a 20-10 record and 2.91 ERA that was slightly lower than Spahn's 3.07.
Meanwhile, Back in Brooklyn…
While the Dodgers and Giants pressed on to the Golden State, heartbroken fans back in Brooklyn and New York languished over how to spend the summer of 1958 without baseball. Perhaps no one felt the sting worse than the Dodgers' most vocal supporter, Hilda Chester (above), whose booming voice and clanging cowbells could once be heard amid the large Ebbets Field crowds. With two heart attacks already on her medical resume, Chester managed to survive the Dodgers' departure without a third cardiac arrest and moved on to rooting for the Yankees (unlike other Dodgers and Giants fans, who refused to root for their occasional enemy), but she never gelled within the relatively laid-back, white collar element at behemoth Yankee Stadium.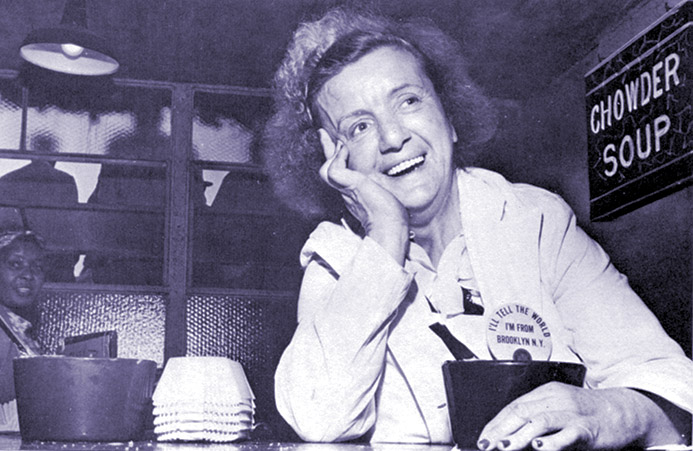 With New York City now all to themselves, the Yankees didn't expect—and didn't get—an influx of refugees in the role of abandoned Dodgers and Giants fans, given the animosity between the three teams. Attendance actually slipped at Yankee Stadium, a slight decrease to 1.42 million that could be attributed to the lack of a serious threat to the team's hold on first place.
Led at the plate by Mickey Mantle—who paced the American League in home runs (42), runs (127) and walks (129)—and on the mound with league leaders Bob Turley (21 wins), Whitey Ford (2.01 ERA) and closer Ryne Duren (20 saves), the Yankees sailed to their ninth pennant in 10 years with a mid-September clinch date. Ironically, it was only then that Yankee fans stopped yawning, with stories of a fight between Duren and coach Ralph Houk—and, more embarrassingly, the news of general manager George Weiss hiring private eyes to find out what Yankees players were up to in the New York nightlife. The sleuths lost the trail of hard partiers such as Mantle and Ford, but not relative choir boys Tony Kubek and Bobby Richardson—who were tracked to a YMCA, where they were discovered playing ping pong.
Milwaukee looked ready to provide a fitting end to the season's malaise by shooting out to a 3-1 game lead in their World Series rematch with the Yankees. Its backs to the ropes, New York rebounded and fought back with the next two games to force, for the fourth straight year, a seventh game.
Braves starter Lew Burdette, attempting to reprise his role as Series hero, held the Yankees tied in Game Seven through seven innings at 2-2—but then fell victim to an eighth-inning New York rally as the Yankees scored four times after the first two batters were retired. Bob Turley, relieving for the second straight game three days after firing a five-hit shutout in Game Five, held the Braves in check the rest of the way after taking over for Yankees starter Don Larsen in the third inning.
The 6-2 win in the deciding game capped the spark the Yankees had given the Series and the baseball season, becoming the first team since the 1925 Pittsburgh Pirates to win the World Series after trailing three games to one.
BTW: The Yankees hit just .210—but outhomered Milwaukee, 10-3.
Manager Casey Stengel, celebrating what would be his last championship, toasted his team once more as the best in baseball, the best in New York.
Not that there was anyone in New York left to challenge.

Forward to 1959: Reinventing Dodger After a lackluster California debut, the Los Angeles Dodgers victoriously adapt to their new surroundings.

Back to 1957: If Casey Had a Hammer Hank Aaron ascends to the superstar elite and gives Milwaukee its first World Series title.

1958 Leaders & Honors Our list of baseball's top 10 hitters and pitchers in both the American League and National League for the 1958 baseball season, as well as the awards and honors given to the game's top achievers of the year.

The 1950s: A Monopoly of Success Though described as a golden age for baseball, most major league teams find themselves struggling—unless you're in New York City, where the Yankees, Dodgers and Giants hog the World Series podium from 1950-56. But as the decade winds to a close, the euphoria of Big Apple baseball will rot overnight.