The 10 Best Pitchers of the 1950s
In a vigorous time for major league hitters and pitchers, a healthy representation of aces gave the game competitive balance.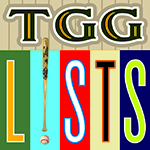 As America settled into a comfortable postwar existence (the Korean War notwithstanding), the majors followed suit and delivered some of the most balanced brand of baseball yet seen. The teeter totter that had swung wildly one way or the other for the first half of the 20th Century eased toward a level position as neither the hitters nor pitchers complained about how the other had the upper hand.
For the pitchers, there were plenty of aces to be found; the only handicap to be suffered was being chained to an awful team in the time of the reserve clause, but that was another battle for another decade. For now, pitchers found enough leverage to deal with hitters who were increasingly trying to power their way on base or beyond, and also becoming increasingly patient as any batter named Eddie (Yost, Stanky, Joost) could attest with all the walks they accrued.
The following 10 pitchers survived the various forms of offensive onslaught and made good names for themselves during a golden decade for baseball.
Bob Friend
1951-59, Pittsburgh Pirates. Best Year: 1955 (2.83 ERA, 14 wins, 9 losses)
The right-hander from Indiana is currently noted as the only major league pitcher to lose over 200 games without winning 200—and much of that lack of luck could be attributed to his early years with a lousy Pirates team that was in the midst of a long, painful rebuild. Truth was, Friend himself spent the first four years of his career trying to get it right along with his young teammates and often failing—but he found himself ahead of the program in 1955 when he became the first pitcher to win an ERA title for a last-place team. A year later, he took over for Philadelphia's Robin Roberts as the NL's workhorse, leading the circuit for the first of two straight seasons in innings pitched; by 1958, the rest of the roster caught up to Friend on the evolutionary scale and gave him enough support to win a career-high 22 times. Friend finished out the decade with an awful 8-19 record despite an ERA not much higher than his 22-win effort of the year before, as he again was haunted by poor support.
Mike Garcia
1950-59, Cleveland Indians. Best Year: 1952 (2.37 ERA, 22 wins, 11 losses, 292.1 innings, 46 appearances, 19 complete games, 6 shutouts)
As you'll notice while reading through this list, the 1950s were rich with outstanding pitchers who wore the uniform of the Indians—and Garcia was certainly the most unheralded of all that lot. After making waves as a 1949 rookie by capturing the AL ERA title, the burly right-hander jumped into high gear for a four-year period starting in 1951, going a combined 79-41 and winning a second ERA crown in 1954 when he logged a 2.64 mark. That season culminated in Garcia's only World Series participation, but he was ineffective in two appearances—then again, so were most of the Indians, who were swept by the New York Giants. The late 1950s would see a decline for Garcia, whose solid fastball began to slow up on him. A string of injuries followed, and by decade's end Garcia was basically an average bullpen cog.
Johnny Antonelli
1950, 1953, Boston/Milwaukee Braves; 1954-59, New York/San Francisco Giants. Best Year: 1954 (2.30 ERA, 21 wins, 7 losses, .750 win percentage, 258.2 innings, 18 complete games, 6 shutouts)
The fiery southpaw had to overcome plenty of hurdles during the early 1950s. With the Braves, teammates were jealous of his "Bonus Baby" status (getting paid lots of money and bypassing the minors by rule)—and after a trade to New York, Giants fans initially took their frustration out on Antonelli as he took the place of the popular Bobby Thomson (he of the "Shot Heard 'Round the World" fame), who was sent the other way to Milwaukee. But after evolving with the Braves, Antonelli's first year at New York set the tone for the rest of the decade, earning top pitcher awards with a 21-7 record and 2.30 ERA; in the World Series sweep of the Indians to follow, Antonelli allowed just one run in 10.2 innings. He won 20 games again in 1956 and thrived in the decade's final two years—the Giants' first two at San Francisco—with a combined 35-23 record, even as he made new enemies in Bay Area fans after publicly dissing the city and its famously chilly summer fog. But throughout the 1950s he remained consistent with ERAs that never wavered beyond the 3.00's, while racking up 23 shutouts—twice pacing the NL in that category.
Bob Lemon
1950-58, Cleveland Indians. Best Year: 1952 (2.50 ERA, 22 wins, 11 losses, 309.2 innings, 36 starts, 28 complete games, 5 shutouts)
Another of Cleveland's esteemed pitchers from the period, Lemon didn't have a blazing fastball but more than made up by throwing a slider and sinker that were both considered par excellence. His results backed up the claim; Lemon began the decade with his third of three straight 20-win campaigns, and started another three-year run with at least 20 in 1952. Lemon was also quite the workhorse, leading the AL in complete games four times and innings pitched three times—topping out in 1952 with 309.2, the only time any pitcher in the junior circuit reached 300 during the decade. Opponents didn't tear their hair out trying to reach base against Lemon, who gave up his fair share of hits and more than his fair share of walks—he allowed a career-high 146 passes in 1950—but they could never make strong contact against him, and the balls they put in play often ended up being grounded to an infielder, often leading to an inordinate amount of double plays. Lemon could also hit, racking up a career total of 37 homers that was one shy of a record for pitchers—but that wasn't much of a surprise given that he first broke through to the majors back in 1941 as a third baseman. After his seventh (and last) 20-win season in 1956, Lemon suddenly lost the edge and quickly faded out of baseball over the next two years.
Whitey Ford
1950, 1953-59, New York Yankees. Best Year: 1958 (2.01 ERA, 14 wins, 7 losses, 219.1 innings, 7 shutouts)
Nothing ever seemed to faze the crafty left-hander, and why not; he became the first major league pitcher to win his first nine decisions as a 21-year-old rookie in 1950—and his first 16 as a starter through 1953, after two years spent in the Army—and ultimately finished the decade with a 121-50 record and 2.66 ERA. Though wins weren't as easy to come by in the postseason—Ford was 5-4 in 12 World Series starts during the 1950s—he still registered a respectable 2.81 mark. There were multiple secrets to Ford's success. One, he played for the almighty Yankees, which never hurt any pitcher. Two, he had an immense assortment of pitches, almost all of them superior. Three, he was a master at holding runners on and occasionally picking them off (11 alone in 1956). Four, he was well preserved by Yankees manager Casey Stengel, who seemed to eschew the four-man rotation of the day and never started Ford more than 33 times in any one year. And finally, he held an air of unwavering self-assurance on the mound. "Ford stands on the mound like a Fifth Avenue bank president," wrote author Roger Angell in 1962. "Tight-lipped, absolutely still between pitches, all business and concentration, he personifies the big-city, emotionless perfection of his team." It was this disposition that earned Ford the nickname Chairman of the Board.

Billy Pierce
1950-59, Chicago White Sox. Best Year: 1955 (1.97 ERA, 15 wins, 10 losses, 205.2 innings, 6 shutouts)
Had Ford switched roster spots with Pierce, another premier lefty of the time, you could almost bet that Pierce would have a plaque at Cooperstown. Certainly the most unheralded of the pitchers on this list, the slim and stingy lefty seems all but forgotten to even casual baseball historians, although the White Sox have certainly gone out of their way to remind everyone of his contributions—retiring his #19 uniform and placing a bronze statue of his likeness at Guaranteed Rate Field. Part of Pierce's unfathomable anonymity is that the White Sox, as good as they were throughout the 1950s, could never topple the Yankees until 1959—but by then, Pierce was demoted to the bullpen, making the most of his sole World Series appearance of the decade by throwing four shutout innings. But for much of the 1950s, Pierce was an A-list ace who made three starts in the All-Star Game, twice won 20 games, produced the decade's longest consecutive scoreless inning streak (40, in 1953) and its lowest season ERA (1.97 in 1955), helped by a 1.35 mark at pitcher-friendly Comiskey Park. Pierce was at his strongest late in the decade, leading the league three straight years in complete games while once coming within one out of a perfect game in 1958.
Lew Burdette
1950, New York Yankees; 1951-59, Boston/Milwaukee Braves. Best Year: 1958 (2.91 ERA, 20 wins, 10 losses, 275.1 innings, 19 complete games)
Cast adrift from a competitive Yankee farm system, the West Virginian right-hander was rescued by the Braves, for whom he evolved into Warren Spahn's worthy sidekick and often showed ace stuff himself as he seemed to get better with each passing season. Unlike Pierce and Ford above, Burdette was not death on hitters; when he won a career-high 21 games in 1959, he also gave up more hits, home runs and runs than any other pitcher—but he still managed to rack up the one number (victories) that mattered most. Part of that might have been his ability to keep opponents on their toes with his fidgety movements on the mound; or it might have been his reluctance to walk batters, best exemplified in that 1959 season when he gave up just 38 passes over a career-high 289.2 innings. There was also this: Burdette was always suspected of being a spitballer, but he was never caught—and he used opponents' suspicion of him to his advantage. Burdette burst into the spotlight during the 1957 World Series when he threw three complete game victories; the latter of those two were seven-hit shutouts, the second of those tossed on just two days' rest.
Early Wynn
1950-57, Cleveland Indians; 1958-59, Chicago White Sox. Best Year: 1954 (2.73 ERA, 23 wins, 11 losses, 270.2 innings, 36 starts, 20 complete games)
The veteran righty, who began his career in 1939 with the Washington Senators, racked up so many victories during the 1950s that it was a wonder he didn't legally change his last name to "Win." A good pitcher with the Senators, Wynn became great when he came to Cleveland and was taught the curve by pitching coach (and former Indians ace) Mel Harder. The results were all but immediate. Wynn began the decade with an 18-8 record and a 3.20 ERA that was the highest ever recorded by a league leader. He then spent the next six seasons averaging 20 wins per year, leading the AL in 1954 with 23. At Cleveland Stadium he was particularly comfortable, recording a 91-36 ledger for the decade with a 2.76 ERA. After a subpar 14-17 record and 4.31 ERA in 1957 suggested to the Cleveland front office that he was washed up at age 37, Wynn was dealt to the White Sox—where, in 1959, he won the Cy Young Award when a renaissance effort, collecting a league-high 22 wins to record 20+ for his fifth and final time. Wynn's 188 victories for the decade were the most in the AL.

Robin Roberts
1950-59, Philadelphia Phillies. Best Year: 1952 (2.59 ERA, 28 wins, 7 losses, .800 win percentage, 330 innings, 30 complete games, 45 walks)
The decade's consummate workhorse, Roberts seemed to defy statistical logic by putting up stellar numbers in the win-loss and ERA columns despite giving up a boatload of extra-base hits. He was, in essence, the ultimate bend-but-don't-break pitcher. The right-hander began the 1950s propelling the "Whiz Kids" Phillies to a World Series appearance by becoming the franchise's first 20-game-winner since Pete Alexander, 33 years earlier; two seasons later, he nearly became the team's first 30-game winner since Alexander, finishing two victories shy of the milestone. By then, Roberts' tireless feats of nonstop throwing had become the norm. He led the NL in both complete games and innings pitched for five straight years—peaking at 33 and 346.2, respectively, in 1953; he also led the league in wins four straight years, racking up at least 20 every year from 1950-55. In one incredible stretch from late 1952 into 1953, he went the distance in 28 straight starts. Roberts could pitch on three days' rest, two days' rest, even on a single day of rest; he tossed 17 innings in one 1952 game, then came back five days later and went another nine innings, and then another nine after that, and so on and so on. Eighteen times, he pitched at least 10 innings. Exhaustion finally set in by 1956, when Roberts managed 19 wins but lost 18 with a bloated 4.45 ERA; he also gave up 46 home runs, a major league record which would stand until Jose Lima surrendered 50 for Houston in 2000. (The 505 for his entire career would also be the most allowed until Jamie Moyer topped it in 2010.) The remainder of the 1950s would exhibit Roberts as a serviceable but less-than All-Star level ace, struggling to keep his record above .500 and his ERA below 4.00—clearly a sign of burnout after his early, extended period of dominance.
Warren Spahn
1950-59, Boston/Milwaukee Braves. Best Year: 1953 (2.10 ERA, 23 wins, 7 losses, .767 win percentage, 265.2 innings, 24 complete games, 5 shutouts)
Already an established ace as the calendar turned to 1950, the left-handed Spahn soared through the next 10 years with little turbulence, effortlessly racking up win after win. There's this: In all but two seasons during the decade, Spahn triumphed at least 20 times. And this: From 1950-59, his ERA always wavered somewhere between 2.10 to 3.26. And this: His only losing record for the decade was a 14-19 mark in 1952 for a Braves team that gave him horrible run support in its last year at Boston. A fastball pitcher to begin his career, Spahn started the decade by extending a streak of NL strikeout titles to four straight years (1949-52)—but as his velocity began to wane by 1955, he introduced a screwball that lowered his K rate yet also his walk rate, all along maintaining his excellence on the mound. It only got better by decade's end when he mastered the slider. The further the season went, the better Spahn got, with a 90-42 record in August and September. Spahn was not entirely without weakness; his Kryptonite was the Brooklyn Dodgers, for whom he posted a 6-20 record against. In fact, the Braves were so unnerved by the Dodgers' dominance of Spahn, he was given just one start against them over a four-year stretch (1954-57). By the end of 1959, Spahn passed Eppa Rixey to become the NL's all-time winningest left-hander; astonishingly, at age 39, he would still have another 100 wins left in the tank.