Going, Going, Bronze: Baseball's Statuesque Obsession
The path to true greatness doesn't end at Cooperstown, but the hierarchy of who's immortalized in bronze—and who's not—is a bit more puzzling.
By Eric Gouldsberry, This Great Game—Posted August 31, 2008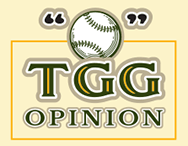 In July, the Chicago White Sox honored one of their own with a new sculpture at U.S. Cellular Field. The honoree was Harold Baines.
Harold Baines?
Nothing against Baines, mind you. He carried the White Sox offensively for much of the 1980s, a time when almost nobody else on the Sox could hit. Baines may have been a local hero, but he's almost forgotten in the national consciousness of baseball, never a threat to make the Hall of Fame, with a rookie card that probably doesn't fetch more than ten bucks.
Yet the White Sox, who have never been rich in baseball legends, have a thing for commissioning sculptures, so they had to honor somebody. And thus Baines became the seventh White Sox figure immortalized in bronze, standing proudly alongside other franchise legends…like Billy Pierce.
I've always assumed that ballpark sculptures were reserved for the true greats of baseball, an elite level to satisfy those who embrace Reggie Jackson's thought that there should be a Hall of Fame for the "real" Hall of Famers. (Ironically, Jackson himself has yet to have a monument of his likeness built.) But the bronzing of Baines set me off on a curious quest to discover just who has been honored in the round—and who hasn't.
What I found intrigued me.
Most anyone who follows the game knows of some of the statues out there: Babe Ruth near Oriole Park at Camden Yards, Willie Mays in front of San Francisco's AT&T Park, and the 40-year-old Stan Musial that survived the move from the old Busch Stadium to the new one. Many of us also know of the new Ernie Banks sculpture outside of Wrigley Field, but that's only because of the unwanted publicity surrounding a grammatical error in the monument's inscription.
But at certain ballparks, you may run upon a few folks that, like the newly erected statue of Baines, might leave you thinking, "Huh? What?" For instance, when you go to Kauffman Stadium in Kansas City, one of the last things you expect to see out front is a sculpture of Frank White, but there it is. Or the one in Cincinnati of Joe Nuxhall. Or the one in Detroit's Comerica Park of Willie Horton—not the incarcerated Willie Horton whose infamy sank Mike Dukakis' 1988 presidential campaign (although the Republicans would love to hoist up that statue). Players like White, Nuxhall and Horton might be legends on a local level, but could they have possibly been slam-dunk choices when the powers-that-be brainstormed over who they should immortalize next?
Working from the context of fame and reputation, what makes the list of out-of-the-blue works of art like Baines and White all the more puzzling is when you consider the list of those who have no statues. Lefty Grove has nothing dedicated to him. Neither does Nap Lajoie. Nor Tris Speaker. Pete Alexander, with 373 wins in the books? Zip-nil-nada.
Perhaps the most glaring omission is that of Lou Gehrig. The pure numbers and astonishing achievements alone would lead you to think he'd have a statue somewhere, anywhere. Top that with the cruel fate he faced at the prime of his life, his inspiration and courage and the level of folklore his story encrypted into the American psyche, and his absence in bronze is almost criminal.
The closest honor you'll find of Gehrig is his plaque at historic Monument Park in Yankee Stadium. The Yankees prefer the plaques to the statues, but a flat relief on a mini-monolith doesn't carry the same magic as a full-bodied, life-sized replica.
One problem with the non-bronzed stars is that they're so far removed from time and place, some teams will not see the value in approving a statue even if the player is worthy of it. The Giants, for instance, will probably never put up a sculpture of Carl Hubbell, a no-doubt-about-it Hall-of-Famer, because he played for the Giants 75 years ago in New York, not San Francisco. The fear is that 10-year old Joey from Marin County may beeline it to the Willie Mays or Willie McCovey statues, but one look at a Hubbell and the puzzlement on the kid's face might be palpable.
While many new major league ballparks have jumped on the bronze bandwagon, others facilities haven't bothered. Logistics is part of the problem. Oakland and Minnesota, two franchises rich in tradition and Hall-of-Fame heroes, have yet to erect any sculptures because they still play in multi-purpose stadiums. The A's, especially, would have a hard time hoisting up a Rickey Henderson statue at the Coliseum without a myriad of protests from bumbling bureaucrats in the City of Oakland and Alameda County (which jointly own the stadium) and Oakland Raider kingpin Al Davis, whose team shares the facility with the A's.
Lack of history is another issue. Take the Seattle Mariners; they have their own ballpark, but only 30 years of mostly losing campaigns to brag about. They have the power to commission a sculpture without outside interference, but most of their star players of lore (Ken Griffey Jr., Alex Rodriguez, Randy Johnson) left town with the rear view mirror torn off; if they won't honor you, why honor them? And thus, what does that leave the M's with? Alvin Davis? Phil Bradley? (Update: Griffey got his statue in 2017 outside the gates of T-Mobile Park.)
Teams like the A's and Twins will make up for lost time if and when they move into new ballparks. The Los Angeles Dodgers are said to be ready to honor Sandy Koufax in bronze, but only if they get the publicly funded upgrade of Dodger Stadium they're currently and intensely lobbying for. The Washington Nationals, finally in a place of their own, are promising sculptures of former Senator Frank Howard, Negro League titan Josh Gibson, and a long, long overdue statue of 417-game winner Walter Johnson.
Some ballparks play it prudently, and wisely so. Cleveland's Progressive Field has a single sculpture, of Bob Feller. Milwaukee's Miller Park has Hank Aaron and Robin Yount and leave it at that. But other parks can't help themselves. We already mentioned the White Sox, who have seven. Detroit has seven as well. Then there's St. Louis' Busch Stadium, where I lost count of the tally around 10—and that doesn't include the one of Mark McGwire, commissioned before his reputation vaporized in front of a congressional panel; the statue's finished, but quietly hiding in some warehouse.
Some sculptures need explaining, and that's where the inscriptions come in. Rod Carew, over 3,000 hits rich, has no sculpture to boast, but at Anaheim's Angel Stadium there's one of his wife, Michelle, who died at an early age from Leukemia. In Arlington, a Nolan Ryan statue shares plaza space with one of Tom Vandergriff, a former mayor who is credited for bringing the Rangers to Texas from Washington. Past owners are honored, including Charles Comiskey in Chicago and Gene Autry in Anaheim; in Kansas City, not only is Royal founder Ewing Kauffman recognized, but there's room next to him for his wife, too.
Play-by-play announcers make the grade as well. Ernie Harwell is bronzed in Detroit, as is Harry Caray at Chicago's Wrigley Field and Jack Buck in St. Louis. Who knows, maybe a veteran public address announcer is next.
Sculptures are not limited to major league ballparks, as other facilities and establishments have come to the rescue of some of the game's greats who've been otherwise neglected by big-league monument committees. Native Oklahomans Mickey Mantle and Johnny Bench are immortalized in front of SBC Bricktown Ballpark in Oklahoma City, home of the Rangers' Triple-A affiliate. A statue of Pee Wee Reese, born in Kentucky, stands proud outside the minor league ballpark in Louisville. Christy Mathewson, Jimmie Foxx and the disgraced Joe Jackson have monuments of themselves erected in their hometowns. Joe DiMaggio has at least two: One in a Florida children's hospital named after him, the other at the National Italian Sports Hall of Fame in Chicago. And Jackie Robinson is the leader in the sculptor's clubhouse with five, with one each in Montreal, Brooklyn (with Reese), Jersey City (New Jersey), Daytona Beach (Florida) and in Los Angeles at UCLA, where he attended college.
It was fun to see what minor league facilities did with other opportunities to sculpt. Many honored local politicos and businessmen for their efforts in bringing (or in some cases, keeping) baseball in their town; the most interesting of these dedications is at Tacoma's Cheney Stadium, where a statue of local lumber magnate Ben Cheney is not standing outside the ballpark's gates but, instead, seated in a first-row box seat. In Durham, there's a bronze of a bull in honor of the team's famous nickname. There's "Connecticut the Indian" outside of the ballpark in Richmond, Virginia, Mighty Casey at the Bat near Space Coast Stadium in Viera, Florida—and in Corpus Christi, Texas, there stands the largest of all baseball sculptures, an 18-foot behemoth entitled "For the Love of the Game," featuring a minor league player "contemplating the sport and his future in it," as a minorleaguebaseball.com article stated.
Finally, I must crown the most bizarre sculpture to be found at any ballpark. It comes from a California League (Class A) facility in Rancho Cucamonga called The Epicenter, where a statue of comedian Jack Benny was placed. The reason: Because Rancho Cucamonga was one-third of Benny's famous joke involving suburbs of Los Angeles. Apparently the folks in Rancho Cucamonga thought, after awhile, that the whole idea of a Benny bronze outside a ballpark was a reach. They moved it to a local theater in 2006.
There is no right or wrong to be revealed with this story, nothing moral or immoral to declare. The intended goal of this piece is to share the knowledge, pure and simple, of how baseball sometimes communicates its history, its legacies, its all-time greats.
That history can be found with a legend of legends standing proud outside a ballpark in Baltimore, a rampaging bull in Durham, a civic leader eternally enjoying a game in Tacoma…or a local favorite on the South Side of Chicago named Harold Baines.