Baseball's 10 Most Dominant Dynasties
These major league powerhouses exhibited greatness over long stretches of time and gave opponents little to hope for.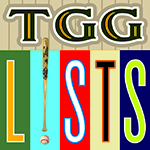 If you're looking for a little controversy in our Lists section—and trust us, it wouldn't be the first time—than this category might provide more than our usual fair share of external debate and intense bark-back from angry e-mailers.
What it all comes down to is this: What is a "dynasty," properly defined?
In the context of sports, "dynasty" is interpreted as "a team that dominates (its) sport or league for an extraordinary length of time." For us, what's missing—though certainly inferred—from this definition is the word "consecutive." The San Francisco Giants, for example, recently won three World Series in five years, and Bay Area fans are quick to call the team a dynasty. But how does that compute when you don't win any of your trophies in succession and even post a sub-.500 record in between?
Our barometer for what qualifies as a dynasty below is broken down into two parts: One, you need to win consecutive league pennants. The more, the better. Second, and more importantly, you need to snag as many World Series titles as possible during your reign. The Detroit Tigers won three AL pennants in a row from 1906-08, but it's dubious to consider them a dynasty when they kept getting beat up in the World Series.
Breaking it down more, we also gave weight to those teams that were truly dominant, teams that ran away with the pennant and then laid waste to their World Series opponents.
Check out our 10 greatest dynasties listed below, and see if you agree. Fair warning: If you harbor a dislike for the New York Yankees, you will get ill from this point on.

New York Yankees, 1960-64
Not surprisingly, we start with the Yankees and their stretch of five straight American League pennants, including consecutive World Series triumphs in 1961-62. Yet outside of Roger Maris' record home run pursuit in 1961, this is a period that's not looked upon so fondly by Yankee fans of this era, as the franchise had become such a behemoth of expectations that anything other than a World Series conquest would have been considered a disappointment. There wasn't even much joy in winning it all; it all seemed business as usual, as if that was simply the way life was supposed to be.
Bored with the utopian existence, Yankee fans and the local media focused on the negatives of these times: Casey Stengel's managerial ouster in 1960, the oil-water relationship that was Maris and the media, Yogi Berra's histrionics over Phil Linz's harmonica and—goodness gracious—Joe Peptione's hair dryer.
Tossing the tabloids aside, there were positives to discuss. Of course there was Maris and Mickey Mantle, who combined to hit 356 home runs over these five years; cocksure southpaw Whitey Ford, who always won far more than he lost; superior middle infield play from Tony Kubek and Bobby Richardson; and catcher Elston Howard, the franchise's first black star player who maintained the excellence behind the plate after Berra aged himself out of the job.
This dynasty died hard in 1965 from a mass of beat-up, aging stars, clueless new ownership (CBS) and the sapping of its power to sign young stud players thanks to the onset of the fair-is-fair amateur draft. The Yankees would not rise again until George Steinbrenner came along over a decade later.
New York Yankees, 1926-28
In sharp contrast to the Yankees of the early 1960s, the Yankees of the 1920s were dearly beloved by fans embracing the birth of a superpower. And although it didn't quite feel like the first time for Bronx Bombers fans—the Yankees had taken a few pennants and a world title earlier in the decade—the 1926-28 squads showed Yankee greatness at its most awesome.
The 1926 team was the weakest of this lot, winning a somewhat mortal 91 games—and yet all that separated them from a World Series triumph was a failed Babe Ruth stolen base attempt and a superb relief performance from a (possibly) inebriated Pete Alexander of the St. Louis Cardinals. But then we come to 1927, and the team many still call the greatest of all time—one that won 110 games and featured Babe Ruth's 60 homers, Lou Gehrig's 47 (with 175 RBIs), 231 hits and 23 triples from Earle Combs and a Cy Young Award effort (had the award existed in 1927) from Wilcy Moore, who won 19, saved 13 and registered a league-best 2.28 earned run average. In the World Series to follow, the Yankees easily deconstructed the overmatched Pittsburgh Pirates in four straight—and did it again the following year as a point of revenge against St. Louis on the heels of another dominant (101-53) regular season finish.
Dynastic aspirations of longer proportions for the Yankees were never met thanks to the next team on our list.
Philadelphia Athletics, 1929-31
While Ruth and the Yankees were monopolizing both the American League and the sports page throughout the 1920s, long-time A's manager Connie Mack was quietly building his own powerhouse from the ashes of a franchise that hit rock bottom with a series of 100-loss campaigns a mere decade earlier. By 1929, it was clear that the Yankees had met their match—and then some—from Mack's newly constructed mean machine.
The Yankees had Ruth, but the A's had Jimmie Foxx, a slugger whose muscular frame left opposing pitchers rattled from his mere appearance. Like Ruth with Gehrig, Foxx had a worthy Hall-of-Fame sidekick in Al Simmons, who hit .378 over this stretch with seasonal averages of 40 doubles, 13 triples, 31 homers and 150 RBIs. And unlike the Yankees, the A's had a dominant ace at the top of his game in Lefty Grove, a grouchy character who really hated to lose; but from 1929-31, Grove was a relatively happy camper, posting a phenomenal 79-15 record.
In winning three straight pennants, the A's were seldom challenged; the closest anyone came to doing so was Washington, who finished eight games back in 1930. They nabbed World Series triumphs in 1929 and 1930, but were denied a three-peat in 1931 by those pesky Cardinals (and, almost single-handedly, Pepper Martin), who took the Fall Classic in the max seven games.
The Great Depression took a great toll on Mack, constantly hounded by failing banks to replay massive loans; as a result, he was forced to tear down his dynasty earlier than hoped, and by the mid-1930s the A's were back to being second-division retreads—and would remain that way through the next 40 years and two westward relocations, until #3 below.

New York Giants, 1921-24
Ruled with an iron fist by the feisty, diminutive John McGraw, the Giants let it be known loud and clear to the Yankees that there was room for two juggernauts in town during the early 1920s. Sure enough, while the just-arrived Ruth had risen the Yankees to unparalleled heights through his previously unthinkable display of slugging numbers, the Giants were successfully going about business in their usual hard-nosed, unrelenting style of play, becoming the first—and still, only—National League team to win four straight pennants.
Feeding McGraw's ego even more was the fact that the Giants, with those first two pennants, squared off against the Yankees in the World Series—and won. The 1922 Series in particular—in which the Giants swept (excusing one tie) over an ineffective Ruth—was surely the high point in McGraw's baseball life, reveling in back-to-back titles over an "inferior" American League he never liked; adding insult to injury, he ordered the Yankees to move out of the Polo Grounds, where they'd been tenants since 1912. (The Yankees shrugged, departed and built Yankee Stadium.)
In winning four NL flags in a row, the Giants were not über-dominant, winning anywhere from 93-to-95 games each season. But in pure McGrawian tradition, the roster—peppered with future Hall of Famers Frankie Frisch, George Kelly, Travis Jackson, Dave Bancroft and Ross Youngs—was amazingly consistent and consistently good. Everyone seemed to bat over .300; as a team, they hit exactly that over the four years. Giants pitching was no different, with a collection of solid pitchers who all rated a mere notch below ace level; only one hurler, Art Nehf in 1921, reached the 20-win plateau.
In the late 1920s, the Giants slipped from prominence even as they remained competitive and brought on future key talents in Bill Terry, Mel Ott and Carl Hubbell. Key to this drop may have been McGraw's decreased ability to lead and read a roster that was more educated, sophisticated and more in tune with the modern baseball politic of swinging from the heels.
Cincinnati Reds, 1975-76
In more recent times, Sparky Anderson's Big Red Machine might be the default answer for those pairing the words "dominant" and "dynasty" in the same sentence. And although the Reds made six postseason appearances and averaged 95 wins per year through the 1970s, they reached the World Series consecutively only from 1975-76—but what times those were in Cincinnati.
There was no getting around a talented roster that started with all-time hit king Pete Rose, followed by the absolutely dynamic Joe Morgan (who won NL MVPs in both seasons), emerging slugger George Foster and aging but still effective catcher Johnny Bench and first baseman Tony Perez. Don't forget the original Ken Griffey (.305 average in 1975, .336 in 1976), shortstop Dave Concepcion (54 total steals) and outfielder Cesar Geronimo (.307 average, 22 steals in 1976), and collectively you faced a lineup with essentially no holes. The Reds often proved that; in winning 102 games in 1976—after racking up 108 the year before—they led the NL in every offensive category.
Like the Giants of the early 1920s before them, the Reds relied on pitching that lacked big names but was nevertheless efficient. Had fragility not beset Don Gullett (26-7 over both years), he might have evolved into an All-Star-level ace.
The Reds were just as mighty in the postseason, winning 14 of 17 games. Their only three losses came against a spirited Boston Red Sox team during the memorable 1975 World Series—the greatest ever, by many accounts. Otherwise, the Reds were lowering the broom—twice sweeping Philadelphia in the National League Championship Series, and the Yankees in the 1976 Fall Classic.
Career downslides for Bench, Morgan and Perez, diminished pitching and the Reds' stubborn (some say arrogant) refusal to embrace the advent of free agency put an early end to their dynasty.

Chicago Cubs 1906-08
Once upon a time, the Chicago Cubs won world titles. Honestly. Anyone today who says they were around to actually witness it is lying—the last one who didn't died in 2003, according to a New York Times article.
The Cubs of the late 1900s—the decade, not the century, of course—were a genuine powerhouse. They were led by first baseman-manager Frank Chance, so highly esteemed that he was nicknamed The Peerless Leader—although The Fearless Leader would have been more apt given his fatalistic courage to take one (actually, a whole lot more) for his team, often in the head. Chance was also the tail end of baseball's most legendary double play combination that also included shortstop Joe Tinker and second baseman Johnny Evers, a medley of stardom that led poets to write depressing sonnets on behalf of frustrated fans of the archrival Giants.
But pitching was the Cubs' primary weapon. When they racked up a 116-36 record in 1906—by the percentages, the best-ever ledger in modern times—their staff posted an uncanny 1.75 earned run average. A year later, it got better—with an all-time low of 1.73. Chicago's undisputed ace was Mordecai "Three Finger" Brown, nicknamed as such because of an unfortunate childhood farming accident which, all too fortunately for him, gave his mangled throwing hand the ability to throw what was arguably considered the most devastating curve ball ever known.
Astonishingly, the Cubs could not leverage their eye-popping 1906 campaign into a World Series triumph when they lost, somewhat shockingly, to the statistically inferior and offensively absent White Sox, recalled as the Hitless Wonders. A year later, the Cubs made up by sweeping Detroit (with one tie) after a 107-45 regular season; they made it two World Series titles in a row in 1908, but it took a bone-headed move by the Giants' Fred Merkle to help them get there.  The Cubs were good enough to turn in two more championships in 1909-10—winning 104 games in each season—but the Pittsburgh Pirates beat them out for the NL pennant in 1909 and, in 1910, they succumbed to the Philadelphia A's in the World Series.
New York Yankees, 1998-2001
Early in his tenure as Lord of the Almighty Yankees, George Steinbrenner brought the once-storied franchise back to full prominence, winning back-to-back World Series in 1977-78 through sensational free agent signings and trades. But he became addicted to the process and, throughout the 1980s, he hastily traded away his best prospects for over-the-hill veterans in an attempt to return to the Fall Classic—with little or no success. One decade and a three-year suspension from the game later, Steinbrenner finally began to listen to his front office lieutenants (no, George Costanza wasn't one of them) who pled with him to keep his latest batch of blue chippers—a group that included shortstop Derek Jeter, outfielder Bernie Williams, ace Andy Pettitte and closer Mariano Rivera.
These homegrown Yankees provided an All-Star base for the franchise's latest dynasty, an impressive feat given the increased parity and competition (30 ballclubs) of the times. Although they earlier won it all in 1996, the dominance really began in 1998 when the Yankees took the first of four straight AL pennants and three straight world titles with a team that rivaled the 1927 Yankees in the history books—finishing the regular season at 114-48 before winning 11 of 13 postseason games, including a World Series sweep of the San Diego Padres.
Under the cool guidance of veteran manager Joe Torre, this was not your father's Yankee dynasty when controversy and infighting ruled; it was a remarkably harmonious roster that always had each other's backs. Even the collection of reclamation projects from troubled pasts—Dwight Gooden, Darryl Strawberry and Tim Raines among them—followed the lead, stayed out of trouble and did as asked via supporting roles.
As good as the Yankees were in the regular season, they were better in October—managing a 43-15 record over the four-year stretch. Hopes of winning a fourth straight World Series in 2001 against Arizona were dashed when, just three outs away from victory in Game Seven, the normally untouchable Rivera was tagged with a rare blown save, allowing the Diamondbacks to snatch the trophy.
Oakland A's, 1972-74
Steinbrenner's Yankees of the late 1970s (not included on this list, but close runners-up) may have constituted a zoo, but the A's of earlier in the decade represented a flat-out asylum. Everyone was at war with each other; the players fought each other, the players fought the owner, the owner fought back, and so on. Anyone with a weak heart—to say nothing of a weak ego—would not have survived this clubhouse.
Yet somehow, the A's held themselves together just enough to win three straight world titles—the most by anyone not named the Yankees. They did it despite never winning more than 94 games in any of their three seasons—hardly a sign of supreme strength. They did it despite failing to collectively outscore their opposition over three postseasons. (Fourteen of their 21 playoff wins were by one run.) They did it despite a change at manager (Al Dark replaced a fed-up Dick Williams in 1974). And they did it despite all the dissension, often fertilized by mercurial owner Charles Finley—though many of the players, led by flashy egomaniac slugger Reggie Jackson, didn't help.
Fact was, the A's simply knew how to win, even if they often did so by the skin of their teeth—and more to the point, with their backs against the wall—using the grit and intensity spilled over from the caustic clubhouse atmosphere.
Like Connie Mack's two previous dynasties (including the early 1910s, which also barely missed the list), this A's empire died hard. The 1975 defection of All-Star pitcher Catfish Hunter—because Finley unsuccessfully attempted to weasel his way out of a contractual obligation—was followed by a flood of departures as modern free agency destroyed a penny-pinching Finley and, by the late 1970s, relegated the A's to a who's who of nobodies playing in front of nobody at the Oakland Coliseum.

New York Yankees, 1936-39
After establishing themselves as baseball's preeminent power in the 1920s, the Yankees were looking for a second wind in the mid-1930s following the fadeout of Babe Ruth. They found it thanks primarily to the arrival of Joe DiMaggio and an underrated pitching staff that, along with a potent offense, let the baseball world know that they'd be in this for the long run.
Starting with DiMaggio's rookie 1936 season (at age 21) and for the three years that followed, the Yankees reclaimed their status as the game's untouchables. DiMaggio himself was on fire, hitting .341 over the four years with annual averages of 36 doubles, 12 triples, 33 home runs, 140 runs knocked in and 130 scored—and that was just while playing an average of 139 games a year. As usual, DiMaggio had help from his teammates, including third-baseman/tablesetter Red Rolfe, Hall of Fame catcher Bill Dickey, second baseman Joe Gordon and, of course, Lou Gehrig—whose slugging thunder continued unabated until he was tragically crippled by ALS at the start of the 1939 season.
In all four pennant-winning seasons, the Yankees led the AL in runs scored (including a near-record 1,065 in 1936), home runs, walks and, easily, earned run average—as a New York staff led by Red Ruffing (who won 20 or 21 games each year) continually neutered opponents in a time when offense ran amok throughout the league.
It didn't matter who the National League threw at the Yankees in the World Series; they all faltered. The New York Giants gave it their best shot in the 1936-37 Fall Classics but managed a combined three wins while being outscored 71-35. But not even the Chicago Cubs, in 1938, and the upstart Cincinnati Reds in 1939, could make a dent in the Yankee machine, both being swept away like second-tier combatants.
World War II put a crimp on continued Yankee greatness as all teams were sapped of veteran talent and reduced to lesser rosters yo-yoing from year to year depending on who was left and who was drafted/enlisted. Postwar times would allow the Yankees to resume their reign, which leads us to #1 below.
New York Yankees, 1949-53
After watching the Yankees finish third—a rotten result by Bronx Bomber standards—in 1948, many baseball experts predicted the fall of an empire. They then rolled over in laughter once they found out who the buttoned-up Yankee brass had hired as the team's new manager: Casey Stengel was a clownish personality who couldn't lift any of the previous teams he managed out of the second division, and seemed to excel less in winning and more with one-liners. But Stengel had the last laugh, immediately embarking the Yankees on the greatest run of successive championships ever seen.
These Yankees may not have been as strong on paper as the late 1930s edition—or even those placed elsewhere on the list, as they continually had to fight to the finish to win their pennants. But Stengel, backed by the shrewd roster movement of general manager George Weiss, knew how to maximize talent and make it work for the right moments. He mastered the concept of platooning—he had no choice to do otherwise, with so many of his players getting hurt—embraced pinch-hitting as an A-list job (aging Hall of Famer Johnny Mize was always trouble coming off the bench) and his pitching staff, usually fronted by Ed Lopat, Allie Reynolds and Vic Raschi (who combined for a 255-117 record from 1949-53) typically finished as the league's best.
Most importantly, Stengel witnessed the transition of superstardom in the lineup as a declining Joe DiMaggio bowed to brilliant young prodigy Mickey Mantle, the latest in an illustrious line of Yankee legends. Sidekicking it alongside Mantle was catcher Yogi Berra, who also broke through and matured into a perennial MVP threat during this period.
By now imbued with the dogma that it was championship or bust, Yankee players took to the field each October determined to win the World Series as if it was their birthright. Such convictions paid off. Thrice they derailed a strong Brooklyn Dodgers unit (in 1949, 1952 and 1953), swept down a young, confident Philadelphia Phillies squad in 1950, and muffled the momentum of Bobby Thomson's historic NL-pennant winning homer when they deflated the Giants in six games in the 1951 Fall Classic.
What's ironic about the end of this dynasty is that it occurred in a 1954 season in which the Yankees posted a better record (103-51) than any of their five previous championship campaigns. Blame the Cleveland Indians, a runaway train of a team that won 111 games that season. Not that this put a stake in the Yankees' long-term prospects, as the New Yorkers grabbed nine more pennants over the next 10 years.