The Ten Oldest Players Who Did Something in a Baseball Game
Age is nothing but a number to these old baseball pros, who defied time and produced when asked to at a certain age.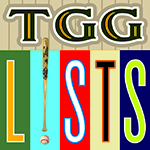 When fearsome slugger Frank Howard hit the tender age of 40 in 1976, he summed up the frustration of many major league baseball players who wished they could play forever. "The trouble with baseball," Howard lamented, "is by the time you learn how to play it, you can't play it anymore." 
People often say that age is nothing but a number. But so are the statistics that dwindle down to nothing as a major leaguer grows closer to the inevitability of retirement. No matter how hard players stay conditioned, eat all the right food and otherwise search in vain for baseball's Holy Grail, the odds are always going to be with Father Time. 
But some players have managed to defy the clock, if even for a fleeting moment. Some of the old folks on the list below managed to play on and on and on, while others came out of retirement, faced off against guys young enough to be their sons or even grandsons, and turned a publicity stunt into a worthy if brief achievement. (The following list is ranked by the age of which the player last contributed, with a few gray-haired-area exceptions.)
Julio Franco
No position player remained as relevant on a major league roster at such a late age than Franco, who played his final MLB game 25 days after turning 49 in 2007 for the Atlanta Braves—grabbing a pinch-hit RBI single in his lone at-bat. It was one of just over 4,000 professional hits Franco collected over close to three decades of activity playing for at least 20 different ballclubs spread between MLB, the minors, Mexico, Japan and Korea. Even after his major league playing days were over, Franco trudged on; at age 55 in 2014, he gave it a go in the independent United Baseball League, hitting .222 in 27 at-bats; a year later, managing a semipro Japanese team, he substituted himself for an injured star player and hit over .300 in spot duty. Growing old clearly nearly fazed him; in a 2007 interview with SBNation, he scoffed at the concept of age, stating that "as long as you have the ability to play this game…That's all that matters…Some people are 20 and they're good lawyers, some are 40 and not good."
Jamie Moyer
A lot of people thought the Pennsylvania-born southpaw was pushing the clock back in 2003 when he won 21 games for the Seattle Mariners at the age of 41—but little did they know just how much gas he still had left in the tank. Over the next seven years, Moyer won 82 more games before conceding to Tommy John surgery at the end of 2010. End of career? Not this guy. Ready to return to action in 2012, the Colorado Rockies gave Moyer a chance to reprove himself in spring training, and he responded by winning an Opening Day roster spot at age 49. From that point, it truly would go downhill for Moyer, winning just two of 10 starts with a 5.70 ERA—but not before becoming the oldest major league pitcher ever to win a game—and the oldest to collect an RBI hit when he drove home two Rockies on a single in a 6-1 victory over Arizona on May 16, the date of his 269th and final victory. Even after being released by the Rockies, Moyer didn't give up—getting minor-league sniffs by both the Baltimore Orioles and Toronto Blue Jays before being let go by both, ending any quest of continuing on past his 50th birthday.
Hoyt Wilhelm
One of three players on this list enshrined in the Hall of Fame, the right-handed knuckleballer got a late start on the major league scene by debuting for the New York Giants in 1952 at age 29. He would certainly make up for the lost time—pitching another 20 years in a career in which he would become the first player to win ERA titles in both the National and American Leagues, the first to pitch in 1,000 games, and count teammates that spanned Sal Maglie to Steve Garvey. A top reliever in the 1960s, Wilhelm was still serviceable as he entered the 1970s but found himself bouncing from team to team with greater frequency. In his last season with his last team—the 1972 Los Angeles Dodgers—Wilhelm got off to a good start by earning a save in his first appearance of the year, retiring the likes of Hank Aaron and Dusty Baker to preserve an 8-3 win over the Atlanta Braves. Wilhelm appeared in 15 more games, without snagging neither a win nor save, in part because the Dodgers kept throwing him in late in games well decided in the other team's favor. His final action came on July 10, 16 days before he turned 50.
Minnie Minoso
It's pretty wild to think of anyone playing professional baseball in seven different decades, but that's exactly what Minoso did—even if promotional stunts had much to do with it. After a strong minor-league audition in the 1940s, Minoso emerged as a top MLB star during the 1950s, a popular fixture for the Chicago White Sox and Cleveland Indians. Fading from stardom in the mid-1960s as he neared age 40, Minoso resettled in Mexico where he played, somewhat consistently, for another decade—topping out with a .315 average at age 45 in 1971.
Bill Veeck, his former boss in Chicago during the 1950s, was impressed enough that he brought Minoso back in 1976 to the White Sox (who Veeck had repurchased) and gave him three games late in the season to show off whatever skills he had left at 50. Minoso managed one hit, a single off the California Angels' Sid Monge, but otherwise was hitless in seven at-bats. Four years later, Veeck gave Minoso yet another shot, but he went hitless in two separate pinch-hit appearances. When Veeck's successor Jerry Reinsdorf called on the 64-year-old Minoso to return to the plate during Comiskey Park's final season of 1990, Commissioner Fay Vincent pulled a Scrooge and vetoed the move. That left Minoso to ply his cameo trade in the minors; he made two more plate appearances, one each in 1993 and 2003 (at age 77) for the independent St. Paul Saints—walking in the latter game.
Jack Quinn
One of two major leaguers born in Slovakia (Elmer Valo was the other), Quinn was a solid pitcher who never had a great year, except for a 26-win campaign for the short-lived Federal League in 1914. But he hung around for a long time, posting quality numbers in the face of the live ball during the late 1920s for the Philadelphia A's as he progressed into his mid-40s. Showing he could still hit as well, Quinn in 1930 became the oldest major leaguer (until Franco, above) to hit a home run in a regular season game. The A's released Quinn after that year, but he found a new home and life in the National League as a reliever—and a rather good one, leading the circuit in saves in his first two years with Brooklyn. 
In 1933, Quinn found himself with a terrible Cincinnati team, but he managed his 56th and final career save on June 3—a month before he turned 50—by retiring all three batters he faced at Pittsburgh after starter Ray Kolp had given up three runs to reduce the Reds' lead down to one. Quinn thus became the oldest player ever to record a save, even if the statistic wasn't yet official. He played his final game on July 7, six days after hitting the half-century mark; six days after that, he was released. Though he played brief parts of minor league ball over the next two years, Quinn never got another shot at the majors.

Nick Altrock
A star pitcher during the Chicago White Sox' infant years, Altrock had an endearingly comical attitude with a face to match; all he needed was a gap-toothed smile to be a dead ringer for Mad Magazine icon Alfred E. Neuman. When his arm petered out in the early 1910s, Altrock leveraged his sense of humor to the field, hired as a base coach by the Washington Senators—not so much for his wisdom and guidance but to entertain the fans with his clown-like routines. Because one stooge wasn't enough, the Senators brought on fellow jester Al Schacht, and the two hit it off as a comedy team that toured and, at the height of their fame, made more money than even Babe Ruth. 
Altrock was occasionally rewarded for his buffoonery by being asked to participate in actual game—first with pitching cameos and, later on, guest plate appearances, usually in the last game or so of the season when nothing was on the line but pride or, in Altrock's case, pure pageantry. Either he still could hit, or opposing pitchers were in on the prank. In 1924, the 48-year-old Altrock became the oldest major leaguer to officially triple in a game; five years later, he collected a single at age 53; two years after that, he managed a walk—then was cut down trying to steal second. When he made his last appearance as a player in 1933, the whole routine had truly become a joke; the 57-year-old Altrock called for the outfielders of the opposing A's to play in, and was given an underhanded delivery from Rube Walberg—which Altrock weakly grounded out on.
Jim O'Rourke
Another "for ol' times' sake" participant on this list, O'Rourke had already established a place in baseball history as the player who collected the very first hit in National League history in 1876. He would add another achievement as, at the time, the oldest player to get a hit in a major league game. The circumstances were interesting; though he hadn't played in a big-league game since 1893, the 54-year-old O'Rourke had been plodding along as a player/manager for Bridgeport of the minor-league Connecticut State League since 1895 when, in 1904, manager John McGraw asked the catcher to play one last game at the top for his New York Giants. In a sense, this was not a throwaway promotional stunt; a win for the Giants against the visiting Reds would clinch the NL pennant—of course, if they didn't grab the flag, they'd get 16 more shots at it, that's how far ahead the Giants were in the standings. Catching Hall-of-Fame pitcher Joe McGinnity, O'Rourke made four putouts, no assists and committed on error; at the plate, he produced a single and scored a run in four at-bats, as the Giants did secure their pennant with a 7-5 win. O'Rourke would continue on at Bridgeport, and would make one last batting appearance for New Haven in 1912 at the age of 61.
Candy Jim Taylor
There were a number of Negro Leaguers who played well past their perceived primes, including catchers Jose Maria Fernandez and Biz Mackey, Nat Rogers and Connie Rector, all of whom played off-and-on up to and/or just past their 50th birthdays. But Taylor, who managed, caught and was owner for numerous teams in the Negro Leagues since their 1920 inception, had them all beat—as well as most other major leaguers—when he made his last appearance as a batter in 1942 at the age of 58 and, while not getting safely on base, did knock in a run, making him the oldest major leaguer to collect an RBI in an official game. Six years earlier, in another cameo, Taylor was arguably the oldest Negro Leagues player to grab a hit with a single for the Washington Elite Giants. We say "arguably" because the game logs for the NNL are, at upload time, unavailable. Taylor continued managing in the NNL until 1947; he died the following May at the age of 64.

Charlie O'Leary
The Chicago native is probably the ultimate example of an old coach being goaded from the bench, handed a bat and given a shot to the cries of "Let's see what the ol' man can do." A teammate of a young Ty Cobb in his playing days with the Detroit Tigers, O'Leary retired from playing after 1913 and spent the next 20 years as a coach, primarily for the New York Yankees during their emergence to power in the 1920s. By 1934, he was finishing up his first year as a coach for the St. Louis Browns when, in the season's last game against the World Series-bound Tigers, manager Rogers Hornsby let him go the plate for what would be his first official at-bat in 21 years. "Clowning around," The Sporting News wrote. Against Detroit pitcher Eldon Auker, O'Leary got himself a single and later scored in an eventual 6-2 loss for the Browns. For quite a long time, O'Leary was acknowledged as being 51 at the time of the hit—but later research showed that he was actually born seven years earlier, thus recalibrating his age to 58 for his last hit, just weeks before turning 59. Thus, this made O'Leary the oldest major leaguer ever to secure a hit (and a run) in a major league game.
Satchel Paige
The man who wrote a book called Maybe I'll Pitch Forever seemed like he would do just that. The lanky right-hander began his major league-level career in 1926 for the Negro National League, where he would remain for the next 20 years—doing a ton of barnstorming and exhibition work on the side. He was then signed by Cleveland and its maverick owner Bill Veeck in 1948 at the age of 42; it was a move many considered a stunt, and even Indians manager/shortstop Lou Boudreau butted heads with Veeck until he allowed Paige to throw 20 pitches to him as a way to prove his value. Nineteen strikes and a week grounder later, Boudreau was converted. Paige would pitch effectively in the American League through 1953; after being released at age 47 (at the time, he was thought to be five years older), he hooked on and impressed with the Triple-A Miami Marlins from 1956-58. 
Through the early 1960s, Paige continued pitching as more of a sideshow attraction. But late in the summer of 1965, the combative, promotion-obsessed Charles Finley signed Paige to his Kansas City A's and assigned him to start on September 25 at Municipal Stadium against the Boston Red Sox. Taking the mound that day before a crowd of 9,289, the 59-year, 80-day-old Paige allowed two baserunners in the first—Carl Yastrzemski (double) and Dalton Jones (error)—but neither scored. Over the next two innings, Paige retired all six batters he faced on a fly ball, two pop-ups, two grounders and a strikeout. He threw a total of 28 pitches over three shutout innings, leaving with a 1-0 lead; after his departure, the Red Sox tallied five runs late to win, 5-2. But Paige had proven that at such an advanced age, he could still compete with players who weren't even born before he debuted 39 years earlier. As he said later, "Age is a question of mind over matter. If you don't mind, it doesn't matter."

The 2010s: A Call to Arms Stronger and faster than ever, major league pitchers restore the balance and then some—yet despite the decline in offense and rise in strikeouts, baseball continues to bring home the bacon through its lucrative online and regional network engagements.

The 2010s: Ranking MLB Teams, From Worst to First In a decade in which the fortunes of MLB teams swung wildly like an out-of-control pendulum, here's our list of how everything shook out at the end.

The Wildest Wild Pitches of the 2010s Seriously—did that really happen? A look back at some of the craziest things that took place in the baseball world from 2010-19.