Ten Great Baseball Talents Who Left Us Way Too Soon
These 10 players could have been among the greatest ever seen in baseball. Because of their untimely deaths, we'll never know.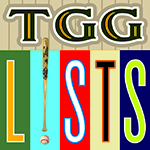 As in all professions, there sadly is a mortality rate within baseball—though it is awfully small given the health and young ages of the players. And that just makes it all the more shocking when news hits of a budding star whose life is suddenly and unexpectedly snuffed out. It's a hard-hitting fact of life—or death—for loved ones, and a source of deep sorrow for fans. 
Baseball has endured its share of heartache over its long history, losing incredible talents who left us too soon. Hall of Famers such as Lou Gehrig, Roberto Clemente and Addie Joss represent the more noteworthy tip of that iceberg of grief, but they are not included on the following list as they were at or near the end of their storied careers; by the time they had passed, they had accomplished all they could accomplish. Instead, the focus here is on players who had great potential, but whose lives were taken with little or no chance to show it. These are the guys for who both fans and historians sigh and wonder, "What could have been."
Steve Olin
Drafted in the 16th round of the 1987 amateur draft by the Cleveland Indians, the tall, slender Olin exceeded expectations by taking a sure and steady path to the bigs, using a submarine-style delivery that led many to compare him with dominant Kansas City closer Dan Quisenberry. By 1992, Olin had become the Indians' ninth-inning man, saving 29 games with a fine 2.34 ERA, and his rise was mirroring that of the Indians, a team on the upswing and nearing a move into a new downtown ballpark. 
At spring camp in Florida the following year, Olin and teammates Tim Crews and Bobby Ojeda decided to go out for a late night speedboat ride on Little Lake Nellie, some 20 miles west of Orlando. Crews, a veteran reliever signed by the Indians after six years with the Los Angeles Dodgers, was driving the boat—and, as toxicology reports would later reveal, had a blood alcohol level nearly twice the legal limit. That became a deadly impairment on a night with no moon—and a dock with no lighting that Crews apparently never saw. At full speed, the boat struck the dock; Olin died instantly, followed by Crews hours later at the hospital. Ojeda, the 35-year-old starting pitcher, suffered major scalp lacerations; authorities say that had he been slumped a half-inch less within the boat, he too would have been killed. 
Ojeda would be long haunted by the grisly accident—he remained conscious through the entire sequence—and the death of two solid relievers created a psychological void within the Indians clubhouse. The loss of Olin, in particular, was crippling. Without him, the Indians essentially struggled without a legit closer until Jose Mesa transformed into a star reliever in 1995.
Ken Hubbs
A devout Mormon with a slick glove, Hubbs began his minor league career at 17 in the Chicago Cubs' organization and initially struggled at shortstop—but when he crossed the infield to give second base a try, his glovework suddenly blossomed to the point that the Cubs made him their starting second sacker as a 20-year-old rookie in 1962. Hubbs sparkled, twice collecting five hits in a game before the end of May and, later in the year, setting a major league record (since broken) for the most consecutive games (78) and chances (418) at second base without committing an error. He took home NL Rookie of the Year honors and secured a Gold Glove for his defensive excellence. Never mind that his overall hitting (.260 average, five home runs) needed improvement; unassuming start-up infielders such as Robin Yount and Ryne Sandberg began that way, too. 
One aspect of major league life that rattled the young Southern California native was the constant flying. Hubbs decided that the best way to face his aerophobia head on was to learn how to fly himself, so he bought a single-engine Cessna. After a 1963 sophomore campaign that was a drop-off both offensively and defensively—though Cubs management had hardly lost faith in his future—Hubbs took a friend for a flight south of Salt Lake City on a cold February day in 1964. He encountered an approaching winter storm and turned back—but he couldn't beat it. With little pilot experience, Hubbs had to fly on instruments and lost control; the plane nosedived into a lake, killing both himself and his friend. 
Some wonder if the Cubs' historic championship drought would have ended sooner had Hubbs lived, providing crucial stability to a roster already spiced with future Hall-of-Fame talent in Ernie Banks, Ron Santo, Ferguson Jenkins and Billy Williams.
Brian Cole
Brian Cole never made it to the majors, and that's a tragic shame. At first glance, one would imagine that the outfielder was lucky to even be drafted as high as the 18th round by the New York Mets in 1998, with an unimpressive 5'9", 168-pound frame. But once you saw him play, the thought became: Why drafted so late? Think of someone with the power of Mookie Betts and the speed of Rickey Henderson, and you have Cole, who tore apart the minors for three years—hitting .306 with 42 homers and 135 steals in 320 games—and was on the cusp of making the Mets at age 22 when spring training 2001 broke, with veteran players impressed with his five-tool make-up. 
After being assigned to Double-A Binghamton, Cole was driving with his brother back home to Mississippi on Interstate 10 in north Florida when another vehicle abruptly moved in front of him. Forced to swerve his Ford Explorer into the median, Cole lost control and the truck rolled over three times before coming to a stop. His brother, battered and bruised, managed to walk away—but Cole's seat belt failed, and he was ejected from the truck; he died three hours later at the hospital. His family sued Ford for its defective safety and won a $131 million judgment, before settling for what likely was a lesser amount as the automaker dropped its appeal. But no amount of money would bring Cole back to his family—or would it deliver the specter of a baseball superstar for fans deprived of the chance to see what he could have brought to the game.
Harry Agganis
Born in Boston to parents who emigrated from Greece, Agganis emerged as a legend in the area's prep and college scene, excelling at every sport he performed—but most especially at football, where he starred for Boston University as quarterback, defensive back and punter. He eschewed the National Football League and legendary Cleveland Browns coach Paul Brown, who made him their top draft pick, to sign a less lucrative deal with the Red Sox—because he had more of a hankering to play baseball. 
To no one's surprise, Agganis made an impressive debut at Triple-A in 1953—hitting .281 with 23 home runs and 108 runs batted in—and earned a promotion to the Red Sox a year later, where as an everyday first baseman he hit .251 with 11 homers. He had improved his average to over .300 early in 1955 when he began to fall prey to coughing fits. Multiple stays in the hospital ensued, where among other things it was discovered that Agganis had a blood clot in his leg. On June 27, the clot reached his lung, blocking blood flow and causing instant death. 
To this day, Agganis is remembered just about everywhere in Boston—especially around Boston University with a street and arena named after him; every year, the Harry Agganis Football Classic is held, highlighting the area's top college-bound athletes.
Oscar Taveras
The highly prized prospect of the St. Louis Cardinals was often compared to fellow Dominican native Vladimir Guerrero for his wild, powerful swing and a cannon for an arm in the outfield. Everything he did over six minor league seasons—hitting .320 with abundant power—telegraphed that he could easily fill Guerrero's shoes as a potential star. After homering in his first game at the major league level in May 2014, Taveras underwhelmed with a .239 average and three total jacks over 80 games—but at age 22, there was little doubting that a bright future lay ahead. 
After the Cardinals were eliminated in five games by San Francisco in the 2014 National League Championship Series—for which he went 3-for-7 with a home run—Taveras retreated to the Dominican Republic for the offseason. One evening in October, he apparently drank—a lot. And then, thinking it would be no big deal to get behind the wheel of his new red Camaro with a BAC approaching 0.30—a level for which some believed he was lucky to be conscious—Taveras hit the road. He never got to his destination; at some point on a wet coastal highway, he lost control—or perhaps he just blanked out and sped off the road—and crashed, killing both he and his 18-year-old girlfriend who was along for the ride. 
News of the tragedy hit America just prior to Game Five of the 2014 World Series in Kansas City; Royals pitcher Yordano Ventura, a close friend of Taveras, wrote "R.I.P.O.T.#18" on his cap as a solemn tribute—and a haunting irony of events to come.

Austin McHenry
Some 90 years before the passing of Taveras, the Cardinals lost another young strong-armed outfielder on the verge of greatness; in fact it could be argued that the Ohio-born McHenry was already there after a scintillating 1921 campaign. But he would get little chance afterward to show more of his promise. 
Shun by the Cincinnati Reds after a decent stint in the minors, the Cardinals and emerging talent-sniffing guru Branch Rickey snatched him to St. Louis, where he warmed to the advent of the live ball era after a few modest seasons. In 1921, the 25-year-old McHenry racked up numbers at an even more impressive rate than most everyone else whose stats were being inflated by the post-deadball momentum; his .350 batting average was second in the NL to incomparable teammate Rogers Hornsby, while his 17 home runs, 102 RBIs and 201 hits were all top-five material. In the wake of this terrific output, the Reds—suffering from releaser's remorse—offered St. Louis good money to get him back. The Cardinals said no thanks. 
McHenry's follow-up in 1922 was solid (.303, five home runs through his first 64 games) but muted—alas, for good reason. In June, he began to complain that he was going blind; after taking a leave of absence for rest, it was soon discovered that he had a brain tumor above his left eye. Never mind a return to baseball; McHenry was just hoping to survive after being told he had to undergo a tricky operation to remove the tumor. His odds of surviving the procedure were not good, but they were better than not having any procedure at all. The tumor was removed, but McHenry lived only another week before dying, as the Cardinals and baseball in general became bereft of a talent who could have made Cooperstown at his rate of evolution.
Yordano Ventura
A little over two years after grieving over the death of Taveras, the pint-sized, flamethrowing Royals pitcher met a similar fate on a curvy, mountainous road in the Dominican Republic when his Jeep overturned on an embankment. It was the second death on the same day in the same country involving someone with major league experience, as former infielder Andy Marte had earlier crashed his car in a fatal wreck. The double-whammy, on top of Taveras' earlier death, scattered major league execs into thinking up better education practices to temper down well-invested Dominican players who spent their offseasons living it up in their home country. 
Brought up through the minors with many of the same players he would team with and nab back-to-back pennants for Kansas City in 2014-15, Ventura became a regular presence in the rotation in 2014 with a 100-MPH fastball and a temper that at times got the best of him, given the number of bench-clearing scrapes that occurred whenever he pitched. Although Ventura's ERA rose through his three full major league seasons, there was still much anticipation that he would settle in and dominate for the long term. 
Controversy lingered in the aftermath of Ventura's death as to whether any substances played a role in his accident. Authorities say he didn't wear a seatbelt, but they were otherwise quite tight-lipped on the topic of possible drug or alcohol usage; a toxicology report was never publicly released. Some believe this was done on purpose to shield Ventura's surviving family, which would have lost the remainder of his $23 million contract signed in 2015 because of a clause that specifically stated there would be no payment if he died while under the influence.
Charlie Ferguson
During baseball's evolving days of the 19th Century, there was no bigger and sudden loss to the game than the multi-talented Ferguson, who starred as both pitcher and hitter for the Philadelphia Quakers (Phillies). 
A Virginia native born in the midst of the Civil War, Ferguson latched onto the game as its popularity spread from the north, and he was brought in by the Quakers after their disastrous (17-81) inaugural campaign of 1883. In a time when three- and two-man rotations prevailed, Ferguson immediately made his mark, posting a 99-64 record with a 2.67 earned run average through his first four seasons at Philadelphia; highlights included a 30-9 campaign in 1886, and the franchise's first no-hitter in 1885. But pitching was not Ferguson's lone strength. He emerged as the team's best hitter, good enough that by 1887 he led the team with a .337 average and 85 RBIs—in just 72 games. At this point, his trajectory clearly shouted Cooperstown. 
The following spring, Ferguson apparently consumed something that definitely did not agree with him. He developed typhoid fever and was bedridden for a month before finally passing away at age 25 on April 29, 1888. Today, there is a 96-99% chance of survival for anyone who contracts typhoid; it's too bad Ferguson didn't have such good odds in his favor at a time when modern medicine was hardly as advanced.

Lyman Bostock
Born in Alabama as the son of a Negro Leaguer, Bostock absorbed the parental sage and developed into an exceptionally gifted contact hitter; by the time he was hitting nearly .400 at the Triple-A level in 1975, the Minnesota Twins decided it was time to call him up. Alongside perennial batting champ Rod Carew—for whom many equated his style of hitting to—Bostock batted .282 as a rookie and .323 as a sophomore before absolutely breaking out in 1977, hitting .336 with 104 runs, 199 hits and baseball's version of the triple-double with 36 doubles, 12 triples and 14 home runs. As Carew would do later, Bostock—a free agent after 1977—escaped from Minnesota to the California Angels because he despised Twins owner Calvin Griffith. But he got off to such a horrible start in 1978 that he insisted that he not be paid, all before getting on track by hitting .331 from June 1 to September 23—all too sadly, the date of his last major league game in Chicago. 
That evening in nearby Gary, Indiana, Bostock was riding in a car with his uncle and two women—one of whom just happened to have her estranged husband following in another car. When he approached to the side at a traffic light, words became argument, then rage—then murder; the man pulled out a shotgun and fired in the direction of his wife, missing her—but hitting Bostock, seated next to her. He died shortly afterward. 
The assailant, Leonard Smith, faced up to 60 years in prison—but instead served only six months in a mental ward after lawyers successfully played the insanity card. Today he's a free man, while Bostock, a budding superstar, was robbed of fulfilling his potential.
Jose Fernandez
There may have been no sadder point for baseball in recent years than when fans awoke on a late September Sunday morning in 2016 and saw on their MLB app the following cold, factual headline: "Miami Marlins release statement following death of Jose Fernandez." 
While the other folks on this list died with only the promise of superstardom, Fernandez had all but achieved it after barely four years in the majors. Which makes his death, at age 24, all the more sobering; he had confirmed his greatness, with the potential to improve upon it. 
A Cuban defector, the sizeable (6'2", 240 lbs.) Fernandez employed his right arm into instant success as a 21-year-old rookie in 2013, earning NL Rookie of the Year honors and third place in the NL Cy Young Award vote with a 12-6 record, stellar 2.19 ERA and .182 batting average allowed. He succumbed to Tommy John surgery early in 2014, but unlike others who underwent the procedure, Fernandez returned after a year of recovery as if nothing had ever happened—continuing to impress as he struck out opponents at a sizzling rate of over 11 batters per nine innings thrown; and he was nearly untouchable at home, setting a record by not losing at Marlins Park until his 27th start there. He was a flamboyant character on the mound and off it, keeping the Marlins clubhouse loose with a radiant personality. 
Shortly after midnight on September 25, 2016, Fernandez decided to take two friends out on his speedboat, named Kaught Looking; he had tried to persuade Marlins teammate Marcell Ozuna to join him, but Ozuna declined—all while failing to talk Fernandez out of getting into the boat. Hours later, a Coast Guard patrol came across a haunting scene on a jetty near the Miami Harbor: Fernandez's overturned boat, and the dead bodies of Fernandez and his two passengers. News of the event spread and shocked the baseball world; a devastated Marlins team called off a scheduled game later that day against Atlanta. Just as sobering, it would be revealed in later months that Fernandez not only was at twice the legal blood alcohol limit, but that he had traces of cocaine in his system. 
Baseball moved on—it had to—but the loss of Fernandez would be an especially bitter and heartbreaking pill for the game to swallow.