The 10 Best Hitters of the 1900s
Take a look at the major leaguers who best managed to survive the torture of hitting at the height of the Deadball Era.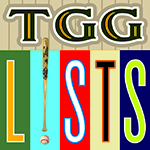 For the major league hitter, life in the Deadball Era was pretty lousy. There was no going back to the 1890s when whole teams hit over .300, and surpassing 100 runs was merely a stepping stone for top players who finished closer to 200 for a season. The ball was already dead enough from overuse—sometimes there was only one ball available for the entire game—but hitters really lost their advantage in the early part of the decade when they would start being charged with strikes on foul balls, up to two strikes. This edict, the last significant rule change to date and a catalyst that truly ushered in baseball's modern age, forced hitters to play to what little leverage they had. That meant forgetting about the home run and concentrating on the relative little things like aggressively putting the ball in play—and if you managed to make it on base, then you had to do everything possible to steal that next base. 
Following are the 10 players who best lived to the Deadball Era's mindset in the Twentieth Century's first decade.
Mike Donlin
1900, St. Louis Cardinals; 1901, Baltimore Orioles; 1902-04, Cincinnati Reds; 1904-06, 1908, New York Giants. Best Year: 1905 (.356 average, 124 runs, 7 home runs, 80 RBIs, 33 steals)
Nicknamed Turkey because he moved about on the field like one, Donlin was arguably the most naturally talented player of his time. It's too bad he didn't have a natural gift for staying focused on the game. There was never a dull moment in Donlin's life, on or off the field; he was a brawler, a drinker and an actor. The later skill is what seduced Donlin away from the ballpark and onto the stage with actress/wife Mabel Hite, and it kept him away from the Giants in the latter part of the decade. That's a shame, because he hit .339 during the 1900s when he wasn't trekking back and forth across the country to pursue his goal of stardom on the stage. If not for this method of barnstorming, Donlin surely would have ranked higher on this list.
Sherry Magee
1904-09, Philadelphia Phillies. Best Year: 1907 (.328 average, 4 home runs, 85 RBIs, 46 steals)
Plucked straight from the sandlot to the majors, Magee made an immediate impression with the Phillies and became their star player for the duration of the decade (and beyond). In his first full year in the majors—to say nothing of organized ball—the multi-talented Magee hit .299 with 100 runs and 98 knocked in, along with 48 steals; a year later, he stole 55 bags to set a Phillies record that stood until Juan Samuel broke it nearly 80 years later. He also had a prickly disposition, earning more than the average player's share of ejections. We've said it often and we'll say it again: Magee may be the best player not in the Hall of Fame, outside of the scoundrels and cheats barred from Cooperstown.
Ty Cobb
1905-09, Detroit Tigers. Best Year: 1909 (.377 average, 116 runs, 216 hits, 9 home runs, 107 RBIs, 76 steals)
Barely channeling the trauma and anger of his father's death on the eve of his playing career, it took a few years of fiery baptism for the teenage Georgia native to settle in—and once he did, it was apparent that he was second to none within the American League, and an equal to National League megastar Honus Wagner. In his first full season of 1907, a 20-year-old Cobb dominated the statistical landscape by topping the AL in batting average, runs and RBIs; he'd lead in those same three categories over the next two seasons as well. His proficient presence catapulted the Tigers from a team on the edge of financial failure (and relocation from Detroit) to three straight AL pennants, though each time the team was met with defeat at the World Series. It was clear from Cobb's early returns that he'd be a one-of-a-kind talent with a one-of-a-kind temperament to be reckoned with for years to come.
Harry Davis
1901-09, Philadelphia Athletics. Best Year: 1906 (.292 average, 94 runs, 42 doubles, 12 home runs, 96 RBIs)
After bouncing about unsuccessfully in pursuit of a career in the NL during the 1890s, the Philly native became so discouraged that he briefly walked away from the game—but then found a second, more prosperous life as an original member of the A's as the AL took root. As he aged well into his 30s, Davis at mid-decade was the league's preeminent slugger—leading the AL in home runs for four straight years from 1904-07. True, he hit only 38 homers during this period, but that was the Deadball Era in a nutshell. Davis was also strong enough to lead the AL three times in doubles, topping out at 47 in 1905. Hardly recalled now even among Deadball Era enthusiasts, Davis deserved credit for keeping manager Connie Mack's offense afloat in the A's infant years.
Fred Clarke
1900-09, Pittsburgh Pirates. Best Year: 1903 (.351 average, 32 doubles, 15 triples, 5 home runs, 70 RBIs)
Honus Wagner may have been the Pirates' undisputed star during the decade, but the peppery Clarke was the straw that stirred the drink as the Bucs' left fielder-manager, overseeing four pennants and a world title (in 1909) while hitting .301 through the 1900s. Even as he aged well into his 30s, Clarke was an everyday presence on the field, netting double digits in triples and steals every year during the decade; his leadership was such that the Pirates never suffered a losing season under his command during this time.

Frank Chance
1900-09, Chicago Cubs. Best Year: 1906 (.319 average, 103 runs, 3 home runs, 71 RBIs, 70 walks, 57 steals)
Famously known as one-third of baseball's most legendary double-play combination (along with Joe Tinker and Johnny Evers), Chance was Clarke's equal as player-manager—though his standing as "Peerless Leader" encourages debate on that topic. Taking over for an ill Frank Selee in 1905, Chance immediately embarked the Cubs on an unprecedented tear of winning—averaging 106 victories from 1906-10 to go with four pennants and the team's last two world titles until, famously, 108 years later. Chance's bat and grit had much to do with it, constantly hitting over .300 while otherwise reaching base the easy way (via the walk) and the painful way—getting plunked in the head so often in a time well before batting helmets, it caused irreparable hearing damage and, a one point, a blood clot in his brain. Chance was also fast, twice leading the NL in steals.
Elmer Flick
1900-01, Philadelphia Phillies; 1902, Philadelphia Athletics, 1902-09, Cleveland Naps. Best Year: 1900 (.367 average, 106 runs, 200 hits, 11 home runs, 110 RBIs)
The left-handed slugger began the decade white hot, burning up the box scores for the Phillies while burning up the clubhouse with an infamous fight with fellow young star Nap Lajoie. All apparently was forgiven when Flick joined Lajoie with the AL crosstown rival Athletics in 1902—and just as quickly fled the City of Brotherly Love to Cleveland with Lajoie when the Phillies sued the A's for poaching their players. With the Naps, Flick was a consistent force, always hitting around the .300 mark—his .308 average in 1905 was good enough to win a batting title—and he twice led the AL in steals while leading the circuit three straight years (1905-07) in triples. In 1907, he became a subject of trade rumors when the Tigers, tearing their hair out over Ty Cobb, offered the turbulent young star one-up for Flick. The Naps declined and spent the next 20 years kicking themselves for it, as Flick immediately regressed a year later while Cobb remained an effective force for the next two decades.
Sam Crawford
1900-02, Cincinnati Reds; 1903-09, Detroit Tigers. Best Year: 1901 (.330 average, 16 triples, 16 home runs, 104 RBIs)
The Nebraska native was born in the town of Wahoo—and that's what Reds fans screamed when he arrived in Cincinnati and achieved stardom at age 21, hitting .330 with a career-high 16 home runs. But after more success a year later, Crawford bolted to Detroit at the height of the NL-AL tug-of-war involving star players. He started his Detroit tenure in strong shape, belting 25 triples in 1904—a record he himself would topple in 1914—but struggled to carry a weak lineup on his back. Then Ty Cobb showed up. Although Crawford was no fan of Cobb the man—once stating that the young Georgia Peach was "still fighting the Civil War"—he loved Cobb the player, as the two became an inseparable hitting duo second to none over a 10-year period and helped revive Crawford's potency at the plate. Crawford's only disappointment of the decade was his performance in the Tigers' three straight World Series defeats, hitting a slim .243 in 70 at-bats with just one homer and no triples—an eye-opener for a guy who holds the all-time record in career three-baggers.

Nap Lajoie
1900, Philadelphia Phillies; 1901-02, Philadelphia Athletics, 1902-09, Cleveland Blues/Naps. Best Year: 1901 (.426 average, 145 runs, 232 hits, 48 doubles, 14 home runs, 125 RBIs)
The tightly packed, muscular Lajoie was every bit as good a ballplayer as he looked, easily reigning as the AL's top star before Ty Cobb crashed the scene late in the decade. A major coup for the AL (and the A's) after a superlative early career in the NL, Lajoie began his time in the junior circuit with an off-the-charts 1901 performance in which he hit .426 on 232 hits, 76 of them for extra bases; he was so feared by opponents that season, he was given the rare nod of once being intentionally walked with the bases loaded. (The .426 average is disputed as official recordkeeping was anything but airtight; some believe the figure is .422.) When his former employee, the crosstown Phillies, sued to get him back, Lajoie escaped to Cleveland where Pennsylvania law couldn't touch him, and his career continued without a hitch—hitting .366 over the next three seasons while claiming two more batting titles. He became so revered that the Blues were renamed the Naps in his honor, and was given the dual assignment of player-manager starting in 1905—but the multitasking caused a downturn in his numbers. That changed in 1910 when he shed the managerial duties and reverted back to superstar form—but that's another topic and another decade for another time.
Honus Wagner
1900-09, Pittsburgh Pirates. Best Year: 1900 (.381 average, 107 runs, 201 hits, 45 doubles, 22 triples, 4 home runs, 100 RBIs, 38 steals)
You know how good a ballplayer's year-by-year statistics are by seeing how many of the numbers are bolded to indicate a league-leading figure? Come look at Wagner's stats for the 1900s and you'll behold a sea of bold. No player dominated a decade as Wagner did during this one; in our scoring system to annually determine the best hitters and pitchers, the gangly shortstop nicknamed the Flying Dutchman is tops on the NL hitting lineup every year from 1900-09. For the decade, Wagner won seven batting titles, led the NL twice in runs scored, seven times in doubles, three times in triples, four times in RBIs and five times in stolen bases. The Pirates were not only grateful for his contributions that helped win the club four NL pennants, they were even more relieved that he remained in Pittsburgh as temptation to jump to the upstart, rival AL continuously loomed. Wagner's domination of this decade provided the Hall of Fame with an easy decision when it made him one of five charter members in 1936.