The 10 Best Hitters of the 1910s
Some of baseball's legendary star hitters did their best to help the game during a time when rules and conditions still favored the pitcher.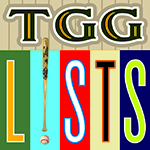 After a rough first decade of the Twentieth Century during which the Deadball Era took firm hold, major league hitters saw the balance of power between themselves and pitchers tilt back in their favor. But not that much. By and large, the ball was still mush and the fences remained distant, leading to a lot of triples but few home runs. Helping to give baseball the appearance of abundant offense was the presence of truly gifted star hitters who would have thrived in any era, and make up the bulk of the list shown below.
Bobby Veach
1912-19, Detroit Tigers. Best Year: 1919 (.355 average, 191 hits, 45 doubles, 17 triples, 97 RBIs)
There were a lot of good hitters in Detroit during the time of Ty Cobb, and Veach certainly was one of them. Whether he was taught well by Cobb, hit better because of his presence in the lineup—or a combination of both—Veach certainly profited from hitting behind the Georgia Peach, playing the clean-up role well by three times leading the American League in RBIs during the decade. Not entirely intimidating at the plate—he weighed only 165 pounds, or the same as Jose Altuve—Veach would finish his career with over 2,000 hits and a .310 batting average, making his name a prominent one among the "Why ain't he in the Hall of Fame" crowd.
Frank "Home Run" Baker
1910-14, Philadelphia Athletics; 1916-19, New York Yankees. Best Year: 1912 (.347 average, 116 runs, 200 hits, 40 doubles, 21 triples, 10 home runs, 130 RBIs)
Baker wasn't much heavier than Veach—in the books he's listed at 173—but he possessed enough muscle to become so powerful a hitter, he was bestowed with the nickname "Home Run." Obviously, this was because he hit so many of them—or, at least in relative Deadball Era terms. For four straight years from 1911-14, he led the AL in homers, though his combined total during this stretch was 42. "Home Run" was bestowed upon Baker not because of his regular season efforts but, instead, a 1911 World Series performance in which his pair of blasts helped the A's beat the New York Giants. Baker was no one-trick pony; he piled up on doubles, triples (with a career-high 21 in 1912), stolen bases, and his excellent play at third base earned his place as part of the A's famous "$100,000 Infield." His time in Philadelphia came to an end after 1914 when he refused a lower salary offer from manager/co-owner Connie Mack, breaking apart his championship roster under the weight of red ink; after a year off, Baker played the balance of the decade for the Yankees, with more mild results.
Sam Crawford
1910-17, Detroit Tigers. Best Year: 1911 (.378 average, 109 runs, 217 hits, 7 home runs, 115 RBIs, 37 stolen bases)
After being one of baseball's prime offensive threats in the 1900s, Crawford still had plenty of gas left in the tank. That he was on the wrong side of 30 for the entirety of the 1910s didn't keep him from setting career highs in batting average, runs, hits, triples, RBIs and even steals. As part of the prodigious Detroit lineup that included Veach and Cobb, Crawford did his part to light up the scoreboard as he three times led the AL in RBIs (including a career-high 120 in 1910), and four times led the league in triples, running his career total to a whopping 309—the most in major league history. Twenty-six of those came in 1914 to tie the AL mark set two years earlier by Joe Jackson. Crawford's numbers cooled off after 1915 and he exiled himself to California and the Pacific Coast League, where he played productive ball until his retirement at age 41.
George Burns
1911-19, New York Giants. Best Year: 1914 (.303 average, 100 runs, 89 walks, 62 stolen bases)
Continuing the trend of lightweight wonders during the decade, the 5'7", 160-pound Burns was about as close to an offensive star that the well-balanced Giants could boast under manager John McGraw. Burns didn't bruise the ball, but instead beat you with his consistent ability to simply reach base and aggressively make his way home via the steal. After earning everyday status in 1913, Burns four times led the National League in runs, twice in walks and twice in stolen bases for the remainder of the decade while batting no lower than .272 and no higher than .303. Burns was such a nice guy, he never once got ejected from a game—something you'd never expect from someone toiling under McGraw's pugnacious tutelage. And he inspired a young Vaudeville performer to change his name to George Burns—the one most people would eventually come to know.
Gavvy Cravath
1912-19, Philadelphia Phillies. Best Year: 1913 (.341 average, 179 hits, 19 home runs, 128 RBIs)
The right-handed slugger started the decade all but forgotten, stuck in the minors at age 30 after failed attempts to make it with three different major league teams in the 1900s; he ended it with 115 homers for the Phillies, more than any other player during the 1910s. For that, Cravath could thank Philadelphia's Baker Bowl; 92 of his homers during the decade were launched at the Phillies' home park, including all 19 from his 1914 total. Five times during the 1910s, he led the NL in home runs, with his 24 in 1915 the most by any player in the modern era until Babe Ruth switched to everyday hitter and swatted out 29 in 1919. Cravath faded out with the decade, but not before pacing the NL once more with 12 homers in 1919—in just 214 at-bats.

Sherry Magee
1910-14, Philadelphia Phillies; 1915-17, Boston Braves; 1917-19, Cincinnati Reds. Best Year: 1910 (.331 average, 110 runs, 39 doubles, 17 triples, 6 home runs, 123 RBIs, 94 walks, 49 stolen bases)
Arguably the NL's most productive hitter of the Deadball Era—after Honus Wagner, anyway—Magee continued his reign of supreme hitting into the 1910s, adding power to the mix as he learned from Cravath to go the opposite way and poke home runs over Baker Bowl's tall but very close right-field wall (280 feet down the line). Magee also enhanced a reputation for being one of the game's more confrontational individuals in 1911 when he beat up umpire Bill Finneran after objecting to a strike three call; Magee was initially suspended for the rest of the year, but on appeal had it reduced to a 30-game penalty when he claimed he was in the midst of an uncontrollable seizure. Strangely unpopular with the home crowd—proving that the rough love Philly fans had for their own didn't start with Del Ennis or Mike Schmidt—Magee was traded to the Braves for 1915, but a spring training injury quelled his offensive efficiency and hastened the end of his career at age 35 in 1919.
Joe Jackson
1910-15, Cleveland Naps/Indians; 1915-19, Chicago White Sox. Best Year: 1911 (.408 average, 126 runs, 233 hits, 45 doubles, 19 triples, 7 home runs, 83 RBIs, 41 stolen bases)
Revered today as a fallen superstar of mythical proportions, Shoeless Joe was lauded upon by the greatest contemporaries of his time, from Babe Ruth to Ty Cobb to Walter Johnson, as the greatest player they'd ever seen. Illiterate but beyond naturally gifted at baseball, Jackson arrived in Cleveland to start the decade after a couple of frustrating (and short-lived) call-ups with the Philadelphia A's and set baseball on fire; he hit .408 for the Naps in his first full season, .395 in his second and .378 in his third. (He had no batting titles to show for those efforts, because Ty Cobb hit better.) By 1915, Cleveland ownership needed money and knew they'd get a lot of it for Jackson, who was sent packing to the White Sox. In Chicago, Jackson helped win one world title in 1917, then squandered the chance for another in 1919 for cash, prematurely ending his career a year later at age 31 when he confessed to his role in the Black Sox Scandal. That he hit better than any player in that fateful Fall Classic spurred conspiracy theorists in later years to suggest that he was conned into admitting his guilt, but no solid evidence has ever materialized to prove that point.
Eddie Collins
1910-14, Philadelphia Athletics; 1915-19, Chicago White Sox. Best Year: 1914 (.344 average, 122 runs, 85 RBIs, 97 walks, 58 stolen bases)
The nickname "Fast Eddie" was all but copyrighted by Paul Newman in his film portrayal of billiards hustler Eddie Felson, but it could have easily applied years earlier to Eddie Collins, who made an art form out of reaching base and pilfering whatever bags lay in front of him. Collins stole a career-high 81 bases in 1910 and a year later swiped six in not one but two games; among American Leaguers, Carl Crawford (in 2009) is the only other player to steal six even once. At the plate, Collins "unofficially" won a batting title in 1914—they officially gave it to Ty Cobb, even as he appeared two games shy of the required 100 to qualify—three times led the AL in runs scored, and once led in walks. Only twice did he hit below .300 during the decade. Collins' erudite attitude grated on his less educated teammates, and he had the misfortune of experiencing the bitter end of two great teams: One (the A's of the early 1910s) broken up by financial constraint, the other (the White Sox of the late 1910s) fractured by scandal.

Tris Speaker
1910-15, Boston Red Sox; 1916-19, Cleveland Indians. Best Year: 1912 (.383 average, 136 runs, 222 hits, 53 doubles, 12 triples, 10 home runs, 90 RBIs, 82 walks, 52 stolen bases)
There may have been no more complete a star player during the decade than Speaker, who lacked flamboyance but certainly not all-around skills; he was a great hitter, baserunner and center fielder. He also rarely struck out; in 1918, he only suffered nine such outs in 127 games. And then there was Speaker's habit for doubles; four times during the decade, he led the AL in two-base hits, on his way to becoming the all-time career leader in that department. Above all of this, Speaker was a strong (if sometimes abrasive) team leader, helping to steer the Red Sox to two world titles early in the decade before being unceremoniously dumped to Cleveland when the team dared to halve his salary. By 1919, the Indians thought enough well of him to make him their player-manager, a position he would successfully maintain through 1926.
Ty Cobb
1910-19, Detroit Tigers. Best Year: 1911 (.420 average, 147 runs, 248 hits, 47 doubles, 24 triples, 8 home runs, 127 RBIs, 83 stolen bases)
The Georgia Peach ruled baseball during the 1910s, doubling as the game's best player and enfant terrible as he picked fights with just about everyone imaginable—handicapped hecklers, fish vendors, back alley ruffians and hotel employees. The chip of rage on Cobb's shoulder only seemed to make him a much tougher out—and if you don't believe us, check this out: He hit .387 for the entire decade. Winning batting titles was more rule than exception for Cobb, and he also excelled by leading the AL four times in runs, five times in hits, twice in doubles, thrice in RBIs, and four times in steals—including 96 in 1915, a season record which held until Maury Wills broke it in 1962. The decade's lone disappointment for Cobb—aside from the fisticuff-related injuries and suspensions that sometimes kept him out of action—was the Tigers' failure to reach the World Series even once, thanks mostly to substandard pitching from his teammates.