The 10 Best Hitters of the 1920s
Here's 10 great baseball hitters from a decade well remembered for a ball that was given jack-rabbit life.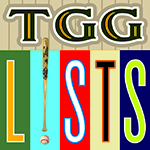 Goodbye, deadball; long live the live ball. With trick pitches banned, ballparks smaller, and the ball whiter and fresher than ever, hitters deprived of decent offensive numbers through the first two decades of the 20th Century made up for lost statistics, thrilled to see the balance of power finally tip in their favor. And when we mean tip, well—imagine someone taking a brick off one end of the scale and plunking it down on the other. Hitters took a bat to the deadball era's demise the way those three guys in Office Space violently took that finicky printer out to pasture.
Numbers previously considered unthinkable dominated the 1920s. Here's a collection of the 10 hitters who best demonstrated that.
Ken Williams
1920-27, St. Louis Browns; 1928-29, Boston Red Sox. Best Year: 1922 (.332 average, 128 runs, 194 hits, 34 doubles, 11 triples, 39 home runs, 155 RBIs, 37 stolen bases)
Often labeled with the futility tag, the St. Louis Browns of the 1920s were actually a competitive team with great hitting talent. No conversation on this topic could be complete without the mention of Williams, a late-blooming slugger who cranked it up just in time for the live-ball era to take full flower. In 1920, playing every day for the first time at age 30, Williams poked out 10 home runs which, at the time, was considered enough to contend for a home run crown. But the deadball went bye-bye in the immediate years to follow and Williams took full advantage. In 1921 he raised his homer total to 24 (adding 117 RBIs), and even that was nothing compared to what he had in store for 1922, when he became the first American Leaguer to hit three homers in a game and the first major leaguer ever to go 30-30—accruing 39 homers and 37 stolen bases. His output tapered off from 1923-24 and, in 1925, he looked to be on his way to matching his 1922 power numbers—but a season-ending concussion limited the damage to 25 homers and 105 RBIs in just 102 games. Inevitably, age caught up to Williams and he finished out the decade laboring for a lost Red Sox franchise.
Ty Cobb
1920-26, Detroit Tigers; 1927-28, Philadelphia A's. Best Year: 1921 (.389 average, 124 runs, 197 hits, 37 doubles, 16 triples, 12 home runs, 101 RBIs, 22 stolen bases)
Older and less turbulent than during his early years—perhaps as the Tigers' player-manager, he felt the obligation to behave—the Georgia Peach remained no less brilliant, easily hanging in with the new generation of power-laden bombers who, along with the live ball, was transforming the game into something far different than what he experienced as a rookie way back in 1905. Though Cobb didn't win any more batting titles, he was always in the hunt; he finished runner up in both 1921 and 1922—hitting over .400 for the last time in the latter campaign, at .401—and placed in the AL's top five two more times, including a fourth-place listing at age 40 in 1927 when he batted .357. He remained fast, stealing 128 more bases (more than a few of them of home) during the decade. And one day in 1925, showing that he was unimpressed with all the home runs being hit around him, he bragged to reporters that he would try to do nothing but to go deep over the new two days—and collected five homers. "Exiled" to Philadelphia after being tied to a 1919 game-fixing scandal that came to light in 1926, Cobb hoped (to no avail) to get a few last shots at an elusive World Series title with an evolving, highly talented A's roster.
Jack Fournier
1920-22, St. Louis Cardinals; 1923-26, Brooklyn Robins; 1927, Boston Braves. Best Year: 1925 (.350 average, 99 runs, 16 triples, 22 home runs, 130 RBIs, 86 walks)
As a twentysomething during the 1910s, the left-handed hitting Michigan native had a hard time settling into the majors despite some flashes of offensive brilliance; poor defense had a lot to do with it. But as hitting became the thing in the 1920s, Fournier became a much more sought-after commodity—and like Ken Williams above, flourished even as he aged well into his 30s. He began the decade as a trusty teammate in the Cardinals' lineup alongside Rogers Hornsby, but after 1922 was told to pack his bags for Brooklyn. Fournier fumed over the trade and initially wouldn't report, but wisely changed his mind; what followed were the three best years of his career, each time racking up at least 20 homers and 100 RBIs while batting a collective .345. Unfortunately, some of Fournier's biggest hits involved his fists, as he got into numerous fights and brushes on the field and off it. He remained a defensive liability at first base, but as long as he was an offensive force, the Robins didn't mind. Age finally caught up with Fournier in the late 1920s, and he faded out of the major league scene after 1928. 
Lou Gehrig
1923-29, New York Yankees. Best Year: 1927 (.373 average, 149 runs, 218 hits, 52 doubles, 18 triples, 47 home runs, 173 RBIs, 109 walks)
When the Yankees' Wally Pipp complained of a headache on June 2, 1925 and begged out of the starting lineup, the powerful, soft-spoken Gehrig, age 21, took over his spot at first; you know the rest. Gehrig was far from a mystery at that point; he began the decade belting a ball completely out of Wrigley Field during a high school game at age 17, and went on to devastate the minors with 61 homers in 193 games. New York Giants manager John McGraw badly wanted Gehrig early on and tempted him to quit Columbia University, but he stayed for two more years until the Yankees snuck in and grabbed him. After going 17-for-38 in two combined call-ups to end the 1923-24 seasons, Gehrig stuck with the Yankees in 1925 and became the everyday first baseman once Pipp reached for the aspirin. Claiming he was "not a headline guy," Gehrig was the quiet star to Babe Ruth's omni-swagger and fully flowered during the Yankees' fabled 1927 campaign when he belted 47 homers with 173 RBIs—the latter number an AL record he would tie in 1930 and break in 1931. In his three World Series appearances late in the 1920s, Gehrig was just as unstoppable as Ruth—hitting .383 with four home runs in 15 games.
Goose Goslin
1921-29, Washington Senators. Best Year: 1925 (.334 average, 116 runs, 201 hits, 34 doubles, 20 triples, 18 home runs, 113 RBIs, 27 stolen bases)
It took the Senators two decades, but they finally found a legitimate, pitchers-be-very-afraid slugging talent in the broad-shouldered Goslin, who ripped opponents apart throughout the 1920s and helped the Senators to their first two pennants in 1924-25—hitting three homers in each of the World Series to follow. His annual numbers might have looked even better had the field dimensions at the Senators' home park of Griffith Stadium not stretched into the next county. Of Goslin's 108 homers during the decade, only 24 came at Griffith—and most of those were likely of the inside-the-park variety. What Goslin lacked in home run power at home he made up for with a preponderance of triples; he twice led the AL in three-baggers, including a 1925 total of 20 that set a Senators/Twins franchise record that only since has been equaled (by Cristian Guzman, in 2000). Goslin added to his statistical mantle by winning a closely-fought batting title in 1928 (hitting .379) and became the first Senator to belt three homers in a game—on the road, of course.

Al Simmons
1924-29, Philadelphia Athletics. Best Year: 1929 (.365 average, 114 runs, 212 hits, 41 doubles, 9 triples, 34 home runs, 157 RBIs)
His name was really Aloysius Szymanski, but no one could pronounce it. So one day the highly-touted young outfielder looked at a billboard that read "Simmons" and thought, "I'll just have everyone go with that." The man with the stage name became a star on the baseball stage—one of the first building blocks of Connie Mack's rise from ruin toward his second dynasty with the A's. Simmons needed no time to get used to the majors; he hit .308 with eight homers and 102 RBIs as a rookie in 1924, then exploded a year later with a .387 average, 253 hits, 24 homers and 129 RBIs. Injuries over the next few years suppressed his advancement, but he was quite well by 1929 when he powered up and became Gehrig to Jimmie Foxx's Ruth and helped usurped the Yankees from their three-year placement atop the AL throne. In that year's World Series, it was Simmons' homer in Game Four that ignited the legendary 10-run outburst in the seventh inning (he later singled and scored in that frame) to stagger the Chicago Cubs; the A's would wrap up the world title in Game Five.
Jim Bottomley
1922-29, St. Louis Cardinals. Best Year: 1928 (.325 average, 123 runs, 187 hits, 42 doubles, 20 triples, 31 home runs, 136 RBIs, 71 walks)
The easygoing, ever-smiling first baseman was so good in the minors, the Cardinals bought the Syracuse team he played for partly so they could secure his rights. The investment paid off; Bottomley excelled in his late rookie showing in 1922 (supplanting Fournier, above), and hit .371 in his first full season a year later to become a reliable complement to star attraction Rogers Hornsby. After Hornsby left St. Louis in 1927, "Sunny Jim" rose to the challenge of becoming the Cardinals' prime mover and particularly destroyed opposing teams in 1928 as the first player to collect at least 20 doubles, triples and home runs each in one season. Bottomley had a knack for RBIs; in six straight years (1924-29), he knocked in at least 111, and in 1924 set an all-time record with a dozen in one game; only fellow Cardinal Mark Whiten, 69 years later, would tie the mark. This collection of offensive destruction would help earn his way into the Hall of Fame.
Harry Heilmann
1920-29, Detroit Tigers. Best Year: 1921 (.394 average, 114 runs, 237 hits, 43 doubles, 14 triples, 19 home runs, 139 RBIs)
The heir apparent to Sam Crawford in Detroit, the San Francisco native caused the Tigers to lose nary a step in the transition as he evolved into the 1920s as every bit as dangerous a threat, hitting .364 for the decade with four batting titles and making a jealous man of his manager/tutor, Ty Cobb (who finished second to Heilmann in 1921). The odd thing—literally—was that all four of Heilmann's crowns were snapped up in odd years, nabbing the top spot in 1921, 1923, 1925 and 1927; all four times, he buzzed around the .400 mark, finishing above it in 1923 with a .403 figure. Heilmann wasn't all that bad in the years in between those batting titles, hitting a collective .356. Though not a big-time power bat, Heilmann could muscle up when needed, once reaching 21 home runs in 1922 in part because 10 of them came on the road at Philadelphia's Shibe Park. Finally, there's this: Off the field, Heilmann was a successful life insurance salesman; he even sold one to Babe Ruth.

Babe Ruth
1920-29, New York Yankees. Best Year: 1921 (.378 average, 177 runs, 204 hits, 44 doubles, 16 triples, 59 home runs, 168 RBIs, 145 walks, 17 stolen bases)
Wait, what—the Babe, the Bambino, the Sultan of Swat…number two? Hey, we don't create this stuff, we're just the messengers. There's no doubt that there was no bigger presence in the game during the 1920s than Ruth, who began the decade lapping the record book with thunderous displays previously unimaginable. His 1920 Yankee debut, in which his 54 homers nearly doubled the season record set a year earlier by himself while playing for the Red Sox, stunned fans and experts alike—but it was merely a raising of the bar, the new normal that he would often maintain for the next dozen years. Yes, Ruth led the AL eight times in home runs, four times in RBIs, seven times in runs, seven times in walks and once in batting, so how can a guy that dominant fail to make #1 on this list? This is because of two seasons in which he handicapped his ability to play at full strength: In 1922, when he was suspended for the first two months due to an illegal barnstorming tour, and in 1925, when he missed another two months due to his famous "bellyache" that sidelined him and from which he was slow to recover. That lack of discipline was not a problem for the guy who tops this list:
Rogers Hornsby
1920-26, St. Louis Cardinals; 1927, New York Giants; 1928, Boston Braves; 1929, Chicago Cubs. Best Year: 1922 (.401 average, 141 runs, 250 hits, 46 doubles, 18 triples, 42 home runs, 152 RBIs, 17 stolen bases)
Few if any baseball players were as focused, studious and brilliant as Hornsby, the abrasive Texas native who won over teammates far more for his talent than his personality. While the fun-loving Ruth took on the town and every buffet in his path, the aloof Hornsby refused to even go to the movies because he claimed it hurt his eyes and, by extension, his hitting. The cinema suffered the loss of one patron; pitchers who faced him suffered a lot more. Hornsby won seven batting titles during the 1920s, with six of them in succession; amazingly, this streak including a five-year run in which he averaged .402. He peaked in 1924 with a modern NL-record .424 figure, had a 33-game hit streak in 1922 that remains the longest in Cardinals history, and won the triple crown twice—in 1922 and 1925. Hornsby's power numbers were not as consistent as Ruth's—he hit as many as 42 and as few as nine—but he never disappointed or lapsed during the decade. Perhaps Hornsby's biggest weakness was his ability to get along; he spent the last four years of the decade playing for four different clubs, arriving and departing for a myriad of reasons; bad play wasn't one of them.