The 10 Best Pitchers of the 1920s
In a decade when major league pitchers endured tough times, here's 10 players who reigned in relative anonymity.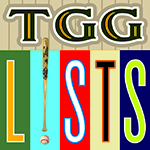 After having it their way for the first two decades of the 20th Century, pitchers entered a dark age in which they were no longer allowed to use a ball that was dead, scuffed and (with few exceptions) wet. This clearly gave the advantage to the hitters, who fattened up their numbers; pitchers also saw their stats rise as well, but not in the categories (earned run average, hits and runs allowed) they would have liked. 
What further made the 1920s a forgettable decade for major league pitchers was that there were few if any hurlers who flashed star bravado. Then again, it was hard to brag when you were ducking for cover from fresh live balls screaming over your heads. But here's a list of 10 prime pitchers who survived the decade with their dignity (and numbers) intact.
Lefty Grove
1925-29, Philadelphia Athletics. Best Year: 1928 (2.58 ERA, 24 wins, 8 losses, .750 win percentage, 24 complete games, 261.2 innings, 183 strikeouts)
The testy southpaw belatedly emerged as the biggest pitching star to be found during the offense-dominated 1920s, but he barely makes this list because of his late arrival. (Trust us—he gets a kinder standing on our 1930s list.) Grove spent the early portion of the decade with the Triple-A Baltimore Orioles of the International League, winning 96 games over a four-year span and raising his stock among salivating major league owners who sought his presence. The Chicago Cubs and Brooklyn Dodgers offered $100,000, but the A's ponied up $600 more—so the Orioles took it. After a rough rookie campaign in which he walked 131 batters, Grove found his groove, cornered his wildness and won his first of nine ERA titles in 1926. A year later, he won 20 games for the first of seven straight seasons, including the only shutout suffered by the almighty 1927 Yankees; in 1928, he would become the first pitcher ever to throw, in one season, two immaculate innings—nine pitches, nine strikes; and in 1929, he won his second ERA crown with the AL's only sub-3.00 figure (2.81). Finally, he led the league every year in strikeouts during the decade. All this, and his best stuff still lay ahead of him in the 1930s.
Dolf Luque
1920-29, Cincinnati Reds. Best Year: 1923 (1.93 ERA, 27 wins, 8 losses, .771 win percentage, 28 complete games, 6 shutouts, 322 innings)
The majors' first Latin American pitcher had his light-skinned complexion to thank for being allowed on a big-league mound; had it been any darker, he might have been forced to perform in the Negro Leagues, like some of his fellow Cuban countrymen. Luque mixed such fortune with the misfortune of some undeserving results during the 1920s; he won one of his two ERA titles in 1925 despite a losing mark (16-18), posted a decent 3.31 ERA in 1922 despite losing more games (23) than any other NL hurler, and for the entire decade finished below .500 (138-146) even though his ERA never rose above 3.50—all in a hitter-happy era, no less—until the decade's final two seasons. Much of his success could be attributed to playing at the Reds' home park of Redland (Crosley) Field, a future hitter's paradise which, for the time being, was very spacious and quite polite to pitchers. Out of the morass of uneven win-loss numbers came a spectacular effort in 1923 when he won 27 games, which still ranks as the most ever by a Reds pitcher—and the most by a Latin-born player. Though some historians dispute his reputation as a hothead, Luque was equally remembered for engaging in a vicious sequence in an early 1920s game against the New York Giants after Casey Stengel (allegedly) baited him into a fury.
Waite Hoyt
1920, Boston Red Sox; 1921-29, New York Yankees. Best Year: 1927 (2.63 ERA, 22 wins, 7 losses, .759 win percentage, 23 complete games)
While Luque's numbers benefitted from his home park's expansive field dimensions, Hoyt benefitted in a totally different way as he garnered enormous run support from the Bronx Bombin' Yankees. And while some would half-joke that any pinstriped pitcher could mail it in and still win 20 thanks to Babe Ruth and Company, Hoyt was a quality arm who showed consistency throughout the decade—and, like Ruth, had a great knack for rising to the occasion when it mattered the most. Chief among his high-profile triumphs was his efforts in the 1921-22 World Series, in which he didn't allow an earned run until his 35th inning; for the decade, he was 6-3 with a 1.62 ERA in 12 Fall Classic appearances. Handsome and boyish looking, the right-hander was known to take advantage of the Big Apple's trappings, both good (stage performing) and bad (excessive drinking). But he remained sharp on the mound through it all, saving his best campaign for, naturally, the fabled 1927 campaign in which the Yankees put together what many still believe is the greatest single campaign ever by a major league ballclub.
Pete Donohue
1921-29, Cincinnati Reds. Best Year: 1925 (3.08 ERA, 21 wins, 14 losses, 27 complete games, 301 innings)
It's bad enough being a sound pitcher getting your name lost in an era of gratuitous offense, but Donohue doesn't seem to get much love even when the topic is narrowed to just the pitchers themselves. That might be because the young Texas native, who some say was the first to rely extensively on the change-up, was the least remembered of the decade's premier triumvirate of arms, ganging with the flashy Dolf Luque and excellent Eppa Rixey to form a Big Three in Cincinnati. Donohue certainly warranted better press, before and since—especially during a five-year run from 1922-26 in which he won 96 games, topping 20 in three of those seasons. Like any quality pitcher, he took advantage where it came the easiest: At home, where like Luque and Rixey he mastered the art of using a pitcher-friendly park (Redland Field) to his gain—going 56-22 at home with a 2.61 ERA and just six home runs allowed during those five years of brilliance—and by beating up on the weaker clubs, as when he defeated the woeful Philadelphia Phillies 20 straight times. Donohue's effectiveness waned late in the decade when an overtaxed arm couldn't take it anymore.
Red Faber
1920-29, Chicago White Sox. Best Year: 1921 (2.48 ERA, 25 wins, 15 losses, 43 appearances, 32 complete games, 330.2 innings)
Already over 30 years of age to start the decade, Faber was one of the lucky ones—allowed to keep throwing the spitball he had relied on earlier in his career after the pitch had been outlawed in the majors. Like many of the 16 others who were grandfathered, Faber took full advantage and became the AL's preeminent workhorse in the early 1920s, racking up over 20 wins, 300 innings and two ERA crowns from 1920-22 before leveling off. His prodigious reign was sweet music to the White Sox, shattered and battered down in the standings for much of the decade in the aftermath of the crippling Black Sox Scandal when Chicago ballplayers conspired to throw the 1919 World Series. Faber ultimately became concerned with other issues regarding his teammates, most notoriously in 1927 when he discovered that Johnny Mostil was sleeping with his wife. (After being found out, Mostil attempted suicide but survived.) Faber's spitball extended his career into the 1930s and to the age of 45; he retired second only to Ted Lyons on the White Sox' all-time lists for wins, complete games and innings thrown.

Herb Pennock
1920-22, Boston Red Sox; 1923-29, New York Yankees. Best Year: 1924 (2.83 ERA, 21 wins, 9 losses, 40 appearances, 25 complete games, 286.1 innings)
A refugee of two dynasty dumps—the A's of the early 1910s and the Red Sox of the late 1910s—Pennock was relieved to finally find a home with the Yankees, the evolving superpower that did not know the meaning of the words "fire sale." Pennock began the decade doing the best he could for a rapidly devolving Red Sox franchise that was giving away its top players to the rival Yankees; after a 10-17 mark in 1922, he was happy to know he'd be the latest New York-bound, traded for three players and $50,000 for Boston owner Harry Frazee to invest toward his latest Broadway flop. In his first six seasons with the Yankees, Pennock saw his luck turn 180 degrees for the better, sporting a 115-57 record with consistently solid ERAs that buzzed around the 3.00 mark; he leveraged his success to the postseason, going 5-0 in seven World Series appearances, including a start for the 1927 Yankees in which he came within five outs of a perfect game against Pittsburgh.
Stan Coveleski
1920-24, Cleveland Indians; 1925-27, Washington Senators; 1928, New York Yankees. Best Year: 1925 (2.84 ERA, 20 wins, 5 losses, .800 win percentage, 241 innings)
A grandfather spitball artist whose wet pitch is ranked by Rob Neyer and Bill James as baseball's all-time second best (Ed Walsh topped at #1), Coveleski personally saw the decade get off to a tragic start with the loss of both his wife and, later, Indians teammate Ray Chapman after being fatally beaned by the Yankees' Carl Mays. Through it all Coveleski remained resilient, won 24 games for the pennant-winning Indians and then three more with a 0.67 ERA in the World Series to follow. He would win 23 more the next year—the fourth straight year he surpassed 20—but he didn't win his first ERA title until 1923 when, ironically, his 2.76 figure was coupled with his first career losing mark (13-14). After he finished below .500 (15-16) again in 1924, he was dealt to the Senators, which suited him fine; he had grown tired of Cleveland anyway. If the Indians thought Coveleski had nothing left at age 36, they were wrong. With Washington, Coveleski turned in perhaps his most positive year yet—winning 20 of 25 decisions while earning his second ERA title as he helped ride the Senators to their second consecutive pennant. A sore arm finally conquered the consistently successful Coveleski in 1927, and he was released from the Yankees just a few months before having a chance to pitch in his third World Series for a third different team on the decade.
Dazzy Vance
1922-29, Brooklyn Robins. Best Year: 1924 (2.16 ERA, 28 wins, 6 losses, 30 complete games, 308.1 innings, 262 strikeouts)
The case of Dazzy Vance was a curious one, to say the least. He had failed miserably in two previous, brief major league auditions with the Pirates and Yankees. He bounced around the minors for a whole decade. He didn't even look like an athlete, with sandy, short red hair and a face that could have served as inspiration for one of Snow White's seven dwarfs. But the Robins reluctantly gave the 31-year old a shot in 1922 because he was armed with the game's most lethal fastball of the day; what they perhaps didn't know was that he had also developed a curve ball that would force opponents to start guessing his pitches. Often, they guessed wrong. Before the decade was out, he won 20 games three times, won a pair of ERA titles with 2.16 and 2.09 figures (in 1924 and 1928, respectively) that looked awfully remarkable in a time of hitting dominance, and led the NL in strikeouts in each of his first seven years with Brooklyn—including an impressive 262 in 1924 that was double the total of the league's #2, teammate Burleigh Grimes. Part of Vance's success might have had something to do with his jersey sleeves, which were intentionally tattered to disrupt opponents; such tactics would soon be outlawed by baseball.

Burleigh Grimes
1920-26, Brooklyn Robins; 1927, New York Giants; 1928-29, Pittsburgh Pirates. Best Year: 1920 (2.22 ERA, 23 wins, 11 losses, 25 complete games, 5 shutouts, 303.2 innings)
The best known and certainly the most audacious of the grandfathered spitballers, Grimes received a renewed lease on baseball life by being allowed to throw the wet pitch after its abolition and became the majors' most active pitcher of the decade, throwing more innings (2,797.2) and winning more games (190) than anyone else. There was really no hurler anyone wanted to face less, and not just because of the results; Grimes was a mean, aggressive thrower who constantly knocked batters down, more than occasionally hit them, and always unnerved them with his growling disposition complete with roughened two-day beard which earned him the nickname Ol' Stubblebeard. Companioned with Vance from 1922-26, it's somewhat amazing to wonder how the Robins only finished with one only winning record in those five campaigns. The Robins, tired of Grimes' salary protests and acid-tongued verbal spats with manager Wilbert Robinson, traded him to the Giants—who in turn traded him to Pittsburgh after legendary manager John McGraw couldn't handle him, either. With the Pirates, Grimes continued to roll, winning a career-high 25 games in 1928. Grimes would carry on more inconsistently into the 1930s as he neared and surpassed 40 years of age; he would be, in 1934, the last of the legal spitballers left standing.
Eppa Rixey
1920, Philadelphia Phillies; 1921-29, Cincinnati Reds. Best Year: 1925 (2.88 ERA, 21 wins, 11 losses, 22 complete games, 287.1 innings)
Here's the perfect #1 on a list that, as we mention at the very top, was one where stardom among pitchers was all but non-existent. Rixey managed to shine throughout the 1920s, but he did so in relative anonymity as the big boppers attracted all the attention. But any full-time pitcher who managed to keep his ERA below 3.00 in four separate seasons during an offensively mad time deserves a spot at the top of this collection. Rescued from Philadelphia before the live ball really turned Baker Bowl into a bandbox—Rixey was 33-55 over his last three years with the Phillies and twice led the NL in losses—he joined the Reds and led a far more peaceful and agreeable existence throughout the decade, winning 20-plus games three times while twice finishing just short with 19. His statistics lacked flamboyance—he was not a perennial league leader in any category—but he always managed to hang among the NL's Top Five, and his par excellence was built on a consistent level of bending yet not breaking, walking few batters and using strong glovework to keep other runners from reaching. Pitching out of spacious Redland Field also helped, though he didn't quite have the topsy-turvy home/road splits that the two other Reds on this list, Dolf Luque and Pete Donohue, exhibited. His quiet reign pretty much ended with the decade, but his efforts were enough to make him the NL's winningest left-handed pitcher before Warren Spahn surpassed him 30 years later.