The 10 Best Pitchers of the 1930s
A diverse group of talented pitchers helped to quell jack-rabbit offenses and restore respect to the mound.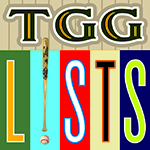 A new decade meant a new hope for pitchers who, in the 10 previous years, had been constantly performing a duck-and-cover routine from a nonstop barrage of offensive firepower as the live ball was unleashed upon them. The 1930s would not signal a return to the good 'ol days of the deadball—that was never coming back—but at least balance was achieved between pitcher and hitter, particularly in the National League where officials deadened the ball just enough to give pitchers a chance to put up respectable numbers again. 
Additionally, marquee value began to rise among the pitching elite after a starless period on the mound. The following group of top pitchers from this decade represents a healthy mix of dominance, toughness and chutzpah that the game badly needed.
Danny MacFayden
1930-32, Boston Red Sox; 1932-34, New York Yankees; 1935, Cincinnati Reds; 1935-39, Boston Braves/Bees. Best Year: 1936 (2.87 ERA, 17 wins, 13 losses, 266.2 innings, 21 complete games)
The timid, bespectacled right-hander barely makes this list thanks to a stretch of solid pitching with the Bees—as the Braves called themselves during the late 1930s—when he constantly placed himself among the National League's leaders in earned run average. The earlier portion of the decade for MacFayden had been challenging, to say the least; he had put together honorable (but hardly mind-blowing) numbers for a bad Red Sox team, then was given a chance to perform for a winner when the Yankees acquired him midway through 1932 for $50,000 and two players; Ed Barrow, the long-time general manager of the Yankees, would later call it the worst deal he ever made while at New York. MacFayden struggled through parts of three seasons with the Yankees, was traded to Cincinnati (where nothing improved) and then to an awful Boston Braves team where he replaced a retiring Babe Ruth. With the Braves/Bees, MacFayden began working on changing up his speeds in a deceptive way to fool hitters—and it worked. From 1936-38, MacFayden compiled a combined 45-36 record for a second-division team, with sub-3.00 ERAs in each of those seasons.
Tommy Bridges
1930-39, Detroit Tigers. Best Year: 1936 (23 wins, 11 losses, 3.60 ERA, 38 starts, 294.2 innings, 175 strikeouts)
A compact right-hander armed with a premier curve to go with a solid fastball, Bridges began his 16-year major league journey (all with the Tigers) late in 1930 by walking 12 batters in his first start—yet he still got the win. Within a few years he evolved into a star pitcher, racking of wins and strikeouts even if his ERAs came off as soft—such were the facts of life playing in a live yard (Tiger Stadium) during a particularly live time in general in the American League. Bridges' breakout moment took place in August 1932 when he came within an out of perfection against Washington; the 27th batter, pinch-hitter Dave Harris, denied him history with a single. Bridges peaked midway through the decade, winning 20 games in three successive seasons (1934-36) while leading the AL in strikeouts from 1935-36; his propensity for walks remained an issue as he walked over 100 in six straight campaigns. But he proved himself to be a winner, both in the regular season and in October; in five World Series appearances, he won three of four decisions and posted a 3.06 ERA. The highlight of his postseason was a complete game, 4-3 victory in Game Six of the 1935 World Series to clinch the Tigers' first-ever championship—but it didn't come easy, as he sweated out a ninth inning in which he retired three straight Chicago Cubs after allowing a leadoff triple to Stan Hack.
Lon Warneke
1930-36, Chicago Cubs; 1937-39, St. Louis Cardinals. Best Year: 1932 (2.37 ERA, 22 wins, 6 losses, .786 win percentage, 277 innings, four shutouts)
With a dry sense of humor, the right-hander from Arkansas was initially latched onto by the Cardinals and would have been a perfect complement to St. Louis' prank-happy Gashouse Gang of the 1930s, but he couldn't make his way through the Cardinals' voluminous minor league system. The Cubs then grabbed him and said thank you very much. In 1932, his first full season pitching at Chicago, Warneke put together a brilliant 22-6 record and 2.37 ERA to finish second in the NL MVP vote; he was 14-1 just at Wrigley Field, a place he would come to really love as he put together a 60-22 record there throughout the 1930s. He was also pretty good elsewhere; he would win 20 or more games three times with the Cubs and help lead them to two NL pennants, earing credit for the Cubs' only two victories in the 1935 World Series against Detroit. The Cardinals, having long since realized what a mistake they'd made letting go of Warneke, got him back in a trade in 1937—but he struggled at hitter-friendly Sportsman's Park despite putting up still-decent numbers.
Wes Ferrell
1930-33, Cleveland Indians; 1934-37, Boston Red Sox; 1937-38, Washington Senators; 1938-39, New York Yankees. Best Year: 1935 (25 wins, 14 losses, 3.52 ERA, 31 complete games, 322.1 innings)
You had to be on your toes with the turbulent Ferrell, whether friend or foe. But he earned his place; he still remains the first pitcher to win 20 or more games in each of his first four seasons, posting a 91-48 record from 1929-32 with the Indians. The fastball helped Ferrell thrive in his early years, but when the velocity started to slow, he was forced to embrace the curve and change-up more—and after a few subpar years and a trade to Boston, he re-energized his game with two more 20-win efforts late in the decade for the Red Sox. Ferrell often pouted over his lack of support—which seems ironic given that he was given about as generous an amount of runs as any other, with an average of 5.5 runs per start throughout his career. He had himself to partially thank for that, with a career .280 average and 38 home runs, the most by any full-time pitcher in major league history. The Indians even used him 13 times in the outfield in 1933 when he wasn't pitching, just to have his bat in the lineup.
Dizzy Dean
1930, 1932-37, St. Louis Cardinals; 1938-39, Chicago Cubs. Best Year: 1934 (30 wins, 7 losses, .811 win percentage, 2.66 ERA, 7 shutouts, 311.2 innings, 195 strikeouts)
The cocky Southerner's brief but spectacular reign is certainly one for the books. Brought up at the start of the decade along with his quieter brother Paul, Dean talked the talk and walked the walk, successfully answering every dare that he put out to teammates and reporters. He was a workhorse with both his arm and mouth, averaging 300 innings per season from 1932-36, became the NL's last 30-game winner to date in 1934 (he nearly won 30 the next season, finishing two shy of the mark), and led the NL in strikeouts four straight years while otherwise hogging the spotlight with his attention-seeking remarks. Goodness only knows how he would have operated with a Twitter account. Easily on his way to another 20 wins in 1937, Dean had his toe broken by an Earl Averill comebacker in the All-Star Game; when he tried to come back too soon by putting more energy through his arm, he wrecked that, too. With the Cubs to finish out the decade, Dean was a fragile (yet often still effective) impression of his earlier greatness, used scarcely with caution as his arm remained in a state of pain.

Mel Harder
1930-39, Cleveland Indians. Best Year: 1934 (2.61 ERA, 20 wins, 12 losses, 6 shutouts, 255.1 innings)
On the flip side of Dean, there's Harder—whose quiet brand of self-promotion consisted of nothing more than achieving results on the mound. "Come hell or high water, he'll win 15 for you every year," someone once said of the right-handed Nebraska native—and five times during the 1930s, he did exactly just that, using a sensational curve and sinking fastball. One of those campaigns came in 1933 when he took his one and only ERA crown, posting a 2.95 mark in spite of a 15-17 record as his team played a rare full season at cavernous, recently-opened Cleveland Stadium instead of cozy, offensive-minded League Park. The two seasons to follow showed Harder at his most victorious, winning 20 or more games in each—the only two times he'd reach the milestone. He was certainly tough on the National League; in four All-Star Game appearances, he threw 13 scoreless innings. Shoulder woes slowed his effectiveness late in the decade as he conceded the role of team ace to a young Bob Feller, but Harder remained a reliable component of the Cleveland staff all the way through to his 20th (and last) season with the Indians in 1947.
Red Ruffing
1930, Boston Red Sox; 1930-39, New York Yankees. Best Year: 1939 (2.93 ERA, 21 wins, 7 losses, .750 win percentage, 22 complete games, 5 shutouts)
One of the last of the trades-cum-steals made by the Yankees from Boston before Tom Yawkey rescued the Red Sox had to leave Yankee fans initially scratching their heads; why trade for a guy whose career to date included a 39-96 record and substandard 4.61 ERA? But as usual, the Yankees turned water into wine after telling Ruffing to use more of his body when pitching; he thus gradually evolved through the 1930s, with ERAs slimming from the 4.00s early in the decade to the 3.00s midway through to a few sub-3.00 readings to end it. Thought to be the guy responsible for popularizing the slider, Ruffing peaked during the decade's last four seasons, producing an 82-33 record while the Yankees won four straight world titles. He was even better at the World Series, completing all but one of his seven starts during the 1930s with a 5-1 record and 2.44 ERA. Finally, the man could hit; during the decade, Ruffing batted .292 and would ultimately finish his 22-year career with 36 homers, just two shy of Wes Ferrell's all-time record for pitchers.
Lefty Gomez
1930-39, New York Yankees. Best Year: 1934 (2.33 ERA, 26 wins, 5 losses, .839 win percentage, 281.2 innings, 158 strikeouts, 25 complete games, 6 shutouts)
Gifted with a strong fastball and a clever sense of humor that made him the most quotable Yankee until Yogi Berra, Gomez seldom left opposing batters laughing as his reign of pitching dominance perfectly coincided with the 1930s. Plucked away in 1930 from the Pacific Coast League's San Francisco Seals—who would also provide Joe DiMaggio and Frankie Crosetti to the Yankees—Gomez struggled in his first year at New York, thanks in part to a slow recovery from a spring comebacker aimed right at his teeth. But it all kicked in for Gomez in 1931, who began a four-year run in which he won 87 games while losing just 31. Gomez's highlights through the decade seemed innumerable; he won at least 20 games four times, won two triple crowns of pitching (leading the AL in wins, ERA and strikeouts) and led the league three times in shutouts. When the spotlight was at its brightest, Gomez seemed to be at his absolute best; he was 6-0 in seven World Series starts, and not only did he throw the first pitch in All-Star Game history, he picked up the first win in Midsummer Classic annals—and even knocked in its first run. Being backed by mighty Yankee bats was a mere bonus for Gomez, who likely would have been successful no matter where he pitched.

Carl Hubbell
1930-39, New York Giants. Best Year: 1933 (1.66 ERA, 23 wins, 12 losses, 10 shutouts, 308.2 innings)
We mentioned in our list of the 1930s' best hitters that Mel Ott made up one half of a dominant duo that helped lift the Giants from okay-ness to greatness. Hubbell, the quiet screwball artist, was the other. "The Meal Ticket" didn't reach elite status until 1933—but once he got there, he maintained it for the next five years, securing three ERA crowns and averaging over 22 wins and nearly 300 innings per season. But that's just the tip of the iceberg in regards to some of his truly eye-opening achievements. In 1933, he posted a stingy 1.66 ERA—the first sub-2.00 figure since the death of the deadball—threw an 18-inning shutout that's tied for the longest in history, and then followed that up 11 days later by beginning a streak of 46 straight scoreless innings. Hubbell became legend in the 1934 All-Star Game by striking out five future no-doubt-about-it Hall of Famers: Babe Ruth, Lou Gehrig, Jimmie Foxx, Al Simmons and Joe Cronin. Hubbell hit the record books in 1936 by winning his last 16 decisions—and followed that up by winning his first eight of 1937; the 24 straight wins in total remain the most in major league history. He was no less difficult to hit off of in the World Series; during the Giants' 1933 series conquest over the Washington Senators, Hubbell fired two shutouts—including an 11-inning masterpiece. Hubbell's arm began to wear out in 1938, reducing his star effectiveness —but he remained a quality thrower, even if the wins became harder to come by.
Lefty Grove
1930-33, Philadelphia Athletics; 1934-1939, Boston Red Sox. Best Year: 1931 (2.06 ERA, 31 wins, 4 losses, .886 win percentage, 27 complete games, four shutouts, 175 strikeouts)
Tough, tenacious and often testy—especially with teammates who didn't back him up in the field—Grove entered the 1930s as the game's best pitcher and, 10 years and 199 wins later, exited it with much of his respect from opponents still highly intact. Early in the decade with the A's, Grove was in the midst of an indomitable, almost unprecedented run of brilliance; in 1930, he turned in a 2.54 ERA that was well ahead of the next guy at the peak of the live-ball era, and a year later became the last American Leaguer (until Denny McLain, in 1968) to eclipse the 30-win mark. It was in that same season that he ran off a streak of 16 straight wins; after it ended with an undeserving 1-0 loss (which led an irate Grove to tear apart the A's clubhouse), he won his next five decisions. His time in Philadelphia came to an end after the 1933 season when A's manager-owner Connie Mack, in the midst of a prolonged but massive housecleaning of his second dynasty, sent him and two other players to the Red Sox for $125,000 of badly needed cash. At first, Boston fans thought they'd been handed a washed-up ace; Grove complained of a sore arm in camp and failed to retire any of five hitters he faced in his Red Sox debut, on his way to a very un-Grove-like 6.50 ERA for the 1934 season. But he came back refreshed the next season, adding a curve to compliment his fading fastball—and delivered his eighth and last 20-win campaign. Though no longer dominant as he neared the age of 40, Grove remained highly efficient to finish out the decade—winning four more ERA crowns—and in 1938 began a streak of 30 straight appearances (26 starts) at Fenway Park without a loss, winning 20 straight before finally losing in June 1941.