The 10 Best Hitters of the 1930s
These 10 major league hitting stars benefitted from the live-ball era's push into the 1930s, as offensive achievements still ruled over those of the pitchers.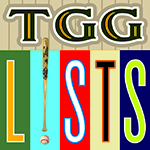 Baseball's high offensive times, which sprung to life in the 1920s would only be slightly tamed in the decade to follow, and that depended on which league you performed within. The National League took a small bit of zip out of its ball after the circuit had collectively hit .303 in 1930, bringing long-overdue balance between hitters and pitchers. The American League, meanwhile, continued to rack up the runs—thanks to a collective group of bruising sluggers in their prime and, yes, some ready bad pitching staffs that posted team ERAs over 6.00. 
The following list counts down the 10 most dominant hitters of the decade and their über-triumphs—best reflected in five Triple Crown performances.
Johnny Mize
1936-39, St. Louis Cardinals. Best Year: 1939 (.349 average, 104 runs, 44 doubles, 14 triples, 28 home runs, 108 RBIs, 92 walks, .626 slugging percentage)
An imposing threat at the plate due to his strong frame (6'2", 215 pounds), protruding jaw, beady eyes and unibrow, Mize never seemed fazed at the plate or in the field at first base—leading his teammates to nickname him the Big Cat. Such confidence could be derived from his early career numbers. The left-handed-hitting Mize put together a 22-game hitting streak during his 1936 rookie campaign, lifting his final season average to .329; he'd go on to bat .346 throughout the entire 1930s while wielding strong power. In 1938, Mize had his first two of an eventual major league-record six games with three home runs (only Sammy Sosa has since tied him) and in 1939 won his first of four home runs crowns (solo or shared) while copping his lone career batting title with a .349 mark. Mize missed out on the Cardinals' pennant-winning successes of the early decade, but there would be plenty of postseason activity ahead of him in the 1940s.
Babe Ruth
1930-34, New York Yankees; 1935, Boston Braves. Best Year: 1930 (.359 average, 150 runs, 49 home runs, 153 RBIs, 136 walks, .732 slugging percentage)
The Bambino's utter dominance of the 1920s carried over into the first few years of the 1930s, batting .359 and averaging 45 homers, 151 RBIs and 131 walks through 1932—capping the stretch with his famous (and highly disputed) "called shot" in the 1932 World Series against the Chicago Cubs. But even the mythical Ruth could not escape the inevitable decline—and over the next two years, his once-mighty output began to noticeably depreciate. In 1934, after hitting .284 with just 22 homers—nice numbers, but far from Ruthian—Ruth said he was ready to hang them up and focus on managing a ballclub. But no one was willing to give him that opportunity, except the 1935 Boston Braves—and only on the condition that he play first and manage later, maybe. It became an empty promise. Age 40 and badly out of shape, Ruth had almost nothing left at the plate—until he cracked three homers at Pittsburgh in an absolutely vintage performance late in May. They'd be the last three he'd hit; a week later, he retired.
Charlie Gehringer
1930-39, Detroit Tigers. Best Year: 1936 (.354 average, 144 runs, 227 hits, 60 doubles, 12 triples, 15 home runs, 116 RBIs, 83 walks)
As automatic a hitter as they came, Gehringer was given the moniker "Mechanical Man" because he was sure to produce A-list-level output at a consistent level, year after year. No batting split was safe; whether he was at home, on the road, batting against righties or lefties—Gehringer was going to get you one way or another. More than not, he was a cinch to rack up 200 hits, 100 runs and 100 RBIs; in 1936, he became the last American Leaguer to date to hit 60 doubles. As he entered his 30s, Gehringer only seemed to get better; by 1937, at age 34, he claimed his lone career batting crown (hitting .371) while being rewarded with AL Most Valuable Player honors. He was even better in the postseason, hitting .377 in 13 World Series games, helping the Tigers to win their first ever world title in 1935. Gehringer's bat and terrific glove at second base made him the automatic choice for the AL All-Star team at that spot; when he made his sixth straight start in 1938, he became the last major leaguer to have started every Midsummer Classic to that point. He made that worth his while, too—hitting .500 over 20 at-bats with nine RBIs.
Arky Vaughan
1932-39, Pittsburgh Pirates. Best Year: 1935 (.385 average, 108 runs, 192 hits, 34 doubles, 10 triples, 19 home runs, 99 RBIs, 97 walks, .491 on-base percentage)
When the Pirates had seen enough of shortstop Tommy Thevenow—who couldn't even slug .300 in the midst of the live ball era—they turned to the 20-year-old Vaughan, whose batting average would never drop below .300 for the rest of the decade. This included a .385 mark in 1935 that remains the highest in Pirates history; with his league-leading 97 walks added in, his on-base percentage rose to an impressive .491—the best mark to be found in the NL until Barry Bonds came along. The education of Vaughan was one any budding shortstop would dream of; once the Pirates knew that he had special talent, they called for former Pirate and Hall-of-Fame legend Honus Wagner to not just tutor him but also to be his roommate. It's therefore not surprising that Vaughan put up Wagnerian numbers, hitting .329 for the decade while twice hitting for the cycle. His efforts both at the plate and at short lifted a decent Pirates team to the brink of the postseason (albeit without getting there) on numerous occasions throughout the 1930s.
Hank Greenberg
1930, 1933-39, Detroit Tigers. Best Year: 1938 (.315 average, 143 runs, 58 home runs, 147 RBIs, 119 walks)
The Yankees could have had the tall, lumbering slugger, but he didn't want to be stuck on the depth chart at first base behind Lou Gehrig. So Greenberg went to Detroit instead and established himself as a comparable superstar, not afraid to stand up for his principles as well as to opposing players and coaches who baited him on his Jewish upbringing. Greenberg had a knack for piling up numbers at an insatiable rate; twice he knocked in over 170 runs (including 183 in 1937, one shy of Gehrig's all-time AL mark), punched out 63 doubles in 1934 and, most famously in 1938, threatened Babe Ruth's then-record season home run mark of 60 when he reached 58—but didn't get any closer as he went homerless in his last five games of the year. He was especially rough on pitchers at Tiger Stadium; he drove in 101 RBIs in one season there, and 39 of his 58 dingers from 1938 were hit at The Corner, the most ever by a player at home. His consistent dominance was disrupted only by a wrist injury that cut short his time during the Tigers' victorious World Series of 1935, and almost all of the regular season to follow.

Chuck Klein
1930-33, 1936-39, Philadelphia Phillies; 1934-36, Chicago Cubs; 1939, Pittsburgh Pirates. Best Year: 1930 (.386 average, 158 runs, 250 hits, 59 doubles, 8 triples, 40 home runs, 170 RBIs)
Although the National League decided to take some of the life out of a baseball that had produced obscene offensive numbers in 1930, the Indianapolis native played on as if it was live as ever. Through 1933, Klein made the ultimate mockery out of the ridiculously small right field at his home park of Philadelphia's Baker Bowl. During this stretch, he hit an incredible .431 at home; led the NL three times in homers, twice in hits, twice in RBIs and once in batting average; hit for the cycle twice; won the Triple Crown of hitting in 1933; and took home the 1932 NL MVP. The Phillies, worried that Klein's inflationary stats would pressure them to pay an inflationary paycheck, played it cheap and sent him to the Chicago Cubs for 1934; unfortunately for the Cubs, Klein couldn't bring Baker Bowl with him. His numbers were greatly muted (though still quite respectable) and, midway through 1936, the Cubs sent Klein back to Philadelphia. Voila, Klein's bat re-awoke, though nowhere near his insane levels of the early 1930s save for a four-homer performance in, of all places, Pittsburgh's spacious Forbes Field. Age and a move by the Phillies from Baker Bowl to Shibe Park in 1938 put the kibosh on what was left of Klein's potency.
Joe Medwick
1932-1939, St. Louis Cardinals. Best Year: 1937 (.374 average, 111 runs, 237 hits, 56 doubles, 10 triples, 31 home runs, 154 RBIs)
Arguably the most dangerous offensive component of the Cardinals' famed Gashouse Gang of the 1930s, Medwick was an ornery personality who disliked his nickname—you might too if you were called "Ducky"—disliked some of his teammates, and certainly disliked opposing ballplayers. Such aggression came to a historic head at Detroit during the final game of the 1934 World Series when the 22-year-old Medwick, with the Cardinals already in rout mode against the Tigers, slid hard and high into Detroit third baseman Marv Owen. A riot was averted only after commissioner Kenesaw Mountain Landis ordered Medwick to leave the field in order to keep the peace. With the bat, Medwick was tough as nails—especially at home, hitting .361 for the entire decade at Sportsman's Park. He set a NL record in 1936 with 64 doubles and, in 1937, peaked with a dominant effort that earned him a Triple Crown and additional top placements in runs, hits and doubles; he even had four hits in that year's All-Star Game, one of six he performed in during the decade.
Mel Ott
1930-39, New York Giants. Best Year: 1936 (.328 average, 120 runs, 33 home runs, 135 RBIs, 111 walks)
Few players carried a team on their backs during the 1930s as did Ott, who developed full flower from his teenage prodigy days of the late 1920s to lead the Giants every year in home runs—sometimes by a mile, as best recalled in 1936 when his 33 homers were followed next on the team by the nine each hit by Hank Lieber and Gus Mancuso. Well known for swinging with a high leg kick on his front (right) foot, the left-handed slugging Ott mixed power, average and patience to become one of baseball's toughest outs; three times he went .300-30-100-100 (average, home runs, RBIs and walks). In leading the Giants to the only three World Series he would participate in, Ott leveraged his regular season success to October by hitting .295 with four homers and 10 RBIs over 61 Fall Classic at-bats. Without him and pitching ace Carl Hubbell, it's quite possible the Giants would have been no better than a .500 team for much of the decade.

Lou Gehrig
1930-39, New York Yankees. Best Year: 1930 (.379 average, 143 runs, 220 hits, 32 doubles, 17 triples, 41 home runs, 173 RBIs, 101 walks)
Certainly the most tragic of baseball figures in the 1930s—or any other time, for that matter—Gehrig prodigiously carried on with his 'iron man' mantra until it was stopped cold and cruelly at the start of the 1939 season when he rapidly began to be overtaken by ALS, the degenerative muscle disease that would take his life two years later. For the first nine years of the decade, there was no stopping Gehrig; he was only briefly slowed, without losing the All-Star edge, at mid-decade as he waived goodbye to one slugging partner in crime (Babe Ruth) while awaiting the arrival of another (Joe DiMaggio). Every year between 1930-37, he scored at least 125 runs and drove in 120; six times, in fact, he drove in over 150—including an AL record 184 in 1931. He bombed away in 1932—becoming the first major leaguer in the modern era to hit four home runs in a game—won the Triple Crown in 1934 and belted 16 of his 23 career grand slams during the decade. In the postseason, Gehrig remained a menace—hitting .347 with six homers and 18 RBIs in 19 games. Through it all, he continued to play every day, running his legendary streak of consecutive games played to 2,130 until 1939 when, realizing that something was not right, he bowed out of the starting lineup. He never again took the field.
Jimmie Foxx
1930-35, Philadelphia Athletics; 1936-39, Boston Red Sox. Best Year: 1932 (.364 average, 151 runs, 213 hits, 33 doubles, 9 triples, 58 home runs, 149 RBIs, 116 walks)
The man nicknamed Double-X was double trouble for opposing pitchers who often trembled at the sight of the brawny slugger. No ballplayer was more herculean throughout the decade from start to finish, as Foxx hit .336 and averaged 41 home runs with 138 RBIs per season during the 1930s. Once again proving that Triple Crowns were all the rage during this period, Foxx from 1932-33 managed to become the first and only player to achieve the trifecta in successive years, setting off a personal-best 58 bombs in the first of those campaigns. (Dale Alexander did outhit Foxx in 1932 at .372, but using today's rules would not have had enough at-bats to qualify for the batting crown.) After mightily contributing to an A's team that started the decade with back-to-back pennants, Foxx saw the writing on the wall as Philadelphia owner/manager Connie Mack, bleeding red from the Great Depression, needed cash—and he got it after 1935 when he sent Foxx to Boston for $150,000. Foxx left a sinking ship in Philly but joined a rising side with the Red Sox; he might have won another triple crown in 1938—hitting .405 with 35 homers and 104 RBIs at Fenway Park alone—but his 50 homers were eight shy of Hank Greenberg's league-leading sum. Still, voters handed him his third MVP of the decade.