We Aught to Tell You: Our All-Decade Awards
Find out who's the best, worst and most memorable in the new millennium's first decade, as chosen by This Great Game and you.
By Eric Gouldsberry, This Great Game—Posted December 27, 2009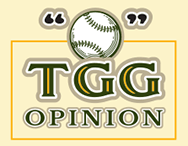 It began in Tokyo with a Mike Hampton walk to Eric Young and ended at Yankee Stadium—the new one—with Mark Teixeira squeezing the glove with a ball hit on the ground by Shane Victorino.
In between, the game of baseball served up an abundant amount of fastballs, change-ups and curveballs—on and off the field. The 2000s may suffer from an identity crisis because it lacks a common shorthand name—we're settling on the Aughts—but there was plenty to be exposed within the majors to fill up a decade's worth of news and notes.
The Aughts saw the shattering of one curse (Boston Red Sox) and the continuation of another (Chicago Cubs). It saw the usual big-budget suspects (New York Yankees, Los Angeles Dodgers, et al) unable to build dynasties, occasionally muscled out by small-time overachievers from Oakland, Minnesota, Florida, Colorado and, yes, even Tampa Bay.
The Aughts exposed the dark side to the high life of the previous decade, with an explosion of revelations detailing steroid use by many of the game's elite stars, from Barry Bonds to Roger Clemens to Manny Ramirez to Alex Rodriguez.
The Aughts were all about wild card champions, Ichiro Suzuki singles, Trevor Hoffman saves, Milton Bradley tantrums, Mark Reynolds strikeouts, All-Star Game ties, Ted Williams' head, the humidor and intentional walks to the aforementioned Bonds.
The Aughts were a time when 600 became the new 500, 500 became the new 400, and 40 became the new 20 if one was aiming a needle at his buttocks.
In honor of the Aughts, This Great Game proudly presents its All-Decade Awards for the best, worst and most memorable of the century's first 10 years. It's an event so special, it happens just once every 10 years.
Best Team
And the nominees are:
Atlanta Braves
Boston Red Sox
Los Angeles Angels of Anaheim
New York Yankees
St. Louis Cardinals
And the winner is:
The New York Yankees bookended the decade with World Series championships, and even though there was a lot of disappointment in between—as you know, anything less than a world title is a disappointment at the Steinbrenners' compound—the Yankees were always in the mix, even if it was to the bitter end. The Red Sox were the only other team to finish every year above .500 (and they matched the Yankees in championships with two), but only once (2007) during the Aughts did they actually win the AL East.
Worst Team
And the nominees are:
Baltimore Orioles
Kansas City Royals
Montreal Expos/Washington Nationals
Pittsburgh Pirates
Tampa Bay (Devil) Rays
And the winner is:
The Kansas City Royals did manage to achieve one winning season (83-79, in 2003), unlike the Pirates and Orioles, but otherwise during the Aughts they were a downright mess, losing 100 or more games four times and coming perilously close two other years. Even when the Royals appeared ready to turn the corner and became the preseason darlings of more than a few prognosticating experts in 2009, they regressed back to bad form.
Best Hitter
And the nominees are:
Barry Bonds
Todd Helton
Albert Pujols
Manny Ramirez
Alex Rodriguez
And the winner is:
Alex Rodriguez was the favorite going into the decade and he lived up to the billing by blasting away, first for Texas and then with the Yankees. Yes, he did steroids for at least a few years during the Aughts, but so did most of the contenders. Pujols, the favorite going into the Teens, was a close second here. 
Best Pitcher
And the nominees are:
Roy Halladay
Tim Hudson
Randy Johnson
Mariano Rivera
Johan Santana
And the winner is:
After a horrific start to the Aughts (see worst performance by a pitcher, season), Roy Halladay emerged as the decade's most dependable, durable and successful pitcher on the mound. The Toronto Blue Jays had 99 complete games during the Aughts; 47 of them were authored by Halladay.
Best Defender
And the nominees are:
Andruw Jones
Greg Maddux
Ichiro Suzuki
Torii Hunter
Omar Vizquel
And the winner is:
No major leaguer showed more self-assurance and agility at his position than Ichiro Suzuki in the outfield. Suzuki has nine Gold Gloves in nine years since coming to America to play for Seattle. This honor will make up for what is perceived as a slight in his absence from the hitting categories.
Best Closer
And the nominees are:
Mariano Rivera
Joe Nathan
Eric Gagne
Keith Foulke
Francisco Rodriguez
And the winner is:
We teased readers in our review of the nominees last month that all five closers listed above had a fighting chance, but c'mon. Mariano Rivera has been a remarkable man on the mound in the late innings, perhaps the best closer baseball has ever seen. Throw in his uncanny postseason numbers (0.74 ERA in 88 career appearances) and that he was still lights out on the eve of turning 40, and you have a no-brainer selection here.
Best Manager
And the nominees are:
Terry Francona
Ron Gardenhire
Joe Girardi
Tony LaRussa
Mike Scioscia
And the winner is:
A tough, close call, but in the end you gotta hand it to Mike Scioscia, who emerged through the Aughts as the most gifted, deft and successful pilot in the game. Scioscia's postseason strategies need some work, but at age 51, he's bound to get more opportunities.
Best Ballpark
And the nominees are:
AT&T Park, San Francisco
Fenway Park, Boston
New Yankee Stadium, New York
Petco Park, San Diego
PNC Park, Pittsburgh
And the winner is:
In a decade where new ballparks continued to use bricks and hand-operated scoreboards to imitate yesteryear, we go with the one that was actually there all those years ago: Fenway Park. The old yard, the majors' longest tenured nearly a century after it was built, was simply the place to be with its legendary aesthetics combined with a breakout decade performance (two world titles) by the Red Sox, in front of one sellout after another after another after another.
Worst Ballpark
And the nominees are:
Landshark Stadium, Miami
Metrodome, Minneapolis
Network Associates Coliseum, Oakland
Rogers Centre, Toronto
Tropicana Field, St. Petersburg
And the winner is:
That the Minnesota Twins played above their heads all decade long was an excuse enough for fans to come watch them play; the Metrodome certainly was not. Moving from the standard old technology turf to Field Turf mildly took care of one long-standing problem, but the quilt-like roof, the Gladbag wall in right and inferior sightlines remained to the end…that, thankfully for the Twins, has finally come. In 2010, they move to Target Field, with real grass, real skies and amenities that serve baseball—and baseball only.
Best Season—Hitter
And the nominees are:
Todd Helton, 2000 (.372 average, 42 home runs, 147 RBIs; 59 doubles)
Barry Bonds, 2001 (.328 average, 73 home runs, 137 RBIs)
Barry Bonds, 2004 (.362 average, 45 home runs, 101 RBIs; 232 walks, 120 intentional)
Ryan Howard, 2006 (.313 average, 58 home runs, 149 RBIs)
Alex Rodriguez, 2007 (.314 average, 54 home runs, 156 RBIs)
And the winner is:
In 2004, Barry Bonds put up obscene numbers that even a runaway Strat-O-Matic whiz couldn't have dreamed; he led the NL with a .362 average, slugged .812 and shattered Ted Williams' long-standing mark for on-base percentage with a .609 figure, thanks to an unbelievable 232 walks—120 of them given intentionally. In the 373 plate appearances Bonds was given a chance to hit, he banged 45 homers. All this, while turning 40 in midseason. Thank you, BALCO!
Best Season—Pitcher
And the nominees are:
Pedro Martinez, 2000 (18-6, 1.74 ERA)
Randy Johnson, 2001 (21-6, 2.49, 372 Ks)
Roger Clemens, 2005 (13-8, 1.87 ERA)
Brad Lidge, 2008 (41 saves, no blown saves; 1.95 ERA)
Zack Greinke, 2009 (16-8, 2.16 ERA)
And the winner is:
It could be argued that others had better numbers than Pedro Martinez's 2000 effort, but this calls for some perspective: Martinez's 1.74 ERA was followed in the AL by Roger Clemens—at 3.70. It was the largest such margin between first and second in major league history, and it clearly hoisted Martinez as one pitching from a different era amid all the high-flying, steroid-fueled offensive insanity of the time. Need more convincing? Martinez's WHIP (walks and hits allowed per inning) was an incredible 0.74, and he struck out an AL-high 284 batters in 217 innings.
Best Season—Team
And the nominees are:
2001 Seattle Mariners (116-46)
2002 Anaheim Angels (99-63)
2004 Boston Red Sox (98-64)
2005 Chicago White Sox (99-63)
2008 Tampa Bay Rays (97-65)
And the winner is:
The 2004 Boston Red Sox, who didn't even when their division, get the nod because it's highly unlikely that no team felt more elated and satisfied at year's end during the Aughts as they. What made the Red Sox' campaign so utterly special was that they were a single pitch from being swept away and forgotten by the arch-enemy Yankees in the ALCS, only to come back to life in unprecedented fashion to win their first World Series title in 86 curse-filled years.
Worst Season—Hitter
And the nominees are:
Mark McGwire, 2001 (.187 average, 118 strikeouts in 299 at-bats)
Enrique Cruz, 2003 (.085 average; six hits and 30 strikeouts in 71 at-bats)
Jermaine Dye, 2003 (.172 average, four home runs, 20 RBIs)
Andruw Jones, 2008 (.158 average, three home runs, 14 RBIs)
Tony Pena, Jr., 2008 (.169 average; six extra-base hits and six walks in 225 at-bats)
And the winner is:
When the Los Angeles Dodgers signed venerable All-Star outfielder Andruw Jones in 2008, they were under the impression that his 2007 campaign—in which he hit .222 with 26 home runs—was an unfortunate aberration. In hindsight, the Dodgers would had gladly welcomed those numbers instead of the absolute bomb of a performance given by an overweight Jones, hitting an atrocious .158 with no power and lots of strikeouts—accelerating a shocking downfall for a guy barely past the age of 30.
Worst Season—Pitcher
And the nominees are:
Roy Halladay, 2000 (4-7, 10.64 ERA)
Jose Lima, 2000 (7-16, 6.65 ERA; 48 home runs allowed)
Mike Maroth, 2003 (9-21, 5.73 ERA)
Dontrelle Willis, 2008 (0-2, 9.38 ERA; 35 walks allowed in 24 innings)
Brad Lidge, 2009 (0-8, 7.21 ERA, 31 saves; 11 blown saves)
And the winner is:
Yes, it's true: Roy Halladay can relate to how those who made Gone With the Wind and Heaven's Gate both felt. Our nod for the Aughts best pitcher certainly paid his dues in 2000, when he crashed and burned so badly, no other pitcher before or since has produced a worse ERA throwing as many innings. Halladay's horrid start to the decade reverberated into 2001, where he began the season in Class A ball before bouncing back.
Worst Season—Team
And the nominees are:
2003 Detroit Tigers (43-119)
2004 Arizona Diamondbacks (51-111)
2005 Kansas City Royals (56-106)
2008 Seattle Mariners (61-101)
2009 Washington Nationals (59-103)
And the winner is:
The 2003 season was the low point for the Detroit Tigers, and almost historically so; they had to win five of their final six games to avoid the shame of out-bumbling the 1962 New York Mets. The team featured Mike Maroth, who became the first pitcher in nearly a quarter of a century to lose 20 games; teammate Jeremy Bonderman, who had 13 losses before the All-Star break, would have joined him had he not been pulled from the rotation late. The Tigers could laugh back on it quickly, rebounding to a World Series date just three years later.
Worst Free Agent Signing
And the nominees are:
Andruw Jones, by Los Angeles (two years, $36 million)
Gary Matthews Jr., by Los Angeles of Anaheim (five years, $50 million)
Russ Ortiz, by Arizona (four years, $33 million)
Carl Pavano, by New York Yankees (four years, $40 million)
Jason Schmidt, by Los Angeles (three years, $47 million)
And the winner is:
Do the math on Jason Schmidt's three-year tenure in Los Angeles and this is what you get: $1,084,615 per inning. To add insult to injury, those million-dollar frames weren't all that rich; Schmidt was 3-6 with a 6.02 ERA. Schmidt's surgery-ridden right shoulder was principally to blame.
Best One-Year Wonder
And the nominees are:
Mark Prior, 2003 (18-6, 2.43 ERA, 245 strikeouts)
Adrian Beltre, 2004 (.334 average, 48 home runs, 121 RBIs)
Derrick Turnbow, 2005 (7-1, 1.74 ERA, 39 saves)
Morgan Ensberg, 2005 (.283 average, 36 home runs, 101 RBIs)
Fausto Carmona, 2007 (19-8, 3.06 ERA)
And the winner is:
Take away Derrick Turnbow's mirage in 2005, and you got a guy who could barely hang on at the major league level. Of course, in this day and age, steroids must have had something to do with it; although never caught by MLB for using performance-enhancing drugs, Turnbow did get nailed at the 2004 Olympics, which had far more stringent (and, compared to baseball at the time, serious) drug-testing rules. Turnbow was last seen being cut by the Texas Rangers in 2009 when he couldn't throw strikes at the Triple-A level. 
Most Memorable Moment—On the Field
And the nominees are:
Roger Clemens v. Mike Piazza, 2000
Derek Jeter's Shovel Relay, 2001
The Bartman Interference, 2003
Dave Roberts' ALCS Steal, 2004
Barry Bonds' 756th Home Run, 2007
And the winner is:
Fans of the Chicago Cubs blame the billy goat incident during the 1945 World Series for the curse that has yet to see the Cubs return to the Fall Classic—and they have Steve Bartman to blame for extending it. Bartman's legal interference on Moises Alou's attempt to make a critical catch in Game Six of the 2003 NLCS helped open the floodgates for an eight-run Florida rally that turned the series around and denied the Cubs a good shot at winning their first pennant in 58 years.
Most Memorable Moment—Off the Field
And the nominees are:
John Rocker's Sports Illustrated diatribe, 2000
Threats of contraction, 2002
The BALCO Scandal, 2003-04
The Senate Hearings on Steroids, 2005
The Mitchell Report, 2007
And the winner is:
After years of rumors, dubious allegations and only a trickle of confessions, the House Government Reform Committee's hearings on steroids in baseball in the spring of 2005 was the tipping point that forced the game to acknowledge that performance enhancement was, very likely, an epidemic that had gone largely ignored in the name of profits. Played before a large TV audience, the event was pure grand theater, best remembered for Mark McGwire's fumbling for the Fifth, Sammy Sosa's sudden inability to speak English and an angry, finger-pointed assurance from Rafael Palmeiro that he never took steroids—three months before a test nailed him.
Lifetime Achievement Award
To the Pittsburgh Pirates, who somehow managed to find a way to finish below .500 all 10 times during the Aughts, extending their streak of losing seasons to 17—breaking an all-time pro sports record.
The Moonlight Graham Humanitarian Award
To Ron Wright, who played one game in the majors as a DH for the 2002 Seattle Mariners. In three at-bats, he struck out, hit into a double play and hit into a triple play. Wright's prepared speech will likely include what he recently told the New York Times: "Best day of my professional life."
Special Honorary Award: Best At-Bat
Barry Bonds vs. Eric Gagne, April 16, 2004 in San Francisco. This may have been the quintessential matchup of power vs. power in baseball history: Bonds, at the height of his late-career steroid-fueled power boost that would ultimately help secure his standing as the disputed home run king, and Gagne, a flame-throwing closer in the midst of a three-year run as the game's most untouchable closer. With the Dodgers ahead 3-0 and with one out and a runner on base, Bonds did not represent the tying run—so Gagne gave everything he had in his fastball, and Bonds was clearly ready to meet the challenge. The first five pitches contained nothing but 100-MPH heat—"straight cheddar," as Bonds would later describe it—and with the count at 2-2, Gagne challenged Bonds with another triple-digit pitch that Bonds clobbered to straight-away center, a searing, tape-measure line drive of a shot that left Giant fans satisfied even as the Dodgers won the game, 3-2.

The 2000s: Driven Deep to Disgrace The new century gives Major League Baseball a decidedly more international flavor with a healthy rise in foreign-born talent—but a disturbing pall is cast over the sport as one megastar after another is exposed for using steroids.