The Month That Was in Baseball: January 2018
The New Kids in the Hall  •  Goodbye, Chief Wahoo (Well, Sort of)
Why Are None of the Top Free Agents Getting Offers?
Wednesday, January 3
Rob Picciolo, a bench player who got most of his playing time during the wretched last years of Charles Finley's reign in Oakland—and later served for over 20 years as a coach, mostly for the San Diego Padres—passes away at the age of 64. Over a nine-year career, Picciolo was light on power (only 17 career homers) and speed (nine career steals) and also rarely walked, accentuating his career .234 average by only 12 points in the on-base percentage column. But he was a good soldier who leveraged his knowledge of the game into an expansive coaching career.
Thursday, January 4
In what has thus far been a glacial-moving offseason—so slow, there's suspicion of owners once again colluding against free agents—a three-team deal takes place involving a few name relievers. The Chicago White Sox pick up Luis Avilan from the Los Angeles Dodgers and Joakim Soria from the Kansas City Royals, while the Dodgers receive Scott Alexander—arguably the Royals' best reliever in 2017. The Royals get a couple of minor leaguers in the deal.
Friday, January 5
The Puerto Rican Winter League begins, handicapped from the extensive damage (and the slow recovery process that has followed) from Hurricane Maria to the U.S. island territory back in September. The schedule has been reduced from the usual 40 games to 18, and only two of Puerto Rico's ballparks are intact enough to allow the games to be played—though many of those will be played during the day, as the notion of night baseball remains a luxury as up to half of the island remains without power.
Saturday, January 6
The San Diego Padres continue to be one of the more active teams in this quiet offseason to date. A day after signing 33-year-old Japanese reliever Kazuhisa Makita to a two-year deal, the Padres trade third baseman Yangervis Solarte to Toronto for two minor leaguers. Solarte, who hit .255 with 18 homers and 64 runs batted in during the 2017 season, will add further depth to a Toronto infield recently buffeted with the acquisition of Aledmys Diaz from St. Louis.
Monday, January 8
Veteran free agent pitcher Matt Garza, who pitched through shoulder pain after a midseason collision with Milwaukee teammate Jesus Aguilar, needs surgery to correct the problem and will likely miss much or all of the upcoming season. Garza's time with the Brewers was not as productive as the team would have liked; he was 26-39 with a 4.65 earned run average over four seasons at Milwaukee. The surgery and ensuing recovery seriously harms any prospect of the 34-year-old right-hander signing with a team for 2018.
Tuesday, January 9
Bob Bailey, a 17-year veteran who knocked out the first hit in Montreal Expos history, dies at age 75. Signed by the Pittsburgh Pirates out of high school for an eye-opening sum of $175,000 in 1961, Bailey put up modest results for the Pirates over a four-year period, but was then dealt to Los Angeles where he struggled with a pair of .227 seasons; released to play for the expansion Expos, Bailey enjoyed his finest years by averaging 20 homers from 1970-74, while making pitchers work by drawing up to 100 walks in 1974. Bailey earned a World Series ring as a bench player for the star-studded 1976 Cincinnati Reds, then wrapped his career in 1978 for Boston.
Wednesday, January 10
Finally, there's some movement on the free agent front that doesn't involve a reliever, as slugging outfielder Jay Bruce is returning to the New York Mets for three years and $39 million. Bruce was traded to the Mets from Cincinnati late in 2016 and, a year later, was sent to Cleveland to help in its drive to the postseason. In 153 games in between for the Mets, Bruce hit .245 with 37 home runs and 94 RBIs.
In a disturbing report, sports player agency CSE Talent fires baseball agent Jason Wood after it's alleged that he rigged a camera in his home shower stall to film clients who used it. Among the major leaguers represented by Wood are Boston outfielder Andrew Benintendi. Wood denies the allegations.
Friday, January 12
On the last day for arbitration-eligible players to avoid the process by signing one-year contracts, several new records are broken. Toronto third baseman Josh Donaldson avoids arbitration by agreeing to a $23 million pact for 2018, breaking by $1.4 million the previous high for an arbitration-eligible player set last year by Washington's Bryce Harper. Meanwhile in Chicago, the Cubs' Kris Bryant—already bestowed with a World Series ring and NL Rookie of the Year and MVP awards—sets the mark for the highest-paid one-year deal among players in their first year of arbitration, inking for $10.85 million.
Other players of note receiving one-year deals to avoid arbitration are Colorado's Charlie Blackmon ($14 million), Houston pitcher Dallas Keuchel ($13.2 million), Washington third baseman Anthony Rendon ($12.3 million), and St. Louis outfielder Marcell Ozuna ($9 million), recently traded from Miami. Twenty-six other players do not sign and will have their 2018 salaries determined by an arbitrator.
Saturday, January 13
A few days after the Houston Astros denied a report that they had acquired Pittsburgh ace Gerrit Cole, the Astros acquire Gerrit Cole. The 27-year-old right-hander goes to Houston in exchange for four players, including pitchers Joe Musgrove, Michael Feliz and two minor leaguers including 2013 first-round draft pick Colin Moran.
The move gives the Astros three ace-level pitchers in their rotation, as Cole joins Justin Verlander and Dallas Keuchel. Enjoy it, Houston fans, while you can; Keuchel is a free agent after 2018, and Verlander and Cole will join him after 2019.
Cole's departure from Pittsburgh clearly shows that the Pirates are in reload mode. It also saps the team of a potential long-term ace that the franchise has historically lacked; over 135 years of Pirates baseball, there isn't a single pitcher who played at least half of his career for the team and made it to the Hall of Fame.
With almost nothing to lose, the New York Mets sign veteran first baseman Adrian Gonzalez to the major league minimum. Gonzalez will be paid $17 million by the Atlanta Braves, who let him go after receiving him in a trade from the Los Angeles Dodgers—who owe him another $4.5 million. The Mets will find out if Gonzalez, who turns 36 in May, has anything left after suffering through a career-worst 2018 campaign in which he hit .242 with just three home runs in 231 at-bats.
During today's "Cubs Convention" in Chicago, team owner Tom Ricketts tells reporters that former Cubs slugger Sammy Sosa will be welcomed back in the organization once he puts "everything on the table"—a not-so-vague reference to Sosa's continued dodging of whether he took PEDs during his career. Sosa does not respond.
Doug Harvey, one of 10 umpires in the Hall of Fame and fifth among all arbiters with 4,673 major league games worked, dies of natural causes at the age of 87. One of the game's more dynamic personalities among umpires, Harvey was remembered by younger fans for his "You Make the Call" segment during the Saturday "Game of the Week" national broadcasts in the 1980s. He umpired NL games from 1962-92, worked six All-Star Games and five World Series—including the 1988 Fall Classic in which he was behind the plate for Kirk Gibson's legendary walkoff home run.
Monday, January 15
If misery loves company, then it's time for fans of the Miami Marlins—who've spent the offseason trading away their best players—to meet those of the Pirates. A few days after sending away their best pitcher, the Pirates ship away the face of the franchise as Andrew McCutchen is traded to San Francisco for promising reliever Kyle Crick and a minor leaguer; also going the Giants' way is $2.5 million. McCutchen played nine years for Pittsburgh and ranks #9 on our list of all-time Pirates hitters (a tough list to crack, mind you) with all-around flair in hitting for average, power and strong baserunning. After a so-so 2016, McCutchen revived his game in 2017—and the Giants are hoping he can maintain that vintage level of play for 2018.
The news is not all bad in the Steel City. The Pirates extend Felipe Rivero, who emerged as the team's closer last season, to a four-year deal worth $22 million.
The Toronto Blue Jays ink Curtis Granderson, who turns 37 in March, to a one-year deal worth $5 million. It's hoped that Granderson, who belted 26 homers but batted .212 between the Mets and Dodgers in 2017, will supply pop with the anticipated absence of (still) free agent Jose Bautista.
Tuesday, January 16
In the slumber of a sleepy offseason, Yahoo's Jeff Passan tries to shake the proverbial bed up by posting a column entitled "Here's why baseball's economic system might be broken." The story seems to get a lot of attention, in part because it's another slow news day on the baseball front. Passan opines that a weakened union is less interested in wages and more so in perks, while teams more willing to tank and overhaul hesitate in offering massive contracts to players whose best years likely are behind them, focusing instead on locking down younger players with contracts that take them beyond their first years of potential free agency. He also suggests that relations between players and owners are growing increasingly toxic—and could lead to the sport's first work stoppage since 1994-95 when the Basic Agreement expires in 2021.
MLB responds to the Passan column by stating that one of the reasons prime free agents have been slow to sign this winter is that they're mostly represented by agent Scott Boras, who has a reputation for drawing out negotiations to get the best possible offer for his clients. It's something Passan acknowledges in his story as well. Boras, of course, denies that he's at fault.
The real issue here—if one wants to call it that—is that there's currently so much money in the game for both players and management, no one's willing to fight to the death to get the bigger piece of the pie. Certainly not the players, with benchwarmers now making over $600,000, top relievers $15 million and young stars as high as $23 million through arbitration. Fans and writers like Passan can rage over the fact that the players aren't getting their fair share, but until the players start displaying their own rage, the status quo appears to be cushy and acceptable.
Thursday, January 18
If Arizona outfielder Yasmany Tomas is looking to have a bounceback season after hitting just .241 with eight home runs in an injury-riddled 2017, then events of today will not help him. Tomas is arrested for criminal reckless speeding after being clocked at 105 MPH on a local Phoenix freeway; he could face up to 30 days in jail for this offense.
Friday, January 19
Randal Grichuk, the odd man out in a crowded St. Louis outfield with the Cardinals' recent acquisition of Marcell Ozuna, is dealt to Toronto for reliever Dominic Leone and a minor leaguer. The 26-year-old Grichuk, who's averaged 20 homer a year over the past three seasons, gives the Blue Jays (who recently signed Curtis Granderson) even more pop, while the Cardinals get a promising reliever in Leone, who pitched well for Toronto in 2017 (2.56 ERA in 65 games).
Monday, January 22
The Giants fill out their outfield by signing Austin Jackson to a two-year, $6 million deal. Jackson performed admirably for Cleveland in a part-time role last season, hitting .318 with seven homers in 85 games.
Tuesday, January 23
ESPN announces a (mostly) new booth crew for its prestigious Sunday Night Baseball broadcasts as it prepares for its 29th year on the air. Matt Vasgersian, who has risen through the ranks at the MLB Network (among other places), will take over play-by-play duties; Alex Rodriguez, who's earned his stripes as a worthy analyst through his time with Fox, will also join the booth along with Jessica Mendoza, who returns to her role as co-analyst. Rodriguez will continue to do postseason work with Fox as well.
The Astros' Jon Singleton, a prospect so once highly touted that he received a $10 million contract extension before he ever logged a major league at-bat in 2014, has been docked with a 100-game penalty after failing a third drug test. PEDs haven't been the problem for Singleton; pot has, as he's tried to kick the habit in the past. It's not helping him in his quest to fulfill expectations; he's hit .171 over 114 major league games, and couldn't get higher (pardon the pun) than Double-A last season, hitting just .205 for Corpus Christi.
Wednesday, January 24
Baseball's Hall of Fame announces the enshrinement of four new members: Chipper Jones, Vladimir Guerrero, Jim Thome and Trevor Hoffman. Jones (97.2%) and Thome (89.8%) get in on their first ballot, Guerrero (92.9%) gets in on his second and Hoffman (79.9%) his third. Edgar Martinez, at 70.4%, barely misses out in his ninth year of eligibility, followed by Mike Mussina (63.5%) in his fifth year.
Barry Bonds and Roger Clemens, two titans whose careers were defined by their (in some cases, confirmed) PED use, make small gains from previous ballots but, at over 55%, remain still somewhat distant from the 75% threshold. Other PED-tainted stars fare much worse; Manny Ramirez drops to 22% in his second year of eligibility, while Sammy Sosa (on his sixth ballot) drops to 7.8%, perilously close to the 5% needed to remain on future ballots.
There are a few surprises for players on their first ballot. Shortstop wizard Omar Vizquel debuts at 37%, while those falling far short of the 5% minimum for future consideration is two-time Cy Young Award winner Johan Santana (2.4%) and Chris Carpenter, who receives just two votes (or 0.5%) despite being ranked fourth on our list of the Cardinals' top 10 pitchers.
We're pretty much in agreement with this year's choices. It's hard to argue against the four new enshrinees, while we have reservations about some left off the list. We still believe Bonds and Clemens belong despite their past PED usage (whether proven or unproven), and we now find it odd that Mussina, whose career 3.68 ERA convinces us he doesn't belong, nevertheless remains on the outside looking in despite the recent election via the Veterans Committee of Jack Morris—who has fewer wins, more losses and a higher ERA.
Guerrero decides—with the Hall's nod—to enter Cooperstown as the first Hall of Famer representing the Angels, although he played slightly longer with his original team, the Montreal Expos. He's also the first Dominican-born position player to be enshrined.
Sixteen players have been named to Cooperstown over the past five years, a record high for such a timespan. The previous high was 13 from 1952-56.
Minnesota closer Glen Perkins, who's struggled with injuries over the past few seasons, announces his retirement a month before his 35th birthday. Perkins' 12-year career includes four as the Twins' closer, and he ranks third on the franchise list for saves (with 120) and ninth in appearances (409).
Thursday, January 25
The Brewers make their move—or moves—to build upon 2017's upbeat campaign and strengthen themselves for 2018. They first snag outfielder Lorenzo Cain off the free agent market, giving him a five-year contract worth $80 million. Not stopping there, the Brewers agree to send four minor leaguers—three of which are ranked within the organization's top 10 prospects—to Miami in exchange for outfielder Christian Yelich, who's been openly critical of the team's recent shedding of star talent and demanded a trade.
This will be Cain's second go-around in Milwaukee; he was originally drafted by the Brewers and traded to the Kansas City Royals in 2010 in the deal that sent Zack Greinke to Milwaukee.
This leaves the Brewers will a surplus of outfielding talent—igniting rumors that Ryan Braun will move to first base, and/or that Domingo Santana and Keon Broxton are back on the trading block. And as for Miami? The talent purge continues—so much so, the players' union is asking Major League Baseball to investigate a franchise that is severely reducing payroll while raking in millions via revenue sharing.
Saturday, January 27
More bad news for the Pirates—and this time, it's not even of their own making. Reliever Nik Turley, recently acquired from Minnesota, is given an 80-day suspension for testing positive for PEDs. If Turley was on the juice last year for the Twins, it didn't seem to be helping him; he posted an 11.21 ERA in 10 appearances.
Monday, January 29
The Cleveland Indians announce that they will remove the divisive Chief Wahoo emblem from their uniforms starting in 2019, satisfying those who've criticized and protested the icon as racist. But why next year and not know? Some believe it's to pump up a year's worth of sales on current uniforms and other souvenirs featuring the cartoonish head icon with its ultra-wide grin, big nose and feather atop its head. It should also be noted that the 2019 All-Star Game will be held at Cleveland, adding theory that commissioner Rob Manfred would only allow the Indians to host if they got rid of Wahoo. "Major League Baseball is committed to building a culture of diversity and inclusion throughout the game," Manfred said in a statement. "The club ultimately agreed with my position that the logo is no longer appropriate for on-field use."
The deletion of Chief Wahoo, first conceived by Cleveland newspapers in the 1930s and adopted by the Indians after Bill Veeck bought the team in the late 1940s, will not be a total purge. The Indians will continue to sell souvenirs locally with Wahoo on it in 2019 and beyond, perhaps as appeasement to fans who don't see the cultural insensitivity attached to the icon and are already barking about its on-field removal.
Long story short: Chief Wahoo had to go. While the argument for the continued use of team names like Indians and Braves has its legitimate points, even those who publicly embraced Wahoo must privately know they're on the wrong side with this one. The poster shown below, created in 2001, provides some perspective: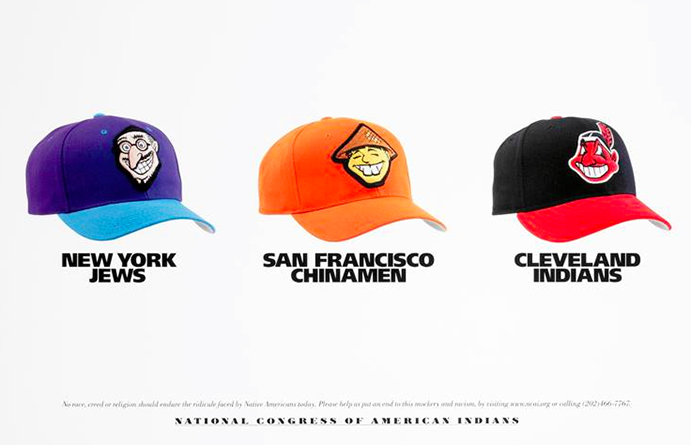 Kansas City trades slugger Brandon Moss, southpaw reliever Ryan Buchter and $3.25 million to Oakland in exchange for starting pitcher Jesse Hahn and minor league hurler Heath Fillmyer. It's a return to the A's for the 34-year-old Moss, whose best years took place at Oakland from 2012-14 with a career-high 30 homers and 87 RBIs in 2013, and a pair of homers a year later against the Royals in Oakland's memorable wild card game loss at Kansas City.
Kevin Towers, a highly respected baseball executive who served as general manager for both the San Diego Padres and Arizona Diamondbacks, passes away from cancer at the age of 56. A former first-round draft pick whose playing career was derailed by injuries at the Triple-A level, Towers turned to scouting and then worked his way quickly to the ranks of GM; he oversaw one pennant when the Padres reached the 1998 World Series.
Tuesday, January 30
Ken Rosenthal of The Athletic reports that MLB will install dugout phones this season with the ability to monitor conversations. Reason? To prevent teams from using technology to steal signs, as was discovered late last year when the Boston Red Sox were caught doing just that at Fenway Park. Using non-technical means (such as your eyes) to steal signs will still be 'tolerated,' though not necessarily encouraged.
The Tampa Bay Rays fire Michael Reilly, their official team doctor since their 1998 inception, after a former co-worker named Brianna Rah posts a YouTube video claiming he sexually abused her 10 years ago while working at his office.
We could only hope that the Rays did their due diligence in the two weeks since the video was posted and investigated, rather than simply took the word of a woman who may—or may not be—speaking the truth. This is not to be skeptical of Rah's claims—she did, after all, reveal her name and face in the video—and while we're highly supportive of the #MeToo movement, there also should be accountability on both sides to prevent people from potentially trashing another's career through the intent of false malice.
Wednesday, January 31
Oscar Gamble, whose trademark afro was an icon for 1970s baseball, dies at the age of 68. The Alabama-born left-handed slugger never really was an everyday player—he only logged more than 400 at-bats twice over 17 major league seasons—but he was potent at the plate when allowed, hitting 200 home runs over 1,584 career games. He was at his best in the late 1970s; with the 1977 Chicago White Sox, he belted 31 homers with 83 RBIs in just 408 at-bats, and in 1979 he batted .358 with 19 homers over 274 at-bats split between two teams (the Yankees and the Rangers).