"Bull Durham"
The TGG Baseball Movie Review
Crash Davis teaches raw pitching prospect Nuke LaLoosh the finer points of baseball while the two compete for the Durham Bulls' #1 groupie in this sharp, funny look at the minor leagues.
From Eric Gouldsberry: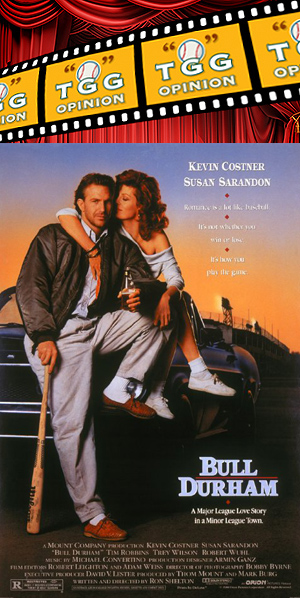 Movie directors are at their best when they cull their material from background they're all too familiar with. Martin Scorcese captures the essence of New York because he grew up there. Oliver Stone can relate to Vietnam through his films on the subject because he served there.
And Ron Shelton can make movies about baseball because he played the game.
With Bull Durham, Shelton draws from his five years toiling in the minors and recreates, from the players' perspective, a smart, insightful and often very funny look into the life of minor leaguers, many of whom will see their dreams of reaching "The Show" (A.K.A., the majors) fall well short.
The Durham Bulls are represented here as your classic small-town, low-level minor league team, high on promotional schmaltz and roster turnover; the bucolic setting is the heart of Americana but seemingly millions of miles away from the nearest major league ballpark. It feels even farther away for the players desperately trying to make their way up.
Into the Bulls' clubhouse of baseball transients walk two new players: A hot young pitching prospect named Cal LaLoosh (Tim Robbins) blessed with a "million-dollar arm and a five-cent head," and veteran catcher Crash Davis (Kevin Costner) the self-announced "player to be named later" who's been slipping gears for years trying to make it big and now is being asked to help nurture the young LaLoosh with the ways of the game. But Davis isn't the only one whose job is to make a man out of LaLoosh; there's also Annie Savoy (Susan Sarandon), an eccentrically sexy, over-philosophizing diehard Bulls fan who every year seeks to corral one special player to kneel with her at the "Church of Baseball"—and then bed down with him, because "there's never been a ballplayer who slept with me and didn't have the best year of his career."
Davis catches Savoy out of the corner of his eye and sees something in her, but is initially turned off by her fondness for quirky interests ranging from Isadora Duncan to quantum physics. He prefers grounded reality, lecturing Savoy with a great "I believe" speech that's become borderline cinematic lore.
Bull Durham is at its best when it's focused on Davis' education of LaLoosh, which takes up the bulk of the film. From their confrontational beginnings, he preaches the young gun about not thinking, "facist" baseballs and how you should never "f**k with a winning streak." The latter lesson is a pointed and selfish request to stop getting down with Savoy—who's spending her nights performing poetry (among other things) upon LaLoosh while encouraging him to wear women's underwear while pitching for good luck.
The fragile stability of life in the minors is underscored when LaLoosh gets the call to The Show and Davis, his mission complete and now expendable, is let go. This leads to a third act in which Davis and Savoy realize they need each other more than they think—and more than we ever thought, as the resulting romanticism seems an afterthought to the virtual absence of an evolving relationship between the two for the first hour and a half.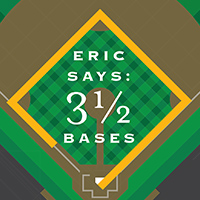 The actors are all terrific. Robbins plays LaLoosh with goofball naivety, Sarandon never looked or acted better (she and Robbins would become real-life mates), and Costner, in the midst of a terrific string of highly praised commercial hits that ran from The Untouchables to JFK, skews sensibility and frustration as he grudgingly tries to suppress publicity over his minor league achievements—a presage to Mike Hessman, a real-life catcher who would set the mark for most minor league homers while barely getting a taste of the majors.
But Bull Durham's real star is Shelton, whose breezy yet wily script channels all he learned in his time as a minor leaguer. It may not have earned him a promotion to the majors, but it sure served his Hollywood career well.
---
From Ed Attanasio:
You can have great actors, the best director, the finest cinematographer and all the money in the world, but if the screenplay is lousy, the film will almost always be forgettable. The writers are the backbone of the movie industry and that's why I believe they should get their Oscars right at the end of the Academy Awards presentation every year—between Best Film and Best Director.
Why do I take this opportunity to praise great screenwriting? Because Bull Durham is a prime example of the fact that the story is king. I'm not saying that there were a lot other wonderful things going on here with this film—including the casting and the setting—but I am saying that the writing by its creator Ron Shelton made this film a walk-off grand slam instead of simply a sacrifice bunt.
The story of Bull Durham is fairly simple and the storyline synopsis really doesn't break any new ground. We're in the minor leagues and the majors is the ultimate goal, but some are on the way up (Cal LaLoosh, played by Tim Robbins) while others are begrudgingly being escorted to the exits (Crash Davis, played by Kevin Costner) while one passionate spectator (Annie Savoy, played by Susan Sarandon) is there for the baseball with romance on her mind.
What makes Bull Durham a major league hit is the screenplay—it's just that simple. Rookie screenwriters often fall into the trap of having their characters making long-winded speeches, but they don't work, because people don't normally talk that way. In Bull Durham, there are a few of these speeches, but they work, because they are well-written and delivered with perfect timing.
The two that really stand out from the film are of course, the classic speech that Crash delivers to Annie, full of pop culture references and the other one where Crash tells LaLoosh about how to speak to the media. Probably the most memorable moment in the movie, is Costner's "I Believe…." speech. Of all the things he says in this 60-second diatribe I agree with him, except maybe two—I have never been a fan of the author Susan Sontag and I surely don't believe that Lee Harvey Oswald acted alone. Otherwise, Crash and I share much of this character's core beliefs.
Another great thing I like about Bull Durham is the cast of characters that set the mood and come in and out of the story. Max Patkin, the legendary baseball clown, is in there and we also briefly get to know the team's manager Joe Riggins (played by the late Trey Wilson), who also is stuck in the minors. And of course, the Bull's quippy coach Larry (played by Robert Wuhl) utters one of the most memorable lines of the film, "Candlesticks make a great present…" (you'll have to see it to understand). These pinch hitters all work together to add a little flavor and fun to the film.
In 2015, I attended a baseball film festival in San Francisco and listened to Shelton's memories about the making of the film. I especially liked his recollections of the casting process. Before going with Costner, they considered Harrison Ford, Mel Gibson (really?) and Kurt Russell, which makes a lot of sense, because he played minor league baseball himself. But, Costner wowed everyone during his audition, so he landed the part.
Sarandon was chosen over Kim Basinger and Ellen Barkin and not everyone preferred her, fearing she was too old. And everyone casting the film wanted Anthony Michael Hall to play LaLoosh, but when he showed up unprepared for an audition, Robbins got the nod. In each case, these selections were ideal and by not going with bigger names—it worked. Rather than a squad packed with expensive free agents, Bull Durham was a team effort with a cast led by overachievers and actors who themselves were on the way up.
Other interesting things I learned from Shelton by grilling him after his presentation include the fact that the relationship between Bulls' Manager Riggins and LaLoosh in the movie was based on a real story. When Ron Shelton was playing in the minors, his manager was Joe Altobelli and the wild young pitcher in this scenario was Steve Dalkowski, a pitcher who had amazing stuff and one season struck out 262 batters and walked 262 in 170 innings while playing in the California League.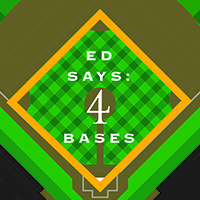 Shelton also told me that about a decade ago he almost made a sequel of the film, but he could not get the green light from a major studio. In the story, Crash retires and starts managing a minor league team with Annie following him every step of the way.
Bull Durham is a fun romp through the minor leagues, but without great writing, it would probably be just another bush league baseball film like The Slugger's Wife or Major League: Back to the Minors. By setting a leisurely pace that meanders through the South one summer, this film has it all—great dialogue, fascinating, well-developed characters, a few memorable speeches and a handful of major league laughs. With great performances by Sarandon, Costner and Robbins, I am giving Bull Durham my Triple Crown!