"The Natural"
The TGG Baseball Movie Review
Robert Redford portrays one of baseball's greatest fictional heroes, a middle-aged slugger with amazing talent and a dark past in this memorable fairy tale.
From Ed Attanasio: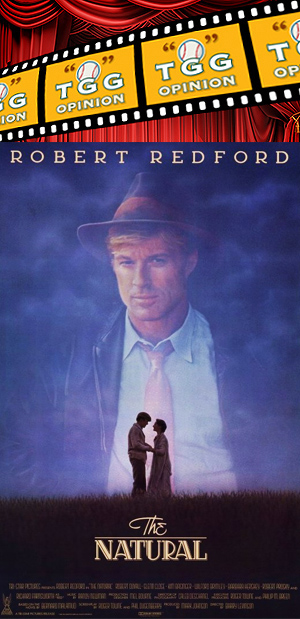 I never really embraced the term "popcorn movie" because I want popcorn anytime I watch a film. So, I looked up the definition of this term in the Urban Dictionary and it said, "A popcorn movie is a motion picture without serious dramatic content, a weighty message, or intellectual depth, which serves simply as enjoyable entertainment." Does that describe my feelings about The Natural? Yes, pretty much.
Sometimes, I like a "popcorn movie" to have fun and just enjoy. Watching heavy movies all the time can be draining and when I get into a film, I sometimes don't want to have to deal with serious themes. So, I did find The Natural somewhat entertaining and I have probably watched it more than a dozen times, but never from beginning to end. So, I can't put it on my list of top baseball movies, because it's more like mythology and several better baseball movies have come out since 1984.
If you haven't seen The Natural, it is basically a story about a washed-up player who returns to reclaim his fame, after being waylaid by an unfortunate and unforeseen event. Rather than waste your time with a synopsis of the plot here, I choose to use my available space to discuss the film and why I will sit through it, but don't really respect it.
This is one rare baseball movie where I also read the book before seeing the film and to be honest, the book was so different than what you see on the screen that it is amazing. It seems as though they sucked all of the meat out of Bernard Malamud's book and converted it into a fairy tale with stereotypical characters that don't seem plausible. They could have made The Natural an animated feature (or a musical) because many of these characters are cartoonish, to be honest.
The acting is uneven. Roy Hobbs is played by Robert Redford and I love the man, but he always plays Robert Redford. I don't think he would ever stretch and do a challenging role, like Daniel Day-Lewis or Al Pacino and that's okay. I am not going to trash him for that and he did an admirable job in this role, but I wish he would had at least taken a few chances with his career at some point. (Maybe at least one role in drag and another one where he opens things with his feet?)
The rest of the cast is good, but far from being evenly remotely believable in my opinion. Iris Gaines played by Glenn Close; Team Manager Pop Fisher played by Wilford Brimley; An evil sportswriter played by Robert Duvall; Team Owner Owen Judge by Robert Prosky (equally evil); Sexy blonde played by Kim Basinger; Gambler Gus Sands played by Darren McGavin and Bump Bailey played by Michael Madsen all turned in solid performances, despite the material they were stuck with.
To break it down, I have issues with some highly implausible things that happen in the film. First, Hobbs takes a bullet for Babe Ruth (called "The Whammer"), right after striking him out at a carnival (really?); Hobbs fashions a special bat for himself out of a tree that is struck by lightning (less likely); Bump Bailey (the self-absorbed emerging star) runs through a wall going for a fly ball and dies (worst yet)? And then, of course, the famous final scene when Hobbs hits a walk-off home run, destroying the baseball and causing the stadium's lights to explode. I could go through all of these scenes to outline the absurd things that took place in each, but you probably get the idea.
In the end, The Natural is a lot of fun but it's like cotton candy more than popcorn—it looks good, but it's 80% air and 20% sugar. If you want to escape to a world where things end up right and miracles do take place, you might like this film, but be ready for the fluff and don't expect anything real or believable to occur in this movie and you'll be fine.
---
From Eric Gouldsberry:
Ed mentions The Natural's implausibility factor as if it should be the basis for judging the film. But reality is not mythology. After all, there was a six-foot weed recently growing outside my kitchen window. I didn't expect it to grow to the point that the Jolly Green Giant would climb down it someday, but it's fun to imagine such things, because that's fantasy. And if a movie studio thought it was a cool idea, it would film it, because that's Hollywood.
The Natural wins me over because it is a fairy tale, and a rather good one at that: The story of a naïve pitching phenom who has it all—talent, looks, humble country charm—then vanishes after a traumatic incident, only to reappear 16 years later out of nowhere as a middle-aged major league newcomer who does amazing things with the bat. He can (literally) knock the cover off the ball, smash a ballpark clock and create victorious fireworks from a single broken bulb. This is not baseball history; it's a bedtime story that enraptures the kid in all of us. And that's pretty cool.
Unlike Ed, I've never read Bernard Malamud's book, so I can't color the film from a different perspective and absorb the inevitable disappointment that usually affects moviegoers when they read first, watch later.
After the extended prologue that covers the events leading to Roy Hobbs' dangerous dance with fate, The Natural hits top gear as Hobbs reappears for the sad-sack New York Knights in 1939; the year is never mentioned, but baseball's 100-year anniversary patches give it away. Watching the silhouette of Hobbs walking down the tunnel toward the dugout for the first time, you can already feel the pain, loss and emotional melancholy he has suffered, a promising future snuffed out. Few are willing to give him any sympathy—especially crusty Knights manager Pop Fisher, who seems insulted that his lousy team has just been sent a guy who has only two weeks with the semipro Hebrew Oilers to claim as recent experience. Hobbs is older, wiser, warier and in no mood to be screwed around with, and he lets Fisher know it; the manager finally relents, unchains him from the eternal bench and gives him a chance. From that moment, Hobbs becomes a star reborn.
But Hobbs is hardly in the clear. As his popularity blooms, he must contend with a shady (in more ways in one) owner who needs the team to lose in order to keep it; his sidekick, a scheming, cocksure bookie; a powerful poison pen of a sportswriter, Max Mercy (Duvall), whose distant memory of Hobbs eventually catches up to him; the beautiful team moll, Memo Paris (Basinger), who's "not waiting for true love to come along" and seduces Hobbs into a midseason funk; and a belated, ill-timed setback involving his never-healed wound, pierced by a silver bullet all those years before. Hobbs can either succumb to the pressure or enhance his legend. Of course you will know how this will all turn out.
Filmed in Buffalo at old War Memorial Stadium shortly before they tore it down, The Natural is not a perfect film. Hobbs' rekindling of his childhood romance with Iris Gaines (Close) should have made for a stronger subplot. The one that's given more screentime—Hobbs' dalliance with Memo Paris—drags down the momentum of the film's first hour. But it easily holds together through to a bravura finale, buoyed by the deft, stylish direction of Barry Levinson—his second film, after the critical 1982 favorite Diner, and flexing his cinematic muscle in advance of Good Morning, Vietnam and Rain Man; the wistful, stunning camerawork of Caleb Deschanel; and composer Randy Newman's beautifully eloquent slice of symphonic Americana, channeling Aaron Copland.
The cast, for the most part, is strong—though Basinger's desperate, bogus plea to convince a hobbled Hobbs not to play the climactic game reminds me of Madeline Kahn's comic, on-her-knees begging to Cleavon Little in Blazing Saddles. And, yes Ed, Redford is Redford—but this is a role tailor made for movie-star Redford, as opposed to hiding behind costume and make-up (like he finally nearly did as Branch Rickey, before Harrison Ford took on the role for 42).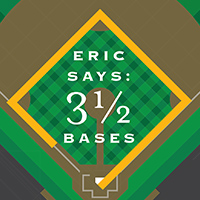 Maybe I'm a sucker for mythical storytelling. So be it. I'm also a sucker for a great movie that's well told. The Natural easily passes both tests, in my opinion. The funny thing is, The Natural seems so popular yet is disliked by so many. Roger Ebert hated it. Leonard Maltin was not impressed. Ed, as we now know, is not a fan. But I'll bet that, more than not, fans of the game will enjoy the film. It's based in part on history—the Philadelphia Phillies' Eddie Waitkus was shot by a rabid female admirer in 1949—and it inspired history, as Roy Hobbs parallels sprang up in the aftermath of injury-hobbled Kirk Gibson's stunning home run in the 1988 World Series, which evoked Hobbs' blast that climaxes the film. Reality, imitating mythology. Who would've thought that?