"Eight Men Out"
The TGG Baseball Movie Review
Famed independent director John Sayles delivers a fluid and very agreeable adaptation of Eliot Asinof's novel detailing the Black Sox Scandal.
From Ed Attanasio: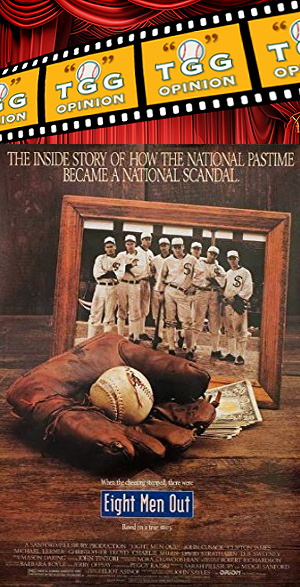 Right at the top on my list of favorite baseball films, Eight Men Out is like eating a delicious sundae filled with history, colorful characters and an engaging tale. It is a story of human frailty with greed as the main force behind all of the unethical and immoral things that transpire.
So here's eight reasons I love this movie:
1. Believable story. It all goes back to the old "suspension of belief ". Did I really believe that these characters in this story seemed plausible? Did I care about them at least for a minute? Well, the answer is an emphatic yes. Director John Sayles took the historical record and enhanced it, with his writing style and all of the other elements that led to this film's complete believability to make it a hit.
2. Great casting. It may sound trite, but the cast on Eight Men Out made for a solid team. Without one superstar in the bunch (both John Cusack and Charlie Sheen were on the way up when this film was made, but surely not yet considered A-list), this group of top-notch role players (or character actors) carried the day (and the series). D.B. Sweeney (as Shoeless Joe Jackson) hits a home run with his understated performance as an allegedly not-so-bright Hall of Fame-caliber star who threw his career away for $10,000. The two sportswriters who eventually discover the fix are played by the late famous journalist Studs Terkel (Hugh Fullerton) and John Sayles (Ring Lardner), both of whom look and act the part. David Straithairn plays star pitcher Eddie Cicotte and stands out, and Michael Lerner looks like a big wise owl as the famous gambler Arnold Rothstein.
3. It's detailed. For period films, I am always looking for the little details that truly represent the times. I don't know if it is true or not, but allegedly you can see a Roman warrior wearing a Rolex during a crucial scene in Spartacus, one of my favorite movies of all time. So, I have to give Eight Men Out some major kudos for being historically accurate—from the music to the way people talked back then, all the way to the old ballparks with their iconic signage as well as all of the players' uniforms from the 1910s.
4. Plausible dialogue. I hate it when someone does a period film and then uses current terms that surely did not exist then. They spend all this money on costumes, props, etc., and then they drop the ball when it comes to finding the right way of having its characters converse with each other. In Eight Men Out, they go all out to make sure the dialogue matches the period. The speech before the series made by White Sox manager Kid Gleason (played by John Mahoney) is pure gold. He has been hearing rumors of a possible fix and he is telling his team that he does not believe it. But in his voice and in his eyes, you can see that he does not really believe.
5. It's true to the story: Too many Hollywood writers wander away from the truth, because their enhanced version looks better on the big screen, they believe. And of course, there is always going to be some serious editing to get a movie in at around two hours. But, in Eight Men Out, they did not alter the story to streamline it or make it more dramatic. That's why the film has a real authentic feel to it. It is true to Eliot Asinof's 1963 book and even the most knowledgeable seamheads from the Society of American Baseball Research won't be able to find many historical errors here (which they like to do). Many baseball historians have claimed that the kid who said "Say it ain't so, Joe" never took place, but it has been said so many times, it's now part of the story, whether it is actually true or not.
6. There's just enough baseball. With every sports movie, producers always have to balance the amount of game action with backstory, character development, etc. Some baseball films have way too little reenacted baseball action in them (Cobb, for example) while others have too much (The Love of the Game), but Eight Men Out had the ratio just right. The games were the vehicles to convey the story and none of that was wasted in this film. It gave the movie a nice rhythm that progresses along at a pleasant pace, unlike those four-hour games we often see in the majors today.
7. It's corny, but not disgustingly so. Yes, there were a few sweet little scenes in Eight Men Out that brought back my diabetes, but they are forgivable and actually satisfying. When Buck Weaver talks to the local kids in his neighborhood; when Lefty Williams consoles his wife about the fix and protects her from the facts—they all work well together within the fabric of the story. Other baseball films (The Natural, for example) load up on the sugary clichéd moments, but Eight Men Out simply throws in a few–like sprinkles on that ice cream sundae.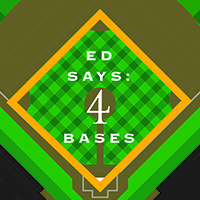 8. Perfect length. When a movie is good (like The Godfather, Part II, for example) no one complains about the length. But, when it is bad (don't see Pearl Harbor with Ben Affleck) sitting through it is pure hell. Eight Men Out is a comfortable two hours and, in my opinion, it does not drag at any point. Sayles took the time to tell the tale without concentrating too much on any specific part of the storyline and that's why it just seems right in every way, including the running time.
---
From Eric Gouldsberry:
While I'm not ready to jump on Ed's bandwagon of ultimate praise for Eight Men Out and share the steering wheel with him, I'll happily settle for the back seat and solidly applaud writer-director John Sayles for a job well done.
Others might have taken Eliot Asinof's book and struggled to simplify the story's complicated background, with its multiple layers of gamblers falling over and stabbing one another to gain the upper hand in profiting from the Black Sox participants. But Sayles, the premier indie director in a time when indie films were indie films—before Quentin Tarantino and Miramax moved the genre into mainstream territory—does a masterful job of sorting out the alphabet soup of conspiracy and providing an elementary framework for viewers.
There are two sequences that brilliantly illustrate this. The first is the one that opens the movie, using a late-season game from the Chicago White Sox' fateful 1919 campaign as a backdrop to introduce the characters, tensions and motivations that lead to the fix of the World Series. The second takes place after the second game of the Fall Classic, in which conspiring players, gamblers, and the suspicious powers-that-be all unknowingly dance around each other on a single level of a hotel, almost like something out of a Marx Brothers movie. It's highly unlikely that all of these characters actually roomed on the same floor, but Sayles employs good ol' Hollywood realism to advance the story in rapid-fire motion, seemingly within a single shot.
But let's get back to the bandwagon, and why I stop one base short of Ed in total praise of Eight Men Out. For all of its fluid storytelling, authentic feel for place and time and crisp characterizations, there's a lack of overall depth that thinly spreads across the film—like dialogue that's intentionally period-driven as Ed notes but often coasting without great moments of conversation. A bigger weakness, however, is the film's secondary focus on Joe Jackson, who should have been given a more central role as the team's most gifted talent, flourishing on the field while handicapped off it with an inability to read or write. D.B. Sweeney's lifeless portrayal of Jackson only intensifies this flaw. Maybe Asinof didn't make Jackson the cornerstone of his book, but Sayles could have scoured through other sources to lift Shoeless Joe to the same screen level granted to veteran pitcher Eddie Cicotte, the most conflicted of the Black Sox, and third baseman Buck Weaver, the hard-nosed competitor who knew of the scandal but refused to participate—and, fatally for his career, refused to report it.
Most of Sayles' casting choices are spot on. Cicotte and Weaver are expertly played with nuanced charisma by, respectively, David Strathairn and John Cusack. Michael Rooker (as first baseman Chick Gandil) and Don Harvey (as shortstop Swede Risberg) provide grit as the Black Sox' biggest jerks and chief instigators of the scandal. Gordon Clapp is perfect as catcher (and clean White Sock) Ray Schalk, who barks and fumes like a bulldog and is the kind of backstop every major league manager wishes they had. Bill Irwin, better known for his work as a performance-arts mime—he once played Mr. Noodle opposite Elmo on Sesame Street—gives White Sox star Eddie Collins an apt college-bred presence that rankles the more uneducated and scandalous teammates. Clifton James—a Sayles favorite best known for playing the scene-stealing redneck sheriff in Live and Let Die—is exceptional as scheming White Sox owner Charles Comiskey, who in the wake of the Black Sox Scandal perpetrates an equally devious fix to save him and his club. (And though John Anderson admirably portrays Kenesaw Mountain Landis, why didn't Ian McKellen get a screen test?)
Sayles himself portrays sportswriter Ring Lardner (the two have an uncanny resemblance to one another), who along with colleague Hugh Fullerton (Studs Turkel) hears rumors and smells rats of a fix as they stroll among the Black Sox participants like Greek philosophers, their suspicions growing amid the evolving mechanizations of the scandal.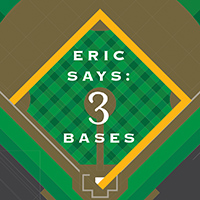 Every filmmaker aims high to make a masterpiece, but it's as if Sayles didn't seem to push the envelope. Perhaps that's a reaction specific to me as baseball historian; I subconsciously would want any baseball flick based on the facts to meet my expectations. But ultimately, liberties are taken to satisfy all audiences, not just the seamheads. Most people who see Eight Men Out will not care that Comiskey Park doesn't look like Comiskey Park, that Redland Field doesn't look like Redland Field, that baby-faced D.B. Sweeney doesn't come close to matching the crusty, wrinkle-scarred mug of Joe Jackson. Okay, fine. I'll give credit to Sayles for staying more faithful to the words of Asinof's novel, and that's the important thing.