"Moneyball"
The TGG Baseball Movie Review
Sabermetrics gets the Hollywood spotlight with the help of Brad Pitt, who plays Billy Beane in pursuit of trying to build a contender from a small budget.
From Eric Gouldsberry: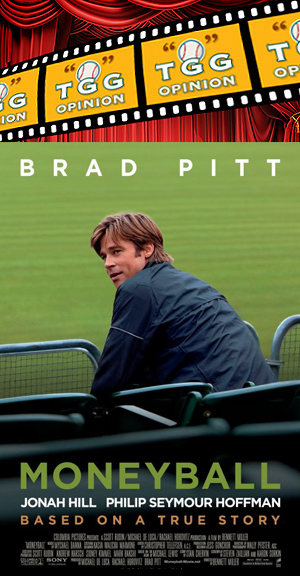 I always thought it would be cool if someone were to take a good slice of John Heyler's Lords of the Realm—my favorite baseball book, ever—and turn it into a living, breathing motion picture. But given the scope of what Heyler covers—the game behind the game, from its beginnings thru the abysmal 1994-95 players strike—it would be hard to mold and bake it into even a three-hour epic. So I'll happily settle for Moneyball instead.
Moneyball covers a short sliver of more recent baseball history that Heylar probably would have loved to devote a long chapter to: The unconventional efforts of Oakland general manager Billy Beane to hoist the financially challenged A's on a competitive par with traditional big-spending opponents in the New York Yankees and Boston Red Sox, teams that kept grabbing his best players when they became too expensive. The final celluloid product, courtesy of director Bennett Miller (Capote, Foxcatcher), is exceptional in mixing convincing recreations of the moment with archival video and audio to create an authentic feel and blur the lines between contemporary Hollywood tension and you-are-there documentary vibe. Its sharp pacing and respect to history will appease hardcore baseball junkies and casual fans alike.
Beyond the richness of its dialogue and setting, Moneyball also profits from the reliable performance of Brad Pitt as a confident, intuitive yet burdened Beane. The real Mr. Beane probably never exuded such a pretty-boy swagger as Pitt but, hey, that's Hollywood. Pitt, as Beane—or is that you, Benicio Del Toro?—spends the film's first act overcoming one obstacle after another. There's his tight-fisted owner who defends the A's Z-grade budget as "small-market"—right, Bay Area, small market, yeah-huh. There's his crop of old scouts who are more crusty, less trusty and totally hopeless in trying to wrestle up replacements. And there's the daughter from a failed marriage he's trying to keep upbeat.
Beane's discouraging quest to remake the A's takes a serendipitous turn while in Cleveland trying to negotiate a trade with the Indians' brass. Curiously standing out amid a roomful of brawny, seasoned baseball types is a portly, baby-faced young exec (Jonah Hill) who quietly seems to be giving all the advice; Beane later corners the young lad, named Peter Brand (a.k.a. Paul DePodesta), who confesses to being an Ivy Leaguer with a business degree and no baseball experience, either on the field or the front office. But Brand's onto something; he thinks baseball people have a "medieval" way of thinking, that star players are overvalued while others barely on the radar have immense promise via the deep statistic analyses he's culled together. Beane can relate; he himself was once ogled by the scouting 'experts' as a five-tool talent who ultimately never managed a foothold as a major leaguer. And so he buys into Brand's philosophy, hires him away and has him buddy up with the old-school scouts back in Oakland for a roster meeting that's about as oil-and-water as it gets.
The film from here focuses on Brand's advocated reclamation projects—Scott Hatteberg, a catcher-turned-first baseman; reliever Chad Bradford, dismissed by others because his side-armed, mound-scraping delivery looks "too funny"; and former star slugger David Justice, whose fragility springs alarms and is so unwanted by his current employers (the Yankees), they're willing to pay him to play elsewhere. Beane's crossing his fingers that Brand is right, but early on, the signs are troubling. The A's are near the AL West basement, the din of sports talk is calling for Beane's head, and it seems a day doesn't go by where Beane doesn't throw something heavy across the room in anger. But with a little midseason housecleaning combined with more Moneyball education and encouragement upon the players, the A's fall into sync and out of last place, shooting their way to the top via a record 20-game win streak which serves as the film's climactic source of baseball.
Beyond the wins, Moneyball shows there is little glory behind the scenes. It seems alarming how the film depicts the movement of players at a moment's notice by Beane and his fellow GMs, as if they were trading baseball cards, not baseball players. I can sense that the film does not exaggerate this practice; baseball, as with all things involving money, is a business, using cutthroat precision.
Moneyball is not without its faults. The A's won 103 games in 2002 not because of Hatteberg, Bradford and Justice, but because they had the league's Cy Young Award winner (Barry Zito), MVP (Miguel Tejada) and best trio of pitching aces (Zito, Tim Hudson and Mark Mulder). Of course, had the movie made a point of this, its impact would have been diminished—and so the A's true stars are all but non-existent on screen, reduced to faceless participants melted into the background. And although Philip Seymour Hoffman (who won an Oscar under Miller's direction in Capote) does a capable job portraying Oakland manager Art Howe, his character is written up as a spiteful, Humpty-Dumpty fool who constantly complains of one-year deals while clashing over Beane's lineup suggestions. (I could have also done without that silly song Beane's daughter forces us to listen to—twice.)
Despite the historical bias and character assassinations, Moneyball remains a solid film and then some—and that's particularly impressive given its rough pre-production history. Miller was the third director assigned to the project, after David Frankel (The Devil Wears Prada) and later Steven Soderbergh (Traffic, the Ocean's Eleven franchise), who was fired just days before filming was set to begin. Moneyball's snappy script is the work of two accomplished writers, Steve Zaillian and Aaron Sorkin, the latter of whom took the former's script and brushed it up. That Moneyball overcame all of this behind-the-scenes turbulence probably generated more love from critics and awards voters; it made numerous top ten lists in 2011, including the New York Times and Rolling Stone magazine (where Peter Travers slotted it at #4) and it was nominated for six Oscars (winning none) including Best Picture, Adapted Screenplay, Actor (Pitt) and Supporting Actor (Hill).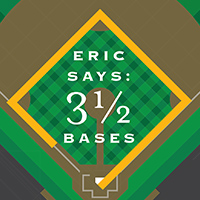 In an era when $200 million budgets and CGI raise filmgoers' expectations to stratospheric heights, Moneyball delivers as a sharp and authentic baseball film, and that's even without having to rely on the digital remaking of ballparks as 42 did. Of course, that the Oakland Coliseum was still existing, available and filled with extras for the film's baseball scenes helped in not having to add Industrial Light & Magic to the production tab. But that's all window dressing; it's also worth seeing Moneyball for Pitt, Hill and the script they get to yak from.
---
From Ed Attanasio:
When you look at this story about an out-of-the-box baseball GM and how he bucked the system to succeed at the highest level, it sounds fairly compelling. But, if you also learned that the same GM was pulling the strings for a secondary market team and that they haven't played in a World Series during his time at the helm, would you still think that it's a fascinating tale? Maybe, but in this country we want winners and without spoiling this story for you if you haven't read the book or seen the movie yet, Moneyball does not end in victory and finishes in second place, which is pretty much the way I feel about this film.
The main problem with this story is that in the end, the protagonist falls short and thereby our hero's theories don't work. It's one of those Man vs. the odds fables, but in this case, it doesn't pay off and the odds win.
It reminds me of Rocky, another sports film, where our main character does not win in the end, but is victorious for just being there. That's a lot like Moneyball, starring Brad Pitt as Billy Beane, the innovative and trendsetting general manager of the Oakland A's—a team of wannabes, fringe players and a lot of guys that belong more in the minors than in the Show.
>When I initially got the news that Moneyball, a best-selling book by Michael Lewis, was going to be made into a film, I thought how are they going to pull this one off? How can you make sabermetrics sexy? Nerds sitting at computer monitors while stuffing themselves with junk food and Starbucks and combing through obscure baseball statistics doesn't sound like something that will scintillate people on the big screen
Well, thank the baseball gods that the producers of Moneyball got some of the best screenwriters in the business—Steven Zaillian (Schindler's List, Gangs of New York) and Aaron Sorkin (The West Wing, A Few Good Men)—to make this movie a modest hit. They took a rather dry and boring story and made it engaging, by stereotyping some of the characters and morphing others together and creating wonderful baseball scenes in between.
One of these semi-fictional characters is a pure delight, even if he's more fiction than reality, but it works. I'm referring to probably the most memorable performance in Moneyball by Jonah Hill as assistant GM Peter Brand. The only problem is that Peter Brand never existed. It's a amalgamation of several stereotypes (can you say "nerd" for one) and Paul DePodesta, a Harvard grad who is all in with the new way of scouting, drafting and acquiring players using a whole new set of stats and measurables that he has devised.
The actor to play the Brand character was originally going to be standup comic Demetri Martin, because he looks like DePodesta and his material on stage is very brainy indeed. But, after reanalyzing the role, the producers went with Jonah Hill who received an Oscar nomination for his performance.
Grossly overweight, quippy and full of baseball factoids to support Beane's concepts, the two work together as they change the world of baseball one questionable move at a time. The old scouts and front office people at the A's are upset and warn Beane that his job will be on the line if these outlandish moves don't pay off. These old baseball types have been relying on the same stats for many years, and no one likes change, so the pushback is great.
Another character that I think was miscast was Philip Seymour Hoffman as A's manager Art Howe. When I read somewhere that Bennett Miller, the film's director, was a long family friend of Hoffman's, the selection made more sense. Hoffman looked like a slightly perturbed Bassett Hound in the film and nothing like Howe in real life. Howe hated the performance and the way he was depicted in the film and I would agree.
To make the film more than an instructional film about how to build a team without any money, an old ugly stadium and iffy fan support, the creators of Moneyball threw in some stuff about Beane's personal life. Robin Wright played his ex-wife and does a great job in anything she does, but the role was ultra-light. Beane's daughter, played by Kerris Dorsey, was a delight and the little sweet song she wrote about her father at the end of the movie was exceptional, but in the end, that part of the story wasn't really supported throughout the film, so it kind of seemed like an afterthought.
Once again, I always talk about the baseball scenes in any baseball film, because they're important to the story and a big part of the big picture for me. The action scenes in Moneyball were very good and through a series of montages, we were able to stay with the season as it progressed. The players looked like real players because several of them were, including Royce Clayton (who played Miguel Tejada) and Stephen Bishop, a former minor league player, who played David Justice. Chris Pratt played Scott Hatteberg, the A's first baseman, and ends up playing an integral role in Moneyball.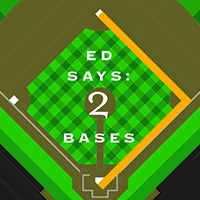 In summary, I liked this film and it kept me engaged for 133 minutes, but on my list of my favorite baseball films, it does not make the cut. In the end, it looked more like an ESPN documentary piece rather than a full-length feature film. The critics liked it, it made a profit in the box score and garnered six Oscar nominations (no winners), but I have to give it 2 bases.
If one of Beane's A's teams eventually wins the whole thing, then maybe there could be a sequel that wraps up the whole tale with a big baseball bow, but for me, Moneyball was one step short of being a winning formula.