"A League of Their Own"
The TGG Baseball Movie Review
A terrific cast and snappy script lift this airy and entertaining look back at the All-American Girls Professional Baseball League.
From Eric Gouldsberry: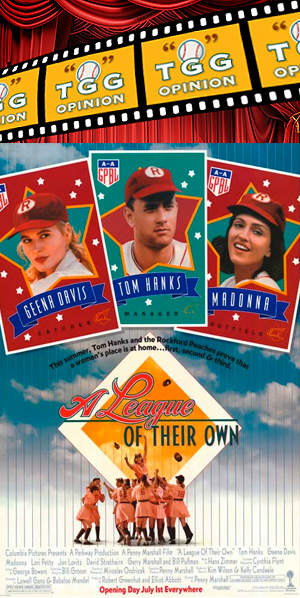 A League of Their Own is a Hollywood marketing exec's dream, a perfect marriage of target audiences. It appeals to women because it proves the ladies could play baseball, and it appeals to men because it shows the ladies playing baseball—whether they're good at it may not be a primary concern to the guys. Rounding out the demographic range is the casting of Tom Hanks at the top of his comic game, and pop star Madonna at the peak of her notoriety. (The film was released in the same year as her controversial coffee table book Sex.)
So all producers had to do was not screw things up by burdening the cast with a lousy script, as happened a few years earlier with another star-studded flick featuring Hanks, The Bonfire of the Vanities. But under the steady hand of actress-turned-director Penny Marshall and a wacky script by Lowell Ganz and Babaloo Mandel—the duo who penned Hanks' first movie splash, Splash—A League of Their Own easily takes the win as a delightful and well-paced look at the inaugural campaign of the All-American Girls Professional Baseball League in 1943.
It's World War II, and there's a shortage of available, able-bodied male ballplayers in America. Walter Harvey, candy bar king and owner of the Chicago Cubs (emulating Phil Wrigley, actual gum king and Cubs owner of the time) tasks his nebbish "promotional wizard" (David Strathairn, previously seen in Eight Men Out) to start up a women's baseball league to keep stateside morale up and transcend the 'Rosie the Riveter' tag placed upon women working in wartime factories. The search begins for female talent from veteran scouts, one of them a wisecracking, cigar-chomping and unsympathetic Ernie Capadino, uproariously played by a scene-stealing Jon Lovitz. Among his travels he discovers solid prospects in a pair of Oregonians—Dottie, a headstrong, statuesque catcher (Geena Davis) and her kid sister/pitcher Kit (Lori Petty)—and in Colorado with a bona fide slugger who's loaded with baseball skills but badly lacks the looks to attract male fans. When Capadino says no thanks, Dottie and Kit threaten to head back home, and feminine solidarity is established.
Lovitz exits, Hanks enters. He plays Jimmy Dugan, a doppelganger for Jimmie Foxx who's asked by Harvey to manage one of the girls' teams. Dugan bristles at the idea but grudgingly accepts because he otherwise has nothing better to do than drink and stagger in the shadow of his former greatness. He barely acknowledges the girls at first, sleeping off hangovers in the corner of the dugout and spitting tobacco on their shoes. But gradually he comes to see not only the talent in the girls but also admires their grit and resolve to play the game hard above all the silly, league-mandated short-skirt uniforms and etiquette classes. It takes a while, but Dugan manages to win his way back into the girls' hearts, teaching them all he knows—including, most importantly, that there's no crying in baseball.
A League of Their Own is predictable and at times formulaic, and the level of ballplaying isn't terribly convincing. But in this case, so what? Yes, the film comes down to a climactic finale where the sibling rivalry between Dottie and Kit take center stage, but since when has a baseball movie ended with an 8-2 snoozer as the third act? From start to finish, A League of Their Own never tires the viewer and treats the material with just the right amount of weight to keep it from getting bogged down in heavy-handed moralistics. There's even a touching epilogue in which the girls regroup for a reunion at Cooperstown nearly 50 years later.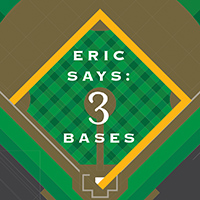 Mostly, the film radiates with terrific performances. Davis brings a mature grace to her role as Dottie while Petty gives Kit vulnerable spunk, a young adult on the brink of breaking out into adolescence all over again. (It's a shame that Petty's career never took off; this film looked to be the perfect springboard.) Madonna shows, at this stage, that she had yet to master acting school, but she's rescued by Rosie O'Donnell, her wise gal sidekick for whom she pairs up with and takes nothin' from nobody. Then there's Hanks, whose natural comic energy shines in a performance that fittingly complements but rightfully doesn't overpower those of the leading ladies. (His Wizard of Oz reference to the team chaperone is a classic.) And if you look closely enough, you'll spot Tea Leoni and Janet Jones (Mrs. Wayne Gretzky) among the opposition.
Inaccuracies aside—the actual girls' league first played softball in 1943 before switching to hardball a year later, and Wrigley Field is shown with lights, which, well, never mind—A League of Their Own should make for an enjoyable two hours if your brain is in need of a rest.
---
From Ed Attanasio:
I agree with Eric that indeed the potential audience for A League of Their Own includes both sexes, which isn't always the case with many sports films. But, if not properly executed and without a good script that can engage both men and women, this movie would have folded up more tragically than the 1951 Brooklyn Dodgers. So yes—A League of Their Own at its outset looked like a film that would be ideal for Saturday night dates, but would people come to see it during the other six days of the week?
Casting is always key, and A League of Their Own was skillfully cast with consummate pros that know how to hit a great line out of the ballpark when it's laid right over the plate. And there were quite a few lines to go around, because screenwriters Lowell Ganz and Babaloo Mandel wrote some great dialogue to fit nicely into this fast-moving tale with numerous moving parts. If you look at the story on paper, it's not exactly full of everything most viewers expect. There's no real antagonist, no love story, no genuine conflict and no hero to save the day. Some people will say World War II is the villain in this film, but that's a stretch and I guess Geena Davis (playing Dottie Hinson, the best player in the league) is as close to a heroine than anyone else in this film.
A movie that could have easily bombed for a wide range of reasons, A League of Their Own succeeded because it was handled like a well-turned double play with two fast runners bearing down. By hiring Penny Marshall to direct it, they were set up for a walk-off blast. She knows baseball, is a lifelong Dodgers fan and she wanted to treat the story with utmost respect, which she did. When non-baseball people make baseball movies, they usually fail (see The Slugger's Wife, one of the worst ever); that's why a former minor league player (Ron Shelton) has made several great baseball films (Bull Durham and Cobb), but that is for another review.
With every baseball movie I have seen, I always judge it based on believability and always appreciate the ones that take the time to cover all the details (uniforms, stadiums, equipment, etc.) The plausibility of the baseball skills exhibited by the actors in A League of Their Own touched all the bases in this regard. Marshall made all of the main players in her film go through an arduous training camp to make sure they all looked like real baseball players and she definitely succeeded. Madonna (playing "All the Way" Mordabito), Geena Davis, Rosie O'Donnell (Doris Murphy) and Megan Cavanaugh (Marla Hooch, who could hit but did not photograph well) all looked like real players, which allowed us to truly believe that these women were the real thing.
I always enjoy finding interesting "behind the scenes" factoids about the baseball movies that Eric and I review, so here are a few about A League of Their Own:
First, the famous line from the movie ("There's no crying in baseball.") is #54 on the American Film Institute's top 100 list of movie quotes). Only "If you build it, they will come" from Field of Dreams is #39 and the only other one from a baseball film on the list.
2,000 women tried out to be in the film with the tryouts and the subsequent training camp happening at USC. The camp was 8 hours/6 days a week for 7.5 months and they used a Slip 'n Slide to teach them how to slide, rather than a sandpit.
In 1993, a TV series was produced based on the film, but it lasted just one season. (At least the AAGPBL itself lasted four seasons, 1943-46.)
Geena Davis auditioned for the movie in Penny Marshall's backyard.
There were 1,700 extras in the crowds, all dressed in period garb. Cut outs of spectators were sprinkled in among the real people to make the crowd look bigger.
They were originally going to have a love affair between Davis and Hanks in the story, but they scrapped it because they felt it would distract viewers.
Yes, Rosie O'Donnell does know how to throw two baseballs simultaneously to two different people.
And also another affirmative—Geena Davis did actually catch that foul ball from behind her back while her double failed after a few attempts beforehand.
In the scene at the farm where Ernie Capadino (Lovitz) tries to recruit Dottie (Davis) and she persuades him to include her kid sister Kit (Petty) that calf being born was the real thing. So, no—that was not a professional calf acting nor was it a CGI effect!
And finally, during that final scene at the Baseball Hall of Fame where a special display about the AAGPBL was unveiled—yes, those women were actual players from the league, but with the actors' voices piped in.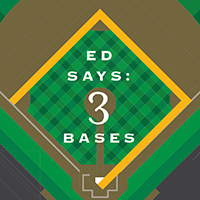 So, as you can probably guess, I really like this movie and I have had fun showing it to non-baseball people for years and they always end up loving it. The really good baseball films (Field of Dreams, Bull Durham and this one) revolve around this great game, of course, but they also have a lot more going on. A League of Their Own is about a lot of things and baseball is just one of them, which is why I gave these movie 3 bases, just like my esteemed partner did.