Baseball 2016: This Great Game's Fearless Predictions
Who will reign as the best, worst and most surprising baseball teams for the upcoming 2016 season? Read our predictions here and see if you agree.
By Eric Gouldsberry and Ed Attanasio, This Great Game—Posted March 27, 2016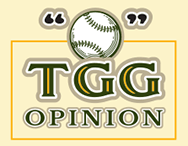 It's supposed to be this way. Everything we predict below is going to happen, and we'll bask in the glow and glory like Biff Tannen after he got a hold of that sports almanac in Back to the Future II. Ah, but as you know, things always don't go as planned. Just ask the 99.5% of those whose March Madness brackets get busted after just one round. Or ask all of us baseball prognosticators, many of whom pre-ordained the Washington Nationals as World Series champs before Opening Day last year—while picking the Kansas City Royals to struggle just to reach the .500 mark. We didn't see Dallas Keuchel, Kyle Schwarber or the New York Mets winning a pennant using an everyday lineup with less intimidation than an All-Star Little League squad.
So here we are, 12 months later, ready to prove that last year's picks were a bad blip on the radar of soothsaying sage, just as our picks the year before were, and those the year before that. This is not to say we don't know what we're thinking; over the years, we've correctly called some of baseball's bigger surprises.
The Chicago Cubs are this year's Nationals, everyone's darlings. Oh yeah, after 108 years of failing to win it all, they'll just go out and do it because we say it's so. Or how about the San Francisco Giants? It's an even year, so, naturally, it's their time—again. Kansas City, two-time defending AL champion? Unless you're metrically inclined, sure, there's nobody who looks better.
So will we bite at the obvious? Or do we have a new surprise or two up our sleeves? Check out my voluminous previews to immediately follow; Ed Attanasio then joins me to give our picks for the postseason and player awards. Because it's just the way it's supposed to be.
NL East
Essentially, this division is for the New York Mets to lose. Put the defending NL champs in any other quintet and they might have a tough time placing first, but they have the fortune this season of competing with two teams (Atlanta and Philadelphia) in various phases of tanking, another (Washington) picking itself off the canvas after a self-beating, and Jeffrey Loria (Miami). What sets the Mets apart in the NL East is a young rotation some believe is baseball's best, but beyond that there isn't much to get excited about. Bringing back Yoenis Cespedes rescues an offense that otherwise looks light, especially now that Daniel Murphy has left and David Wright's bad back makes him a permanent part-timer; the dark horse may be outfielder Michael Conforto, who the Mets hope to see continued improvement from after an impressive rookie effort. I'm not ready to jump on the Mets' bandwagon like I foolishly did back in the late 2000s—repressed memories, but memories all the same—but as long as Matt Harvey, Jacob deGrom and Company don't break down on the mound, the Mets should have no problem returning to the playoffs.
For those kneeling at the altar of a Mets team with great expectations, let the Washington Nationals be a cautionary tale. The Nats were practically everyone's pick to win it all last year, and those same forecasters would have doubled down on their bets were they told in advance that Bryce Harper would explode to superstardom and Max Scherzer would toss two no-hitters. But everything around them fell apart, from injuries to dissent to rudderless leadership. Cleaning up the mess left behind by the fired Matt Williams is Dusty Baker, who at 66 gets another crack at nabbing his first managerial title after oh-so-close efforts with the Giants, Cubs and Reds. To shred the comparisons to Gene Mauch, Baker will need full, healthy campaigns from third baseman Anthony Rendon, outfielder Jayson Werth, first baseman Ryan Zimmerman and pitcher Stephen Strasburg, all of whom performed fair at best when they weren't on the shelf. Consistency, harmony and tranquility—pay attention now, Jonathan Papelbon—are keys for the Nationals to rebound. Whether Baker has any fire left in his belly to help make it work remains to be seen.
After leading the Guggenheim Dodgers to three straight divisional titles and getting fired for it, new Miami Marlins manager Don Mattingly now has the chance to prove he can win without a limitless budget by toiling for penny-pinching Jeffrey Loria. In order to reach that goal, he needs to do everything possible to ensure the health of über-slugger Giancarlo Stanton and ace pitcher Jose Fernandez, easily the Marlins' two best players and, when they're on their game, arguably the two best in baseball. But neither have been active at the same time in nearly two years, hence Mattingly's baby-bumpering of the clubhouse, just in case. Okay, so second baseman Dee Gordon won a batting title, outfielder Christian Yelich still retains upside and Wei-Yin Chen arrives as a dependable #2 starter, but without Stanton and Fernandez for the full 162, they can't pull the totality of the remaining weight.
I got a feeling about the Philadelphia Phillies. Maybe not the kind of feeling I had back in 2008 when I suggested that putting $20 on the 200-1 Tampa Bay Rays was a wise investment. The Phillies aren't quite there yet, but they have turned the corner back toward respectability, even as most of my prognosticating colleagues insist they still haven't bottomed out. The roster is full of hungry young talent, and some of it is quite good; Aaron Nola has the look of the next team ace, outfielder Odubel Herrera is emerging into one tough out and third baseman Maikel Franco could be a MVP in the making (and he's been raking in spring training, for all that's worth). Sure, the Phillies are thick in inexperience, but that's where Ryan Howard and Carlos Ruiz, the remaining deadwood from the Phillies' recent reign, can make an impact beyond whatever they have left at the plate. There are other issues, such as the lack of a proven closer after Ken Giles' transfer to Houston, a thin outfield and an almost desperate attempt by the team to grab as many backend starting pitchers, throw them against the wall and see what sticks. The Phillies are not to be confused for a team on a fast rise a la the 2008 Rays—but opponents expecting to phone in their games against the Phillies could be in for a rude surprise.
It's one thing to break up a team and start building for the future, but it's pretty odd to break up that future for a more extended, deeper future—a baseball variation of Dean Wormer's "double-secret probation." Which brings us to the Atlanta Braves, who not long ago looked to be shrewdly locking down its younger, more promising talent—until they suddenly shed much of it this past winter with one-way tickets handed to shortstop Andrelton Simmons and pitcher Shelby Miller. What's left is a roster that's likely to make the Braves' final year at Turner Field even more depressing—and spinning it by stressing the nostalgia at a ballpark not even 20 years old won't work, either. Critics are hailing what the Braves got in return for their trades, but much of that loot is so young, it may not start to make an impact until Sun Life Park's second or third year of operation. To make any kind of noise this season, the Braves will need first baseman Freddie Freeman and pitcher Julio Teheran to finally rise above expectations. But then the Braves would probably trade them by July 31 for even more youth.
Predicted Finish: New York 88-74, Washington 84-78, Miami 77-85, Philadelphia 70-92, Atlanta 65-97.
NL Central
Could this really, truly be the end of the Billy Goat Curse, Chicago Cubs fans? After all, no major league team has more momentum, energy and sky-high expectations for 2016. They have an abundance of talented youth with reigning Rookie of the Year Kris Bryant, tape-measure masher Kyle Schwarber and shortstop wiz Addison Russell; arguably the game's best pitcher in Jake Arrieta; arguably the best manager in Joe Maddon; and they scored heavily in the offseason, bringing into the fold outfielder Jason Heyward, veteran pitcher John Lackey (both from rival St. Louis, no less) and infielder Ben Zobrist. Even Dexter Fowler spurned bigger deals elsewhere to return to the Wrigley outfield. But in the immortal words of Morrissey, "stop me, oh, o-ho stop me, stop me if you think that you've heard this one before." The Cubs are what the Nationals were last year: A can't-miss mix of exceptional talent and potential. Yet look at what happened to the Nats. Injuries, bad luck and a pitching staff that lacks depth could possibly unravel the Cubs. Still, I tend to think that it would be a major disappointment if this team doesn't make the postseason; but if it does, and a guy comes up to the Wrigley turnstile in October with a Billy Goat, for goodness sakes, ticket taker—let it in. (And keep Bartman out.)
While Cubs fans gloat, those of the St. Louis Cardinals groused through the winter, absorbing the blasphemy of losing Heyward and Lackey to Chicago. (Imagine John Glenn and Chuck Yeager defecting to the Soviet Union back in the day; it's that kind of vibe in St. Louis.) The double sucker-punch no doubt staggered the Cardinals, but never underestimate this franchise. The Cubs, certainly, shouldn't. St. Louis' pitching is still better than the Cubs (especially with the dependable Mike Leake joining the ranks) and there's great sage in ace Adam Wainwright and future Hall of Fame catcher Yadier Molina. What will make or break the 2016 Cardinals, however, will be the performance of a cadre of second-year outfielders (Randal Grichuk, Stephen Piscotty and Tommy Pham) who last year combined to hit .283 with 29 homers and 104 RBIs in 709 at-bats. For St. Louis' sake, here's hoping these three guys don't collectively become the next Pete Kozma. (If you've forgotten Pete, well…that's my point.)
If failing to score a single run in each of their last two postseason appearances—at home, no less—wasn't rough enough, the Pittsburgh Pirates now look to be reverting to some of their cheap old habits that could doom their recent run of (regular season) success. Several key players are gone, from retired A.J. Burnett to traded Neil Walker to the released Pedro Alvarez (which means someone else will have to lead the Bucs in errors from now on). Who's replacing them is underwhelming to say the least. And Gerrit Cole, the best pitcher the Pirates have seen in generations, is irate over being given the major league minimum rather than a well-deserved pre-arbitration raise. The Pirates' outfield and bullpen are tops; the infield and rotation depth are not. Maybe a Jordy Mercer or Jeff Locke will rise from the mud of mediocrity to maintain the Bucs' recent excellence, but collectively this team has gone one step forward, two steps back—and that's risky in a division shared by the Cubs and Cardinals.
This is the one and only time you'll see any mention anywhere on This Great Game of Hank the Dog, the Milwaukee Brewers' pup that's become the most over-reported bit of faux news related to baseball. Now that we know that there's only one Hank, can we just move on from the damn dog? Maybe that's what the Brewers don't want us to do, so they can continue to distract attention from a team that's hardly going to register in any pennant race conversation—unless they're playing the role of basement spoilers against the division's true contenders. The Brewers are a shake-and-bake in progress with many new names both on the roster and in the front office; the result, for now, is a payroll that may be the majors' lowest on Opening Day, paid to a roster with a badly inexperienced outfield beyond Ryan Braun, a poor rotation and a bullpen that lacks a proven closer. Even the team's highest trending player, catcher Jonathan Lucroy, has been prominently mentioned in trade talks. Sure, these kids can grow up fast, but there's still the reality of having to play a third of their games against the Cubs, Cards and Bucs. Here's to you, Hank; the dog days of summer will be a bow-wow downer for the Brewers.
In a league where tanking has become something of a fad, nobody has taken the dive deeper than the Cincinnati Reds. Dealing away Johnny Cueto and Mike Leake at last year's trading deadline—leaving it up to an all-rookie rotation to pitch the season's final two months—was just the beginning. The winter saw the trades of closer extraordinaire Aroldis Chapman and slugging third baseman Todd Frazier. This was not weight reduction; it was amputation. What's left are star hitters in Joey Votto, Brandon Phillips, and Jay Bruce—the latter two of whom the Reds also tried to deal, and you can bet at least one of them will be elsewhere by August 1. So for now, the everyday lineup isn't so bad, but the pitching staff—with all those freshmen-turned-sophomores—will continue to endure a rough trial by fire; Homer Bailey (Tommy John recovery) can't come back any sooner for Reds fans. Look, when you're tanking, you're supposed to lose. And that's what the Reds will do. Lose. Over and over again.
Predicted Finish: Chicago 98-64, St. Louis 90-72, Pittsburgh 85-77, Milwaukee 66-96, Cincinnati 63-99.
NL West
After the Cubs, the team with the highest expectations this year is the San Francisco Giants. Why? Because by winning it all in 2010, 2012 and 2014, it's become something of a contractual obligation for the Giants to win it every even-numbered year. After a season full of injuries and a suddenly rickety rotation, the Giants used the winter in an attempt to right the ship, but the moves they made are full of caveats. They paid $90 million to pitcher Jeff Samardzija, a man who bombed badly late last year and has no winning record to date; brought in outfielder Denard Span, coming off of three surgeries in 2015; and they're carefully easing in their biggest catch, ace Johnny Cueto, after his extended workload of last season. Still, this all ranks as an improvement, and the Giants should do even better so long as they're not cursed by the multiple DL stints that have been a staple of their odd-numbered campaigns this decade. Add to the mix a stronger bench from some badly-needed young bats and the Giants should, at the very least, make it to the postseason—and that's when seasoned skipper Bruce Bochy really begins to work his magic.
Legendary Los Angeles Dodgers broadcaster Vin Scully has called six World Series titles since he began working for the club way, way back in 1950—and the Dodgers would love nothing more than to make it seven in this, his final year behind the mic. Although they have the financial muscle to achieve this, they failed to make the big offseason splash—in fact, some believe the Dodgers regressed after Zack Greinke's blindsiding departure to divisional rival Arizona. That leaves a bit of a problem for the Los Angeles rotation beyond ace Clayton Kershaw; perhaps newcomers Alex Wood, Scott Kazmir and Japanese import Kenta Maeda will deliver, but don't bet too much on it. What the Dodgers do have going for them is a loaded outfield they can leverage to get another arm via the trade market, and a group of exceptional young talent led by everyone's Rookie of the Year pick in infielder Corey Seager. Another rookie, manager Dave Roberts, takes over for the beleaguered Don Mattingly and hopes to engender the high level of love that's allowed him to earn a lifetime of free meals in Boston (see 2004 ALCS). Call it all a transition period by Guggenheim standards, but it still may be good enough for a postseason berth—and one last chance for Scully to call the final out of the World Series.
Every year or two, a mid-market team decides to make a move and "go for it." Recent examples: Seattle in 2010, Miami and Toronto in 2012 and San Diego just last year. What do these teams all have in common? They each fizzled in their attempt and were forced to deconstruct. Can the 2016 Arizona Diamondbacks finally succeed where all the others have failed? The surprise signing of Zack Greinke was a huge coup, and the trade for Shelby Miller—castigated on many fronts for what the Diamondbacks gave away—will for now further deepen a rotation that was so awful last year, it forced the bullpen to eat up more innings than any other team. Miller, 6-17 with a 3.02 ERA last year in Atlanta, has probably already asked Ruby De La Rosa how he finished 14-9 with an ERA a full run and a half higher; that answer lies in Chase Field's generous hitting conditions and a strong, young lineup that yielded four .300 hitters last year, including MVP candidate Paul Goldschmidt. Give the D-Backs some love, but don't fall head over heels for them.
Well, so much for all that San Diego Padres hype of last year. And now comes the hangover; gone are closer Craig Kimbrel, top reliever Joaquin Benoit, and star hitter Justin Upton, among others after a disappointing 2015—and the purge may not be over. In their place are guys like Alexei Ramirez and Jon Jay, relative no-namers who should help bring the Padres back down to anonymity and, perhaps, irrelevance. Sure, outfielder Matt Kemp may still hold some punch while one-time #1 prospect Wil Myers and starting pitcher Andrew Cashner could finally burst into stardom, but the lineup holes are too many and the once-vaunted bullpen is a borderline disaster area (unless hot-and-cold closer Fernando Rodney, now 39, has anything left). All told, the Padres are kind of like the guy who went to Vegas and bet the house—and now has to drive back down the 15 to start apartment hunting.
Headline, somewhere, this past winter: "Tough to figure out what the Colorado Rockies are doing this offseason." Here's you answer: Not much of anything. Spiritually the team is staggered with an unhappy Jose Reyes (just ask his wife) and franchise-bashing from afar by former team icon Troy Tulowitzki, all while management seems clueless in how to lift the team back on its feet after five straight rotten years. The Rockies' biggest offseason acquisition was outfielder Gerardo Parra, which is odd since the outfield is the last thing that needs a boost; they also restocked the bullpen with veteran names (Jake McGee, Chad Qualls and Jason Motte), which basically telegraphs that it will constantly have to rescue a young, no-name rotation lucky to average five innings per start. Yes, the Rockies are forever handicapped playing a mile higher than everyone else as players get wigged out on the home-away splits—they hit too well at home but struggle on the road, while the pitching suffers everywhere—and that's why the Rockies' lords desperately need to start whipping up some more convincing Kool-Aid. Right now, they can't even find the recipe.
Predicted Finish: San Francisco 92-70, Los Angeles 86-76, Arizona 85-77, San Diego 76-86, Colorado 66-96.
AL East
When I first thought about the Toronto Blue Jays' prospects for 2016, my kneejerk reaction was simple: David Price is gone, so downgrade the Jays. Then I stepped back, read the Jays' clubhouse a little more and let perspective soak in. What I absorbed was an experienced roster that's got a chip on its shoulder, much like what we saw with the Kansas City Royals last year before they embarked on their championship season. It's a little different here; nobody's expecting nothing from the Jays, but this team just looks angry, period. The rebel up front is Jose Bautista, the frisky, epic bat-flipper who seems to vent about anything these days. What I'm getting at is that if the Jays can channel all this fire to their advantage, they're going to take this division once more. Even without Price, they have the talent; start with the Murderer's Row of Bautista, Josh Donaldson, Edwin Encarnacion and Troy Tulowitzki; add in emerging names too hurt to contribute last season, like pitcher Marcus Stroman and infielder Devon Travis; and throw in a crucially upgraded bullpen with the addition of former Washington closer Drew Storen. The sum total of all of the above shows a Toronto team ready and eager to knock heads, anytime, anywhere—all they need to do is keep their emotions from running amok.
Fighting tooth and nail with the Blue Jays should be the Boston Red Sox, which, oh, by the way, is where David Price has ended up. Oh, and also A-list closer Craig Kimbrel. And underrated reliever Carson Smith, traded from Seattle. The presence of these three arms, bulking up what had been a mediocre-at-best staff, should provide a positive balance with a hitting lineup that's potentially devastating but needs to overcome recent inconsistencies. After all, you can apply the ol' "Will the real (your name here) please stand up" poser to weight-challenged Pablo Sandoval, unpredictable veteran Hanley Ramirez and young outfielders Jackie Bradley Jr. and Rusney Castillo, because it's been something of a mystery as to which of these guys will show up on any given day. If there's anything to rally around this year in Boston, it's 40-year-old David Ortiz, who starts his final season coming off a fantastic second half of 2015. It's tough to know if the Red Sox can win one (or 90-plus) for Big Papi, but one thing is for sure: For better or for worse, there likely won't be a dull moment at Fenway Park this season.
Here's your Bizarro World fact of the offseason: The New York Yankees, once synonymous with free agency, were the only team this year not to sign a free agent. This hardly means that the Yankees stood pat, as they attempted to improve the old-fashioned way: By trading for established players. Thus, former Cub Starlin Castro is now the team's second baseman and former Red Aroldis Chapman its closer, once he's back in May from a month-long suspension for spousal abuse. With Chapman on board, all the Yankees need to do is take a lead into the seventh inning, and that's where baseball's best 1-2-3 relief punch on paper—with Dellin Betances and Andrew Miller preceding Chapman—will perform its magic. But grabbing that sixth-inning lead is the real challenge with a potentially sharp yet fragile staff (only CC Sabathia threw over 162 innings last year, and barely) and a geriatric lineup spiked with old warriors in Alex Rodriguez, Carlos Beltran and Mark Teixeira. (Even "prime-time" outfielders Jacoby Ellsbury and Brett Gardner will turn 33 this season.) It's a roster worthy of a stage show at a Florida retirement center; the Yankees better hope that their repair glue is extra strength.
The Tampa Bay Rays continue to be baseball's version of Ant Man, pestering divisional rivals with a small payroll playing in front of small crowds. Can the Rays prevail in a group that includes teams more representative of Hulk, Thor and Captain America? They are getting some preseason love from the prognosticators; even Baseball Prospectus' PECOTA rankings have them finishing first in the AL East. (But then again, PECOTA always strikes out with the Royals; see AL Central below.) The Rays are young and somewhat gifted, with their strength lying in a rotation full of youthful studs anchored by Chris Archer, Jake Odorizzi and Erasmo Ramirez; waiting in the wings is Blake Snell, who astonished in the minors last year with a 1.41 ERA. The bullpen, however, is handicapped with the departure of reliable reliever Jake McGee and the early-season absence of closer Brad Boxberger (abdomen surgery). Most importantly, someone needs to step it up within the team's anemic lineup and become The Man. Third baseman Evan Longoria should be that guy, but he's been sputtering of late. This will truly determine whether the Rays can avoid getting squashed…like an ant.
It's apparently all about the offense for the Baltimore Orioles, who did well to fortify their lineup by retaining slugger Chris Davis while bringing in powerful (if imperfect) bats in Mark Trumbo and Pedro Alvarez; they also snagged Korean outfielder Hyun-soo Kim, who might have a little Nick Markakis in him. Bunch these guys up with third baseman Manny Machado and center fielder Adam Jones, and the Orioles are bound to power up and rack up a lot of runs. They'll need to, because the O's pitching looks O-My-God awful. Their most reliable starter of a year ago, Wei-Yin Chen, has left for Miami; Yovani Gallardo, the man chosen to replace him, barely passed the physical (a strange problem of late for most newly-signed Orioles) and appears to have lost the edge. Manager Buck Showalter is well versed in employing his magic to make the Orioles overachieve, but this squad will be one of his biggest challenges. Meantime, here's the sure bet for Baltimore fans: The over.
Predicted Finish: Toronto 88-74, Boston 87-75, New York 83-79, Tampa Bay 78-84, Baltimore 76-86.
AL Central
The metrics people must really have it in for the Kansas City Royals. Here we are talking about the two-time defending AL champions, and yet that darned PECOTA 9000 computer says the Royals will finish last, again, in the AL Central. PECOTA might as well be singing "Daisy," because the Royals have transcended AI thought as they clearly showed us last October—playing smart, aggressive baseball that constantly spun their opponents into a staggering daze. Think about it: Why do more teams commit mistakes against the Royals? Because the Royals' daring play forces them to. I'll admit, I too threw caution on the Royals a year ago—at least I had them finishing above .500, unlike so many other soothsayers—because they lost a number of key contributors from their surprising 2014 run and it didn't appear the replacements would adequately fill the void. They've suffered no such departures this winter, except for pitcher Johnny Cueto and infielder Ben Zobrist—but the Royals were already October-bound before these guys were picked up late in July. Kansas City's only worry is its average starting rotation and, perhaps, post-championship complacency. But as a team that defies convention and statistical intelligence, I'd be wary to dismiss the Royals.
While the Royals represent the in-your-face frenzy of a Quentin Tarantino indie flick, the Detroit Tigers remain the star-studded blockbuster of the division. But as the Tigers themselves discovered last season, money and big names don't always get you to the postseason. For 2016, Detroit has yet again punched up the marquee, crucially filling up holes in the outfield (Justin Upton), the rotation (Jordan Zimmermann) and the bullpen (closer Francisco Rodriguez). Surely the Tigers can outdraw the Royals, but can they outperform them? Miguel Cabrera is the one sure thing, but Justin Verlander (33-32, 3.84 ERA over the past three years) and 37-year-old Victor Martinez (who slipped to .245 last season) are not; the pitching overall is an iffy proposition, and it would be curious to see if J.D. Martinez can knock out another 38 home runs. The Tigers should rebound from the basement, but the reviews will be akin to what critics usually say about those expensive action films: The kids will love it, but it won't have Oscar (read: October) written all over it.
Under rookie manager Paul Molitor, the Minnesota Twins emerged as one of baseball's big surprises of 2015, an expected cellar-dweller that hung around in the wild card race all the way through to the season's final week. Can they make the next big step toward solid contention? On the hitting side, they have the youth, talent and promise to pull it off with Byron Buxton, Miguel Sano and Eddie Rosario; they've also brought in Byung-ho Park, who put up Ruthian numbers (.303-52-124, .343-53-146) the last two seasons in admittedly hit-happy Korea—and hey, if he fully flowers at Target Field, will fans rename the joint after him? (Byung-ho Park, get it?) Now that I've built up all the confidence in the world for you Twins fans, it's time to take you back down. Nothing was done to address Minnesota's starting pitching, which certainly improved last season but remains lackluster. The Twins are simply crossing their fingers that the same group will continue to improve. If it doesn't, expect no advance in the Twin Cities.
There seems to be nothing more consistent throughout the years than to have the experts embrace the Cleveland Indians in March, only to be let down six months later. Everyone remembers Sports Illustrated picking the 1987 Tribe to reach the World Series before they lost 101 games, and it seems every year this decade there have been expectations for the Indians to break out big, only to be followed by disappointment. The trend continues this year, with ESPN and SB Nation, among others, giving Cleveland the early nod; and then there's that PECOTA again, picking the Indians to finish with the AL's best record. So what's got everyone so high on this team? Could it be a sturdy young rotation, fronted by Corey Kluber? A rising star in shortstop Francisco Lindor? Um, eh, what else? I guess I'm just not seeing it—again. Michael Brantley, the team's best hitter, may not be 100% to start the year after undergoing offseason shoulder surgery. Fellow outfielder Abraham Almonte is banned for the first 80 games after testing positive for something I can't pronounce. And which Jason Kipnis will show up this season? The Indians did get borderline help with the acquisitions of Mike Napoli (power), Rajai Davis (speed) and Juan Uribe (sage), but collectively it's little to write home about. Should the team's health and stability hold, then the Indians might prove me wrong and everyone else right. But why be seduced when there's little to seduce me with?
In a competitive division, I sour the most on the Chicago White Sox—and yes, I felt that way even before this silly spring training controversy regarding Adam LaRoche's son went down in what may now be a divided (and surely untrustworthy) clubhouse. The Sox won't regress—hard to say otherwise when they've brought in slugger Todd Frazier at third and dispensed with some of the weak-hitting deadwood that's burdened the offense of late—but it's also hard to see much improvement. Okay, Jimmy Rollins is in at short, but he's 37 and won that MVP nine years ago. He, like the rest of the everyday lineup beyond Frazier and Jose Abreu, is ordinary at best. So is the rotation after ace Chris Sale—who, if the White Sox don't get off to a good start, is even more likely to be sent away come July 31 after some vicious ranting on management in the wake of the LaRoche saga. All in all, the White Sox just haven't seemed to nail down a positive vibe in recent years, and this whole thing involving a 14-year-old kid certainly won't help. In a league where virtually every team has a shot and every little edge is sought to gain the advantage, this is troublesome.
Predicted Finish: Kansas City 91-71, Detroit 84-78, Minnesota: 84-78, Cleveland: 81-81, Chicago: 78-84.
AL West
Could this be the Houston Astros' time? With all due respect to the Rangers, the AL West is certainly for the Astros to lose—and I can't believe I'm saying that just a few short years after the Astros were in tank mode, but such is the parabolic nature of modern big league baseball. Some are saying that only the Cubs have more surging momentum coming into the 2016 season; remember, this is the team that was only six outs from putting away the Royals in the ALDS before things fell apart. The Astros' young stars will likely learn from that experience and further improve, but management wasn't content to stand pat, adding depth to the rotation (where Doug Fister joins top AL pitcher Dallas Keuchel) while the bullpen gets a shot in the arm with hot young reliever/potential closer Ken Giles, a win-now move that cost the Astros five young pitchers (including former #1 pick Mark Appel) to Philadelphia. Offensively, the Astros will have the luxury of full seasons from reigning AL Rookie of the Year Carlos Correa and outfielders Carlos Gomez and (if he can stay healthy) George Springer. A question mark remains at first base where Jon Singleton hopes to finally mature in place of departed .199 slugger Chris Carter, but beyond that the Astros are pretty well set—and sitting pretty in an AL West full of teams in transition.
Will the real Texas Rangers please stand up? To tell the truth, the answer may lie somewhere between the forgettable, injury-shredded last-place campaign of 2014 and the 2015 divisional run which led to postseason play. There are already springtime concerns about the 2016 roster; once-and-current Ranger Josh Hamilton is out until at least May, Prince Fielder is exhausted with sleeping issues, and newly acquired shortstop Ian Desmond is being asked to learn the outfield on the fly, literally. But for the Rangers to score the minor upset and top the Astros again in the West, a rotation fronted by Cole Hamels will have to find health and success from recovering Tommy John patient Yu Darvish (who's not expected back until mid-May at the earliest) and Derek Holland, for whom the Rangers would rather see on the mound then in the dugout doing Harry Caray impressions. If Kitty Carlisle can't figure out who the real Rangers are, then chances are it'll be a mixed bag—and that's not good enough to win the West.
Like the Rangers, I can never seem to put my finger on how the Seattle Mariners will do. They're up when I expect them to go down, and vice versa. Lack of stability was always a point of frustration when general manager Jack Zduriencik was running the ship, but he's gone now—replaced by Jerry Dipoto, last seen feuding with Mike Scioscia in Anaheim. In Seattle, Dipoto has cleaned house, bringing in a new manager (first-timer Scott Servais) and 14 new players including closer Steve Cishek, reliever Joaquin Benoit, first baseman Adam Lind and outfielders Nori Aoki and Leonys Martin. These are hardly earth-shattering moves to squarely tilt the balance of AL West supremacy in Seattle's favor, but what's important to note is that as the Mariners are infused with All-Star talent in ace Felix Hernandez, second baseman Robinson Cano and slugger Nelson Cruz, they've been surrounded by glaring holes—and Dipoto has been aggressive to fill those with some of the above mentioned. The Mariners hope for the new supporting cast to kick in, stabilize the team and end a 15-year playoff drought that's now the majors' longest, but it's a work in progress. So not this year. Maybe next.
The Los Angeles Angels of Anaheim are a team on the precipice of big trouble. If it wasn't for the presence of one Mike Trout—only the game's best player—we might be looking at a last-place team here. Let me explain. Albert Pujols is aging (36) and heeling (offseason foot surgery), so don't expect him to match last year's 40 homers, but maybe his .244 average. The rest of the lineup is underwhelming to say the least. The rotation is potmarked with serious pain. Declining ace Jered Weaver can't get his fastball above 83. And there's no hope of a youth movement, because the Angels' farm system is depleted, ranked dead last by many, with no major prospects on the horizon. The Angels did make some offseason moves, shoring up the infield with veteran Yunel Escobar at third and potential All-Star Andrelton Simmons at short, but to borrow from Roy Scheider in Jaws, they're gonna need a bigger band-aid. Owner Arte Moreno could shoot for something bigger, but he's got no prized minor leaguers to give away and his payroll is closing in on $170 million (that includes the $28 million he'll pay Josh Hamilton to play for the rival Rangers). What's that phrase, "Angels fly because they take themselves lightly"? Truth is, the rest of baseball will probably take the Angels lightly as well—except when Trout is at bat.
Last, and least, we have the Oakland A's, still reeling from some of the worst deals Billy Beane has made in recent times. (Remember when Josh Donaldson and Yoenis Cespedes wore Kelly green and gold?) There are so many new "old" faces on this squad, it's almost as if Beane is trying to form an expansion team made up of unprotected veterans. Not that guys like Khris Davis, Yonder Alonso, Ryan Madson, John Axford and Henderson Alvarez are washed up, but it's kind of like a biotech company looking for a cure in the lab, and not knowing where the chemistry will lead. My guess, in the A's case? Nowhere. Outside of ace Sonny Gray and outfielders Josh Reddick and (the very exciting) Billy Burns, the A's might as well be a random collection of weekend Traffic School students. Oakland is the exception in a division and league that's well balanced and as close to parity as we've ever seen in baseball; they were the AL's worst team last year, and will likely repeat this season. Yes, Beane has been known to surprise us, but after his recent rash of bad trades, he's dug too big a hole to quickly spring his team out of.
Predicted Finish: Houston 91-71, Texas 85-77, Seattle 81-81, Los Angeles of Anaheim 74-88, Oakland 67-95.
The 2016 Postseason
Ed and I are probably thinking the same thing: The National League will be a dogfight to the end between the Cubs and Giants, both of whom have expectations of a different kind. For the Cubs, it's the enormous weight of shedding the historic Curse of the Billy Goat, which dates back 71 years to the team's last World Series appearance (and, yes, it's been 108 since it last even won one). For the Giants, it's an even-year season, and you know what that means. Bottom line: A Cubs-Giants NLCS would be a must-see for baseball and non-baseball fans. As with the NL, we're both pretty much in agreement on the American League's big picture, though Ed expects a return by Kansas City to the Fall Classic—while the Astros get my vote not only because they're good, but because their budget is still low enough that the front office can easily tack on a top free agent-to-be at the trading deadline that will only strengthen their postseason chances.
Eric's picks:
NL: New York Mets (East), Chicago Cubs (Central), San Francisco Giants (West), St. Louis Cardinals and Los Angeles Dodgers (wild card)
NL Champion: San Francisco Giants
AL: Toronto Blue Jays (East), Kansas City Royals (Central), Houston Astros (West), Boston Red Sox and Texas Rangers (wild card)
AL Champion: Houston Astros
World Series Champion: San Francisco Giants
NL MVP: Paul Goldschmidt, Arizona Diamondbacks
AL MVP: Carlos Correa, Houston Astros
NL Cy Young Award: Jacob deGrom, New York Mets
AL Cy Young Award: David Price, Boston Red Sox
NL Rookie of the Year: Corey Seager, Los Angeles Dodgers
AL Rookie of the Year: Byung-ho Park, Minnesota Twins
NL Comeback Player of the Year: Anthony Rendon, Washington Nationals
AL Comeback Player of the Year: Yu Darvish, Texas Rangers
Ed's picks:
NL: New York Mets (East), Chicago Cubs (Central), San Francisco Giants (West), Los Angeles Dodgers and Miami Marlins (wild cards)
NL Champion: Chicago Cubs
AL: Toronto Blue Jays (East), Kansas City Royals (Central), Seattle Mariners (West) Boston Red Sox and Houston Astros (wild cards)
AL Champion: Kansas City Royals
World Series Champion: Chicago Cubs
NL MVP: Anthony Rizzo, Chicago Cubs
AL MVP: Josh Donaldson, Toronto Blue Jays
NL Cy Young Award: Jose Fernandez, Miami Marlins
AL Cy Young Award: David Price, Boston Red Sox
NL Rookie of the Year: Corey Seager, Los Angeles Dodgers
AL Rookie of the Year: Byron Buxton, Minnesota Twins
NL Comeback Player of the Year: Jose Fernandez, Miami Marlins
AL Comeback Player of the Year: Marcus Stroman, Toronto Blue Jays

Baseball's Best, Worst and Most Surprising: The 2016 Season in Review A look back at the best, worst and most surprising players and teams during the 2016 major league season.