Baseball 2018: This Great Game's Fearless Predictions
Who will reign as the best, worst and most surprising baseball teams for the upcoming 2018 season? Read our predictions here and see if you agree.
By Eric Gouldsberry, This Great Game—Posted March 24, 2018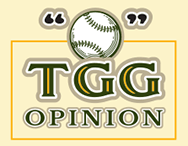 Alright kids, it's time to gather around and play "Pin the Pennant on the Donkey." And don't forget your blindfolds.
Talk about flying blind. It's usually tough enough trying to predict what's going to happen seven months out in the baseball world, but this winter has especially found Ed, I and everyone else shaking the crystal ball hard—not because were trying to see the future, but because we're wondering if the battery has died.
This offseason was one of the more unusual in recent baseball annals with the free agent market being turned upside down. Good rewards came to those who didn't wait. If you need evidence of that, here it is: Reliever Tommy Hunter fetched more guaranteed money ($18 million) than Mike Moustakas ($6.5 million). The former is a decent reliever; the latter set a Kansas City record last season with 38 home runs and was anticipating something in the neighborhood of $100 million.
We typically make our picks later than most other scribes and sources who have publishing deadlines to meet. But more than ever, as desperate free agents signed for relative peanuts at the 11th hour, that became an advantage to us as the future has cleared up and, what do you know, the crystal ball does seem to have some juice left in it after all. But will that future be faithful to us? Or will we get blindsided as we did last year when teams like San Francisco, Detroit and the New York Mets collapsed while Minnesota, Arizona and Milwaukee unexpectedly hitched an upward ride on the express elevator?
As always, what follows is my best shot in the usual long form. For those with less time, there's Ed's thoughts in the sidebar—or you can cut to the chase, scroll to the bottom and check out our postseason thoughts that sum it all up. Enjoy.
NL East
Think about how potent the Washington Nationals' offense was last season—and then think how much more potent would it have been had tablesetters Adam Eaton and Trey Turner not missed 200 games (costing the Nats 70 steals and an .801 OPS), and Bryce Harper had not done that awful slip on the first base bag that deprived him of 40 games toward the end of last season. Trying to keep any baseball gang intact for 162 games is damn near impossible these days, but the Nationals at least start the year healthy—almost, anyway, as second baseman Daniel Murphy (.334 average over his first two years as a Nat) will likely miss the first few weeks after undergoing offseason knee surgery. Offense aside, the Nationals possess one of the majors' best rotations as fronted by Max Scherzer and Stephen Strasburg, and the bullpen seems solidified after early troubles last season. This could be the last dance for a while in Washington, with Harper, Murphy and pitcher Gio Gonzalez all due for free agency after the season, so enjoy it while you can, Nationals fans. And remember, if it all falls apart in the first round, you won't have Dusty Baker to kick around now that populist first-year skipper Dave Martinez has taken over.
No team shouted "Mulligan!" in 2017 more than the New York Mets, desperate for a do-over after an injury-killing campaign that ruined high postseason aspirations. This is a playoff-worthy team when healthy—but again, that's the trick. Can top pitchers with superhero nicknames like Thor (Noah Syndergaard) and the Dark Knight (Matt Harvey) become indestructible—or at least make it to the mound every five days? Can someone, anybody in the everyday lineup log more than 115 games? (Only two Mets managed to do that last season.) Veteran weight has been added to help fortify the roster, but Todd Frazier suffers from low averages, once-and-current Met Jay Bruce runs hot and cold and Adrian Gonzalez—well, who knows what's left of him. Running the show for the first time is Mickey Callaway, who apparently did wonders as Cleveland pitching coach over the last five seasons; it's hoped he can spread his magic (and good health) over the team's so-called "Five Aces." Note to Mickey: In New York, there's these things called tabloids that come up with clever, biting headlines that make you gnash your teeth and wish you were back in the relative anonymity of Cleveland. But whether those headlines are sweet or sour will depend on the Mets' health. And just remember: If it all falls apart again, the Mets can always play the Tim Tebow card.
The Philadelphia Phillies' rebuild continues to be kind of like an old clunker trying to start in frigid weather. The proverbial anti-freeze just wasn't there last season, as the Phillies backslid rather than progress as I boldly predicted. Is this the year the engine finally turns over? There's quality newcomers in ace Jake Arrieta and first baseman Carlos Santana, but the key to the Phillies' success will depend on make-or-break youngsters with great upsides but sketchy progress to date, including slugger Maikel Franco and pitchers Jerad Eickhoff and Vince Velasquez. There's a bonus of sorts as well in regards to Rhys Hoskins, for whom the Phillies hope to build upon after his breakout power surge from late last season. Like the Nationals and Mets, there's a new sheriff in town as Gabe Kepler takes over the team's managerial reigns with hopes of bringing "that effing trophy" back to Philly. That sounds like love at first sight between him and roughened Phillies fans, but it could be a quick and troubled marriage if the boos outweigh the results.
The irony of the Atlanta Braves is that their best player—with all due respect to slugger Freddie Freeman—may start the season in the minors. That would be one Ronald Acuna, outfielder and #1 prospect who rocketed through the minors last season, tore apart the Arizona Fall League and has put up the Grapefruit League's best numbers this spring. But the Braves will likely play the same shell game that Tampa Bay did with Evan Longoria and the Chicago Cubs with Kris Bryant: Keep Acuna in the minors until mid-April and gain that extra year of team control down the line. So, as it has been for the Braves over the last few years, it's all about the future as opposed to the now. And that's a shame, because there may be something bubbling at the surface that could make the Braves a surprise team; more familiarity with their recently opened ballpark, two top-tier pitchers (Julio Teheran and Mike Foltynewicz) and a promising sophomore middle infield consisting of shortstop Dansby Swanson and second baseman Ozzie Albies, who might be the talk of Atlanta were it not for Acuna. But it's likely that the Braves will remain a sub-.500 team for the short term as there's no power beyond Freeman, a week backend of the rotation (lest Brandon McCarthy and Scott Kazmir have something vintage up their sleeves) and an iffy bullpen. For Braves fans, today needs to fly by so that tomorrow can come sooner.
The Miami Marlins. Oh boy. You would have thought Liberation Day was at hand the day evil Jeffrey Loria ceded ownership to Derek Jeter and Company, but instead we got something like that scene in Bananas where the rebel savior greets his citizens for the first time and tells them they must start speaking Swedish and wear their underwear on the outside. By trading away almost everything that made the offense click—from leadoff speedster Dee Gordon to the entire outfield consisting of Giancarlo Stanton, Marcell Ozuna and Christian Yelich—the new regime has done the impossible: Made Loria look almost saintly by comparison. What's left of the roster is paucity and piecemeal; first baseman Justin Bour, infielder Starlin Castro and catcher J.T. Realmuto (who wants out) represents the fragmented pillars of the offense, the rotation is thin and inexperienced, and closer Brad Ziegler—who turns 39 in October—is coming off a 4.79 ERA in 2017. Sure, a whole sackful of prospects have come to Miami as a result of the Marlins' offseason clearance sales, but they're not going to make a dent in the NL East race until, well, who knows when. Maybe this team can catch the Braves on a bad year and clip them in the standings; otherwise, nada.
Predicted Finish: Washington 93-69, New York 84-78, Philadelphia 81-81, Atlanta 75-87, Miami 68-94.
NL Central
Ain't repeating a bitch, Wrigleyville? Last year at about this time, the Chicago Cubs had that invincible air of supremacy and looked ready to reign anew, and even though the Cubs took it as far as the NLCS, it was evident by then that they had nothing left in the tank. One winter later, and the Cubs may very well be back in the saddle again. A major fix in the rotation was needed, and the Cubs took care of it—bringing in Yu Darvish and the underrated Tyler Chatwood to give Chicago one of the majors' three best starting corps. The bullpen was repaired as well, though not necessarily improved; it's hard to think of Brandon Morrow as an upgrade at closer over the departed Wade Davis. But then there's the everyday lineup—still intact, still young, and still possibly with its best days ahead thanks to three MVP candidates: Third baseman Kris Bryant, first baseman Anthony Rizzo and catcher Willson Contreras, he with all that upside. I have to imagine that the Cubs have learned the lessons of celebration fatigue; they may be good enough to get another shot of learning from past mistakes.
Last year, I pointed out that the St. Louis Cardinals lacked a big-shot component in their lineup, and that among other things was what likely kept them out of the postseason. It appears the Redbirds have now resolved that issue. The trade for former Miami outfielder Marcell Ozuna, who had a thunderous (.312 average, 37 home runs, 124 RBIs) 2017, gives the Cardinals one big stick to rely on; they may stumble upon another in homegrown shortstop Paul DeJong, who belted 38 homers last year (13 at Triple-A, 25 for St. Louis) and wowed the team enough that he was given a six-year contract extension with less than one full season in the books. While the Cardinals shouldn't have too much problem hitting, their pitching is another story. Beyond Carlos Martinez, it's a wobbly rotation that could get a boost (with the accent on "could") from Mike Mikolas, whose three-year tenure in Japan resulted in a 31-13 record and 2.18 ERA. There also must be some doubt that veteran lefty Luke Gregerson, following an off-year at Houston, can command the closer spot. Should the Cardinals impress from the mound, they're easily playoff-bound—and they may even have a shot at the Cubs. If not, well at least St. Louis fans will be treated to a lot of offense this summer from the home team—and the visitors.
A couple of years back I wrote up an entry in our Lists section entitled "Five Mid-Market Teams That Went for Broke in the 2010s—And Ended up Broke." Some might argue that the 2018 Milwaukee Brewers really don't qualify for inclusion on this list because they're more on the small-market side of baseball—but even if that perspective was defeated, I'm not even sure they've gone for broke for 2018. Oh, perhaps in relative terms since few other teams did anything to improve, but the sum total of the moves made by the Brewers doesn't necessarily qualify as a "go-for-it." They've crowded an already upscale outfield by bringing in Lorenzo Cain and Christian Yelich; maybe had they brought in Jake Arrieta you could talk of an improved rotation, but instead they got Jhoulys Chacin, Wade Miley and Yolando Gallardo—all pitchers whose more recent results are sketchy at best. Milwaukee fans are excited, and their team will be entertaining as always—but not always for the right reasons. I've been suckered in too many times by teams who've gone for the jugular and failed—and I sense a nasty aroma of déjà vu infiltrating the Miller Park air.
While Brewers fans are looking forward to 2018, the same cannot be said for those of the Pittsburgh Pirates. Them mateys are in a mutinous mood. You'd be, too, if your fave ballclub traded its best hitter and face of the franchise (Andrew McCutchen) and best pitcher (Gerrit Cole) in the space of one week. One fan was so incensed that he started a change.org petition demanding that Pirates owner Bob Nutting sell the club; over 60,000 have signed on so far, with more signing every minute. (60,001, 60,002,…) While the departures of McCutchen and Cole give the impression that the Bucs are diving into tank mode (60,003, 60,004), what's left of the roster isn't bad; it's just awfully devoid of a marquee presence to inspire the crowds at PNC Park. (60,005, 60,006,…) That's why it's important that sophomore slugger Josh Bell build on a solid rookie showing and exhibit more upside (60,007, 60,008), while young closer Felipe Rivero needs to become the next Mariano Rivera—and based on last year's effort, that can't be ruled out. (60,009, 60,010,…) The fact that there is some decent talent left on the Pirates only means that if they don't get out to a competitive start, expect some of that talent to also be dealt—leading to more calls for the plank from angry home fans. (60,011, 60,012, 60,013,…)
The rebuild that never seems to end continues for the Cincinnati Reds. But then the question is begged: What rebuild? The Reds did practically nothing over the offseason to make that long overdue big bounce upward, unless you truly think bringing in relievers David Hernandez and Jared Hughes was enough. Aha, the more studious among you will say, look how the Twins stood pat last year and jumped from 101 losses to a wild card spot, right? Fair point, but you want to bet the house on the Reds making that same leap this year? (Didn't think so.) Look, the Reds can hit, in part because tiny Great American Ball Park allows them to; five guys return who hit 26 or more homers last year, including perennial MVP candidate Joey Votto. But outside of Luis Castillo, who impressed late last year, the Reds' weak and fragile rotation shows no sign of impending hope. Add in that the NL Central isn't exactly baseball's easiest quintet, and you've got another long summer on tap in the Queen City.
Predicted Finish: Chicago 97-65, St. Louis 85-77, Milwaukee 80-82, Pittsburgh 73-89, Cincinnati 70-92.
NL West
Except for the seventh game of the World Series, the Los Angeles Dodgers were virtually invulnerable last year, with impressive winning streaks, no-namers becoming All-Stars and manager Dave Roberts successfully maneuvering his pitching staff with coy expertise. The Dodgers feel so good about themselves for 2018 that they've done almost nothing to adjust their roster—except to dare one-time Dodger and defensively-challenged outfielder Matt Kemp, 33, to come back. Sure, this carefully knitted cast knows what it takes to win, but how strong are the threads? Can a delicate rotation keep getting by on five innings a start, at the risk of exhausting a talented bullpen? Can breakout wonders Cody Bellinger and Chris Taylor prove that 2017 was no mirage? Can Yasiel Puig realize All-Star dreams and avoid pine tar poisoning from licking his bat too often? Throw in the fact that the NL West, the majors' toughest division, looks to have strengthened even more, and the Dodgers' road to repeating as NL champions will be fraught with many landmines. So dance as fast as you can, Dodgers, because that's what it might take to repeat.
Arizona Diamondbacks ace Zack Greinke is lamenting about how his velocity has eroded at spring camp. We've heard that one before. Greinke said the same exact thing a year earlier, and it persuaded me to think even less of an Arizona rotation that struggled with a 5.19 ERA in 2016. So what happens? Greinke gets his groove back, the DBacks' starting ERA drops to an impressive 3.61, and the team jumps from 69-93 to 93-69 and a wild card spot. Now that we know that the Snakes actually have some pretty good pitchers beyond Greinke—particularly Robbie Ray (15-5, 2.89 ERA and 218 Ks in 2017)—I'm going to curb my doubts about this team, but also my enthusiasm. The Diamondbacks have strong hitting—humidor or no at Chase Field—but they won't have the late-season advantage of an out-of-body J.D. Martinez, who takes his 29 homers over 232 at-bats to Boston. They also have to figure out who's going to close now that Fernando Rodney is gone, with Archie Bradley, ex-Ray Brad Boxberger and Japanese import Yoshihisa Hirano emerging as quality options. The Diamondbacks are a good team, but this division is too good for them to log another 93 wins. Still, nice try, Zack.
The Colorado Rockies have figured out that it's all about the bullpen. Having long since given up on signing free agent aces—because no All-Star hurler wants his ego bruised by depressing mile-high stats—the Rockies have built up a homegrown core of young, talented starting arms that need a little help from their friends, and so they spent a record $100 million-plus in guaranteed money to nab three free agent relievers this past season. But only of those three—former Indian Bryan Shaw—is considered an addition; Wade Davis replaces Greg Holland, and Jake McGee is an incumbent who's returning to the fold. Still, while this trio may not replicate the ferocity of the Nasty Boys, they should be good enough to stabilize the Rockies' overall pitching efforts. As for Colorado's hitting, well you know that story—especially with Nolan Arenado and Charlie Blackmon hitting their prime. As good as the Rockies were last year, keep in mind they played under .500 for the last two-thirds of the season after a strong start, and that's usually the pattern at mile-high Denver where players (and especially pitchers) tend to burn out faster as the fatigue piles up. It's key for Colorado to maintain any early burst out of the gate, or this pricey bullpen philosophy may just end up in the trash can along with all the other desperate measures the Rockies have tried over the years in regards to their handicapped pitching situation.
The opposite of "Back to the Future" is "Forward to the Past," and that latter assessment sums up the San Francisco Giants. While most teams skew younger, the Giants are taking the more experienced route with almost every starter 30 or older—in part because this organization is too proud and wealthy to tank, even after collapsing to 98 losses last year. The common wisdom around AT&T Park is that 2017 was an extreme anomaly that can't possibly be repeated; much can be done toward that simply by keeping ace Madison Bumgarner away from anything with two wheels. The acquisition of two All-Stars considered franchise faces for their former teams—Pittsburgh's Andrew McCutchen and Tampa Bay's Evan Longoria—adds experience and good clubhouse vibe, and that will certainly bump the Giants' stock in the standings. But how high it goes will depend on the health of the everyday veterans as depth remains an issue, the backend of a rotation assumed to be held down by youngsters Ty Blach and Chris Stratton, and a return to durable form for closer Mark Melancon. The past is now for the Giants; the goal is to avoid being past tense by October.
Borrowing from Simple Minds, the burgeoning San Diego Padres might as well adopt "Don't You Forget About Me" as their 2018 slogan. With the NL West competition so fierce, the Padres seem to come off as an afterthought—but be careful for what you don't know. This collection of talent, as frisky and disparate as the Breakfast Club, might sneak up and teach you a lesson or two. Offensively, the Padres can do some serious damage; Eric Hosmer is the new stud in town, joining fellow star (and former minor league mate) Wil Myers and a triumvirate of young outfielders: Jose Pierla, Manuel Margot and Hunter Renfroe. If the upside of these latter three can be realized, watch out. But the Padres' big problem is the starting pitchers; as you walk on by Petco Park, will you call their names—or even know those names? This rotation is so tenderfoot on paper, it doesn't look to stand a chance against serious divisional competition, unless it somehow grows up fast. Maybe next year the Padres' slogan will be "Alive and Kicking," but progress needs to happen now to make that relevant.
Predicted Finish: Los Angeles 91-71, Arizona 82-80, Colorado 82-80, San Francisco 80-82, San Diego 75-87.
AL East
New York Yankees general manager Brian Cashman says that his team is the "Little Engine That Could." Right—and the Queen Mary is a dinghy. This little engine just happens to now be powered by Aaron Judge and first-year Yankee Giancarlo Stanton, who will be side-by-side in the same lineup as baseball's two most feared Goliaths and give rise to a new Murderer's Row in New York that could easily rival—and perhaps surpass—those once headlined by Ruth/Gehrig and Mantle/Maris. Enhancing this year's version of must-see mlb.tv will be catcher Gary Sanchez (33 homers in 2017) and first baseman Greg Bird, who has the potential to put up Judge/Stanton-like numbers. From there, the rest of the Yankee lineup drops off considerably—unless yet another new wave of highly-touted young gems (Clint Frazier, Ronald Torreyes, Miguel Andujar) blooms full flower, as Sanchez and Judge have. A pinstriped postseason will be assured should first-year manager Aaron Boone and (arguably) the majors' finest bullpen can help keep together a New York rotation susceptible to age and/or injury, as underscored by 37-year-old CC Sabathia and fragile Sonny Gray. For those of you who hate the Yankees, I'm afraid I have some bad news: The Evil Empire is striking back, and this little engine may very well be the Death Star in disguise.
This is not to say that the Boston Red Sox won't stand in the way. Last year's AL East titlists may not be as feared at first sight—who else beside the Judge/Stanton Yankees would be?—but they are equally talented and equipped to go the distance. They have strength in the lineup in first-year Bostonian J.D. Martinez, whose home run rate over the past three years is more proficient than Stanton's; strong sophomore youth in outfielder Andrew Benintendi and third baseman Rafael Devers; talent depth so deep that Hanley Ramirez may not be able to secure an everyday spot in the lineup; a strong veteran rotation fronted by two former Cy Young winners (David Price and Rick Porcello) and a future one (Chris Sale); and the majors' second best bullpen by ERA, intact whereas the #1 pen (Cleveland) has been diluted by defection. There's also this: Like the Yankees, the Red Sox are bringing on a first-year skipper (Alex Cora) with a big broadcast pedigree but little coaching experience. I see the Yankees and Red Sox as essentially archrivals in arms, fit to be tied—and after 162 games, they will be. So I'm going for a death match on Day 163—and, sorry, Bosox fans, but it will be Bucky Dent (or Didi Gregorius?) redux.
Veteran Baltimore Orioles outfielder Adam Jones says that winning a ring is his thing. He'd better then ask for a trade, because the Orioles are not likely to get him that ring anytime soon. If you like your home runs, the Orioles will certainly satisfy you to an extent; last season, seven players hit 20 or more of them, and six of those are returning including Chris Davis, Mark Trumbo and young Trey Mancini. But they need to evolve from a Cro-Magnon mindset in which all they do is crush but do little else to score or reach base. (To wit: only Kansas City had a lower on-base percentage among AL teams in 2017.) The Orioles' rotation, the team's biggest problem in recent years, has been wisely upgraded with the offseason additions of Andrew Cashner and Alex Cobb—but will that be enough to get this team in whole over the hump and back to the playoffs? All of this may be moot anyway; the Orioles have not been big spenders of late and face the prospect of ending the season bidding adieu to current team cornerstones in Jones, Manny Machado and closer Zack Britton, all due for free agency. Thus, don't be surprised if the tanking begins at the trading deadline. Then, maybe, Jones can get closer to that coveted ring…with somebody else.
One must wonder if the swagger that once defined the Toronto Blue Jays has left Rogers Centre. The Joey Bats Era has ended as the Jays have decided not to re-sign long-time slugger Jose Bautista, and though his decline in production made that choice easy, it was also regrettable and leads to this question: Who now speaks for the Jays? The quick response likely would be outspoken pitcher Marcus Stroman, but even his words may not be enough to keep a fractured roster glued together. Rather than aim at the stars, Toronto spent the offseason bringing in mid-level talent (Aledmys Diaz, Yangervis Solarte, Randal Grichuk) to build depth, but the layer atop is iffy with serious payroll deadweight in burned-out shortstop Troy Tulowitzki and catcher Russell Martin (both making $20 million making this year). Josh Donaldson remains the team's prime offensive stud but also a free agent at year's end, so put no guarantee on him being in a Toronto uniform all season. In short, the Blue Jays' make-or-break proposition will be a rotation full of arms who've proven themselves in the past (Stroman, J.A. Happ, Aaron Sanchez, Jaime Garcia), albeit with painful inconsistency. If they implode, you can right off the Jays by the All-Star Break.
It sounds pretty depressing when you're a team with one of the majors' lowest payrolls…and then you tank. That's how low the Tampa Bay Rays will go. The Rays weren't all that bad last year, finishing at 80-82 and setting a franchise record for home runs—but of the 228 dingers bashed, over 160 of them were hit by players no longer on the team. That includes franchise face Evan Longoria, Steven Souza Jr., Logan Morrison and Corey Dickerson—whose $6.5 million salary for 2018 was considered too much for the Rays despite 27 homers and an All-Star appearance in 2017. Historically the Rays have turned to young, promising pitching to bail them out, but the season begins with two high-end hopefuls (Brent Honeywell and Jose De Leon) done for the year with Tommy John surgery. The Rays have refueled to make up for the losses, but it's watered-down gas that's filled the tank—and if you don't believe that, let me introduce you to Denard Span, the highest-paid Ray at $11 million. Remember when the Oakland Coliseum was called the "Mausoleum"? Wait until the Rays step into an empty Tropicana Field this season.
Predicted Finish: New York 94-69, Boston 93-70, Baltimore 79-83, Toronto 72-90, Tampa Bay 68-94.
AL Central
Everything was going so sweet for the Cleveland Indians last year—that 22-game win streak, the 102 total victories and a 2-0 cushion to start the ALDS. Then came October 8. That's when the Indians lost the first of three straight games to the Yankees to prematurely end their season. Then they lost reliever Bryan Shaw. And pen mate Joe Smith. And pitching coach Mickey Callaway. And first baseman Carlos Santana. And slugger Jay Bruce. Fortunately for the Indians, they have enough firepower left behind to overcome the sting of all those losses and return to the top of a division that remains pretty weak. Infielders Jose Ramirez and Francisco Lindor are both MVP-worthy, DH Edwin Encarnacion will probably continue to do his late-career 30-to-40-homer thing, and reigning Cy Young champ Corey Kluber fronts a still-strong rotation. The bullpen, minus Shaw and Smith, remain tough with closer Cody Allen and supper set-up guy Andrew Miller—though be warned, Cleveland, because they're both due for free agency at year's end, too. If someone within the Indians' average talented outfield can step it up—Bradley Zimmer, Tyler Naquin, et al—then perhaps the Tribe can maintain their supremacy beyond the regular season and make the turning point of last October 8 a distant memory.
I thought I had the lock of last year's picks when predicting a second straight last-place finish for the Minnesota Twins, who did nothing during the offseason before to improve themselves. Sure, their abundant base of talented youth would push them up the win column by just a tad, but nobody—I mean nobody—saw the Twins catapulting to wild card status. Now some might think that the Twins can contentedly stand pat and let this group evolve more, but instead they've throttled up in an opportunity to catch the weakened Indians. Whether they can will depend on the continued maturation of former #1 pick/center fielder Byron Buxton—who finally busted out to All-Star form in the second half of 2017—added power in Logan Morrison (38 homers with Tampa Bay last year) and a rotation that finally acquired name recognition with the offseason additions of Jake Odorizzi and Lance Lynn. The Twins will be handicapped to start the year; ace Ervin Santana broke a finger and won't be back until May, shortstop Jorge Polanco is serving an 80-day PED suspension and pitcher Michael Pineda, another offseason pick-up, isn't due back from Tommy John recovery until mid-summer. Finally, the Twins will need to cross their fingers and hope that 41-year-old hot-and-cold closer Fernando Rodney, picked up from Arizona, still has it. The Twins have been elusive in performing to my expectations over the last few years, so let's see if they finally follow the script and impress further.
Part of me thinks that of all the teams currently going through the various stages of the tanking process, the Chicago White Sox may be the one that could spring some surprises this year. It's a tall order, but all the elements of a future winner are quickly coming into place at Comiskeyville—even if they still show a raw edge. Amid these hopefuls are speedy Cuban second baseman Yoan Moncada, top pitching prospect Lucas Giolito (who impressed in a late appearance last year), and outfielder Nicky Delmonico. The White Sox are sprinkled with veteran talent to help balance the youth, with consistent slugger Jose Abreu, outfielder Avasail Garcia (coming off a terrific .330 campaign), bulky catcher Welington Castillo and what's left of pitcher James Shields. The roster is clearly a mixed bag of incongruity, and it may take some time—and a few more trades—for everything to gel into winning shape. But don't be surprised if the White Sox get spunky and cause some tremors in the AL Central race.
Now that it appears that the expiration date has come and gone on the Kansas City Royals' recent run of success, what now? Not much, unfortunately. Of the four core Royals who declared free agency last Fall, two of them have returned—but they're the lesser two, with all due respect to infielders Mike Moustakas and Alcides Escobar. Meanwhile, losing the other two—Eric Hosmer and Lorezno Cain—is noy good news for the Royals because they've essentially been replaced by, respectively, common-player pickups in Lucas Duda and Jon Jay. The Royals still have some of that championship pride with All-Star catcher Salvador Perez, outfielder Alex Gordon and closer Kelvin Herrera, while second baseman Whit Merrifield has come into his own quite nicely. But they're fumbling on a reload; if you're looking for that next wave of young Royal Blue, don't get too excited—Baseball America has ranked the Royals' farm system dead last. Remember the bad old days of the 2000s when this franchise monopolized the divisional basement? Retro misery may take hold in Kansas City real soon.
The Detroit Tigers kind of remind me of the old Johnny Carson routine when he would start a sentence with, "Things are so bad…" and the audience would collectively shout in response, "How bad is it?!" Things are so bad for the Tigers, they actually held open tryouts at spring camp. Things are so bad for the Tigers, when new manager Ron Gardenhire announced that pricey bust Jordan Zimmermann (6.08 ERA in 2017) would be the Opening Day pitcher, a reporter literally asked: "Are you kidding?" Okay, so the Tigers won't be so bad to emulate the 2003 team that lost 119 games, but they could get so bad that they'll be looking at securing a second straight #1 draft pick in 2019. To avoid this, the Tigers desperately need Miguel Cabrera to return to form after the first truly bad year of his Hall-of-Fame career, get a full season sans heart issues from Victor Martinez, strong play from some of the few young guys hoping to set a better future (such as third baseman Jeimer Candelario, who hit .330 in 27 late games last year) and revival pitching performances from Zimmermann, Francisco Liriano and Mike Fiers—all of whom have seen better days, none of them during last season. The Tigers totally fell off the cliff over the last two months of 2017 following a massive talent purge; they need to show that was more mirage than bad momentum.
Predicted Finish: Cleveland: 92-70, Minnesota: 86-76, Chicago: 76-86, Kansas City 73-89, Detroit 68-94.
AL West
After an offseason full of celebration, are the Houston Astros focused enough for another title run? Pitcher Dallas Keuchel certainly thinks so. "We're not the Cubs," he boastfully stated at the start of camp, as a warning to others that the Astros are aiming to end a run of 17 straight years in which the reigning World Series champ has not repeated. Smart money would appear to favor Houston again. At this time last year, Keuchel was the lone ace on the Astros' rotation; now they have three, with Justin Verlander and ex-Bucco Gerrit Cole added to the mix. Last year's ultra-potent offense retains six players with an .800-plus OPS and 10 of 11 players with belted 10-plus homers. The core of that group includes AL MVP Jose Altuve, shortstop Carlos Correa, outfielder George Springer and third baseman Alex Bregman, all of whom are still firmly in their 20s—and this is a strategically fitting moment to remind everyone that youth rules in today's MLB. Sure, you can rain on this parade; Josh Reddick may not hit .314 again, Brad Peacock may not go 13-2 again and the bullpen—a fingers-crossed proposition in 2017—hasn't really improved save for the acquisition of veteran reliever Joe Smith. It's tough to imagine a team believing it has unfinished business after winning it all, but if the Astros truly aren't the Cubs and are laser-focused on keeping the pedal to the metal, they're going to be awfully tough to stop.
So who's going to take on the Astros in the AL West? Or, more aptly asked, who's going to attempt to take them on? The Los Angeles Angels think they might have a shot. For too long, it seems, the Angels have been all about megastar Mike Trout, a fading Albert Pujols, and very little of anything else. Now that they've written Josh Hamilton off the books, the Angels have a little money to spare—and so they've put it on dependable veterans in outfielder Justin Upton, third baseman Zack Cozart and second baseman Ian Kinsler in an effort to firm up the everyday roster and make it relevant beyond Trout and Pujols. Above all of that, the Angels made one of the biggest offseason splashes by carting over Shohei Ohtani, the young, heavily hyped Japanese phenom who's being labeled the next Babe Ruth because he can both hit and pitch at an elite level. (He's failed to do either at camp thus far.) For the Angels to truly challenge the Astros and make a successful run at the postseason, Ohtani will need to spark a young but incredibly fragile rotation (Garrett Richards, Andrew Heaney, Nick Tropeano, et al) that needs to bind itself back to full strength with super glue. Does owner Arte Moreno have any money left over for that?
You know who was smarting this past winter when football's Buffalo Bills made it to the NFL playoffs for the first time since 1999? The Seattle Mariners, that's who. Why? Because the M's are now the team with the longest postseason drought among all major North American sports leagues. To avoid a 17th straight October solely devoted to tee times, the Mariners will need to depend on a lineup that looks stronger with the addition of ex-Marlin Dee Gordon to help Jean Segura front the order in advance of sluggers Robinson Cano, Nelson Cruz and Kyle Seager. More importantly, Seattle needs overachievement from a weak outfield where Gordon will be perched for the first time in his career and also might include 44-year-old once-and-current Mariner Ichiro Suzuki as an everyday starter. Most importantly—and this seems to be a common theme throughout the majors this year—the Mariners' chances will come down to a rotation that's a mix of experience, promise and pains. Seattle has historically been difficult to figure out; I pick them to win, they lose, and vice versa. Frankly, I don't know what to make of the 2018 edition, so I'll punt—just like the Bills used to do a lot—and place them down at an even .500.
On the subject of mixed bags, we have the Texas Rangers. It's a franchise in search of an identity; there's lots of power in the lineup (Joey Gallo, Rougned Odor) but at the expense of low batting averages and high strikeout rates; there's more structured contributors like young outfielders Nomar Mazara and Delino DeShields; and a lingering, future Hall-of-Fame presence in Adrian Beltre, who turns 39 shortly after Opening Day. The team's rotation has suffered with the losses of Yu Darvish and Andrew Cashner); filling their shoes will be Doug Fister and Matt Moore, both of whom had extended stretches of awful pitching last season. Maybe Tim Lincecum can surprise everyone with an overdue comeback—heck, why not call back Nolan Ryan and Charlie Hough while they're at it? As you can see, I don't have much faith in the 2018 Rangers; yes, there's a lot of good in Arlington, but also plenty of bad. And that's just not going to cut it in an American League loaded with definitive contenders like the Astros, Indians, Red Sox and Yankees.
The Oakland A's have an idea to raise a proposed waterfront ballpark up a few feet to avoid future sea level rise. That's a fitting metaphor for the state of the team, which needs to raise itself to avoid drowning in the standings. They're already gasping for air after three straight last-place finishes; expect a fourth straight in 2018. As usual, the A's will be young, transitory and punchy, a pot luck of talent evolving and/or passing through. What's really hoped is that two sophomore corner infielders named Matt—first baseman Matt Olson and third baseman Matt Chapman—can continue to take it deep at the plate after clubbing a combined 38 homers in just 479 at-bats last season. But even if they click, the A's still have major issues beyond the fact that they need a new ballpark. The one main addition (outfielder Stephen Piscotty, from St. Louis) does not outweigh the losses from last year (Ryon Healy, Yonder Alonso, Sonny Gray), the rotation is thinner than it already was with second-year pitcher Jharel Cotton out for the season with Tommy John surgery, and they have catcher Bruce Maxwell—who makes more news kneeling before the flag (okay) and beating up pizza delivery guys (not okay). It's sink or swim for these guys; hopefully they're within arm's reach of a life preserver.
Predicted Finish: Houston 96-66, Los Angeles 85-77, Seattle 81-81, Texas 77-85, Oakland 69-93.
The 2018 Postseason
Call us creatures of habit, but Ed and I are placing our money on the last two World Series winners (the Cubs and Astros) to knock heads in the Fall Classic. From there, we deviate on who will win; I'm going with the Cubs, while Ed thinks the Astros have it in them to repeat.
Eric's picks:
NL: Washington Nationals (East), Chicago Cubs (Central), Los Angeles Dodgers (West), New York Mets and St. Louis Cardinals (wild card)
NL Champion: Chicago Cubs
AL: New York Yankees (East), Cleveland Indians (Central), Houston Astros (West), Boston Red Sox and Minnesota Twins (wild card)
AL Champion: Houston Astros
World Series Champion: Chicago Cubs
NL MVP: Willson Contreras, Chicago Cubs
AL MVP: Francisco Lindor, Cleveland Indians
NL Cy Young Award: Clayton Kershaw, Los Angeles Dodgers
AL Cy Young Award: Dallas Keuchel, Houston Astros
NL Rookie of the Year: Ronald Acuna Jr., Atlanta Braves
AL Rookie of the Year: Shohei Ohtani, Los Angeles Angels
NL Comeback Player of the Year: Matt Harvey, New York Mets
AL Comeback Player of the Year: Miguel Cabrera, Detroit Tigers
Ed's picks:
NL: Washington Nationals (East), Chicago Cubs (Central), Los Angeles Dodgers (West), Arizona Diamondbacks and Milwaukee Brewers (wild cards)
NL Champion: Chicago Cubs
AL: Boston Red Sox (East), Cleveland Indians (Central), Houston Astros (West) New York Yankees and Texas Rangers (wild cards)
AL Champion: Houston Astros
World Series Champion: Houston Astros
NL MVP: Anthony Rizzo, Chicago Cubs
AL MVP: Mike Trout, Los Angeles Angels
NL Cy Young Award: Clayton Kershaw, Los Angeles Dodgers
AL Cy Young Award: Chris Sale, Boston Red Sox
NL Rookie of the Year: Ronald Acuna Jr., Atlanta Braves
AL Rookie of the Year: Willie Calhoun, Texas Rangers
NL Comeback Player of the Year: Matt Kemp, Los Angeles Dodgers
AL Comeback Player of the Year: Doug Fister, Texas Rangers

Baseball's Best, Worst and Most Surprising: The 2018 Season in Review A look back at the best, worst and most surprising players and teams during the 2018 major league season.